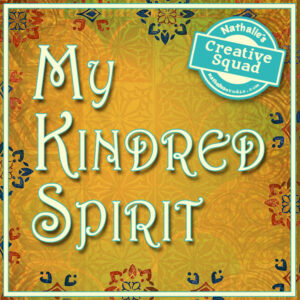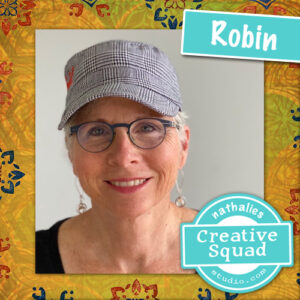 Hello from my Creative Squad! Today we have a post from Robin Seiz who is sharing a project that will have you thinking about Spring! She is using my Small Circle Jumble, Floral Tile Small, Fan-fare, and Mini Motifs rubber stamps and our theme: My Kindred Spirit – Animals are often symbols of qualities that we humans identify with, so let's take some inspiration from them this month. Do you have an animal whose characteristics you identify with? Maybe it changes depending on your mood or what life throws. Who is your Kindred Spirit in the animal kingdom today?
---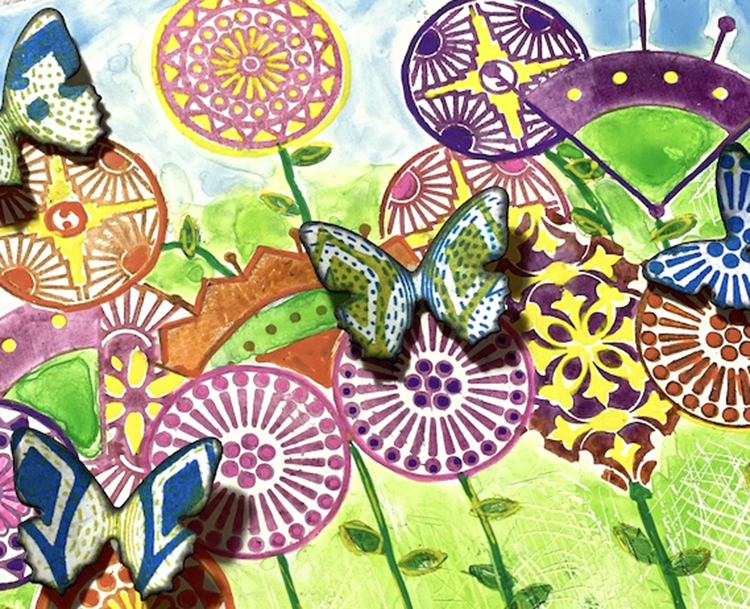 Hello friends,
This month's themed project, Kindred Spirits, was lots of fun for me to do. Although I live in the Northeast, I'm a warm weather person (Go figure!) Gardening is my outdoor passion. I have a big vegetable garden and a property with lots of native plants. Butterflies are a critical part of the ecosystem. I love watching them fly from one plant to another doing what they were meant to do – move pollen  from one plant to another. While they love nectar they drink from puddles to supply the minerals they need. I, like butterflies, am attracted to bright colors. We are both nearsighted but they can see ultraviolet colors invisible to the human eye. I absolutely love the Monarchs, who live a few weeks longer than most butterflies. Their colors are so beautiful and they blend into their surroundings to avoid predators. All and all, they are a beauty to appreciate and a true helper in the garden. 
We are using Nathalie's rubber stamps this month and when I thought of the butterfly and the garden, the Small Floral Tile set, the Mini Motifs set, and the Small Circle Jumble Set all immediately came to mind as they remind me of flower heads. The Fan Fare Cube has the perfect designs for both the butterfly wings and the leaves of the flowers. This months project has more whimsy than I usually create, but it was fun to push myself out of my normal comfort zone. 
I started the project with a 5" x 5" piece of Clayboard as the substrate. I was reminded during Creative Jump Start that Clay Board can provide some dimension and texture.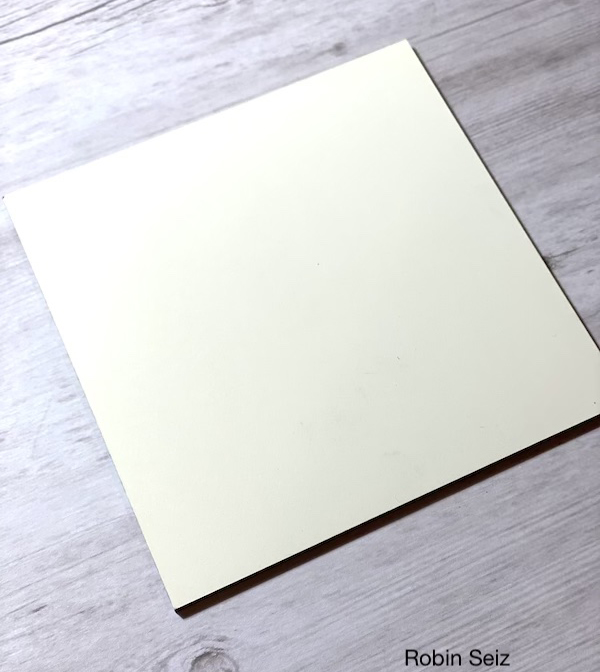 Since there is quite a bit of masking required for this project. I planned out the placement of the flowers on a piece of paper, marking which ones would be stamped in the front, which were 2nd, and so on. This helped so much when I was ready to actually do the stamping.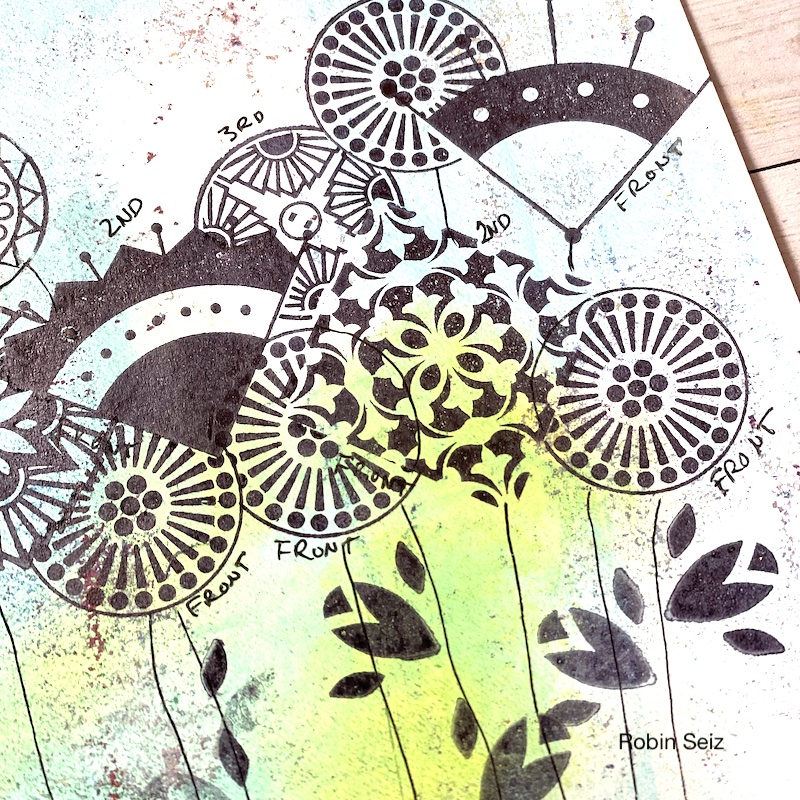 I stamped several of each "flower" and cut them out as masks and then I began stamping on the Clay Board with Versa Fine Clair Ink. The most important thing about masking is that all stamps that are in the foreground go on first and then you work your way back into the background with masks in the foreground so the 2nd row of stamps look like they are "behind" the other stamps.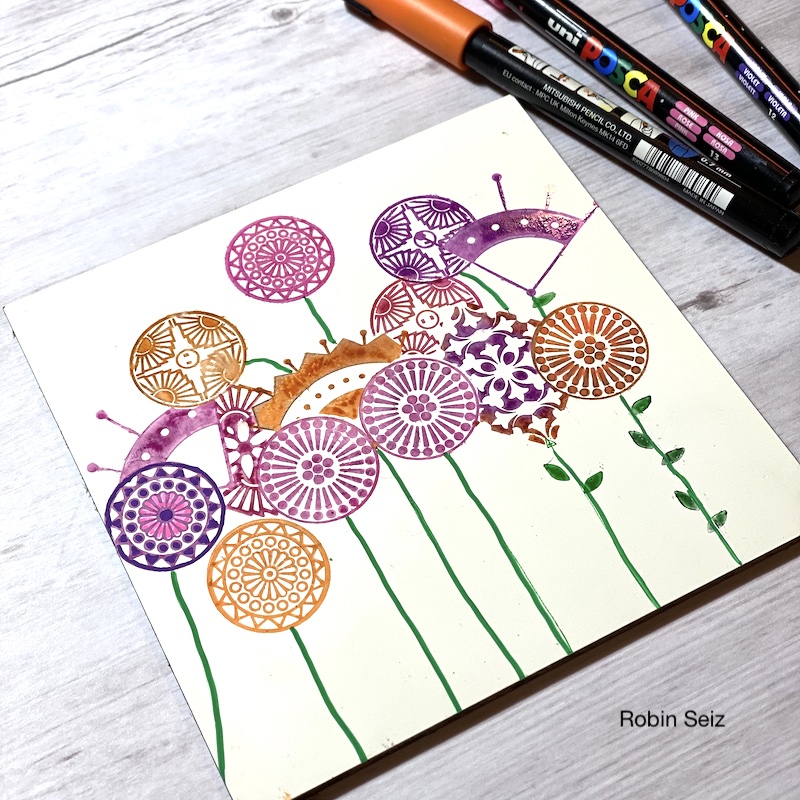 Once all the "flower heads" were stamped I began to embellish them with Posca pens to bring out the colors and make them pop. I drew stems with Posca pens, and used one of the "leaves" in the Fan Fare Cube to place "leaves" on the stem. I quickly  realized that once I painted the background with watercolors, the stems and leaves would disappear. (oops) The wonderful thing about clay board is that the smooth surface is very forgiving. I took a baby wipe and erased all the stems so I could lay down the background of green grass and blue sky using Qor Watercolor paints.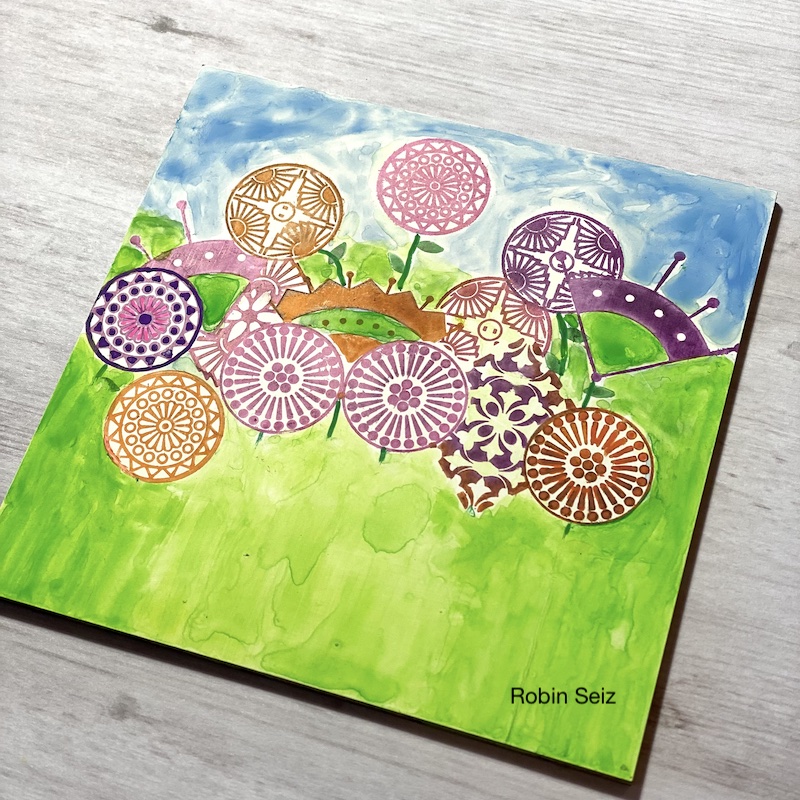 Once the background was completed, I drew in the stems again and then scratched around the stems with my utility knife. This gave the green background a texture and added quite a bit to a dimension to the piece.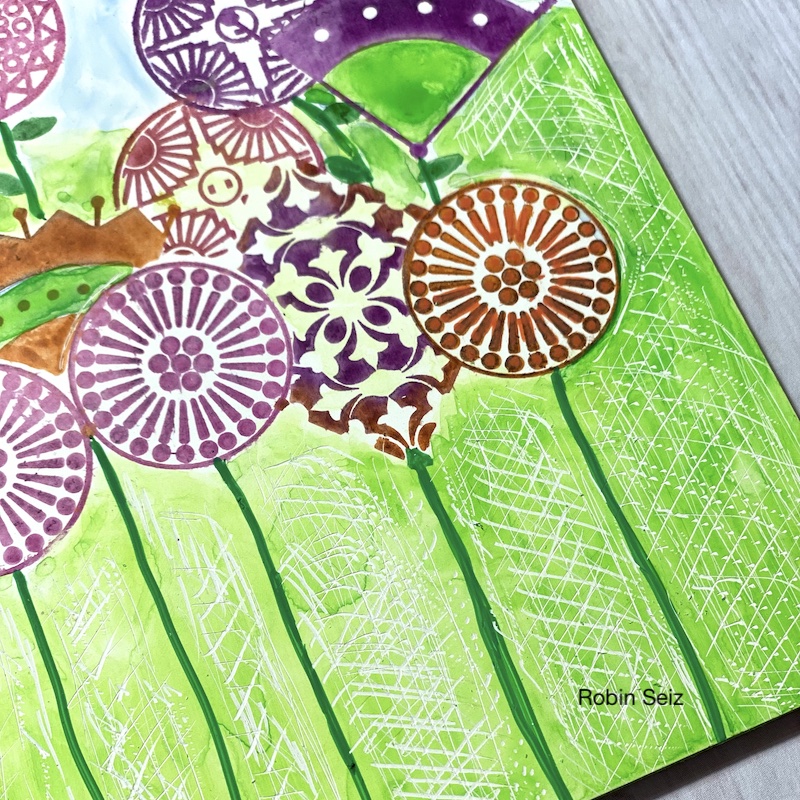 To finish off the flowers, I stamped one leaf, over and over, onto the stem from the Fan Fare Cube. In order to get ink on just one portion of the stamp, I covered the rest of the stamp with a stickie note (but you could use any paper) I continued to embellish with the posca pens.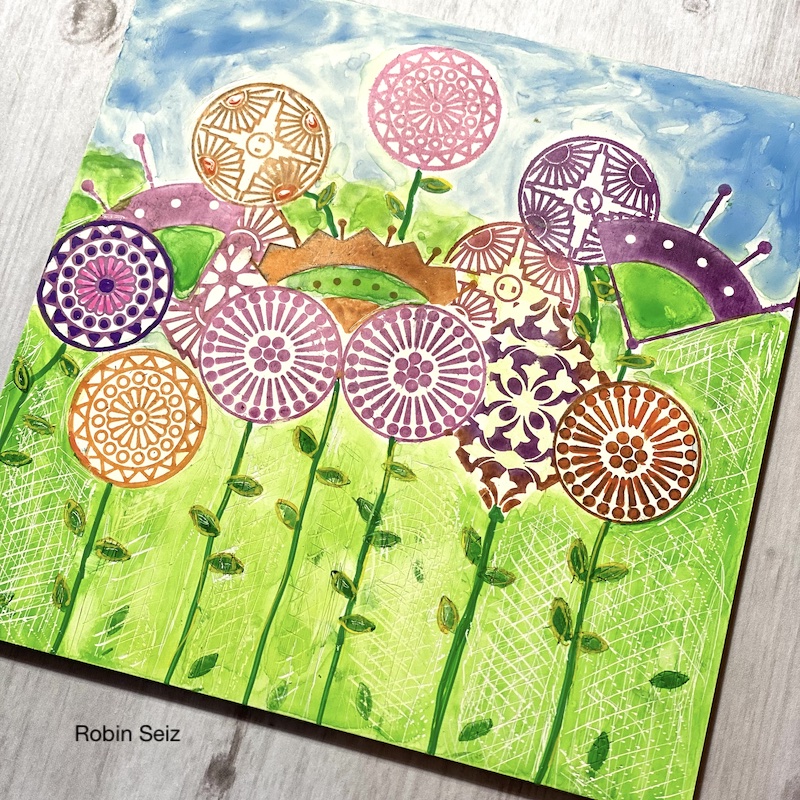 Finally, I took my butterfly die cuts and stamped them with a stamp from the Fan Fare Cube and the Circle Drive Positive Small from the Small Circle Jumble Set; both perfect for the wings. I attached my butterflies to the flowers with two sided adhesive dimensional tape which completed the whole scene.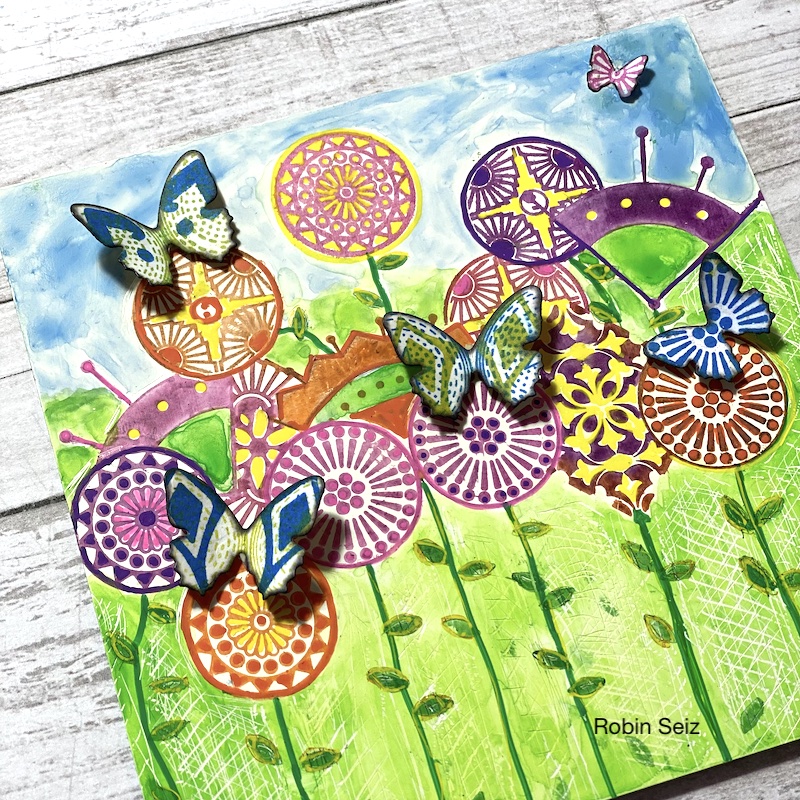 This project makes me smile because it reminds me that spring is right around the corner and I'll be planting seeds and watching those butterflies before long! 
One of the greatest lessons for me in doing this project was how important it is to stay open to seeing the stamps in new ways. A circle, square or even a triangle can easily become a flower! 
I hope you chose the animal (or insect :o) ) that resonates with you and try something new. Please tag me with what you create.
---
Thank you Robin – your technique for organizing your layers is a great idea. And we love your beautiful stamped blooms and butterflies!
Give it a try: you can find all my Rubber Stamps in my Online Shop and here are some of the supplies Robin used: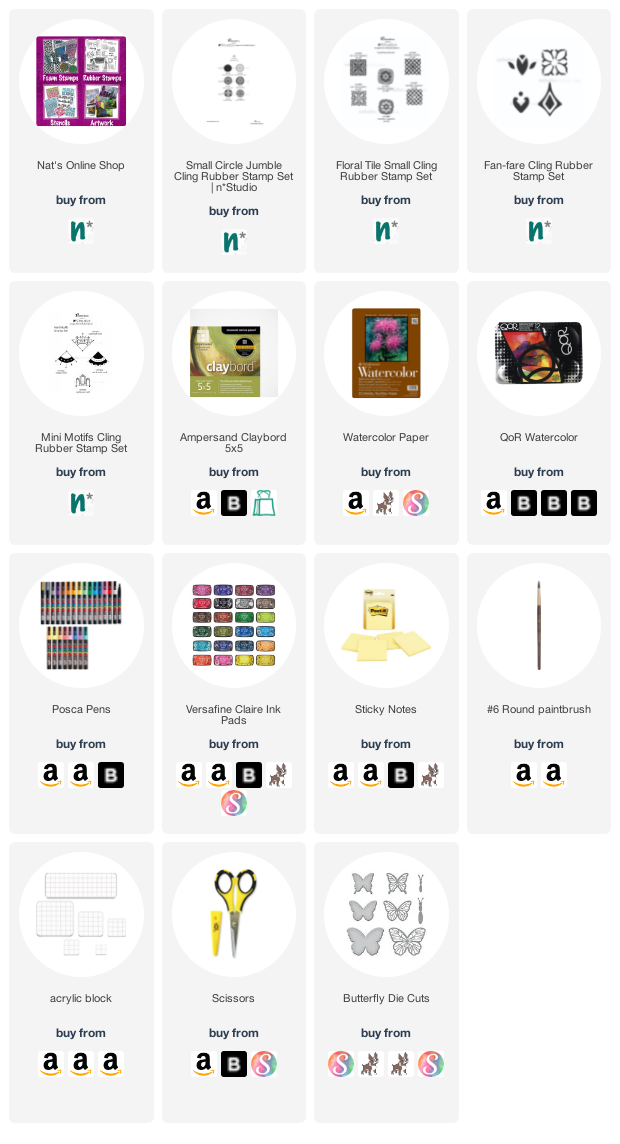 Looking for more projects? Follow the Creative Squad on Instagram here.