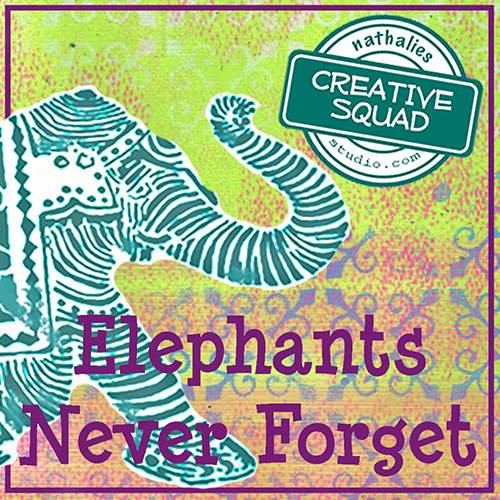 It's Tuesday again so here is my Creative Squad with another fun project for you with this month's theme: "Elephants Never Forget". Throughout the month of May, the team will use my new Elephant Foam Stamp, Rubber Stamp and Stencil Set to interpret the theme. I asked them to draw from a childhood memory, and to use the elephant as a symbol of something that fascinated them as a child, inspired awe, or just got their little brain all wrapped up with wonder. And if you want to hear a little bit about my childhood, you can read about my personal connection to elephants here (just scroll down to "WHY an elephant…")
Today we have a mixed media piece by Marsha Valk.  After persisting through a brief creative block (it happens to everyone!) she created this gorgeously layered piece using a fantastic combination of purple and orange.
—————————————————————————————————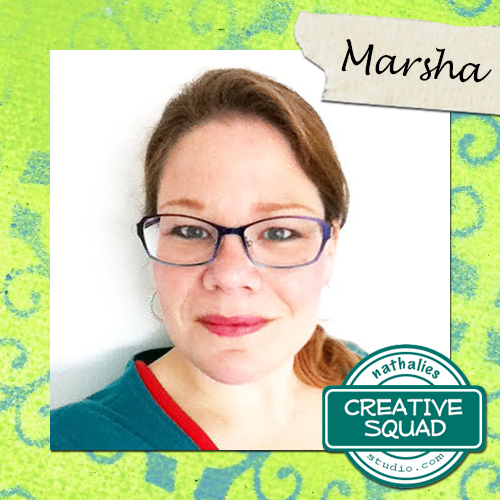 It's hard to choose just one childhood story or memory, so I concentrated on the elephants and tried to come up with as many elephants as I could remember from my childhood. The big one is that my little brother collected elephants when he was young. He had many, many elephant figurines. At least two of those came from my grandmother's house and I remember that at one point they were in the guest bedroom. The room had a typical 70's decor. It wasn't psychedelic in any way, the walls where neutral, the furniture was white, but there was an orange washbasin and purple bed spreads with a fringe.  I loved those bed spreads! When we were very little, my sister and I used to play with them when we woke up early.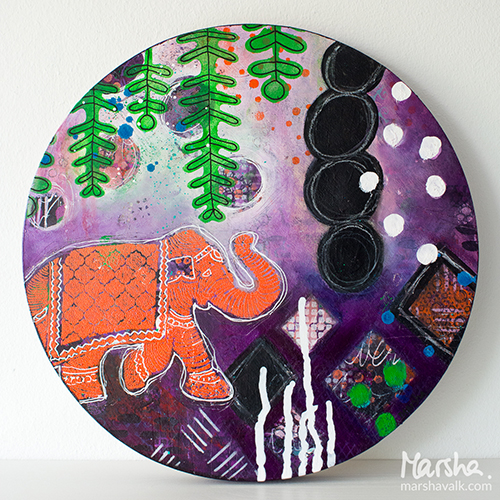 Anyway: the colour scheme for this project was set! It had to contain purple and orange. I struggled with what to do though. I tried some things first with no great success, until I decided to just have fun! I chose the back of a shallow round tray (28 cm) as a substrate. I love working on wood panels, so when I saw this at my local craft store, I knew I wanted to use it as a 'canvas'!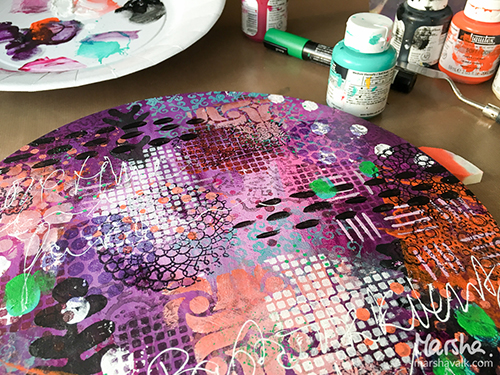 The problem with 'having fun' is that I can't exactly tell you what I did. I started to prepare the wood tray with two coats of gesso that I sanded smooth. Then I randomly applied soft body acrylic paint to the surface. Once that was dry I started painting, stenciling and stamping layers using soft body acrylic paint, paint markers and permanent stamping inks.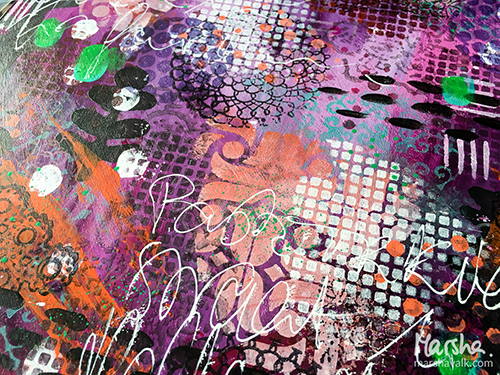 I tried to get the whole surface covered. Then I decided on my composition, stamped and embossed the
Elephant cling rubber stamp
image and painted the top layer. I also scratched into the surface and I added acrylic inks and black and white charcoal pencil.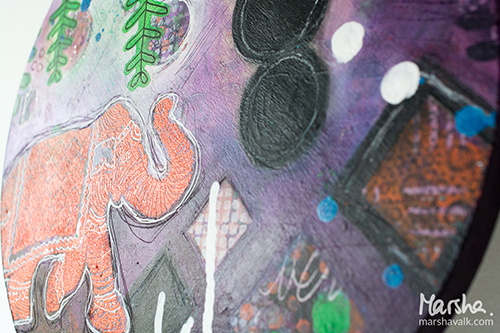 —————————————————————————————————
I love Marsha's circular design and I'm so glad that she decided to have fun with it! I think the results, and those super nice, 70's inspired colors :) speak for themselves. In addition to the supplies (some links are affliate links)  listed below, Marsha also used a wooden tray, black and white charcoal, and the stencils from the Urban Scribble, Bird, Mish Mesh, and Fashion Dame stamp sets.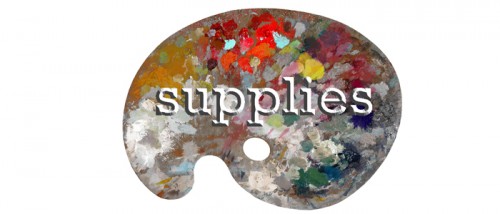 And maybe you will even play along -we would love to see how you interpret the theme. Email me how you used my stencils and stamps with the theme and email me an image – I would love to share what you did at the end of the month!
See you next Tuesday for the another project from the Creative Squad, with the theme Elephants Never Forget.