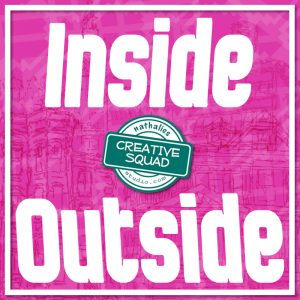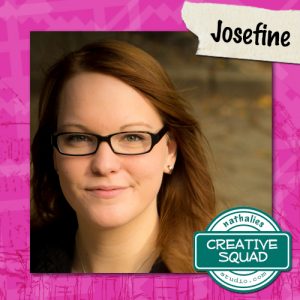 Hello from the Creative Squad! Today we have a post from Josefine Fouarge to show us a great way to use my Toledo and Ornament Wallpaper stencils, along with my Stroll Around the Block stamps, in a cute art journal page that shows how creativity can take your ideas on a journey! Josefine's inspiration began with this month's theme: Inside Outside – Inside can be cozy and warm. Outside is about fresh air and freedom. Are you a homebody or do you suffer from cabin fever? We're creating with these opposites in mind.
---
Hi everyone! This month's theme took me on a journey. At the beginning, I wanted to create something around Winter vs Summer or a similar contrasting theme, but then I started working in my art journal and it moved into a different direction.
Basically, I created a page about myself and the contrast of me at work and me at the craft table. But more on that later ;)
I started with a page that already had a few "clean up" marks on it from a Gel Press session that I had. I decided to use the round Gel Press marks and work with those circles. I used the Toledo stencil and placed three of the stars around the two circles.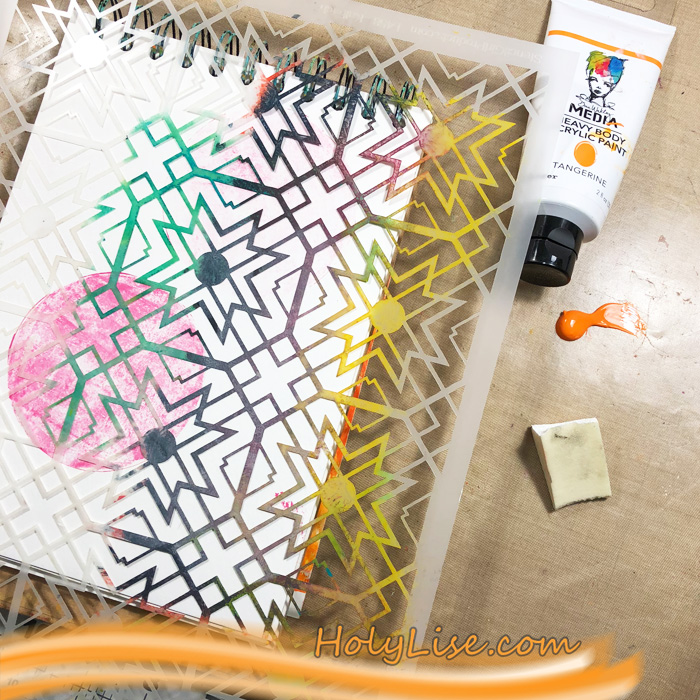 I didn't use the alignment of the stencil and created my own pattern with them. Next up, I used the same stencil and positioned it slightly off. As you can see, I didn't cover the entire page, just a few areas that I blended out and into each other.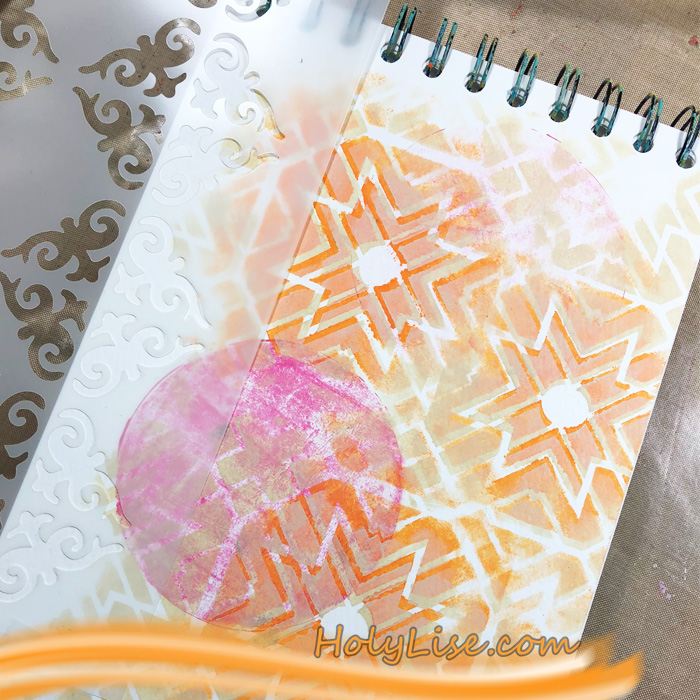 Now I added the circles on top using a round Gel Press. I thought that the bright yellow looks like spotlights. But I didn't like the brightness, so I added the Ornament Wallpaper pattern inside and then, while I was at it, to the left border.
Coincidentally I found this girl in a magazine. Even though she's struggling with her hair, I thought that she fits perfectly onto my page – just switch the hairdryer with a heat gun :)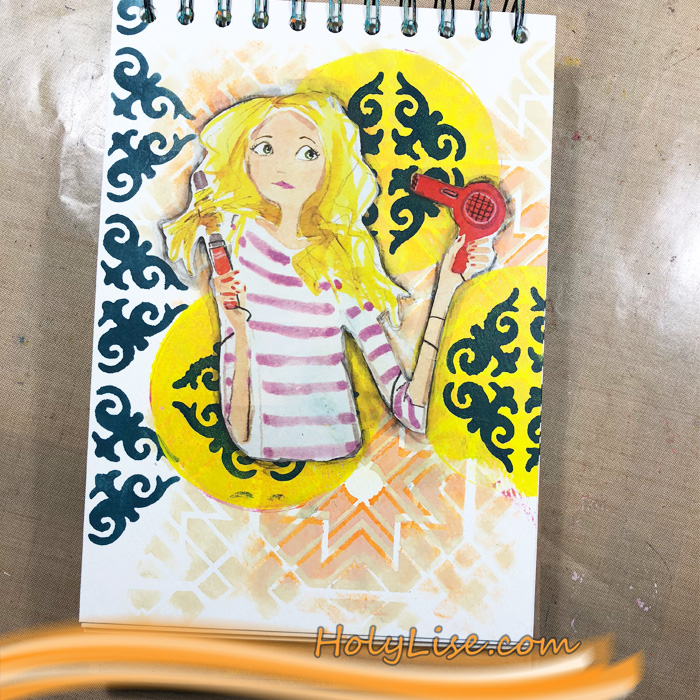 And onto the contrast part. I work at a job where a business casual is preferred. Not that I have a problem with that, but it's very different to how I usually am when I'm at home. Let's just say I love to craft in my jammies…
That's why I picked the Craftsman stamp from the Stroll Around the Block set and stamped it onto a grey piece of paper. I kept the house very clean and colored it lightly with Prismacolor pencils.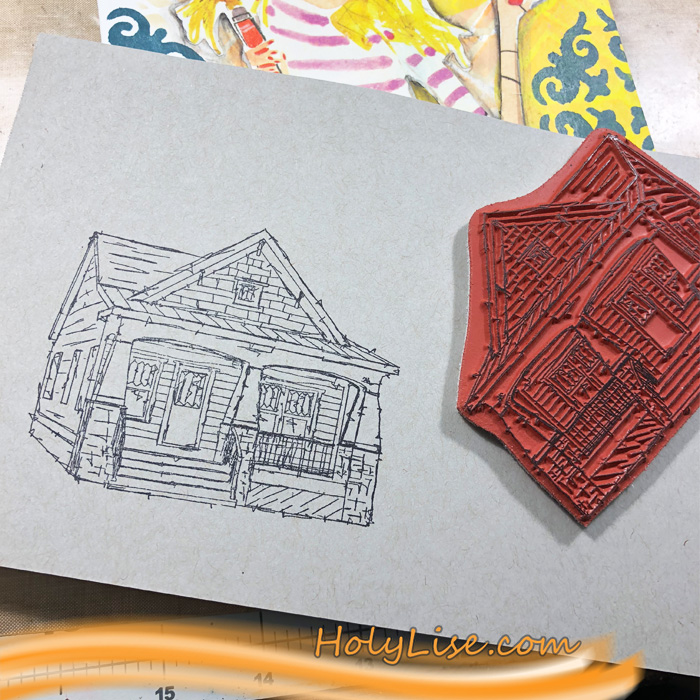 At the end, I ripped the edges of the grey paper, adhered it onto my art journal page, added some black watercolor around the edges and sealed the entire page with Earl Lube paste.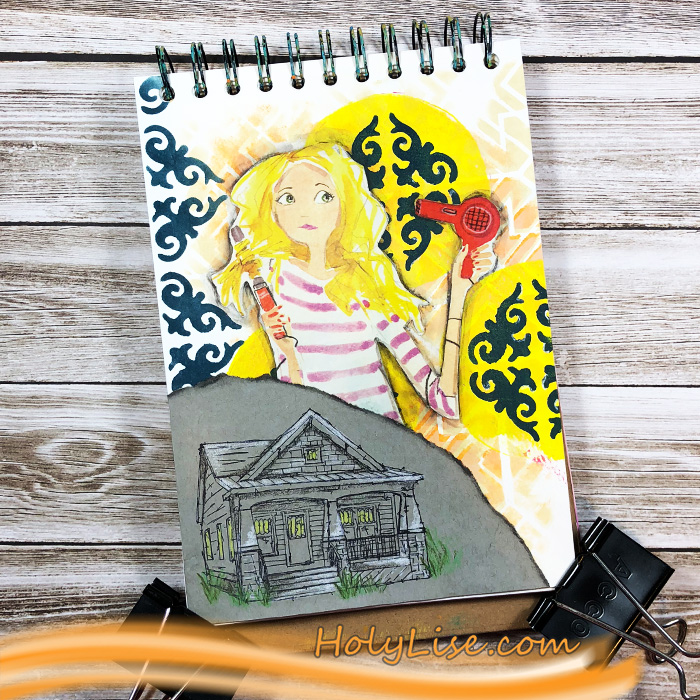 Now we have a clean, successful looking outside with a chaotic me in the inside :)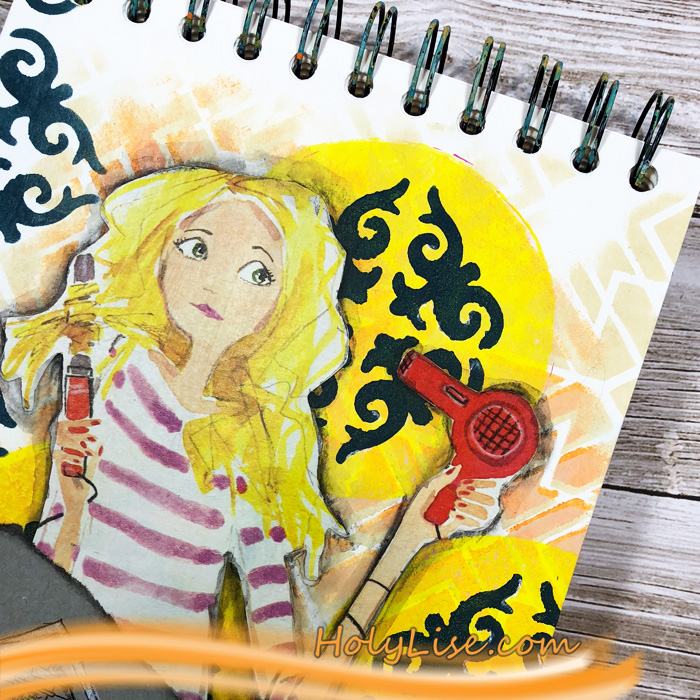 On a side note, I love how the white pencil adds contrast to the Craftsman house.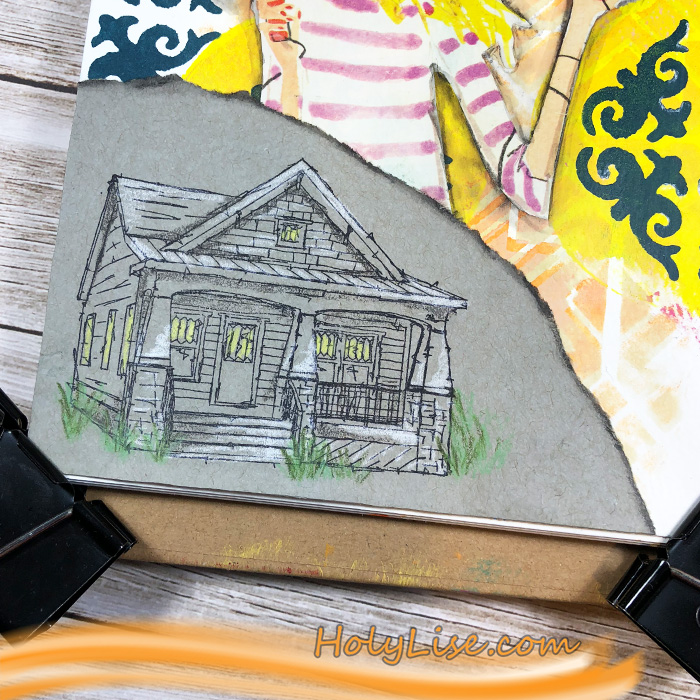 Thanks for stopping by! Don't forget to come back every Tuesday for more Creative Team inspiration.
---
Thank you Josefine! I love hearing about your evolution of ideas – sometimes we just need a little spark to get inspired and then our creativity takes it from there :) In addition to Earl Lube Paste (gel medium), here are some of the supplies that Josefine used:
Feel inspired? Working on something yourself that you'd like to share?  I love to see how you interpret our monthly themes. Email me how you used my stencils and stamps with the theme and email me an image – I would love to share your projects in my next  "n*Spiration From Around the Globe".