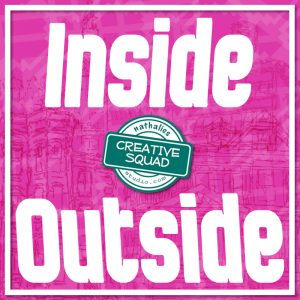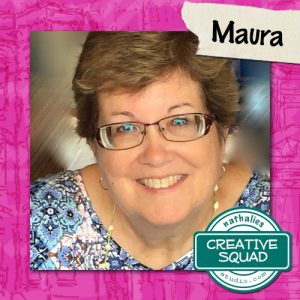 Happy Wednesday my friends! Today we have a post from Creative Squad member Maura Hibbitts to brighten your day. Maura is using my Stroll Around the Block, Snail mail, and Cross Circle stamps and my Buenos Aires stencil to create a lovely art journal page that definitely has me thinking "Home Sweet Home"! The theme this month is Inside Outside – Inside can be cozy and warm. Outside is about fresh air and freedom. Are you a homebody or do you suffer from cabin fever? We're creating with these opposites in mind.
---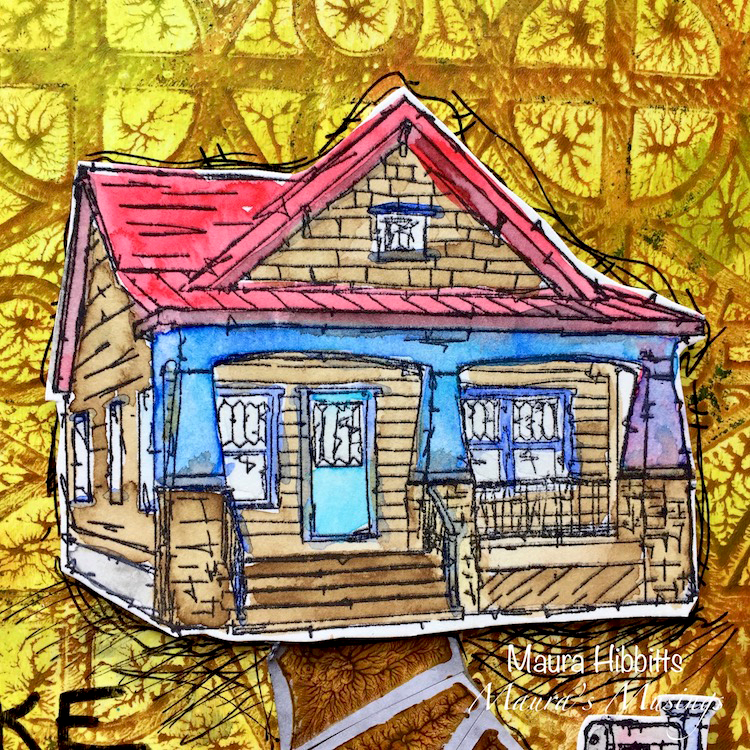 I have long been an admirer of the Arts and Crafts Movement, the pottery, wallpaper, furniture, and love the Craftsman style homes. The outside details of Nathalie's Craftsman house stamp make for a delightful little cottage, one I would love to live in. I do have several pieces of furniture inside my home made in this style, that we enjoy every day, and I can foresee passing these on in the family, they are so sturdy and well made.
I started with my gel plate and squirted on a bit of burnt umber, green gold, and quinacridone gold with my heavy body paints, then used the brayer to blend them out a bit. Next, I laid the Buenos Aires stencil down onto the plate and pressed a sheet of copy paper over it, then lifted the stencil. Be sure to clean the stencil right away and not leave it too long on a sheet of paper. (I learned the hard way that they will stick together. If that happens, just soak the stencil in water.)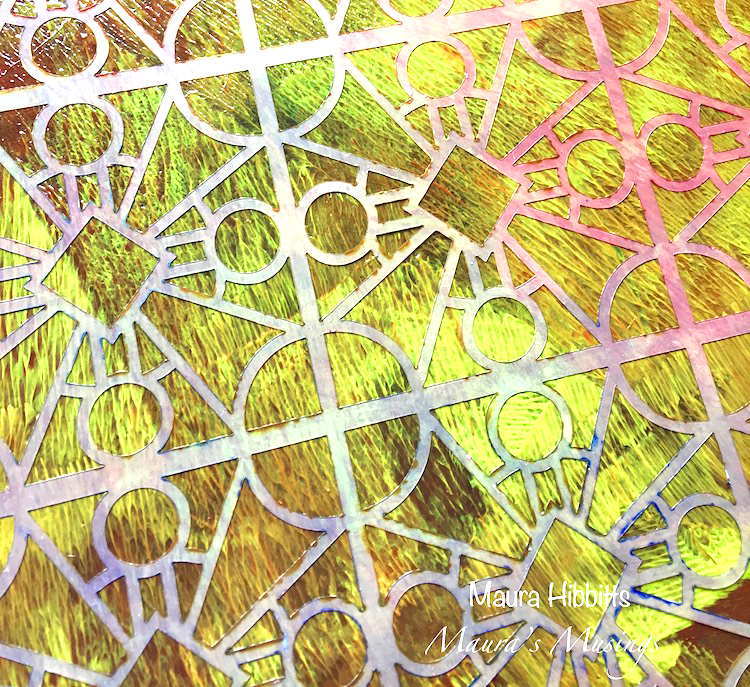 I pulled two prints from my gel press to use in my project. The print on the left made from laying the paper down on the stencil and paint, and the one on the right is the second pull directly from the plate.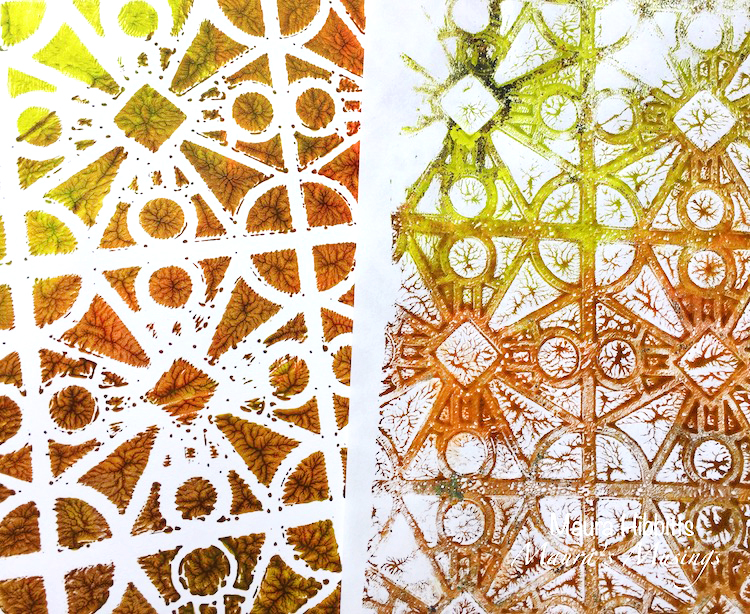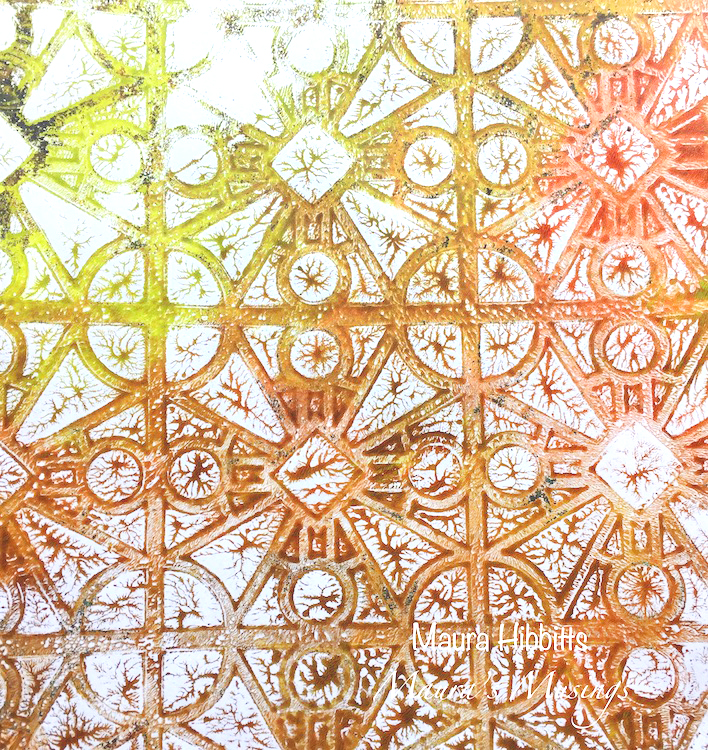 I tore the edges of my print, and adhered it onto a kraft page in my Dina Wakley Media Journal with matte medium. Once dry, I brushed on several transparent colors, then wiped them away in some areas with a baby wipe. I used Hansa Yellow Medium, Quinacridone Gold and Green Gold for this layer.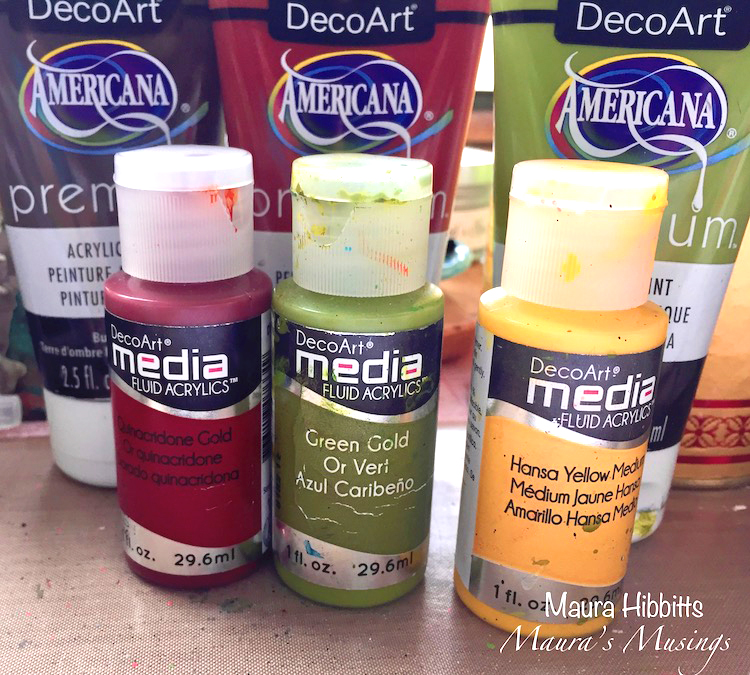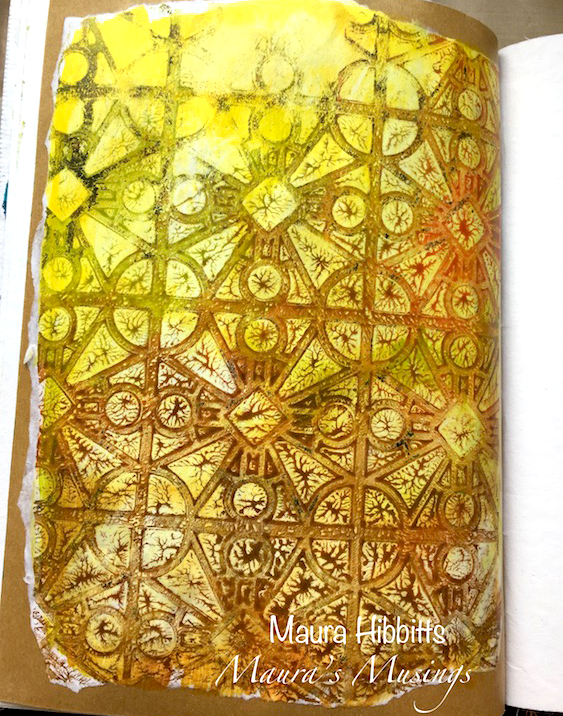 While that was drying, I stamped the house and mailbox on watercolor paper, and colored them with Prima watercolors and a water brush. Once they dried, I cut them out.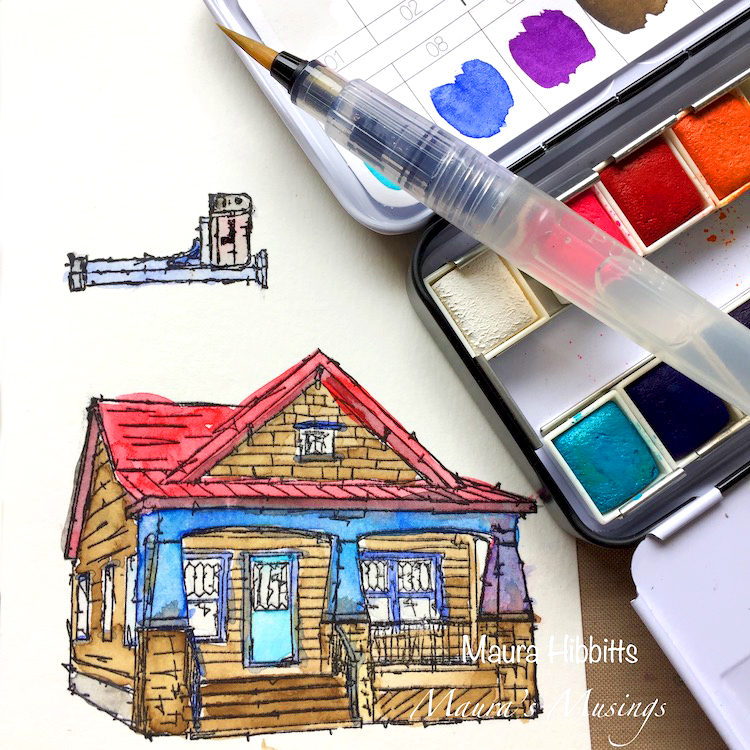 I used my other print to cut out part of the stencil to layer and create my sun, and the stone pathway to the house. I added a bit of doodled lines, and watercolor to the stones.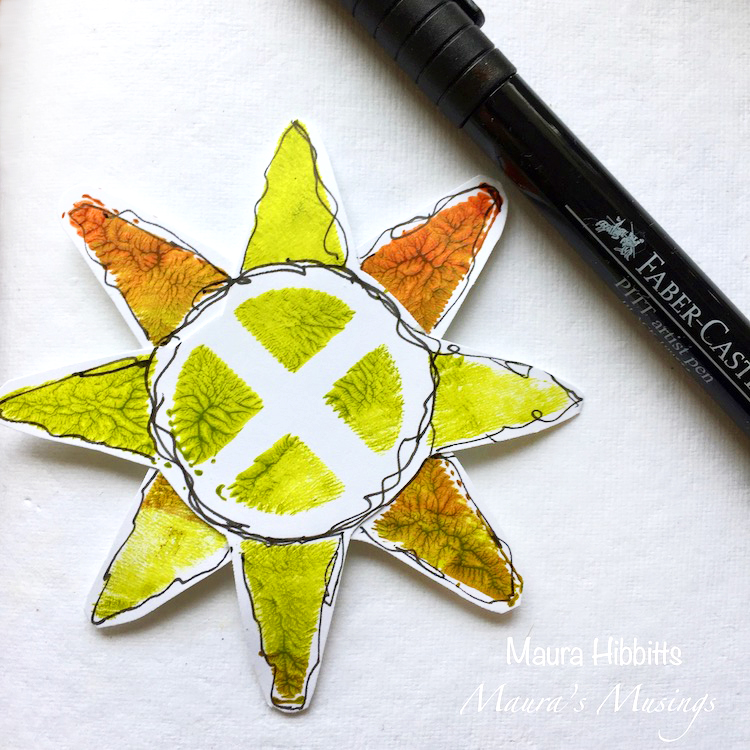 When I first looked at the Cross Circle stamp, I saw flying birds, so I used part of the stamp to add some birds to the page.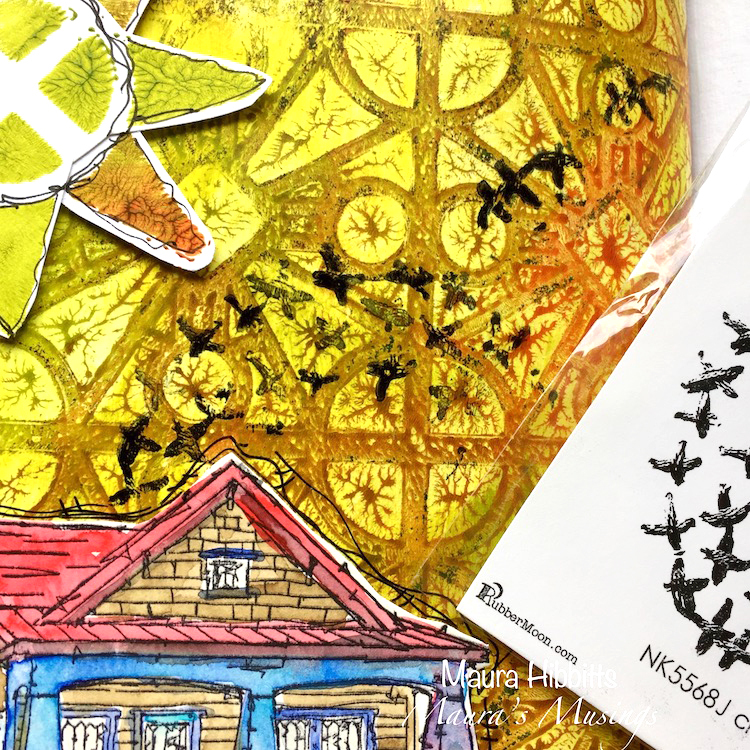 The house, sun and mailbox are attached with foam tape. I also scribbled a bit around the house, mailbox, and stone path, and wrote Take the Path Home onto my page as this seemed appropriate. After all, I know my home always calls me back, especially if I've been away for a while.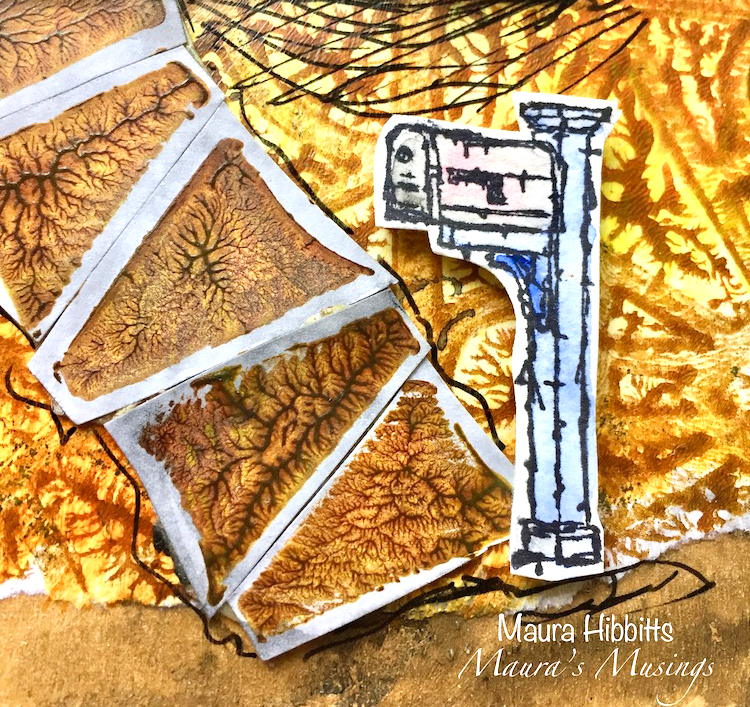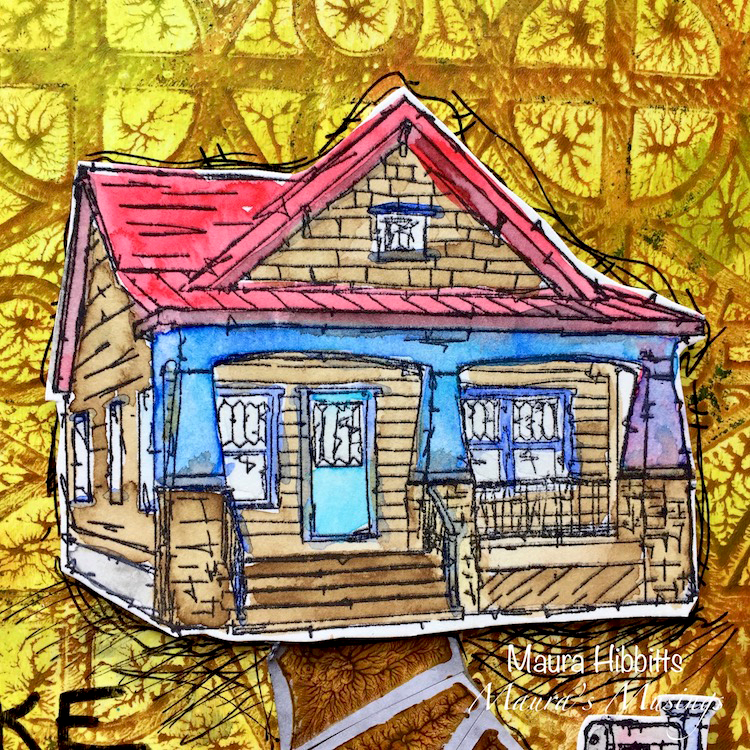 ---
Thank you Maura! I love the little scene you've created and so cool that you interpreted my Cross Circle stamp as a flock of birds – I love that idea! Here are some of the supplies that Maura used in her art journal:
Do you feel inspired to create now? Are you working on something yourself that you'd like to share?  I love to see how you interpret our monthly themes. Email me how you used my stencils and stamps with the theme and send me an image – I would love to share your projects in my next  "n*Spiration From Around the Globe".