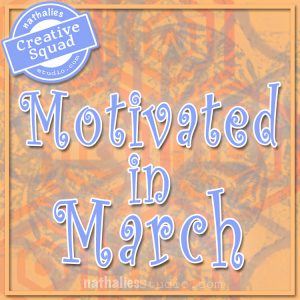 Hello from my Creative Squad! Today we have a tag and envelope project from Judi Kauffman using my Art Deco Summit stencil and this month's theme: Motivated in March – What keeps you motivated to create? Is it a certain material? Your favorite colors that you can't get enough of? Maybe you get motivated when you see artwork in a museum or out and about? Share with us your creative motivation and then create something inspired by it.
---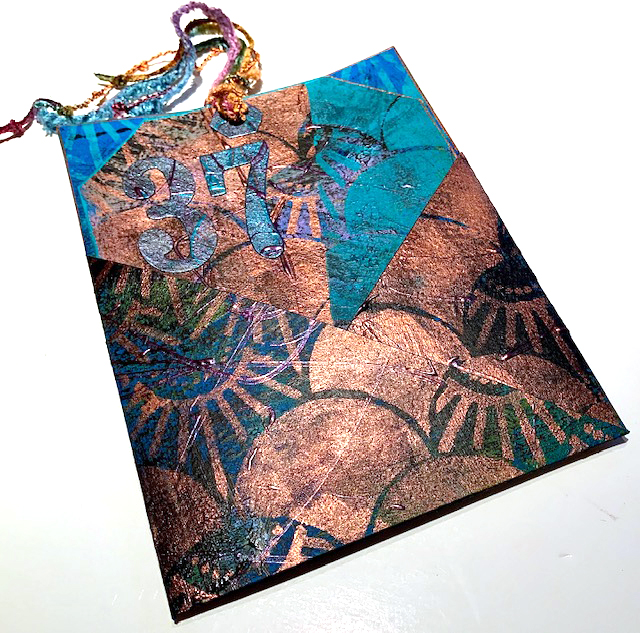 I love this month's theme; "Motivated in March" really resonated. I thought a lot about what motivates me as well as parts of my life where more motivation is needed. To that end, I picked what I'm calling a "Magic Number" for the month: 37! And I designed a tag in a pocket to help me remember and focus on the number.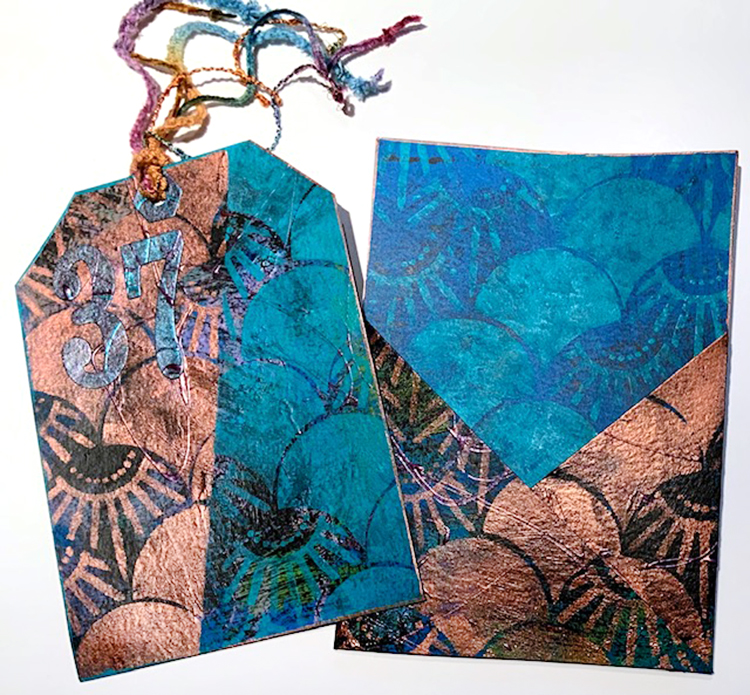 I'm going to spend 37 minutes a day on the treadmill.
I'm going to help my neighbor register 37 new voters!
I'm going to do 37 different creative projects during the month and will document them on the back of the tag and in my Traveler's Notebook.
…And I'm going to imagine that I'm only 37 to keep myself feeling younger.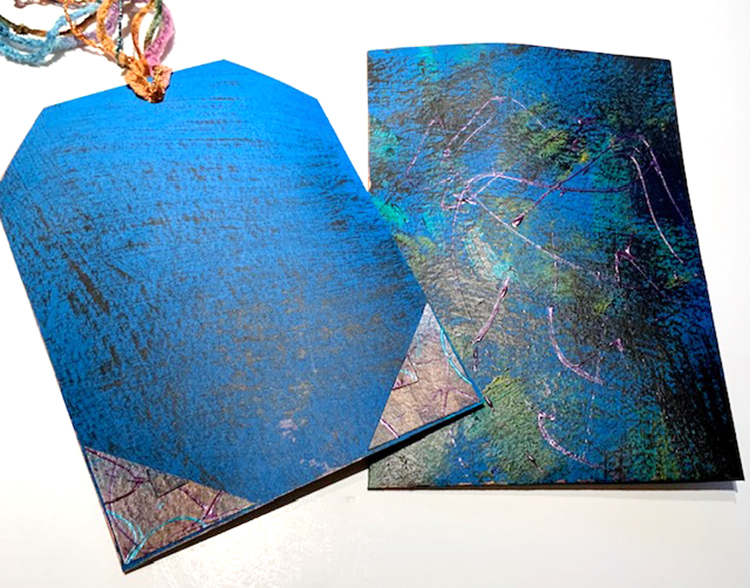 YOUR TURN – A CHALLENGE

Before we get into the how-to portion of this tutorial I'm issuing a challenge:
Pick your own "Magic Number"!
Write down at least 3 things that it represents.
Make a tag with a pocket like mine or start with an envelope, folder or box. Add the number to the tag, envelope, folder or box.
Document your intentions for the number and then chronicle how the month plays out!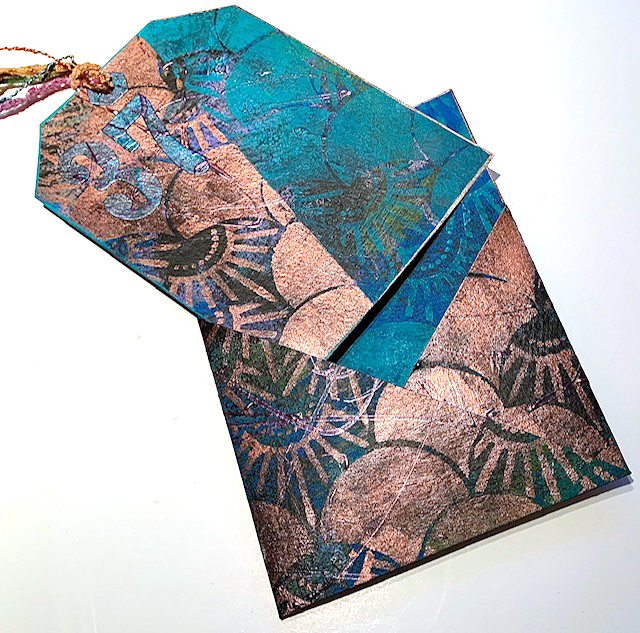 INSTRUCTIONS

1. Dry-brush a sheet of royal blue cardstock (or a color of your choice) with two or more acrylic paints. Shown: Black, teal, medium blue. When dry, randomly scribble with dimensional paint in one or more coordinating, equally dark colors. Allow to dry.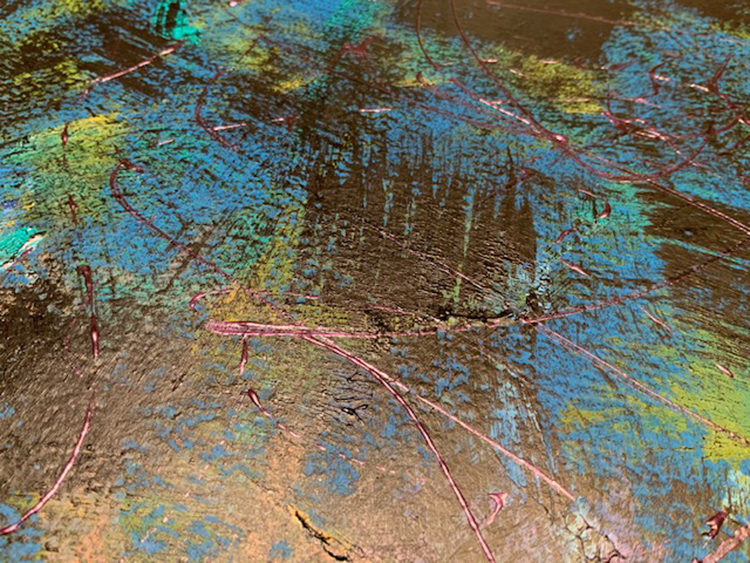 2. Dry-brush the reverse side of the cardstock with black.

3. Die cut the pocket shape.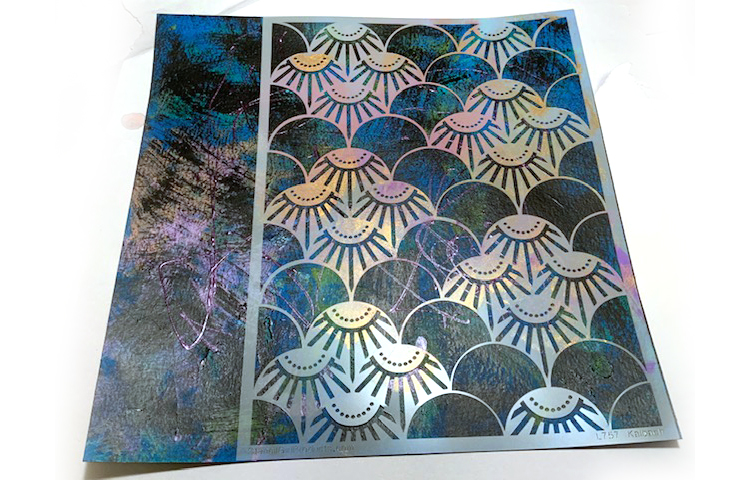 4. Using teal paint, stencil Art Deco Summit pattern on the portion of the inside of the pocket that will show when it's folded. Allow to dry.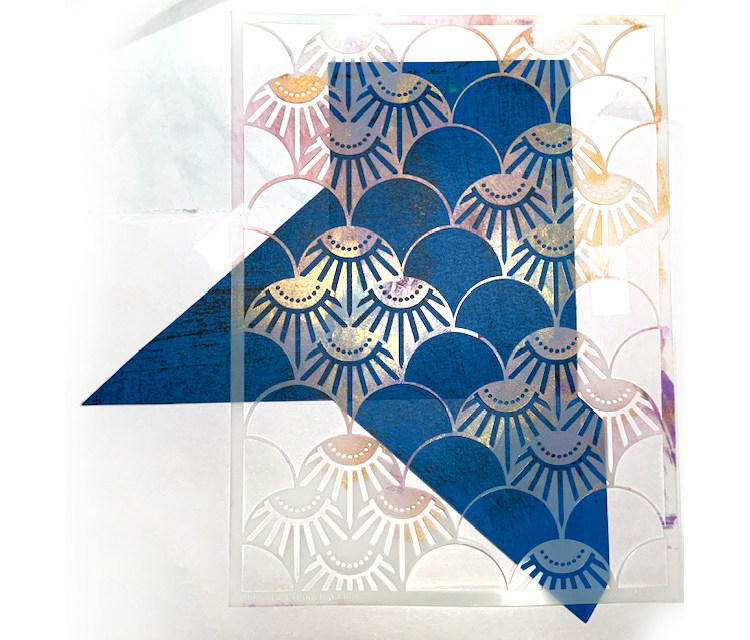 5. On the right side of the pocket use copper metallic paint to stencil Art Deco Summit pattern on the two angled sections. Use newsprint to mask the areas where you don't want any stenciling.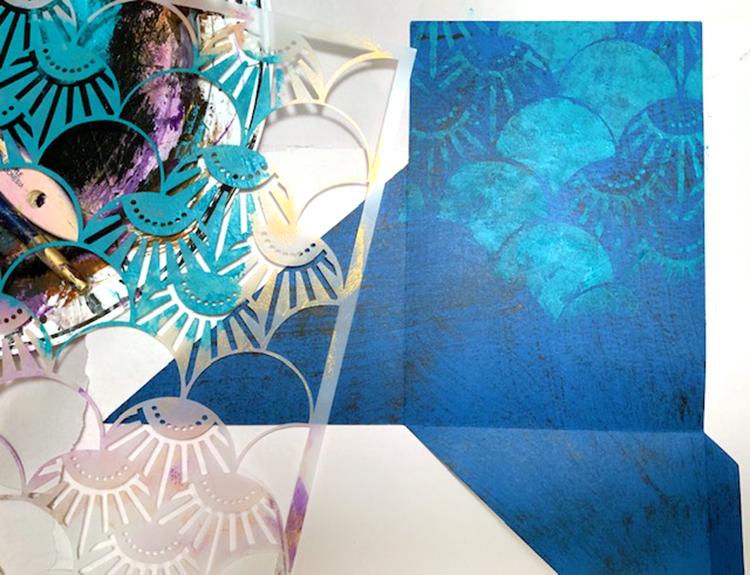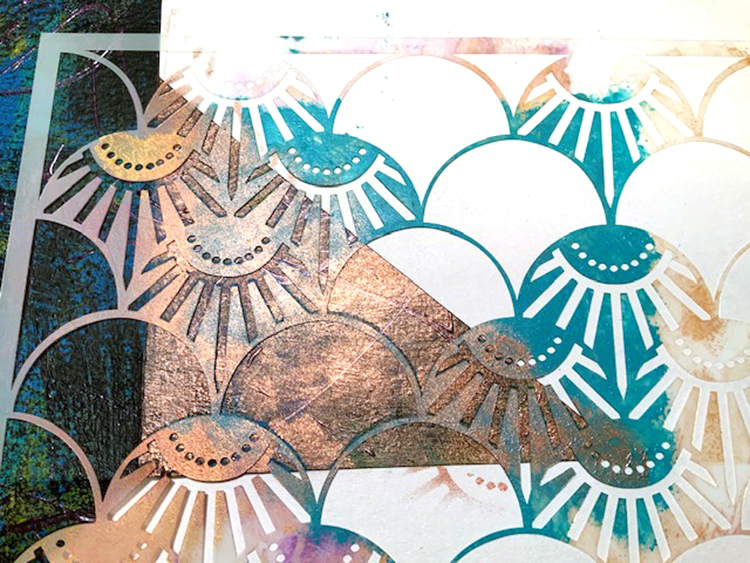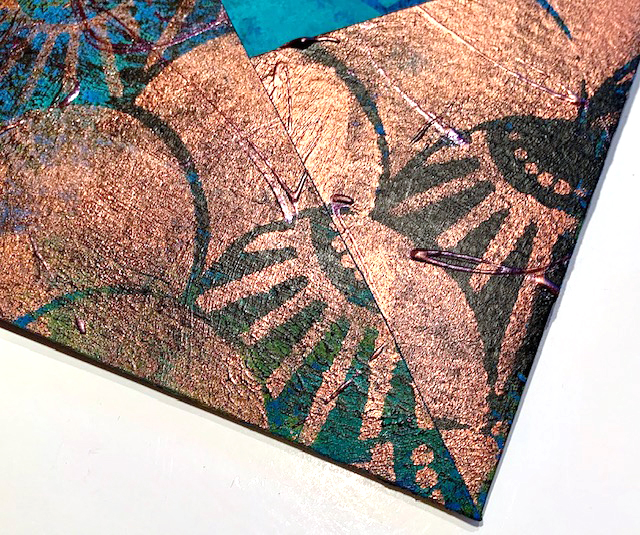 6. Fold on score lines, assemble the pocket.

7. Cut a 4.75" x 6.75" rectangle from scrap portion of 12×12 cardstock. Stencil Art Deco Summit pattern in two colors at an angle, masking between colors – copper metallic on one side, teal on the other. Trim corners and punch a hole to make a tag.

8. Edge the pocket and the tag with paint.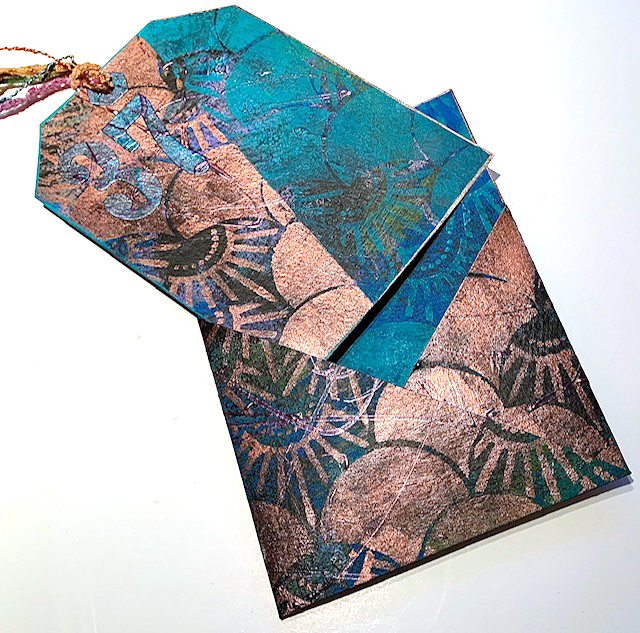 9. Hand- or die-cut the "Magic Number" and a hole reinforcement from another scrap portion of the 12×12 cardstock. Adhere to the tag. Add fibers in coordinating colors.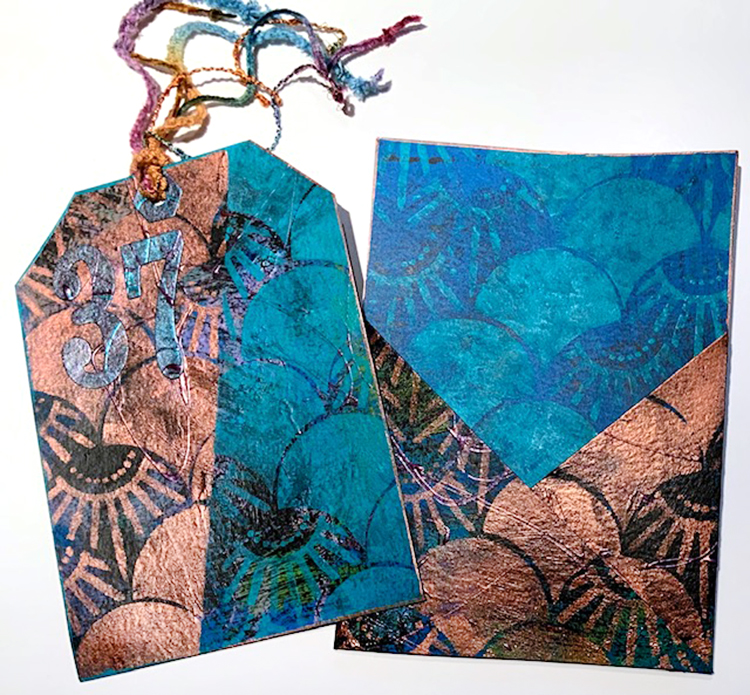 ---
Thank you Judi – what a nice idea of activities that we can do now that we are all spending more time at home.
Want to give Judi's project a try? You can find all my Stencils in my Online Shop and here are some of the other supplies she used: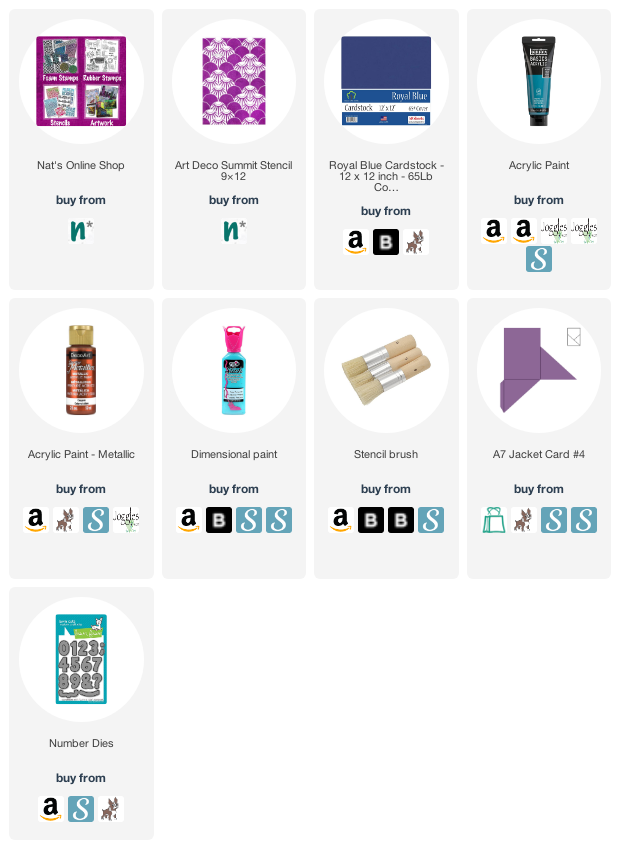 Feel inspired? Working on something yourself that you'd like to share?  I love to see how you interpret our monthly themes. Email me how you used my stencils and stamps with the theme and email me an image – I would love to share your projects in my next  "n*Spiration From Around the Globe".