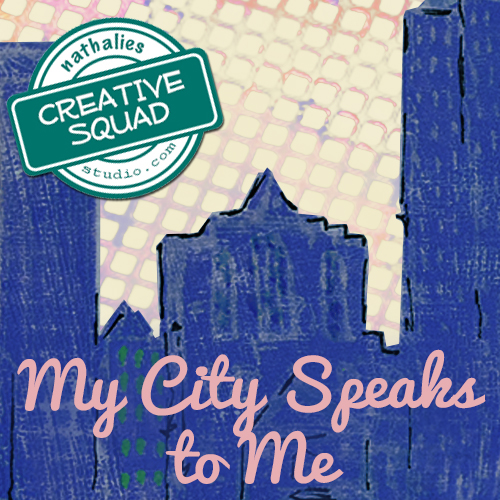 It's Tuesday so it's time for my Creative Squad to share a project with you! The theme for this month is "My City Speaks to Me" and throughout the month, the team will be using my new Urban Scribble Foam Stamp, Rubber Stamp and Stencil Set. This month's theme is all about expressing what your hometown or city is all about.  What makes it special, vibrant, and important to you?  This month, our Creative Squad will take us on a trip to their city!
Here is Cheiron Brandon and her super colorful interpretation of the theme, which happens to feature a city that's my neighbor too!
—————————————————————————————————–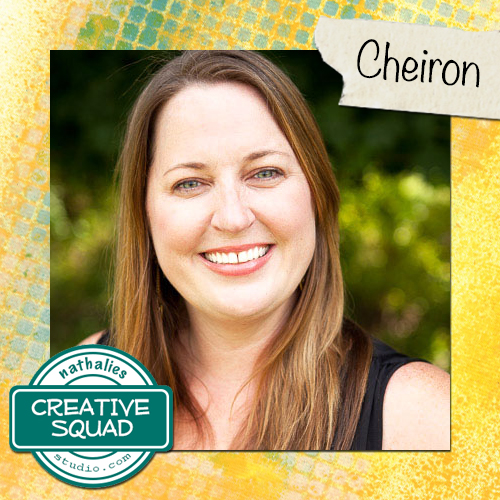 Even though I am a Jersey girl, New York City has always been my city. I live about 8 miles from NYC and get a beautiful view of the skyline on my drive to work each morning and most times, I see the sun coming up. It is like the city is saying hello to me each morning.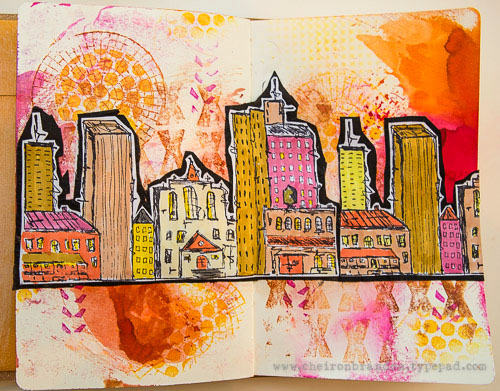 For my project this month, I created a journal page with all the colors of the morning sunrise using the Urban Scribble stamp as the main focal point.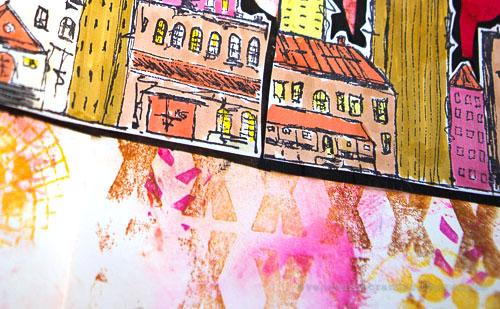 To start I used a page where I had wiped up some Distress stains from another creative adventure. I stamped the page using stamps from the Marks, Wired, and Mish Mesh stamp sets along with various Archival Inks to create a background. Then I stamped the skyline twice and colored it in with Faber Castell PITT artist pens. This stamp was so fun to color! I fussy cut around the stamp and adhered it to some crinkled black tissue paper to use as my focal piece. Once my piece was done, I adhered it to the background with matte medium.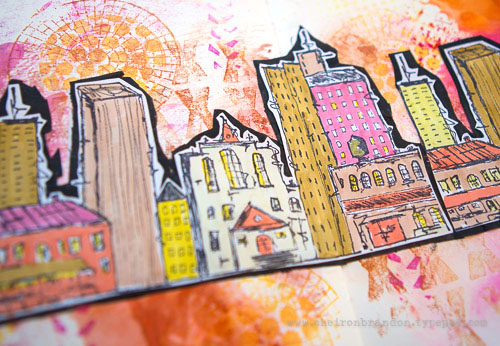 ———————————————————————————————————-
I hope you enjoyed Cheiron's gorgeous art journal page! We are both Jersey Girls so I totally understand her love of the NYC skyline – it inspires me all the time. I love her choices of color too and the way she layered several stamps in the background to capture the energy of the city.
Besides the supplies listed below, Cheiron also used black tissue paper and Tim Holtz Distress Stains in Picked Raspberry and Wild Honey: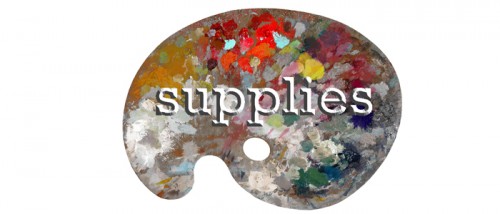 And maybe you will even play along -we would love to see how you interpret the theme – email me how you used my stencils and stamps with the theme and email me an image – I would love to share what you did at the beginning of next month!
See you next Tuesday for the another project with the theme 'My City Speaks to Me'.