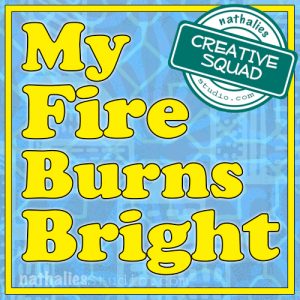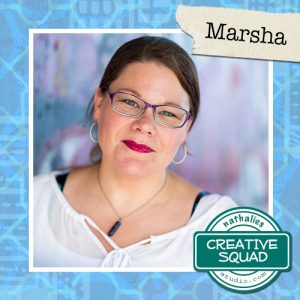 Welcome to December and a new post from my Creative Squad! Today we have a series of gorgeously layered pieces from Marsha Valk. To create such lovely backgrounds, she used my Downtown foam stamp set, my Amsterdam stencil, and a variety of my cling rubber stamps. This month the squad is using a new theme for inspiration: My Fire Burns Bright – Creativity is a passion that can come from deep within the heart and soul of the maker. Sometimes this fire gets ignited by an event or an influential person in our lives, and other times it can be ignited by a love for a material or just simply the enjoyment that comes from making. What makes your creative fire burn bright?
---
My creative fire ebbs and flows like I'm sure yours ebbs and flows too. We all need new input now and then, to spark creativity, get new ideas and to try new supplies or old supplies in a new way.
Nat's Creative JumpStart always hugely ignites my creativity. And by that, I mean not only the event in January, but also the brainstorm and preparations I get to do as one of the featured artists(!). It's so much fun creating something extra special just for CJS!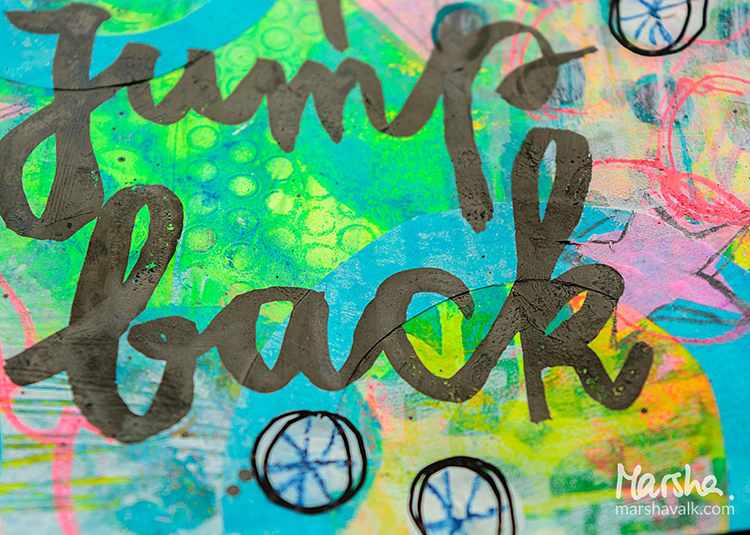 In January I attend the online event and watch all of the videos together with all of you. I always find new artists to follow (or take classes from), and I take notes of what supplies, techniques or ideas I want to try myself later in the year.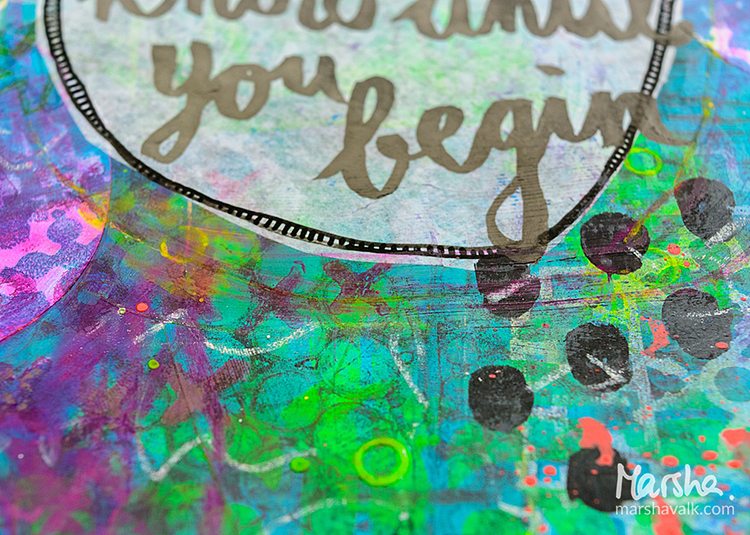 One artist that inspired me in particular during Creative JumpStart 2017 was Mystele Kirkeeng. It wasn't until recently though that I purchased a couple of her Wonder Paint episodes. In these recorded studio sessions you get a chance to look over Mystele's shoulder while she paints, explores and plays. Mystele uses all kinds of supplies in her beautiful art, and that lead me to unearth stuff from my stash that I usually never use.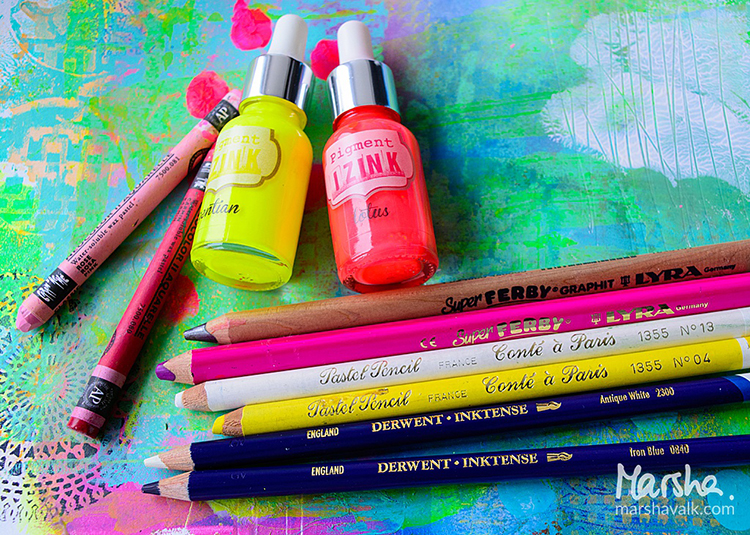 She prompts me to ask myself questions about what attracts me to specific art or supplies and reminds me that it's OK to work on loose scraps and sheets of paper just for the sake of creating, layer after layer after layer.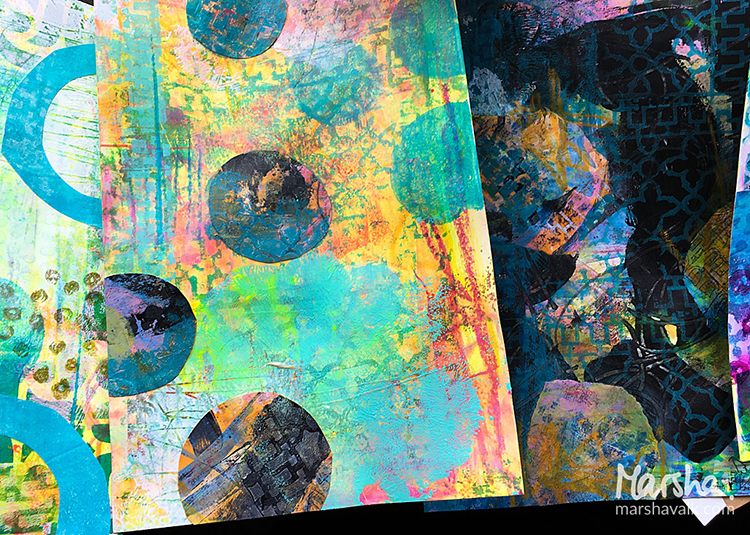 Two of these 'loose sheets of paper' started out as Gelli Prints, the other two are cut from paper I used to clean my brayers and brushes. On top I scribbled, stamped, heat embossed, collaged, painted, scraped, sprayed, splattered, made marks and doodled and I pretty much used anything that was within reach.
The results are super messy, colourful and highly textured pieces of paper that I immensely enjoyed making!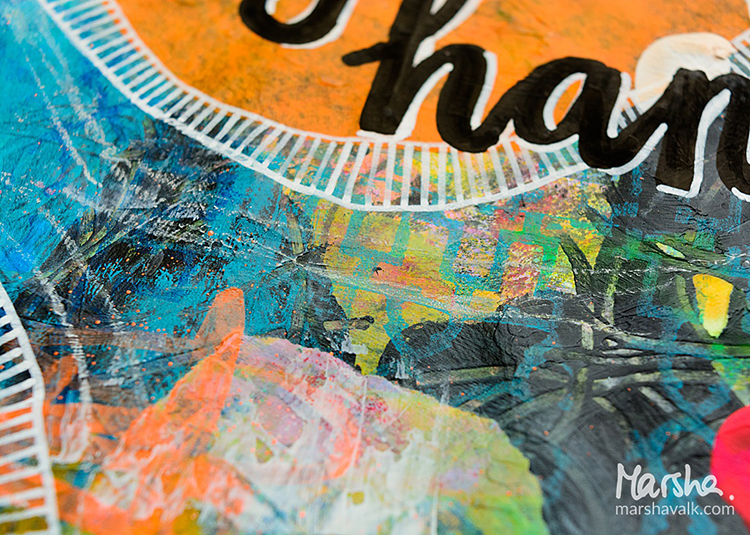 If you want Mystele to ignite your creative fire too, then you are in luck because she's one of the 31 featured artists for Creative JumpStart 2018!
I cannot wait to see what she has cooked up for this edition of CJS. Join us and register for Creative JumpStart 2018 here!
Happy December!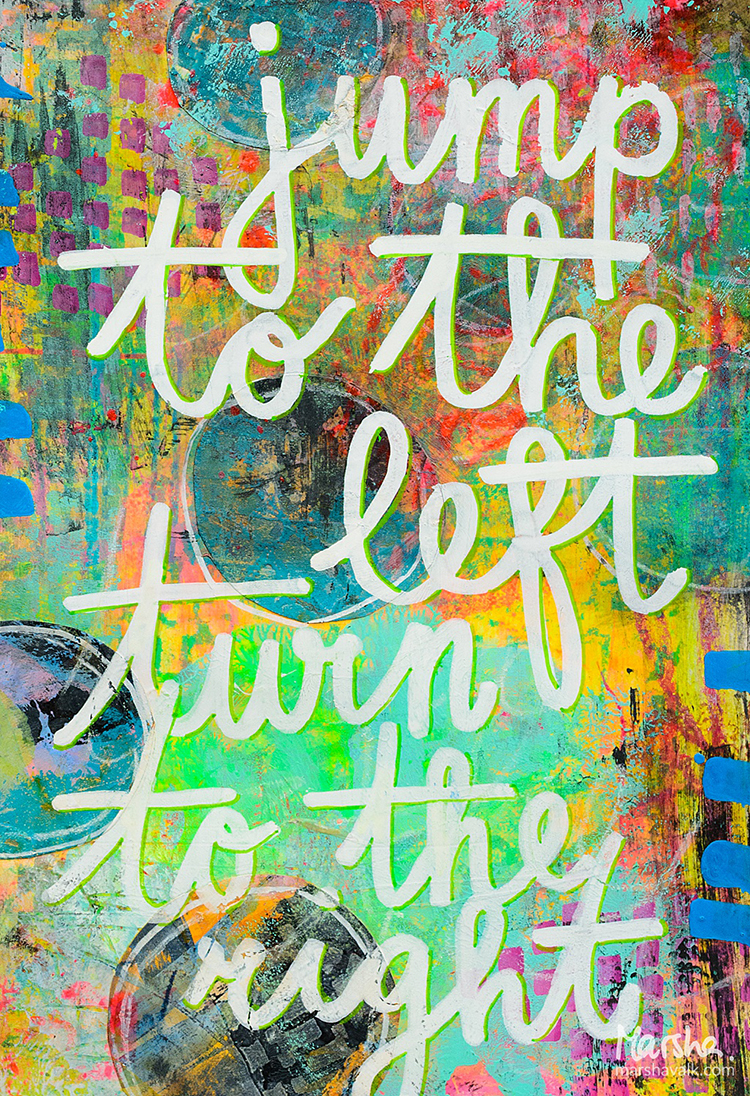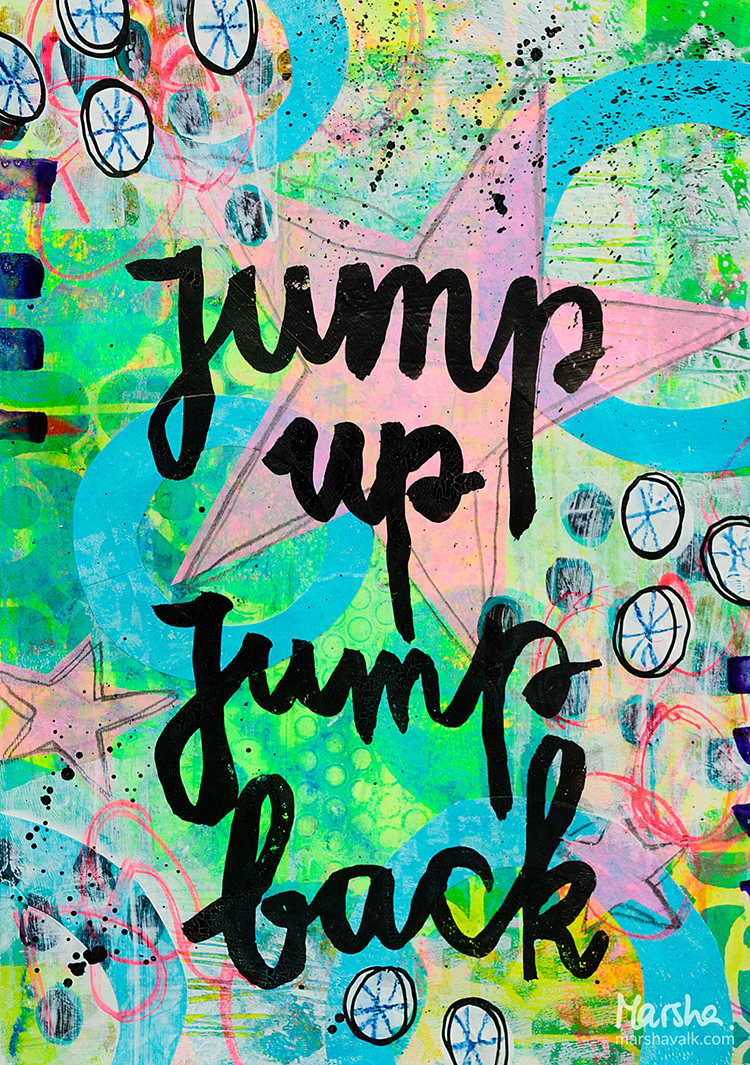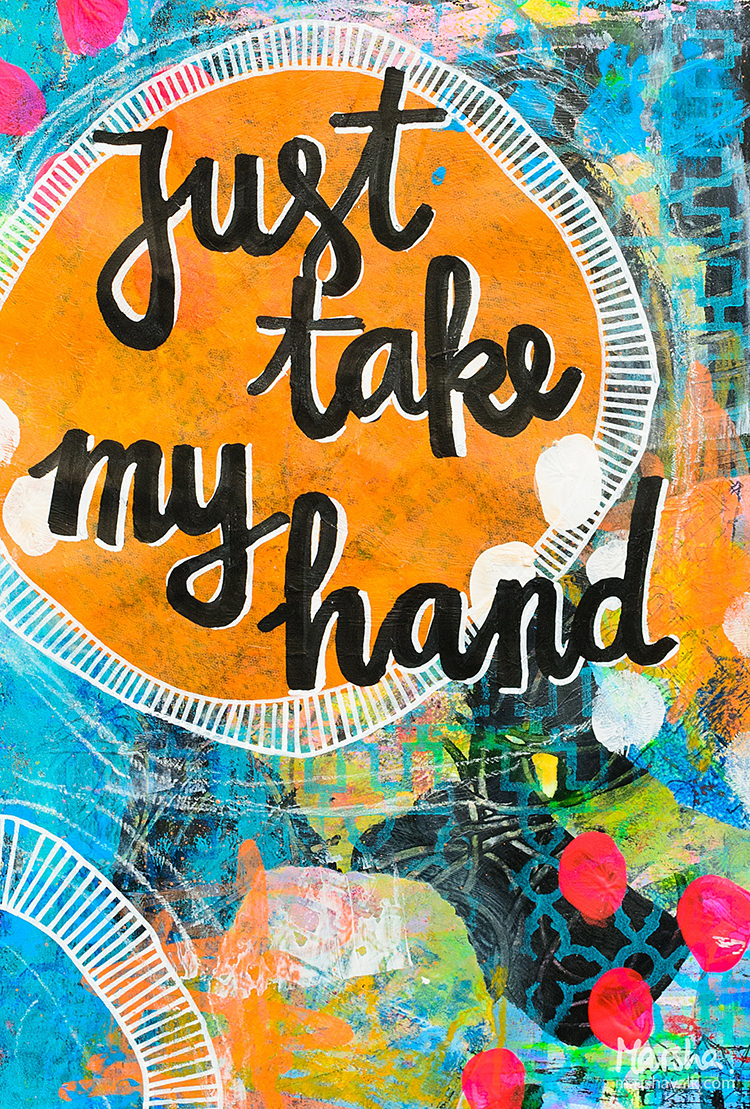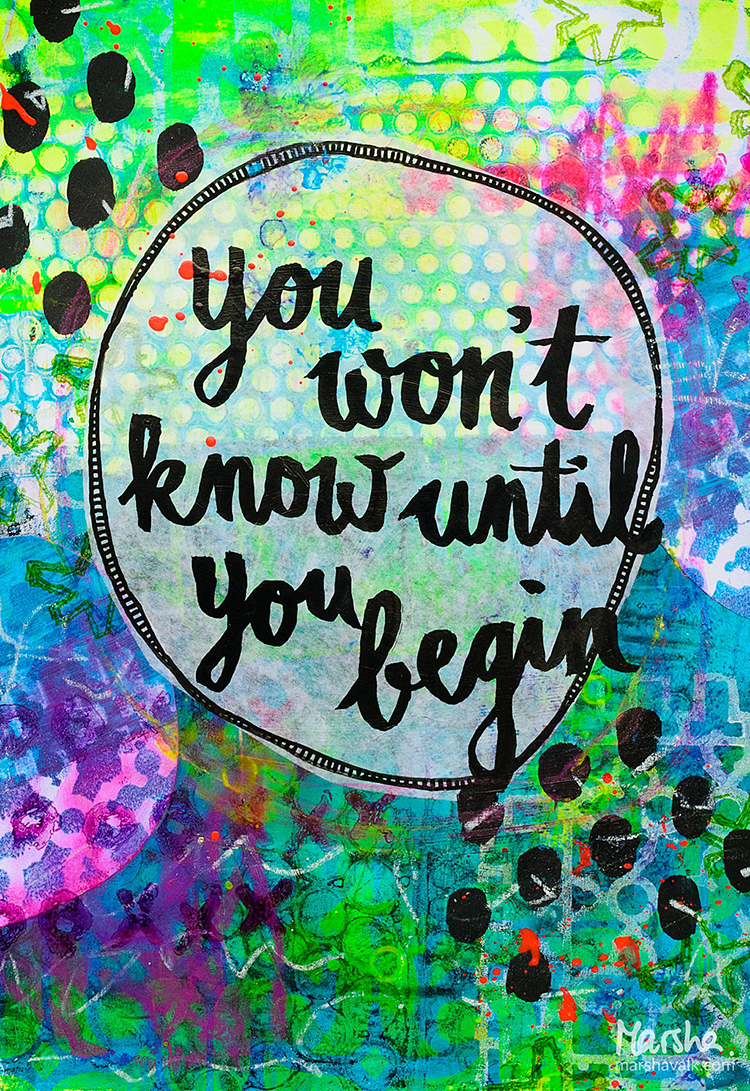 ---
Thank you Marsha! It's not only a pleasure to see this super juicy series of yours, but it also makes me grin to know that CJS is doing what I always hoped it would: inspire artists of all levels to feel a renewed sense of creativity :)  Marsha used the following supplies (some are affiliate links):
Play along with us too: I love to see how you interpret our monthly themes. Email me how you used my stencils and stamps with the theme and email me an image – I would love to share your projects in my next  "n*Spiration From Around the Globe".
SaveSave