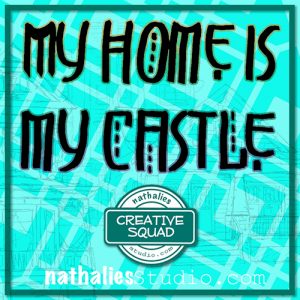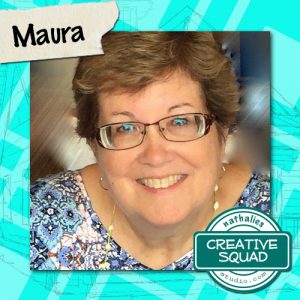 Hello from the Creative Squad! Today we are super happy to introduce to you our newest member: Maura Hibbitts! Maura is a master of colorful layers and we are so happy she will be with us to share some of her projects. Today she brings us an art journal spread with tons of yummy texture. Maura uses my Stroll Around the Block stamp set, the My Home Is My Castle cling stamp, my Santa Fe foam stamps, and my Toledo stencil. She is also working from this month's theme: My Home is My Castle – Home means many different things depending on who you ask and where you are in the world. This month we're thankful to have a place to call home, a place where we can rule and be King – or Queen :) – of the castle!
---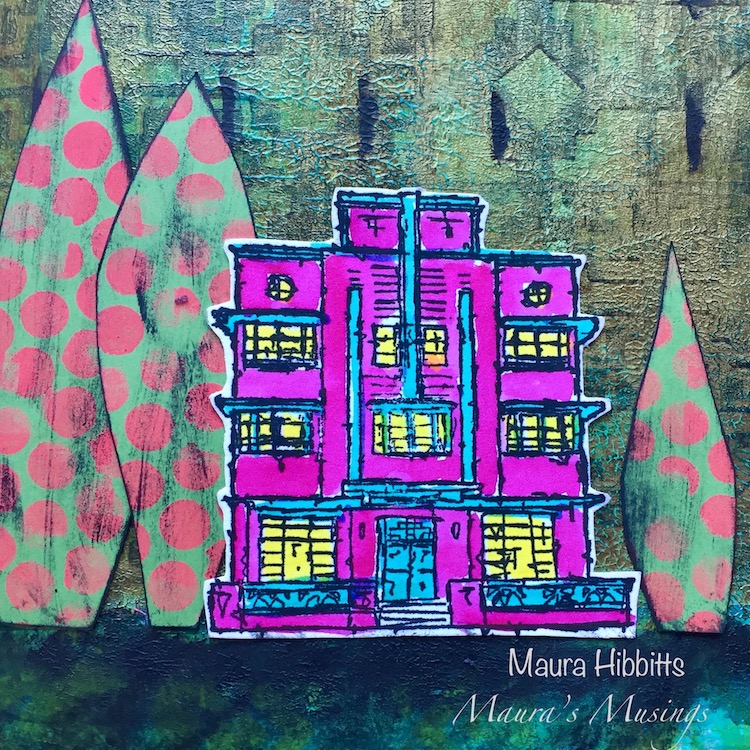 I am honored and excited to join you this month on the Creative Squad!
When I started thinking about this month's theme, "My Home is my Castle", I started to imagine a castle behind my own little house. There are so many sayings that relate to this idea, like Queen of the castle (me, I guess), or a man's home is his castle (hubby), that I knew where I wanted to head with this. In real life, I am glad I don't live in a huge, drafty castle that I would have to clean, as housework is a much lower priority than creative work.
I headed to my big Dylusions art journal, and squirted on some yellow and turquoise paint and blended it together with a brush. While the paint was still wet, I closed the book and pressed the pages together. Open them up immediately and let dry to create a nice texture.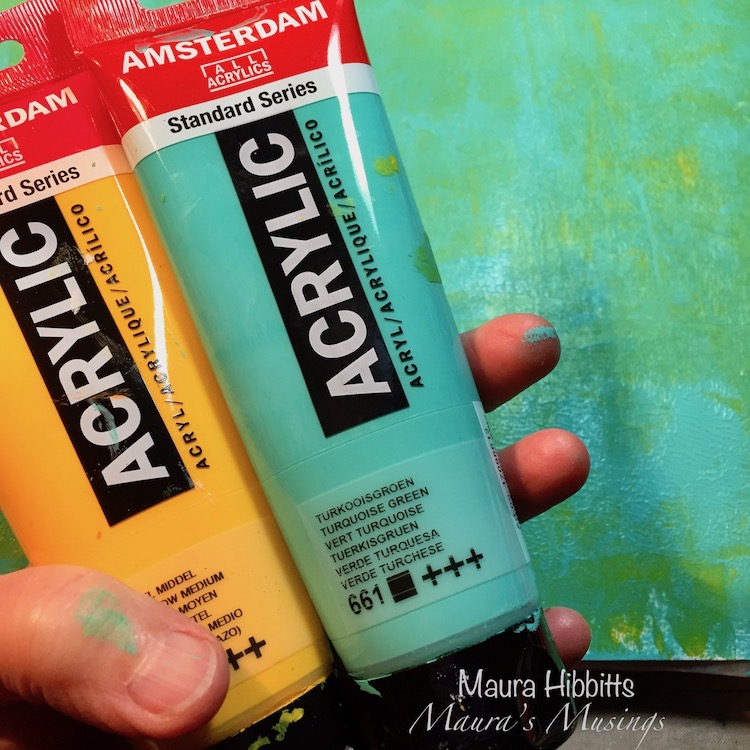 Next, I used dark blue paint with a brayer on the Art Foamies large Santa Fe stamp and stamped a repeating pattern across the pages to create the main part of the castle. Then, I used the small Santa Fe stamp to make the upper part of the castle. Once that dried, I went over the castle with Quinacridone Gold.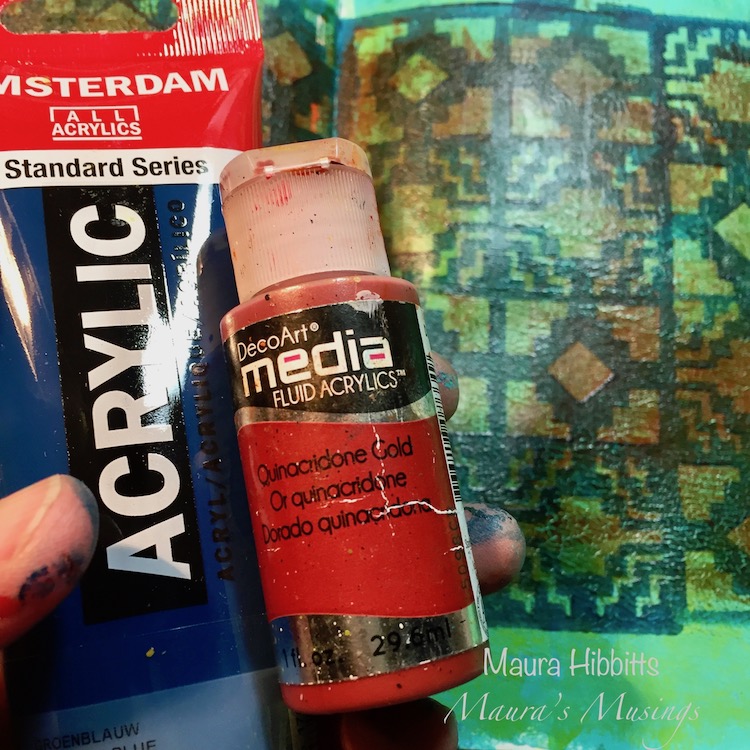 I wanted to add a bit of a dreamy quality to my castle, so added a layer of Interference Gold. I like how this brought out more of my paint texture too. I also added bright green with the Toledo stencil around the edges of my pages.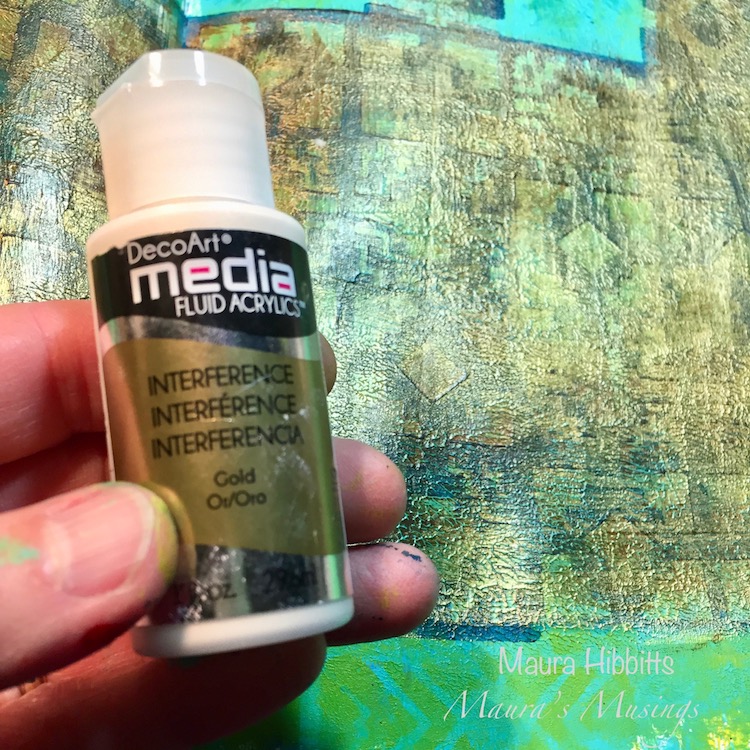 I outlined the castle with a graphite pencil and went over it with a water brush, and added in some window slits and an entrance. Using bright pink paint with the Wired stamp, I added pops of color for contrast, and also stamped some color pops onto a sheet of green card stock for later use.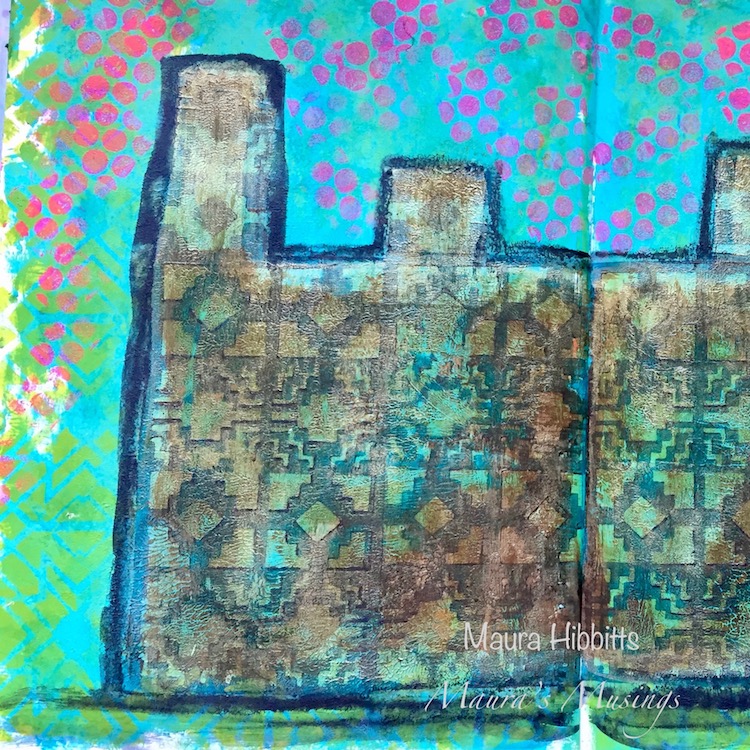 Here's a closeup of the colors and textures on the page.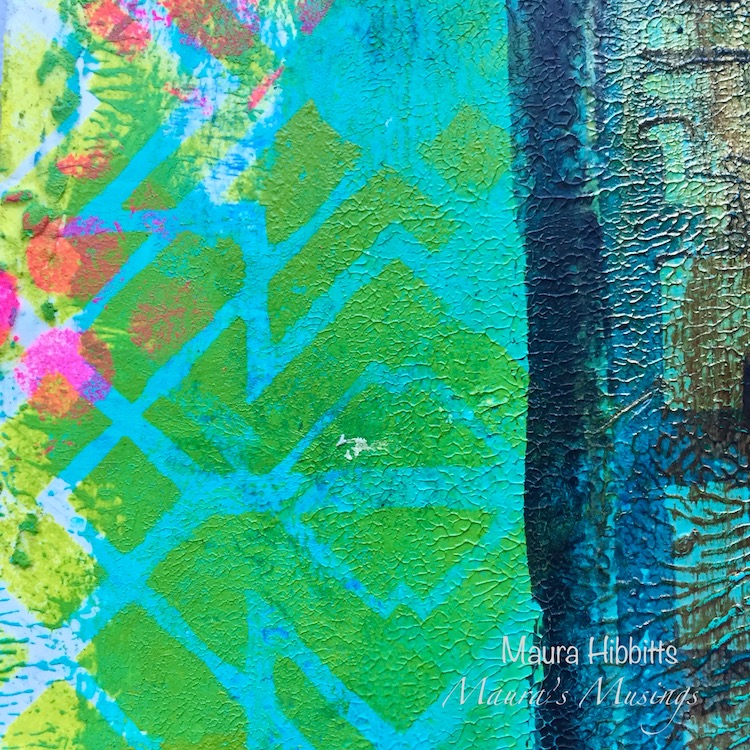 I chose Nathalie's Art Deco home stamp for my pages, so I could use bright colors on it. I was thinking of those wonderful turquoise and pink homes in Florida (maybe because it is so darn cold here). I stamped it onto watercolor paper, added color with watercolors and markers, then fussy cut it out. I cut out a few funky trees with the paper I'd previously stenciled, and distressed them a bit with black ink.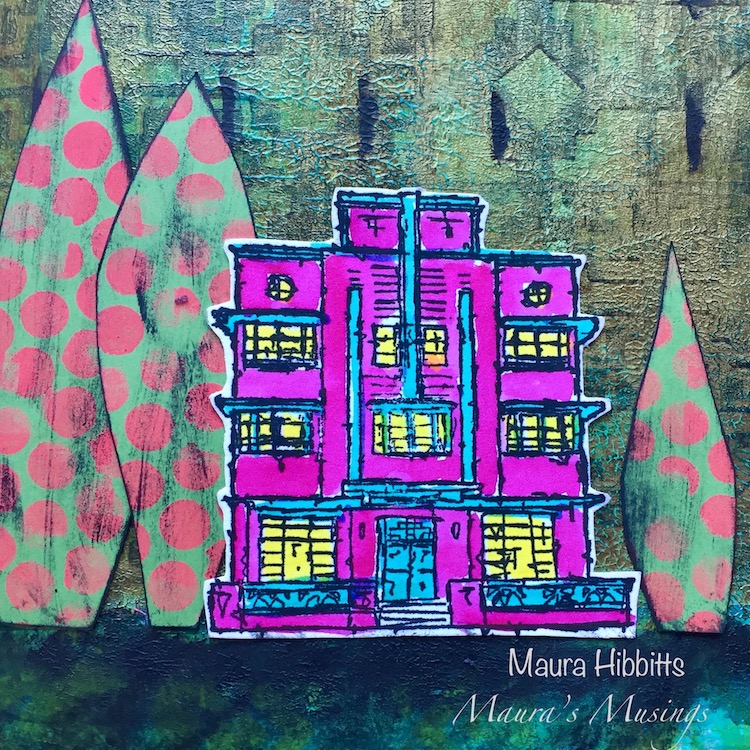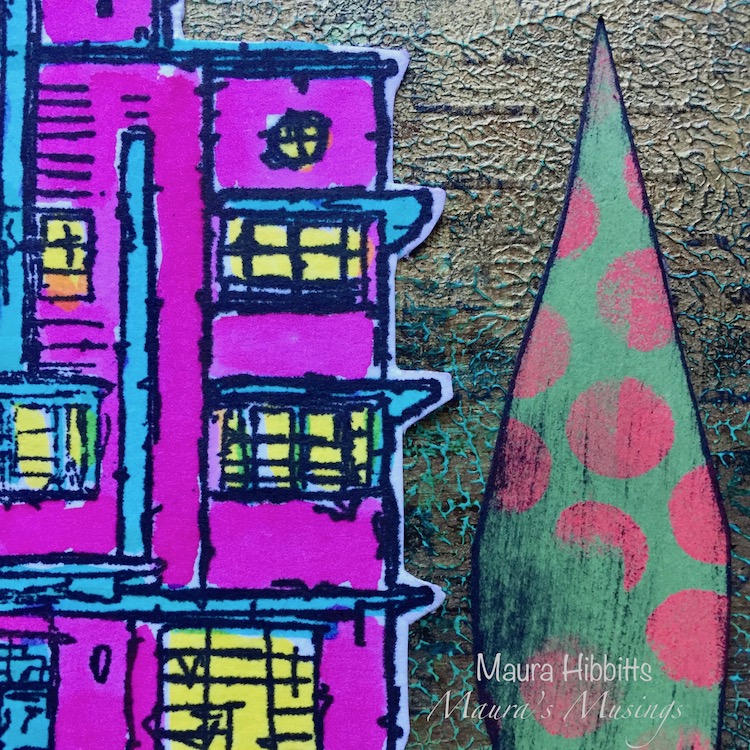 Of course, I had to add a flag flying from one of the turrets of the castle. I painted it in yellow and went around it with a black pen.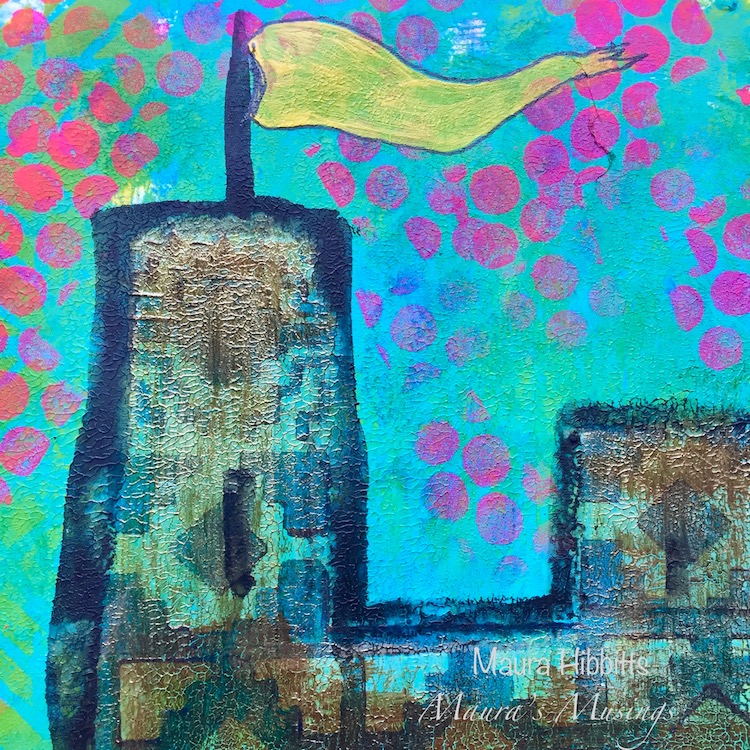 Behind each of our homes, whether an apartment or house, is the castle of our imagination. I hope you've been inspired by my art journal pages to create your own awesome project!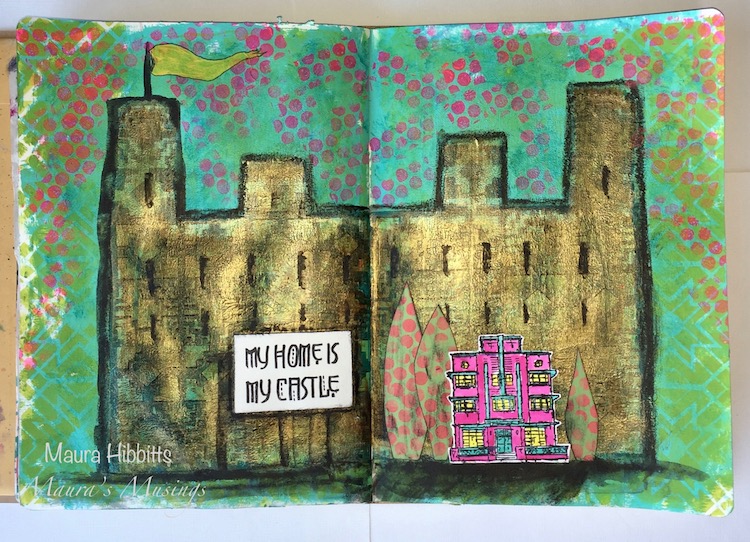 ---
Thank you Maura! I love that cute little pink Art Deco house in front of the giant castle :) Here are the supplies that Maura used:




Play along with us too: I love to see how you interpret our monthly themes. Email me how you used my stencils and stamps with the theme and email me an image – I would love to share your projects in my next  "n*Spiration From Around the Globe".
SaveSave
SaveSave