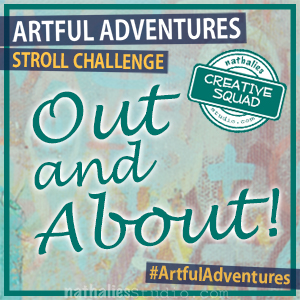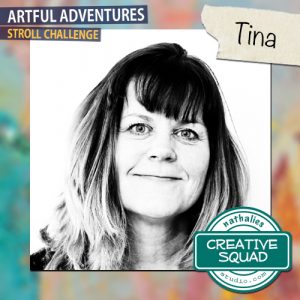 Hello from the Creative Squad!  This month the Creative Squad will be playing along with my Stroll Challenge and today Tina Walker is starting us off with a really cool mixed media project using my Stroll Through the Hood #2 stamp set, and working with the theme Out and About – Sometimes it's hard to see all the cool and inspiring stuff that's right under our noses. This month we hope you will join us in our 30 day Stroll Challenge and get Out and About where you live, and find some local inspiration.
---
Hi! Tina Walker here today with my take on this month's theme, 'Out and About'. During the month of May, as part of n*Studio's 30 day Stroll Challenge and getting out in my neighborhood, I thought it would be fun to take one of the photographs from the challenge and use it as inspiration for my project. We hope you will join us this month and get out and about and say hello to your neighbors and enjoy the spring weather.
To kick off the STROLL, I used this photograph as inspiration this month. I was 'strolling' to my mailbox and captured this shot of my walk, mid stride.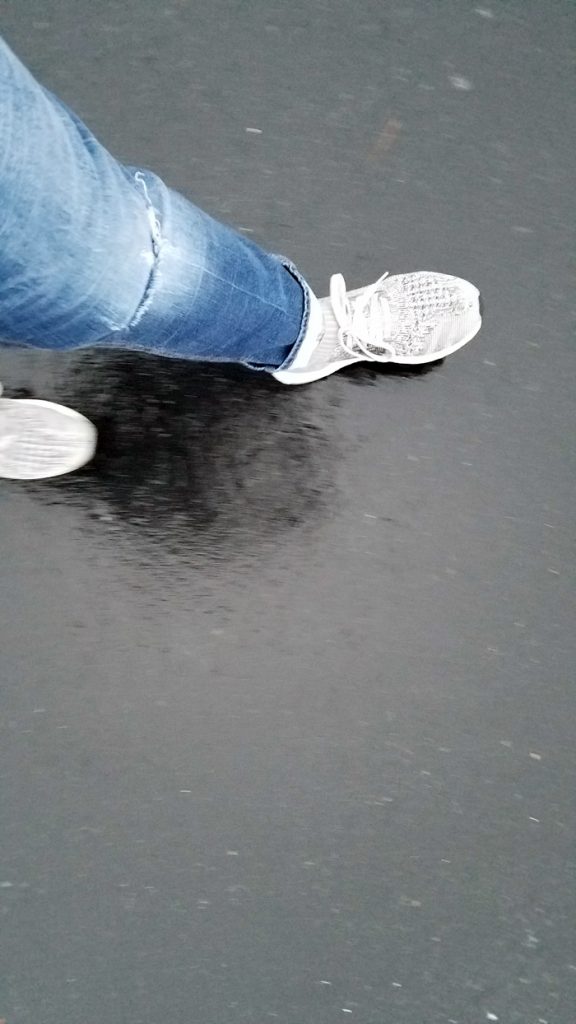 Because my stroll was taking me to the mailbox, I immediately spied the fabulous Mailbox stamp include in the 'Stroll Through the Hood #2' stamp set. It was serendipitous!
I haven't created a trio of ATC cards for a while, so I thought I'd pull out some blanks and get creating.
To create the background of each ATC, I covered each blank with a sheet of dictionary paper. I then heat embossed the Warehouse, Main Station, and E-Train stamps also included in the set.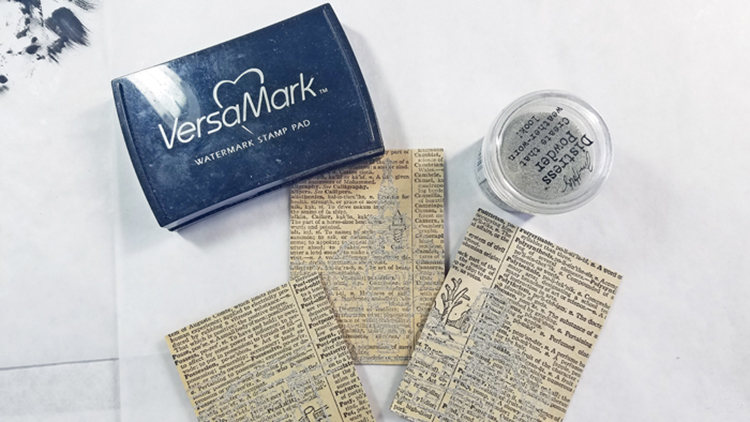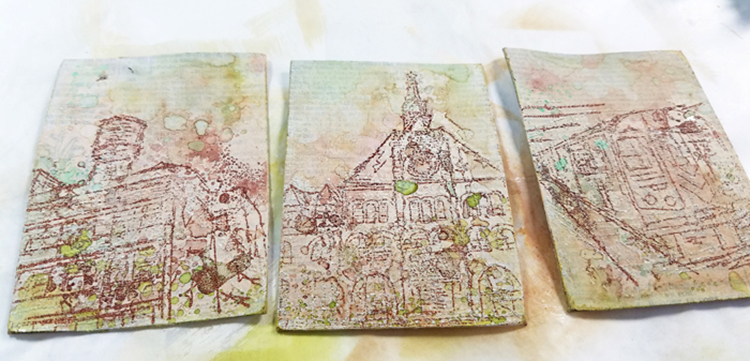 I added lots of distressing with Distress Oxide inks, reacting the inks with water.
The mailbox embellishments were created by stamping into oven back clay. Once hardened and cooled, I distressed each piece with acrylic paint.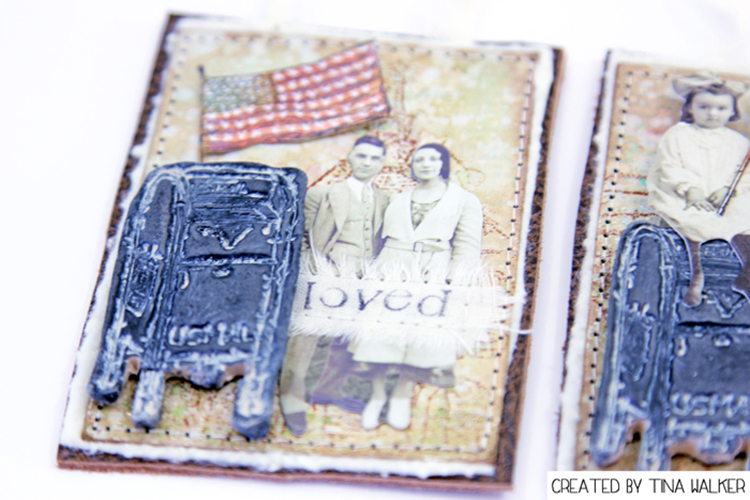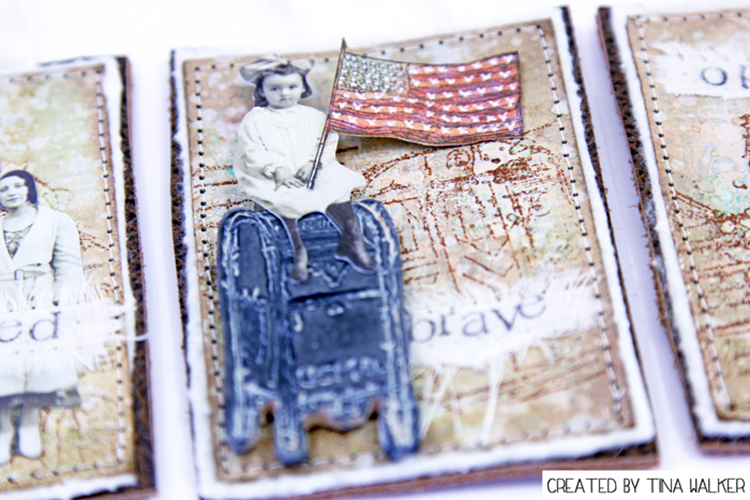 To finish each ATC scene, I added people die-cuts, stamped fabric sentiments, and a hand-cut and colored Flag stamp (also included in the set).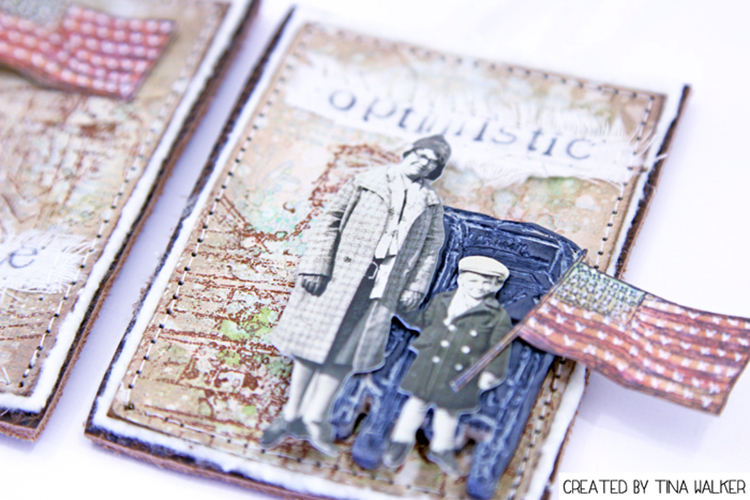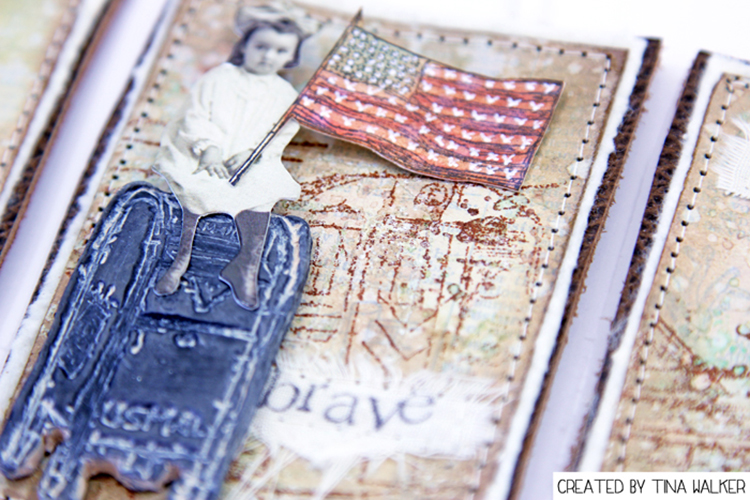 Each ATC was machine stitched to a scrap piece of leather and cotton batting, incorporating a fabric 'hanger'.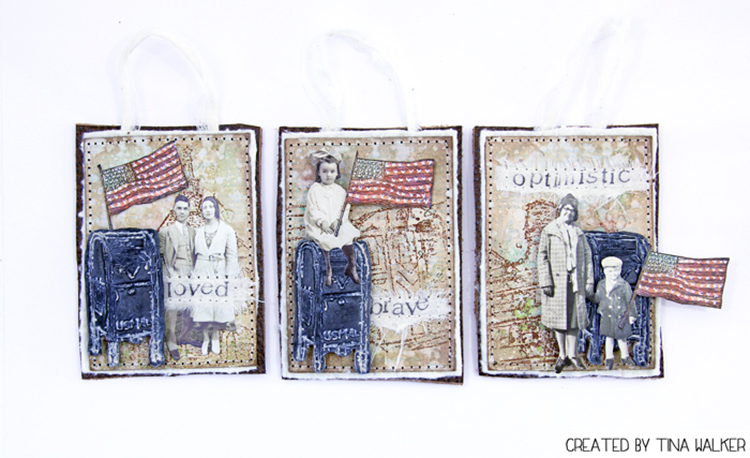 I love how my patriotic ATCs turned out. Each vignette made me think about the generations of people, strolling to their neighborhood mailboxes, sending well wishes, happy thoughts, and joyous news. It seems all so simple and uncomplicated, in our new world of electronic media, and impersonal communication.
I hope you enjoyed my project today and join us this month. Have a great day!
---
Thank you Tina for taking us back in time and inspiring us to get Out and About wherever we live! In addition to scrap fabric and a sewing machine, Tina used these supplies – some links are affiliate links:

Play along with us this month and join the 30 day Artful Adventures Stroll Challenge! I love to see how you interpret our monthly themes. Email me how you used my stencils and stamps with the theme and email me an image – I would love to share your projects in my "n*Spiration From Around the Globe".