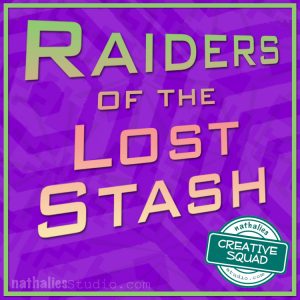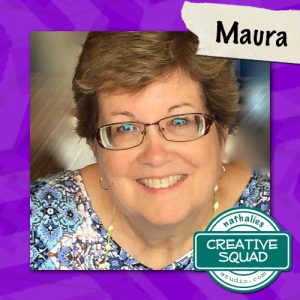 Hello from the Creative Squad! Today we have a post from Maura Hibbitts who is sharing a beautiful little notebook that she has personalized using a collection of supplies from her stash, as well as my Van Vorst foam stamp, Antique Tile foam stamp, Santiago stencil, and Small Circle Jumble rubber stamps. This month's theme is: Raiders of the Lost Stash – It's time to raid your stash of art making stuff. Pick a few things you've tucked away for later and use them NOW. Maybe you have some leftover scraps or deli papers that you couldn't bear to part with. Maybe you've squirreled away a new product that you've been meaning to try. The time is now! Raid your stash and try it :)
---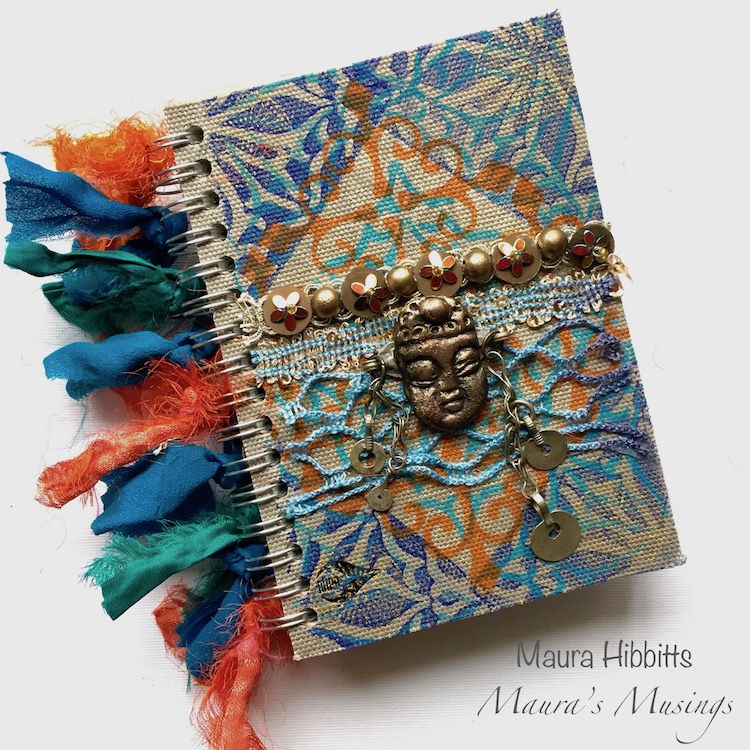 I'm feeling a bit like Indiana Jones this month with our theme! First, I raided my stash to find something to work on – I was looking for a notebook I could alter, and found a small canvas covered one I use for notes on projects.  Then, because I was channeling Indiana Jones, I wanted to find something exotic to use, and came up with some great trims from India, Turkmen jewelry pieces and an head that reminds me of a deity.
I started by stenciling both covers with the mini Santiago stencil, using Pale Gold paint and a cosmetic sponge for a very subtle layer.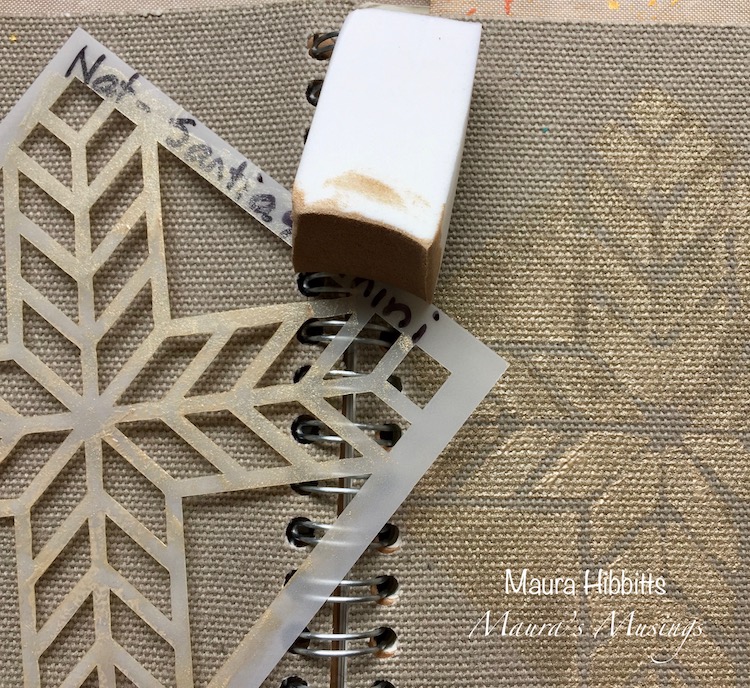 Next I added Ultramarine Blue to the gel plate and rolled it out with a brayer, so I could stamp on it to pick up the paint. I angled the Van Vorst Negative around all corners of the notebook.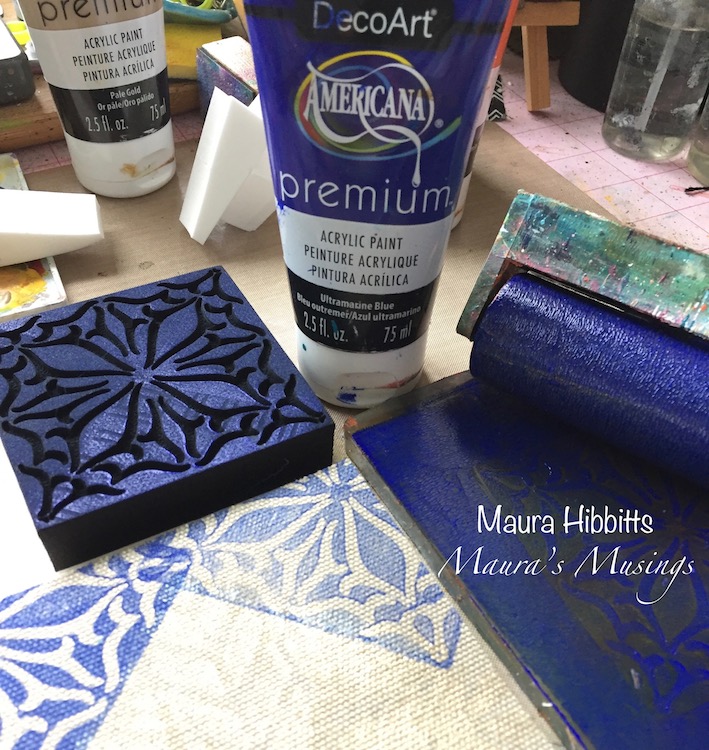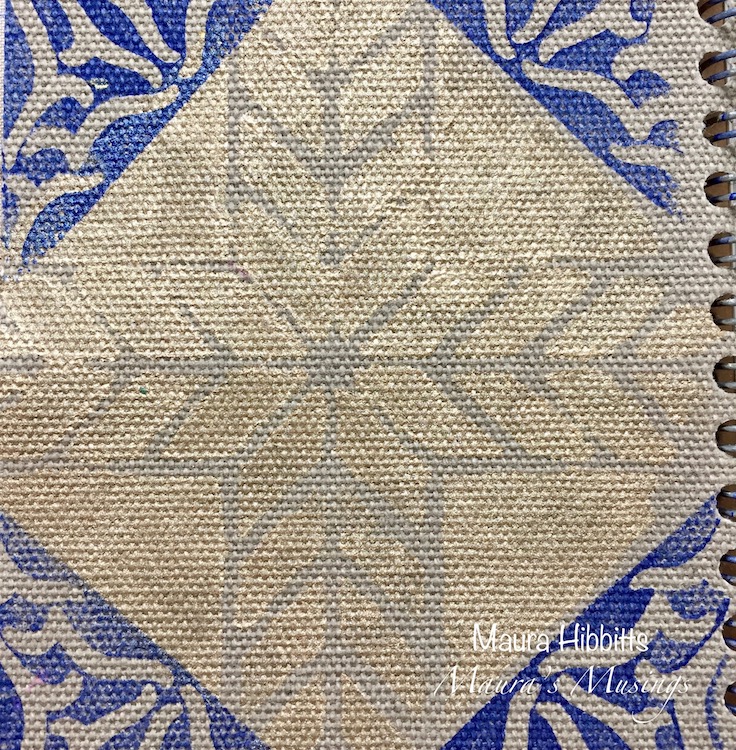 I attempted to line up the positive Van Vorst Art Foamie with a corner section, and was totally off kilter, so decided to go with imperfection. I also stamped this image in the center of each cover over the gold, using the Cobalt Teal Hue.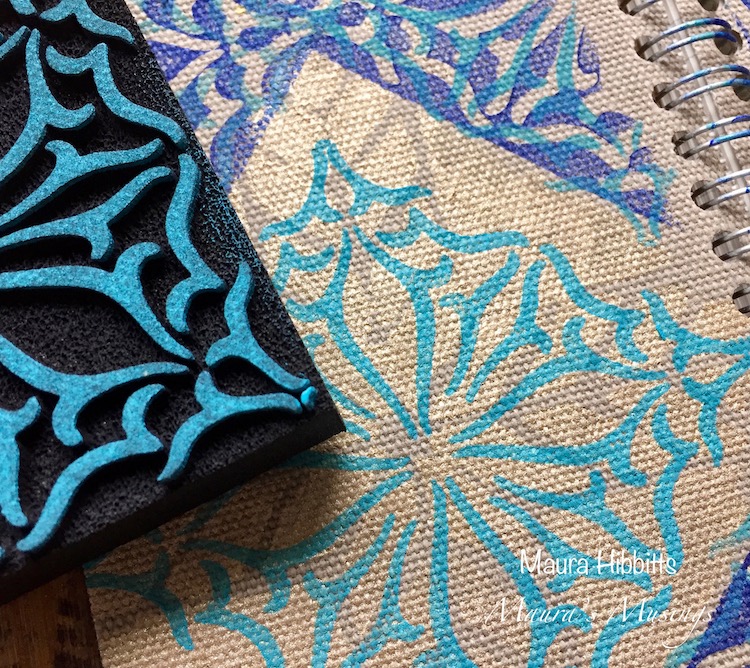 Time for a contrasting color, so once again, I rolled out the paint on the gel plate with a brayer (this is a great way to "ink" up the art foamie stamps) and stamped the orange into the center using the Antique Tile pattern.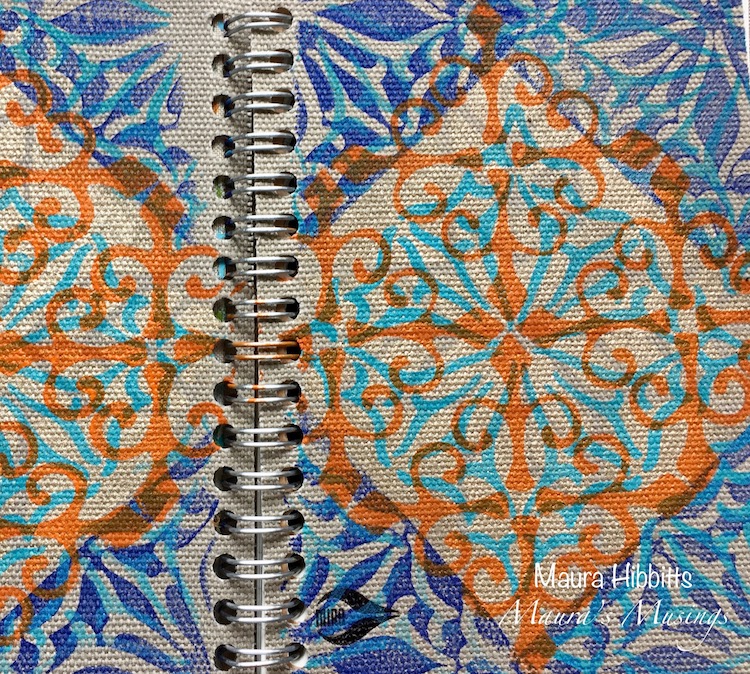 Now that I feel like I am on a global journey with my notebook it's time to add in some more gold. I have found that gold adds a hint of the mysterious and exotic, so I stamped more onto the canvas using the Grove Street Small Circle stamp.
I tied bits of sari ribbon onto the notebook spiral.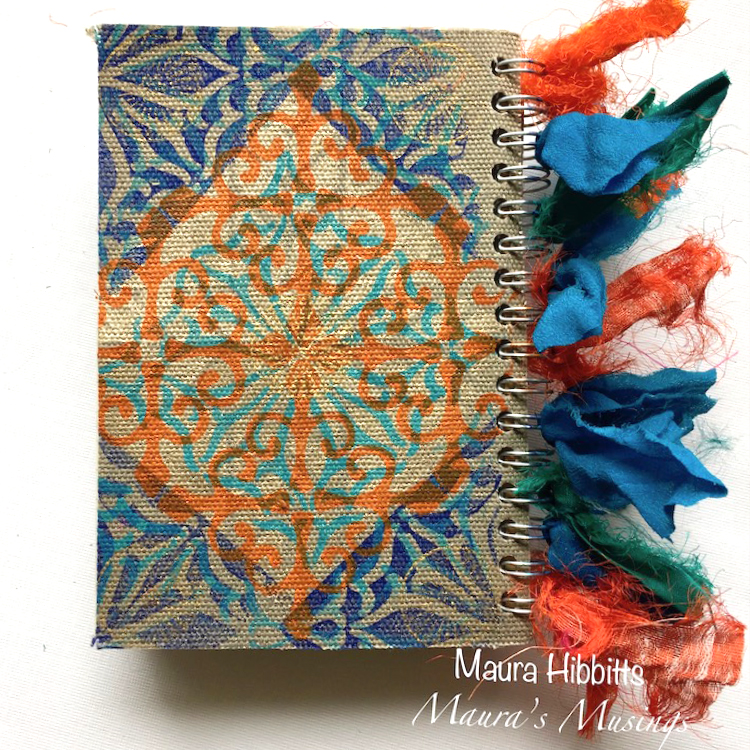 Now that my background is done, it's time to add the cover embellishments. I glued down the fabric trims, added the dangly bits to the metal piece, and glued that in place with the head. It's almost like having a small shrine on my notebook.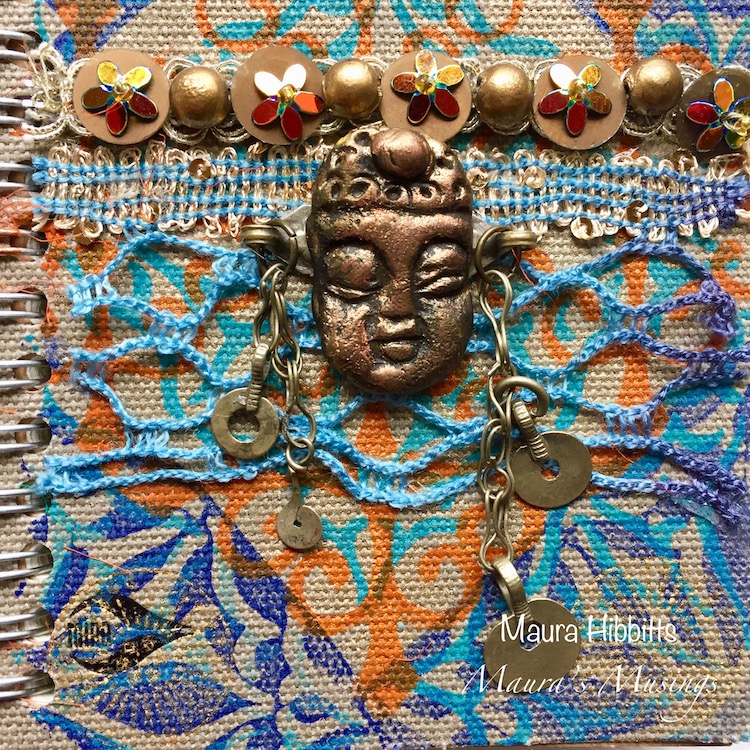 Since I use this notebook for jotting down ideas, perhaps my little shrine will act like my muse and keep sending me creative vibes. It will certainly be colorful and fun to pull out and use!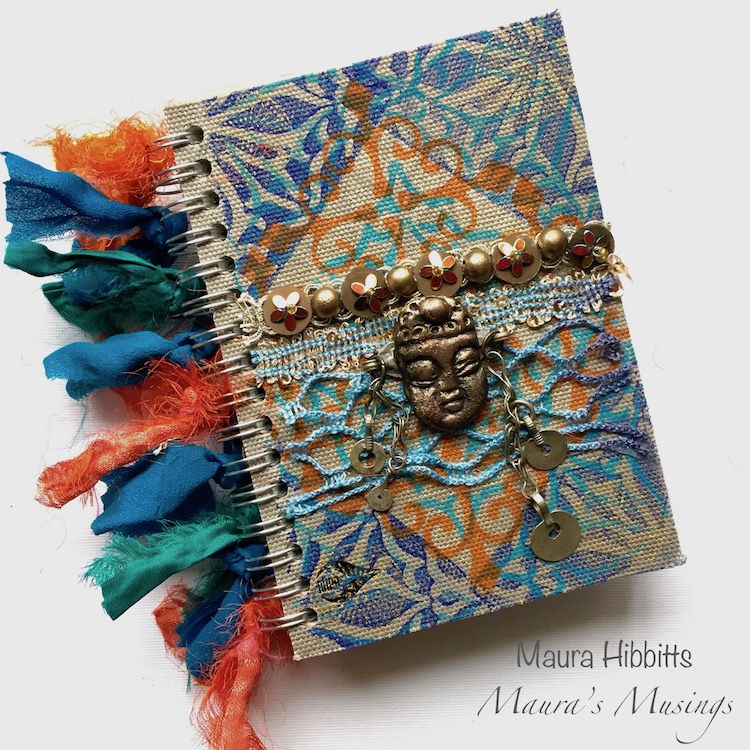 ---
Thank you Maura – I love the idea of creating a notebook that is a shrine to creativity! And this certainly is one that is so lovely to look at :) You can find the foam stamps, stencils, and rubber stamps that Maura used in her project right here in my online shop. And in addition to the canvas notebook and various embellishments from her stash, here are some of the other supplies that Maura used: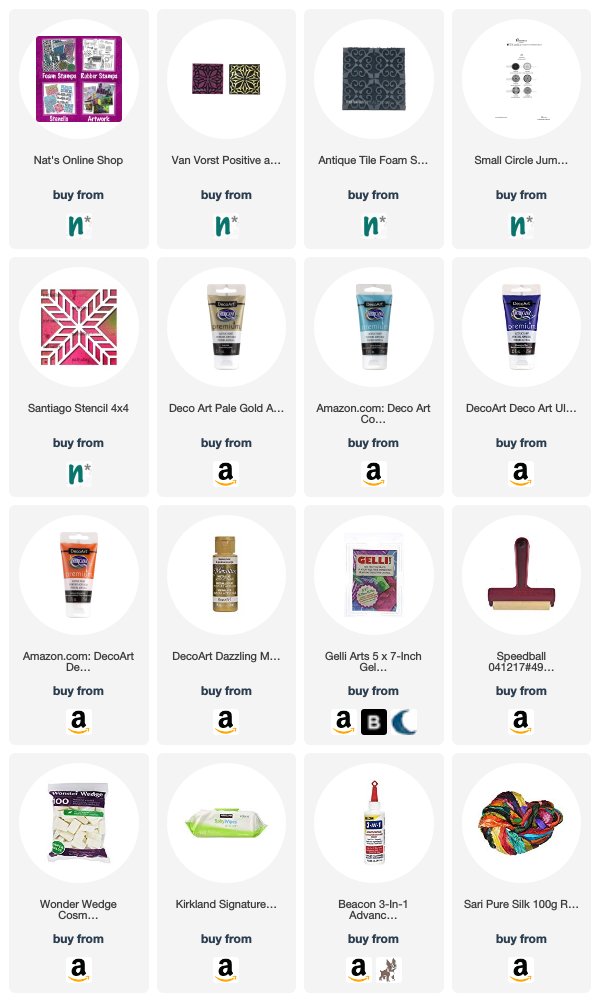 Be sure to check out all the Creative Squad projects on the Creative Squad webpage and if you feel inspired, share your projects with us! We love to see what you're working on. I post projects almost every month in my Inspiration From Around the Globe posts!