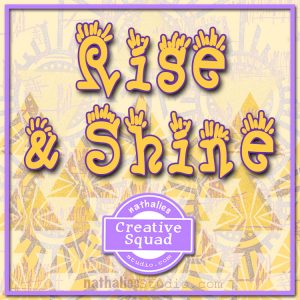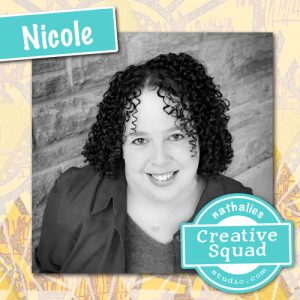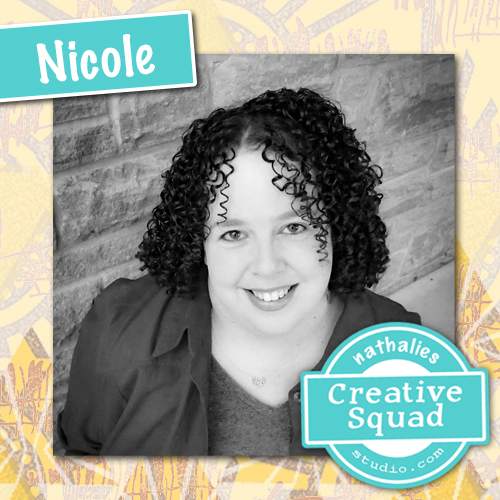 Hello from my Creative Squad! Today we have a colorful suite of cards and a video from Nicole Watson. Check out her process below using my new Mini Motifs and Triangle Love stamp sets and this month's theme: Rise & Shine – Sometimes it is inspiring to think of each new day as an opportunity to do something good – to shine. Create something that will encourage others to do the same and let's all bring a little more light into this world!
---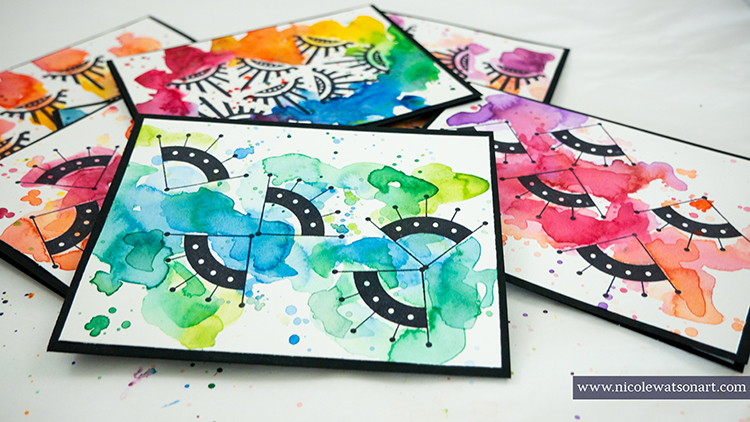 If you're like me, you've probably spent some extra time during these stay at home days browsing Instagram and admiring all the creativity that is flowing from so many artists. Maybe, much like me, that creativity just isn't flowing for you. It's ok! You're not alone!
Honestly, I struggled a bit with the theme this month. Sometimes it's hard to shine and encourage others when you are feeling a bit blah yourself. Last month I shared that I've been focusing my time outside and in our garden planting flowers. This has brought me so much joy! The simplicity of planting flowers, caring for them, and watching them flourish has helped me cope with staying home (except for my trips to explore local nurseries and for groceries!).
I've noticed I'm not alone in the need to DO something creative and with one's hands! While some are creating art, others are baking or gardening and yet others are returning to pen pals and sending snail mail. I wanted to send some mail to brighten some days this last week and realized my blank card stash was getting low… and that's when this project came together!
Watch my video:
Here's how:
Grab some hot press watercolor paper and stamp on it with Nat's Mini Motifs and Triangle Love stamps using black archival ink. Have fun!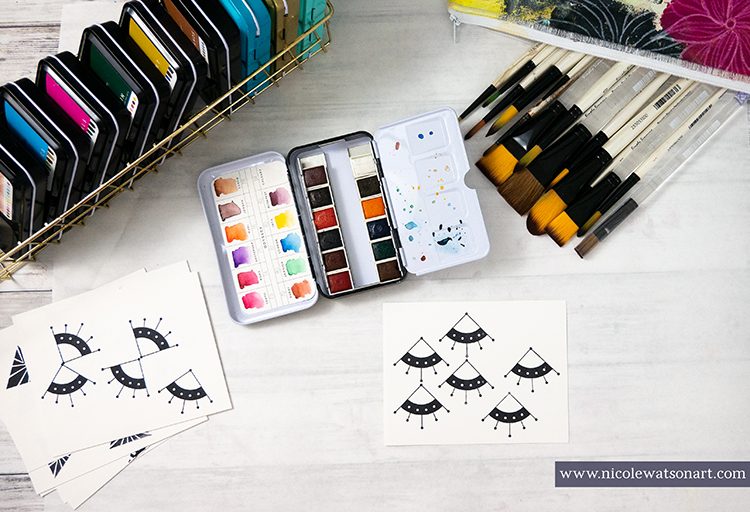 I enjoyed this process of creative stamping, all wonky, not perfect. Archival ink is important as it will not bleed or run with the watercolor in the next step.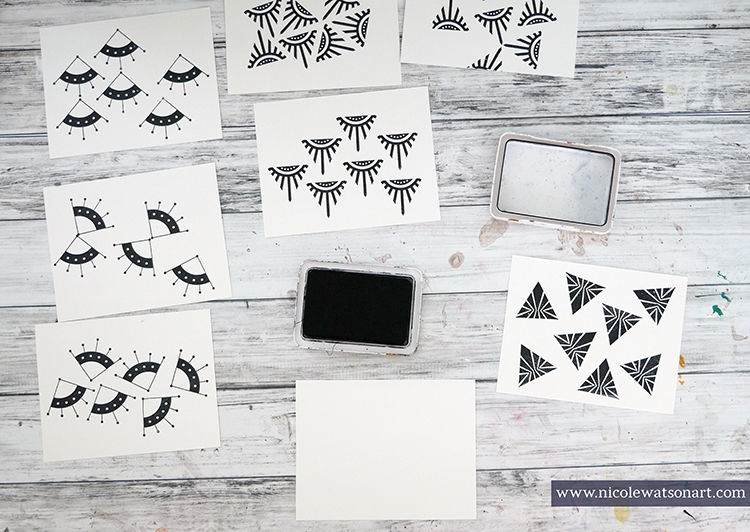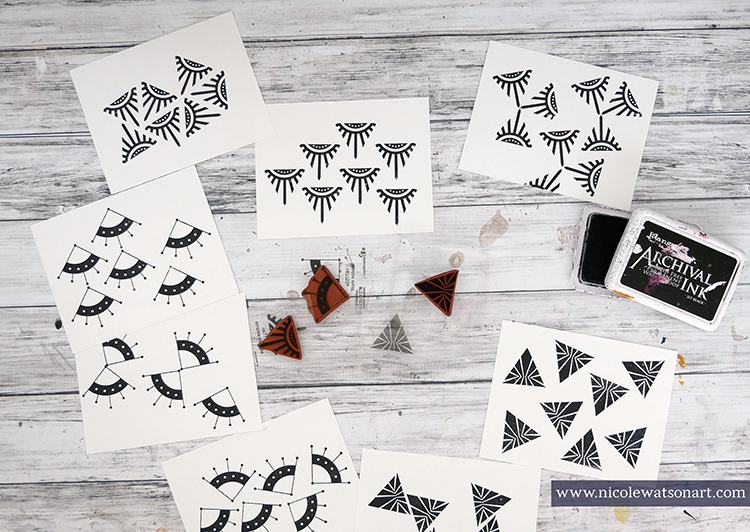 And, hot press paper is smoother for stamping. You can use cold press, but your stamped images will not turn out as clear (Note: I pre-cut my watercolor paper into card fronts (4.25×5.5) and will trim them down again to mount on the cards.)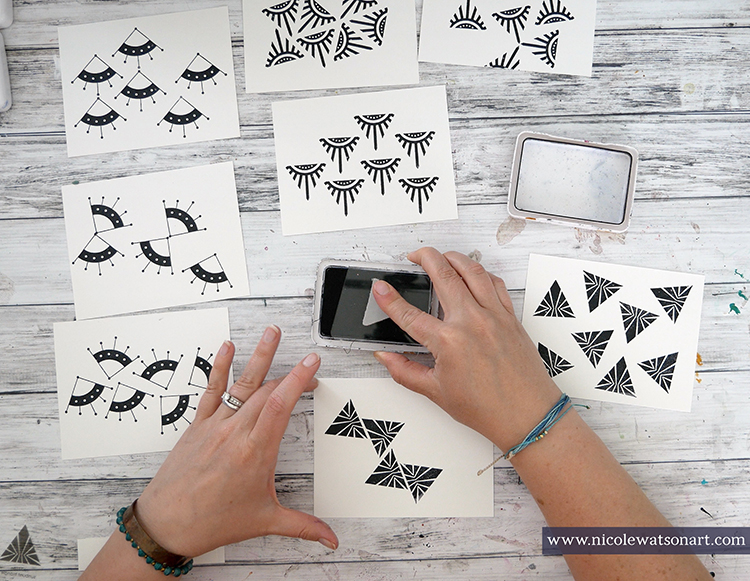 Let the ink thoroughly dry and then watercolor. Again, have fun! The only thing to keep in mind while you are water coloring is how colors blend. I stayed with palettes of warm colors or cool colors and then also a couple full rainbow palettes. Add some splatters and lots of puddles of color around the stamped images.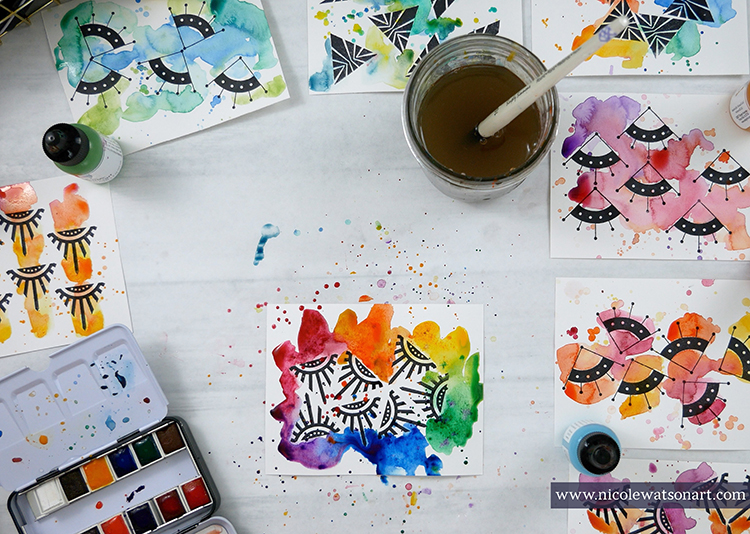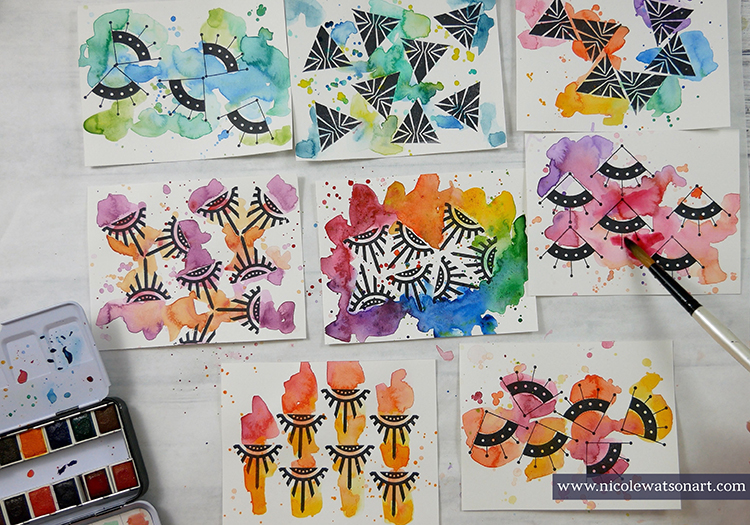 Let your fronts dry completely. Once they are dry, if there are areas that didn't turn out dark enough or exactly how you'd like, go ahead and add some more color and splatters. And, of course, let dry.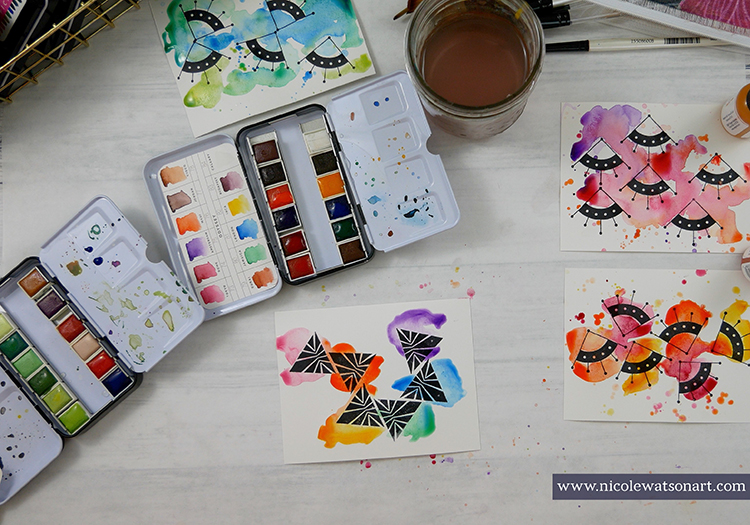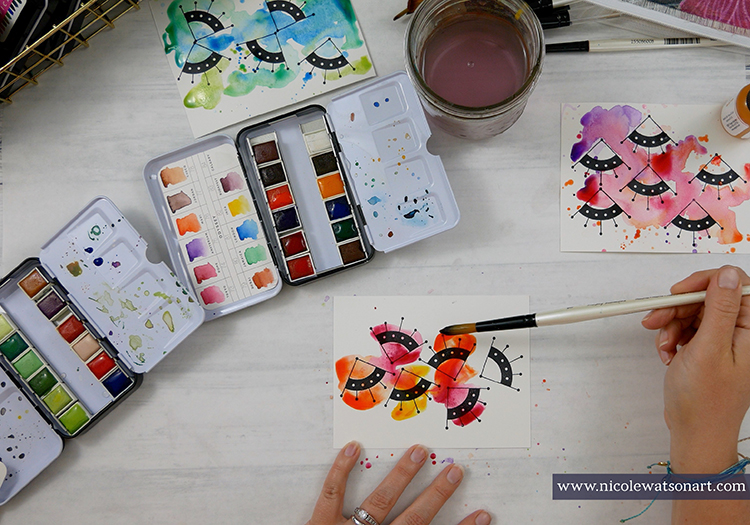 The next step is personal preference. I like to spray my watercolor cards with a clear matte varnish to protect them in case they become wet or damp in the mail. Be sure you follow the instructions on your spray.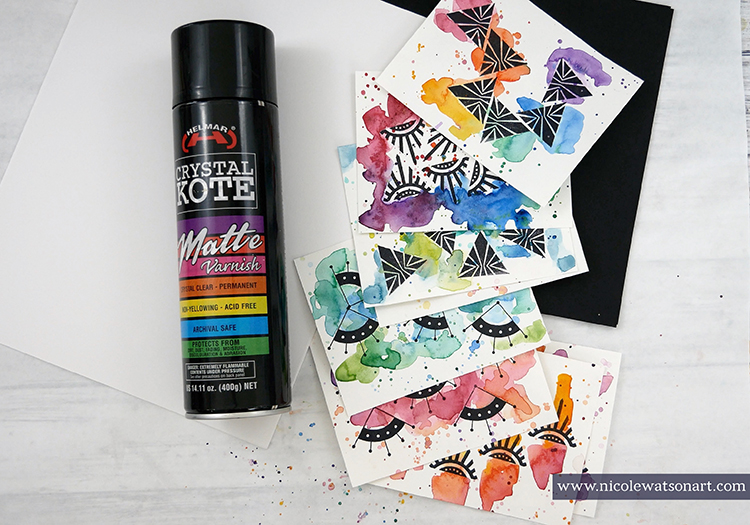 Once they are dry (again!), trim your cardstock bases and liners for your cards. Then, if you want a border around your artwork, trim your art a bit (to 4×5.25). Even though I knew I'd be trimming them when I started, I like to allow this option so I can trim off a funny area or help center the design if I didn't stamp it quite right. Then, fold your cards and stick the liners inside and your art on the front.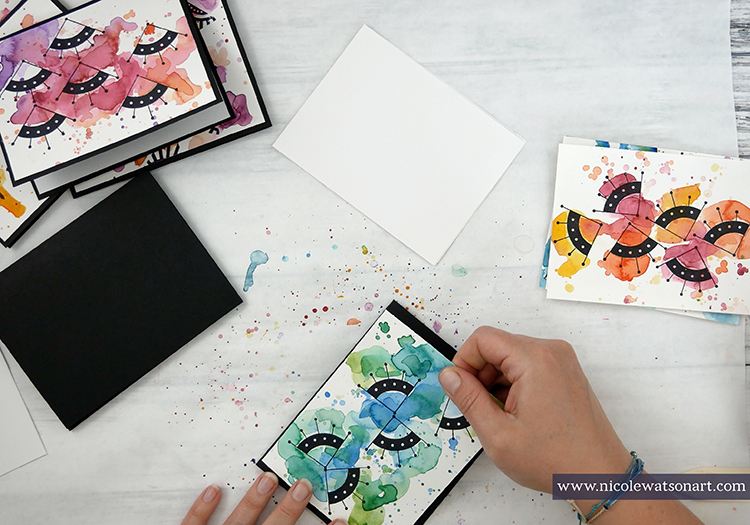 Final step? Mail them! These bright, cheery cards are perfect to shine, encourage someone, and do something good.
I did not want to stop painting these card fronts. Had I not run out of watercolor paper, I would have made many more. (Note to self, order more watercolor paper!) I cannot wait to send these in the mail, and I'd love to send out a couple to YOU as well. Find me on Instagram, and look for the post about this tutorial to see how to receive one in the mail. I can't wait to see what you create with Nat's stamps and watercolor.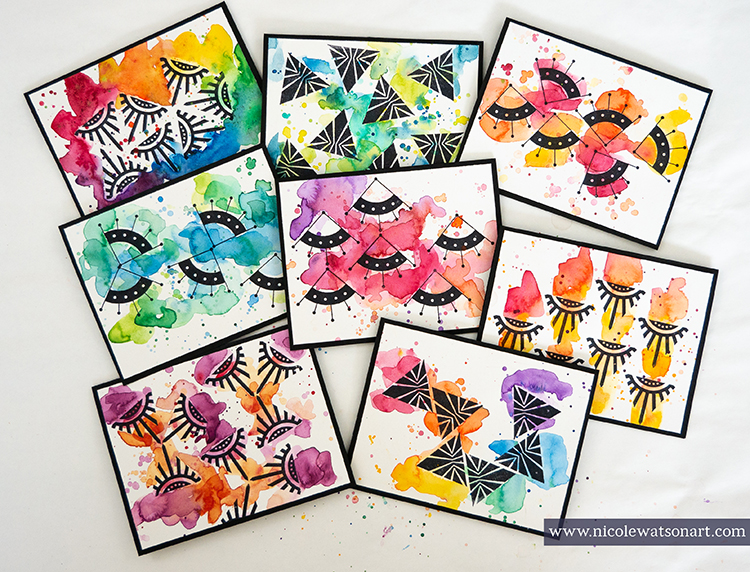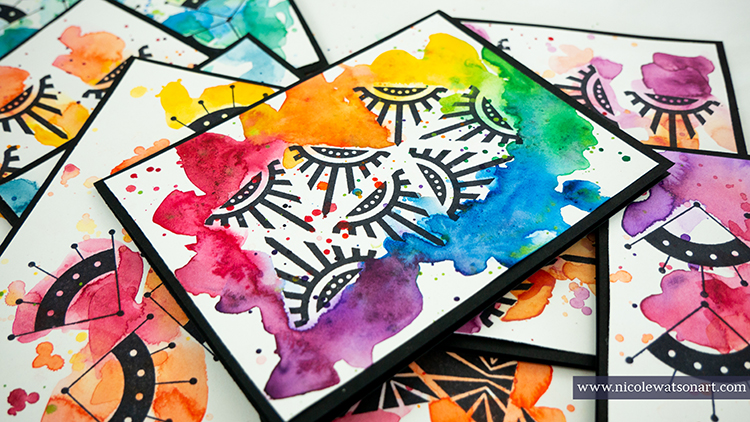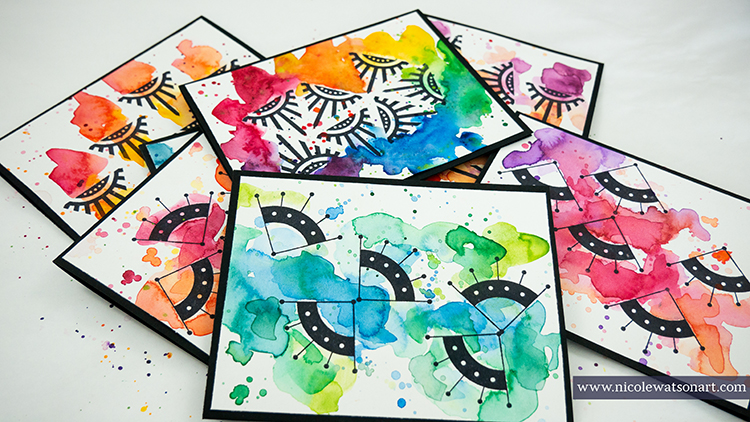 ---
Thank you Nicole! Love the brilliant colors here and super appealing color combinations. What a treat to see.
Give it a try: you can find all my Rubber Stamps in my Online Shop and here are some of the other supplies Nicole used: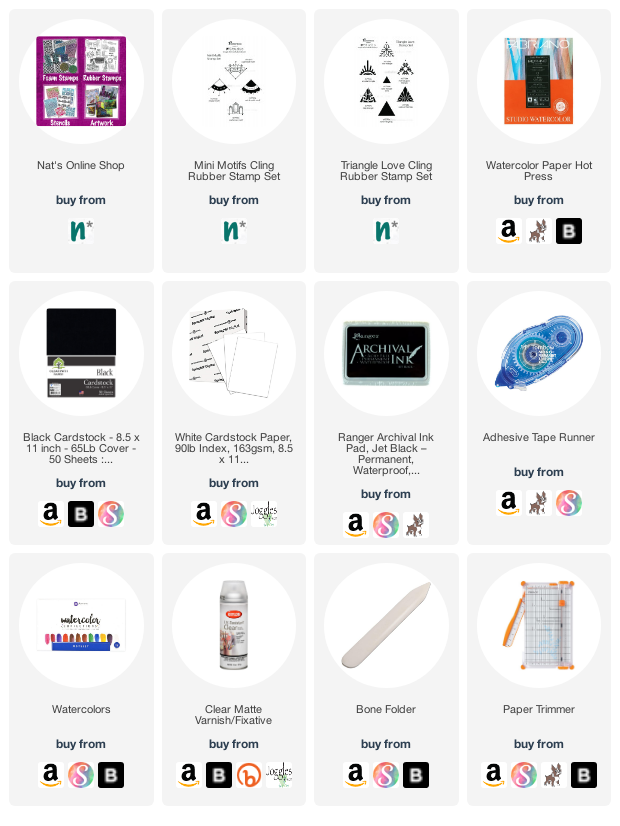 Feel inspired? Working on something yourself that you'd like to share? I love to see how you interpret our monthly themes. Email me how you used my stencils and stamps with the theme and email me an image – I would love to share your projects in my next "n*Spiration From Around the Globe".