How well do you know our Creative Squad? Each week one of our talented design team members shares a project with us and we have come to know and love each of their individual artistic styles. BUT we realized that maybe we could learn a bit more about what makes each of these lovely artists tick. So, we decided to do a quick interview with each. Read on and stay tuned for a new interview each month :)
---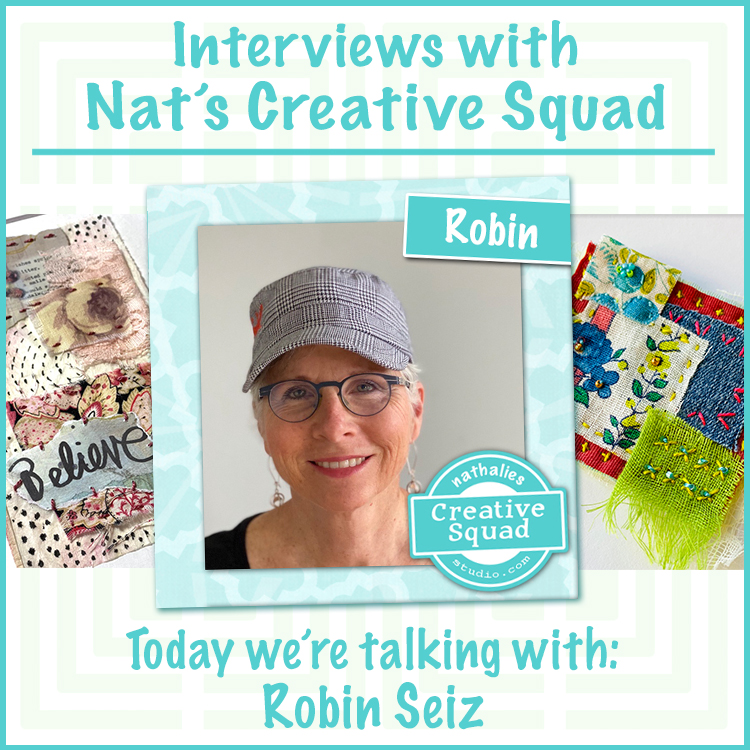 Welcome Robin Seiz today! Robin has been with the Creative Squad since 2020 and comes to us from the beautiful artist community of New Hope, PA in the US. Robin's style is influenced by nature, her garden, her materials, and the artists and mixed media creatives she connects with. Let's learn more!
1. How old were you when you first started making art? What is an early artmaking memory?
I don't remember making art as a child. I do remember seeing both of my grandmothers sew, but I didn't learn until I was an adult. As a teenager, I loved everything fashion; my first job was in a clothing store and then I went on to manage a large women's apparel store during and after college. To this day, I love clothes, I love shopping and my friends and family would say that I always have that little bit of bling. (well at least pre-covid :o) Now we are all in sweats most of the time!
I would say that my mixed media artistic journey started when my children were young. I began scrapbooking as a way to capture the photos and a lasting memory of my children and our family. That led me to jewelry making. I feel like mixed media combines all those earlier experiences, building to this moment in my artistic journey.
2. If you are an art journaler, when did you start your first art journal?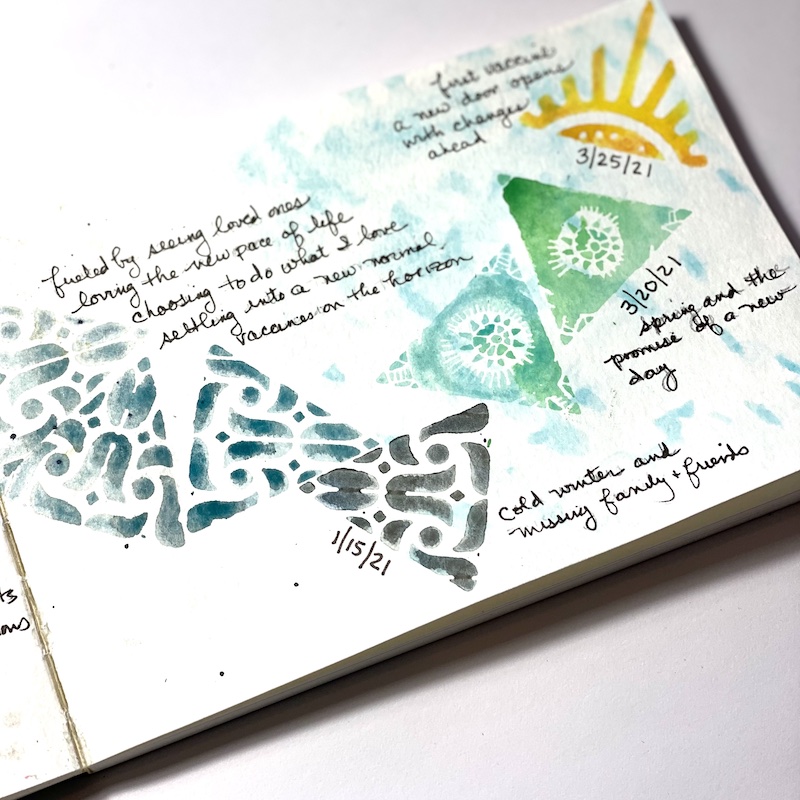 I would say that journaling has been sporadic in my life. Until recently, my journals were only text. While I started art journaling in the last few years, I don't do it often. I tend to art journal if there is something that I really need to work out in my life or if I want to try a new technique. Here are a few examples of art journal pages I have created. The first was done during the pandemic. I combined text and art journaling to capture my emotional ups and downs during this time.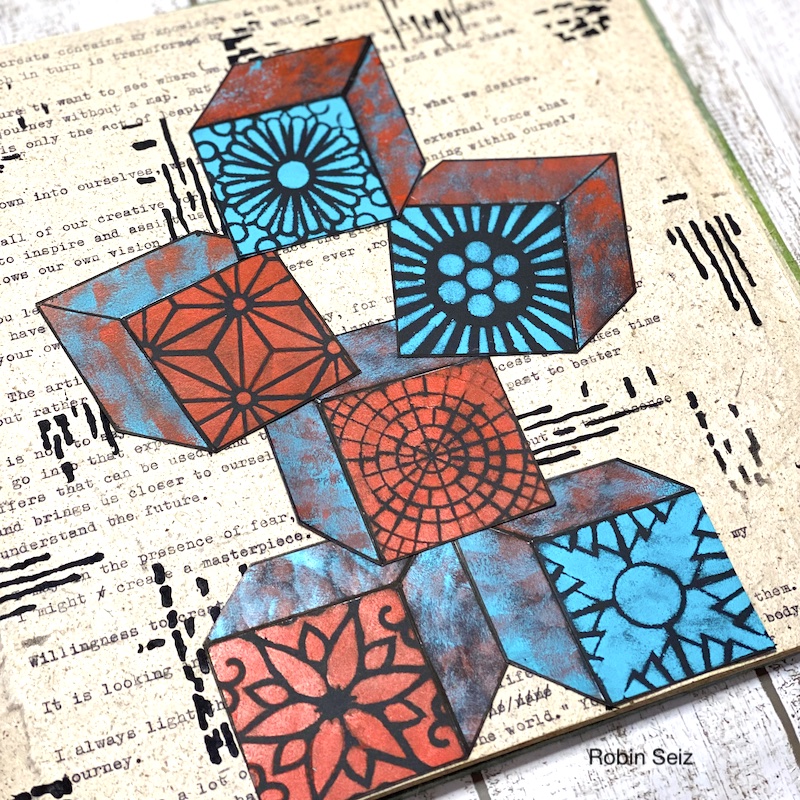 The second art journal page is something that I created recently for one of Nat's Creative Squad blogs; I was telling a story about a book I had read.
3. What is one technique you just rediscovered or learned that you are now using all the time again?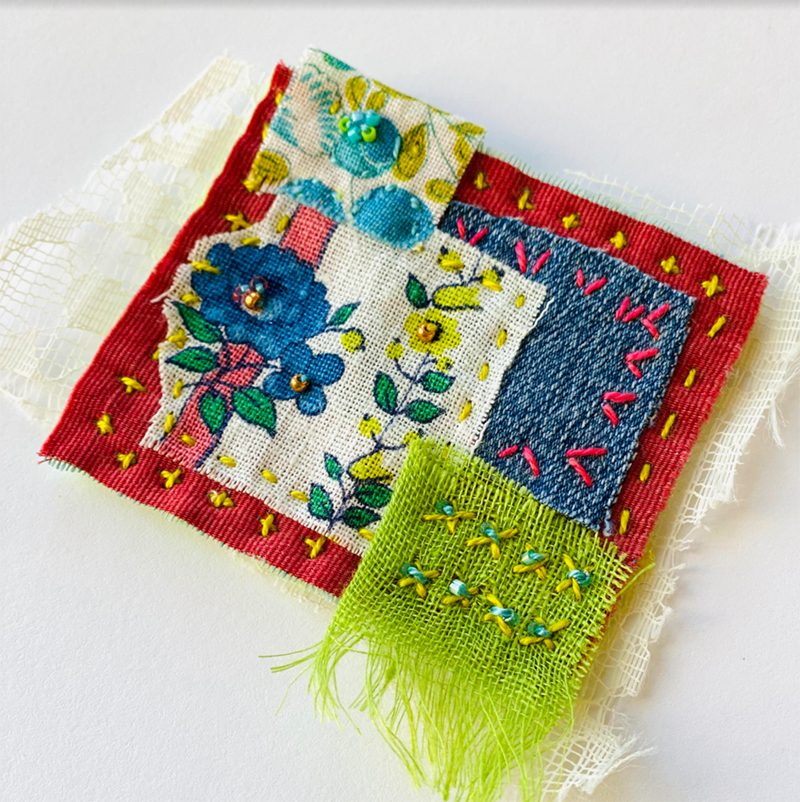 I have been really enjoying hand stitch which I see as an extension of mixed media. I started making small pieces during the pandemic when we were in the house so much and I needed a calming influence. Creating these was a way to be be present in the moment; they were truly meditative moments. I just kept creating them; I couldn't stop! I recently put all the pieces in a fabric book. I love that I have a body of work from the pandemic time. I also created some small collages using hand stitch, paper and tea bags. I matted the collages. I will soon embark on a #100dayproject which will combine hand stitch with dyed fabric, photographs, and found objects. (Stay tuned on instagram for that).
4. Describe your artistic style in 3 words.
My artistic style is free-flowing yet intentional. It is often inspired by nature, both in the color pallet and the one-of a kind unique pieces. I use lots of layers and like balance in my work.
5. What are some of the biggest influences on your art?
Most of my influences are other mixed media artists I see on social media. It's a wonderful community of people and I love watching their videos and feeds to see what they are creating; not to copy their work, but to get new techniques and incorporate these into my own work.
I am also influenced by nature. Just walking in nature or working in my garden always grounds me and brings me closer to myself. It's from this place that I am able to create truly unique work.
6. Favorite color 5 years ago? Favorite color now?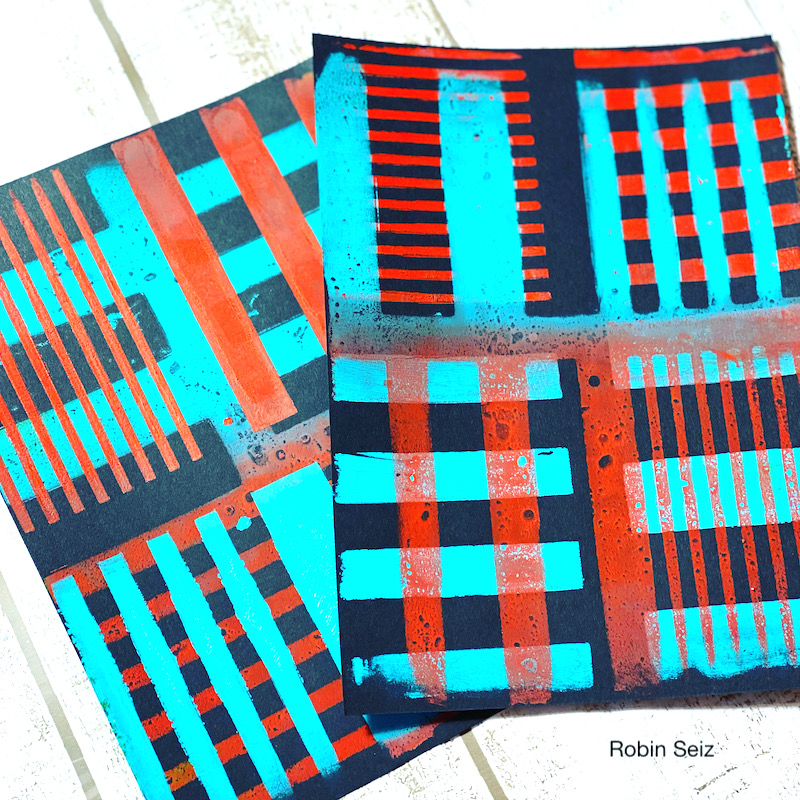 I'm honestly not sure what my favorite color was 5 years ago. I rarely have a "favorite" color. I truly love most colors!!! I was very attracted to vintage items so the muted colors of tans, and tea dyes, and rust were appealing to me. I still like muted tones, but am trying to push myself to use bolder colors. I have been using red and teal quite a bit. I love those two colors together.
7. Show us where you create.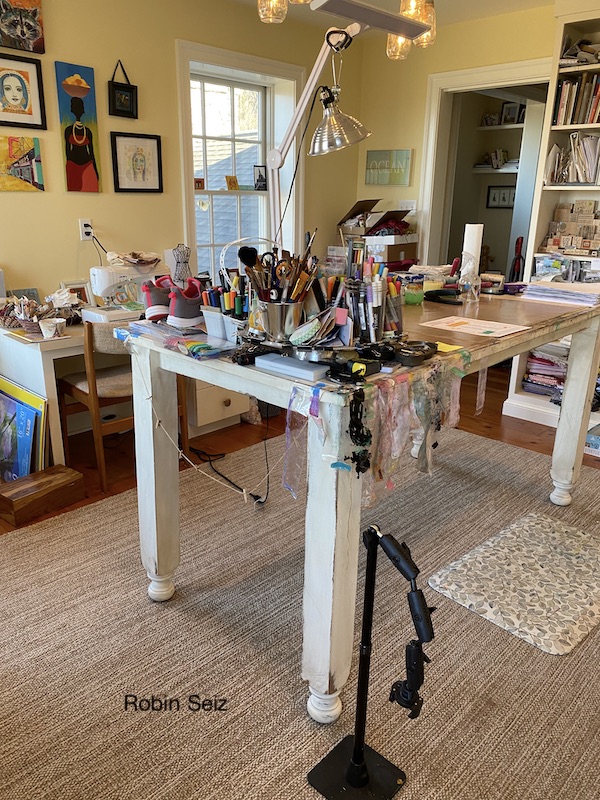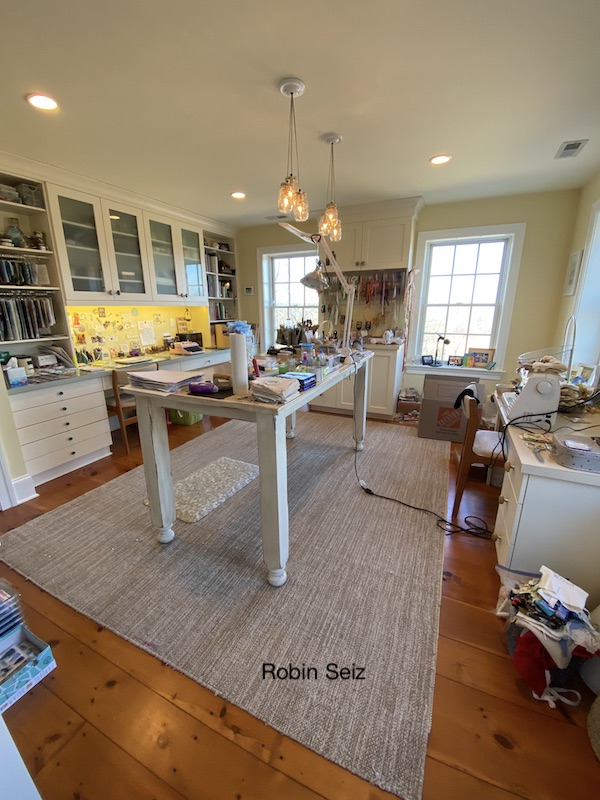 I am so grateful to have my own studio in our home where I create. It's a lovely light space with lots of windows. As big as it is, I have outgrown the space. (creating requires so much stuff!) We are starting a house renovation and as part of the project, I am doubling the size of my studio. How lucky am I… wow!!!! Here is the current studio, stay tuned late summer for pictures of the new studio.
8. What are your 3 favorite Creative Squad projects that you've created?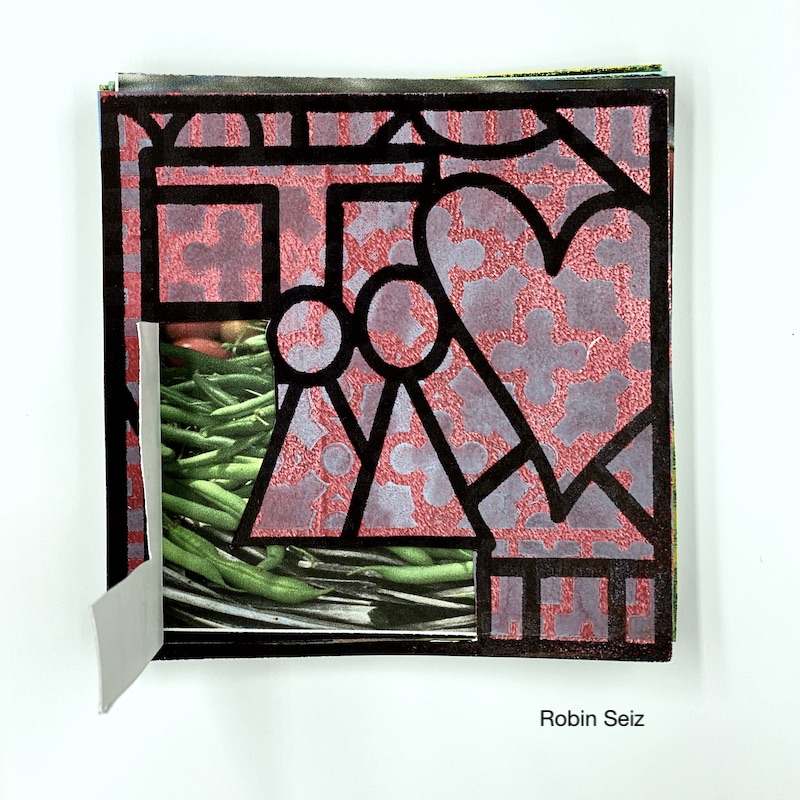 The first project that I really loved was using Nat's foam stamp from CJS21. I love this stamp! I told a story about my garden by cutting out pieces of the stamped piece. It was the first time that I truly felt that I could tell a story with my art! So exciting.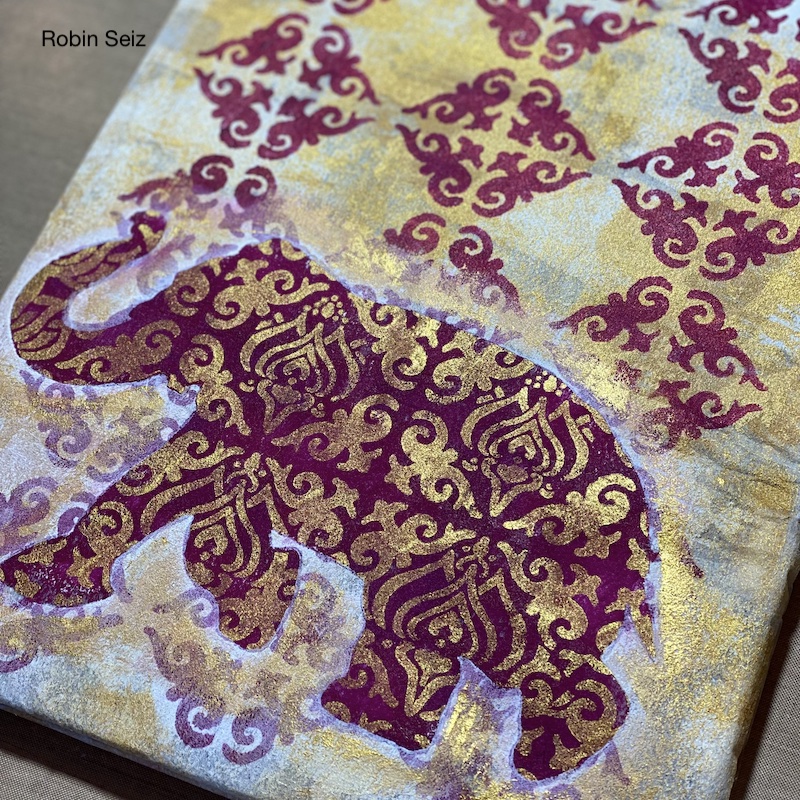 The second project was a journal cover. I really liked this project because I had an idea, but it was difficult to execute. I needed to keep layering and rethinking the project. It was one of those projects that did not come together easily. I kept adding layers until I liked the end result. I tried new techniques with this project as well. In the end, I was happy with the result, but it took lots of patience and experimentation.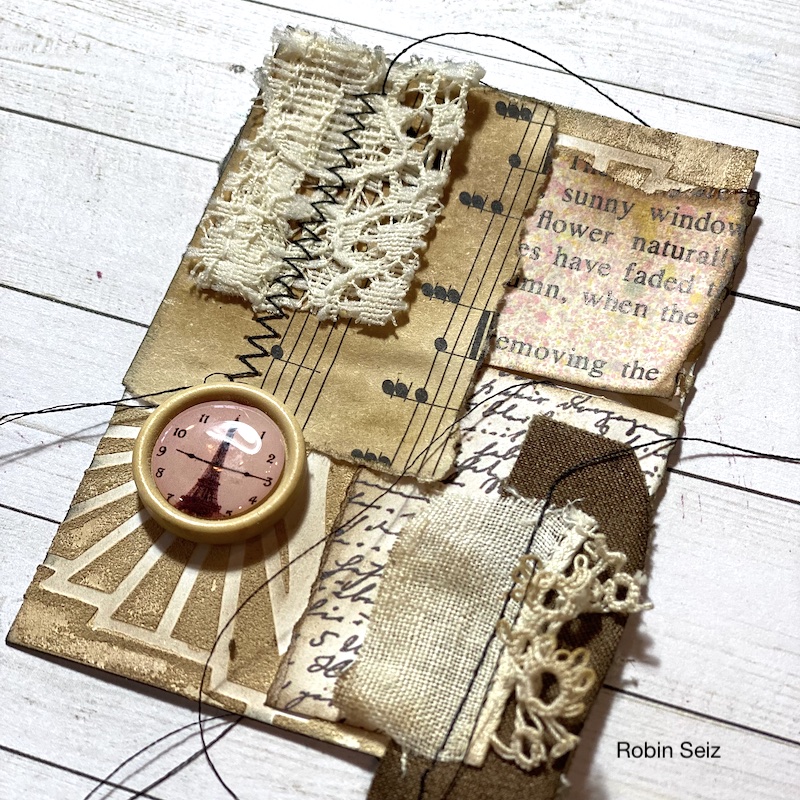 The third project was a project where we created Artist Trading Cards and then swapped them with other Creative Squad members. I love working small, so these cards were a joy to do. I used materials that I had on hand and combined sewing with paper — something I love! I loved swapping them with other artists as well.
9. Describe the perfect artistic day for you.
My perfect artistic day is when I can start my day with tea or coffee and a walk through nature, either my garden or somewhere close to home. After a few hours, I return to my studio inspired by something I thought about or have seen and set out creating without a purpose, just enjoying the process. I may stop for lunch, visit with my spouse, and return to the studio. I keep creating until I look up and it's dark outside and time for dinner. I rarely return to my studio at night, my creative energy tends to happen during the day. I do hand stitch at night as a quiet meditative process… so I'm really always creating.
---
Thank you Robin!
Learn more about all our Creative Squad artists here on our website and on the Creative Squad Instagram page.