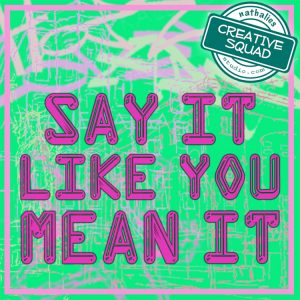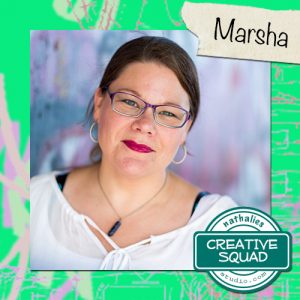 Welcome to another post from my Creative Squad! Today we have a beautiful piece from Marsha Valk who used my Stroll Through the Hood #1 and #2 cling stamp sets to give her personal take on this month's theme Say it like you Mean it – Let your unique voice be heard and tell us what's on your mind. Be bold. Be yourself. We all have something to say and sometimes we need to shout it!
---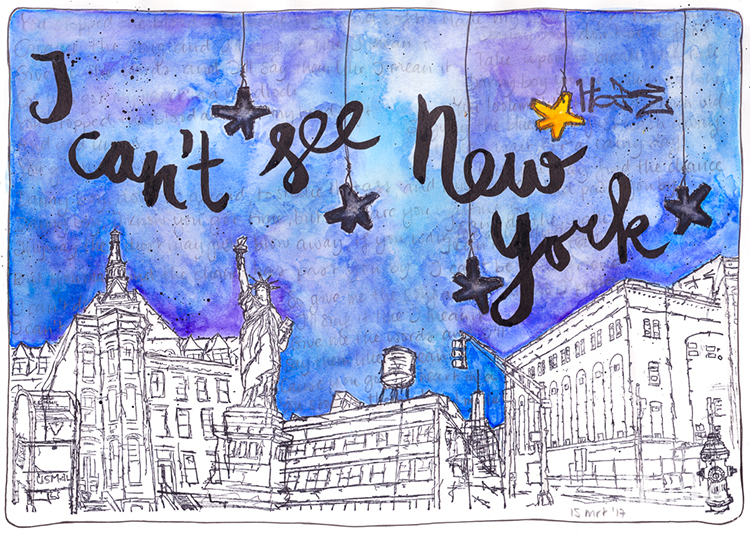 There are a lot of things on my mind: work and business, national politics, environmental and sustainability issues and even something as mundane as interior design. At this moment, as I'm typing this, current affairs in the US just aren't in the forefront of my mind. But the Stroll Through the Hood #1 set is about a stroll through urban America. Not urban the Netherlands… So what was I going to do? I didn't want to make another 'I don't want to' spread. So I decided to turn off my mind and let the theme and the stamps do the talking.
Each time I read the theme 'Say it like you Mean it', I have a bad case of ear worm: the song 'Sewn' by The Feeling instantly starts playing in my head. But… I wasn't sure what to do with it and I started thinking about songs that fitted the New York City feel of the stamps. And because I'm not currently in an empire state of mind, I thought of 'I can't see New York' by Tori Amos. Also not sure about that song, I decided to go with both songs. They certainly were on my mind now!
I stamped some of the images in a notebook whilst I was working out what to do and that's where the idea for the stars hanging from the sky came from. Then I stamped an urban scene at the bottom of the page.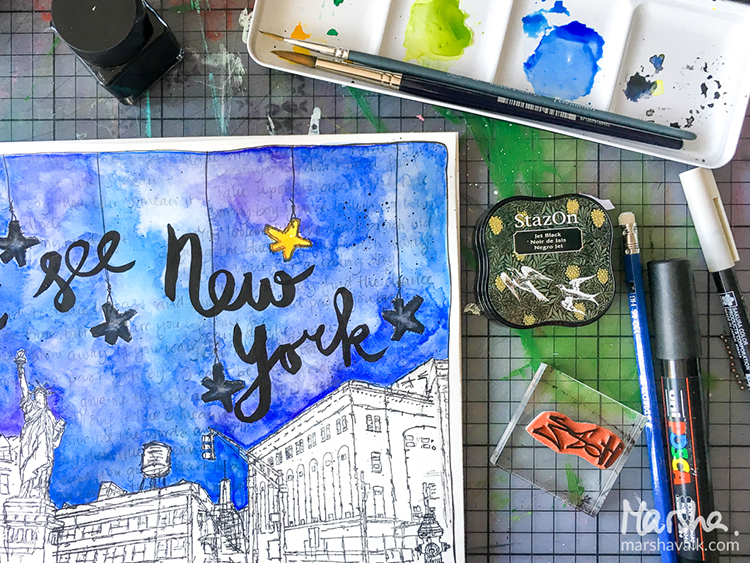 Whilst I watercoloured the sky, I thought: you can't see the city if there is no light. So that's when I coloured the stars black. But the brief was to use one of the tag stamps and I chose 'Hope', so I felt that at least one star should shine its light.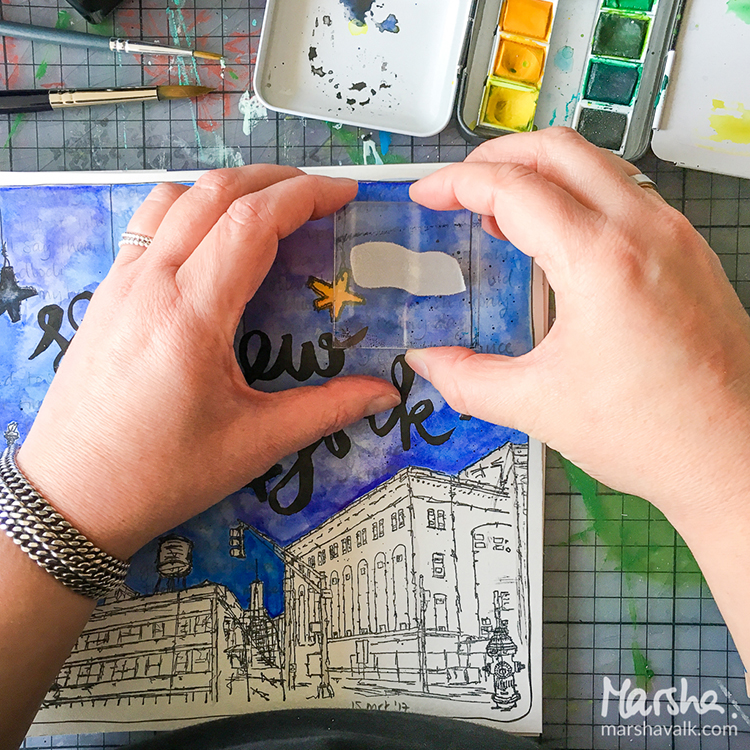 In the end I needed to decide whether I wanted to colour the urban scene. I didn't want to make it a black cityscape and colouring it would make it too visible, so I only added light grey lines and kept the rest bare.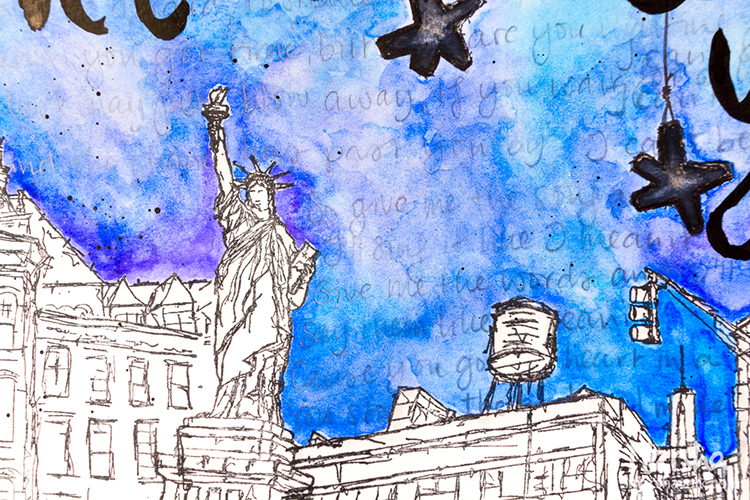 The penciled and smudged words are the lyrics of 'Sewn' and the title in india ink refers to the Tori Amos song.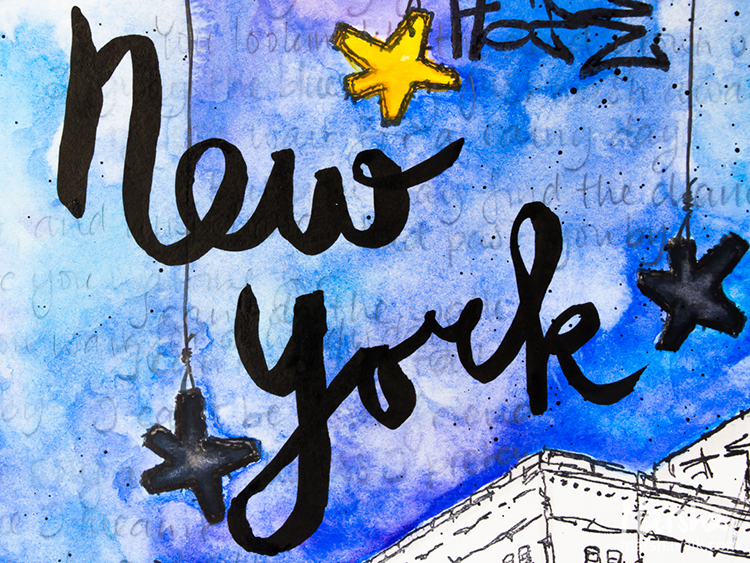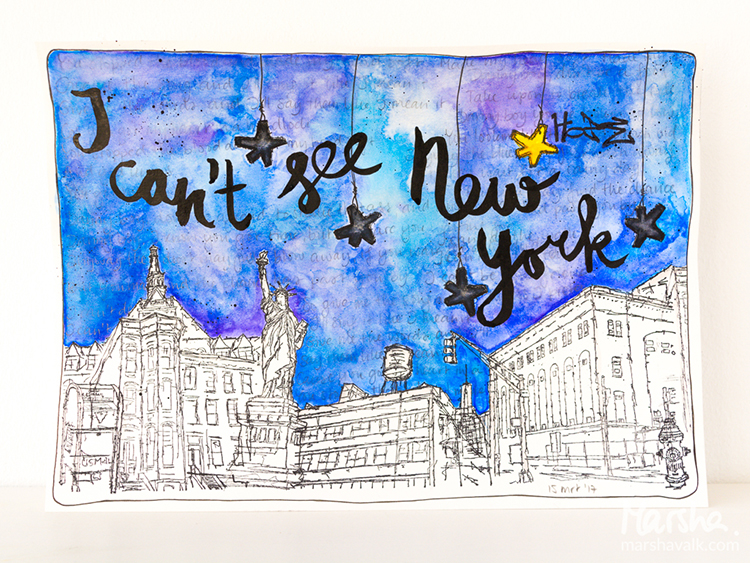 ---
Thank you Marsha! We can always count on you to take the theme and really pull it apart to see what it means to you :) And the results are a gorgeously composed scene with beautiful colors and a couple surprises – like that cute suspended Star Tag lighting up the night sky. Marsha used these supplies – some links are affiliate links:

Play along with us! I love to see how you interpret our monthly themes. Email me how you used my stencils and stamps with the theme and email me an image – I would love to share your projects in my "n*Spiration From Around the Globe".