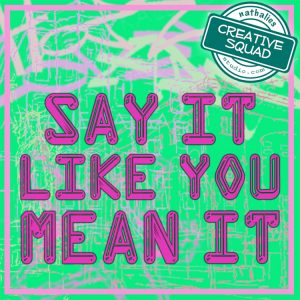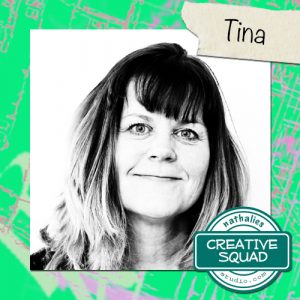 Hello from the Creative Squad! This week Tina Walker is kicking off a new theme for us with a beautiful and very meaningful book that I am so happy to share with you today. Along with my new Stroll Through the Hood #1 cling stamp set, Tina created something very powerful using the new monthly theme Say it like you Mean it – Let your unique voice be heard and tell us what's on your mind. Be bold. Be yourself. We all have something to say and sometimes we need to shout it!
---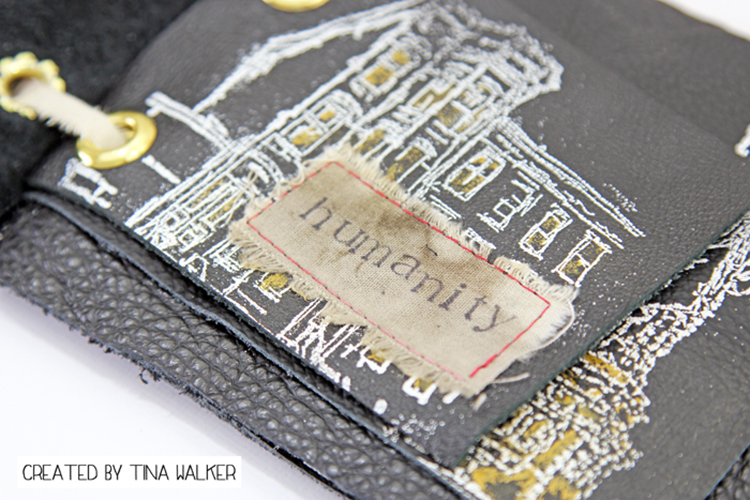 Hi! Tina Walker here today with my take on this month's theme, 'Say it like you mean it'. The U.S. is in a pivotal period of transition and the theme this month is a perfect way to support and vocalize my feelings and thoughts. I am saddened by what is occurring in the current administration and I am standing up and fighting for my rights and the rights of others. I am incredibly proud of my project and it is one of the favorite things I've made in many years. It really does prove that when you are passionate and inspired, creating reflects a piece of your heart.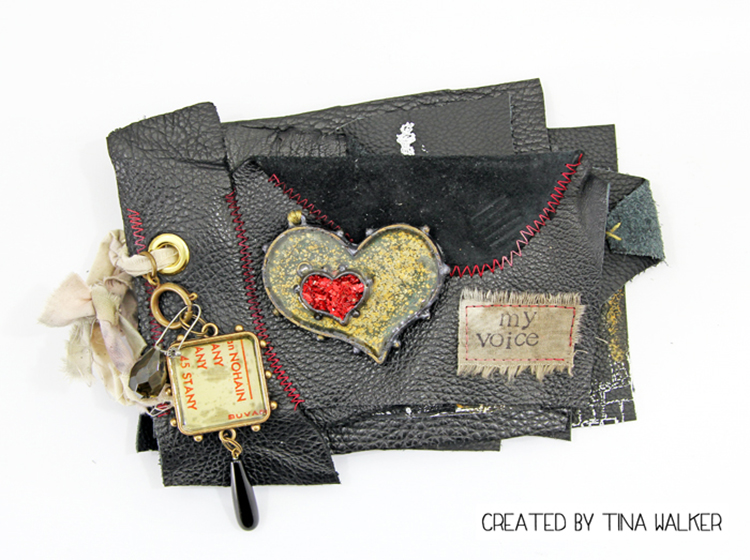 The pages for MY VOICE mini, are scraps of black leather. I cut them into various rectangle shaped pieces, both small and large.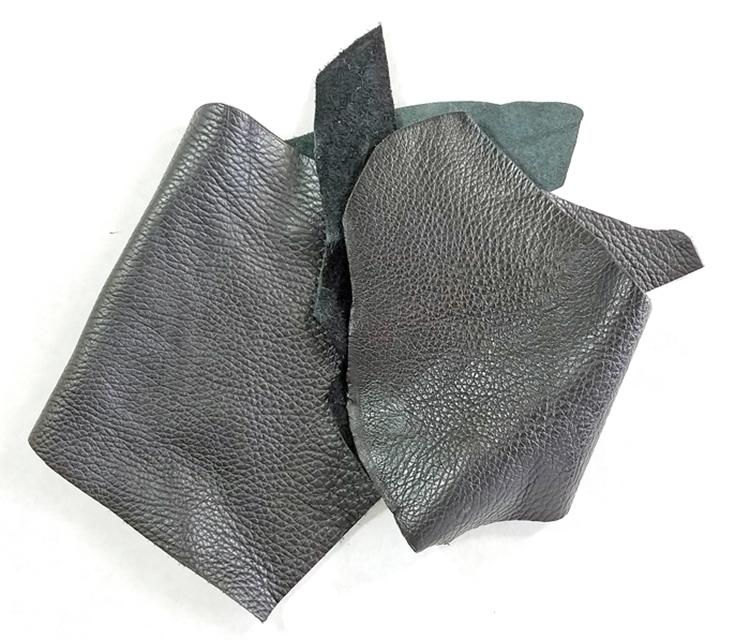 Using stamps from the Stroll Through the Hood #1 collection, heat emboss each page with the various stamps from the set. I really love the white embossing against the black leather.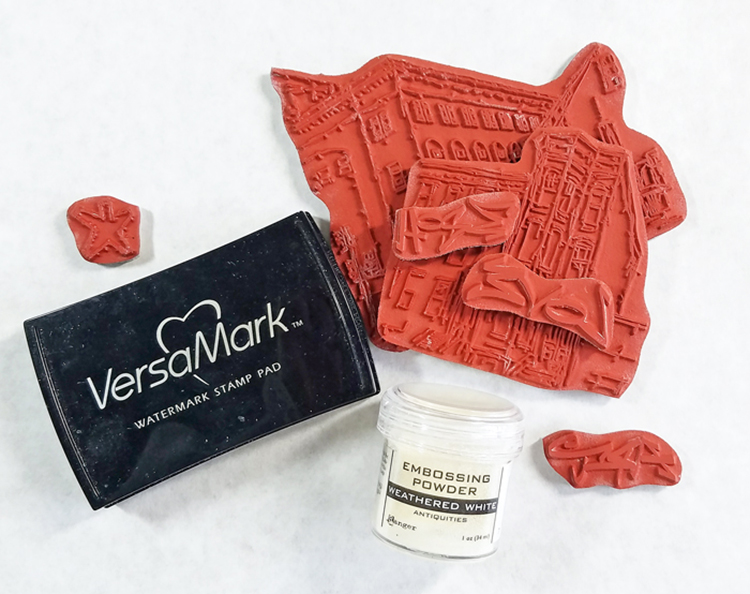 For just a bit of color, dry brush several sections of each stamped image. The idea is not color the image, but add highlights.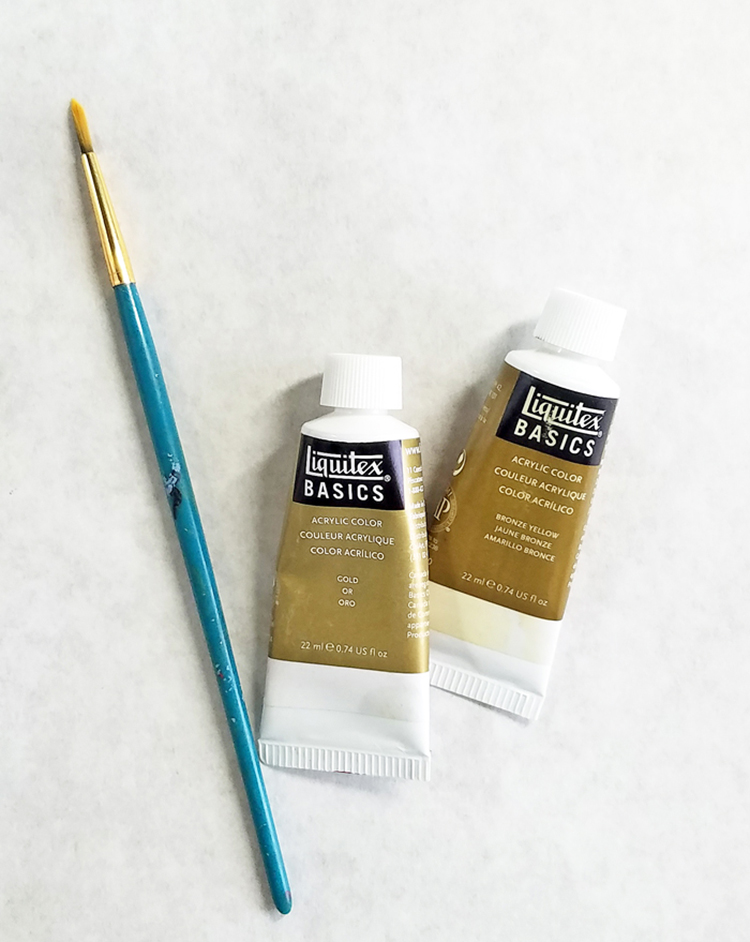 I am a person of few words. Instead of filling my mini with paragraphs and paragraphs of many words, I choose several that say exactly how I feel. My words of support and protest are stamped on scrap pieces of fabric. Machine stitch the journal strips to the leather pages.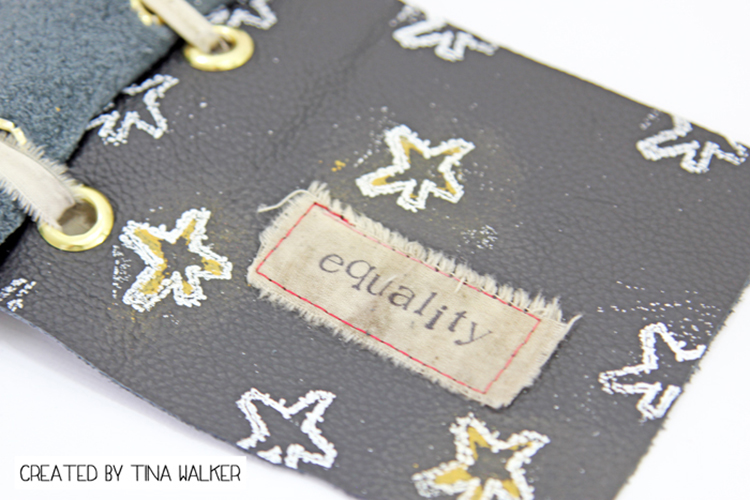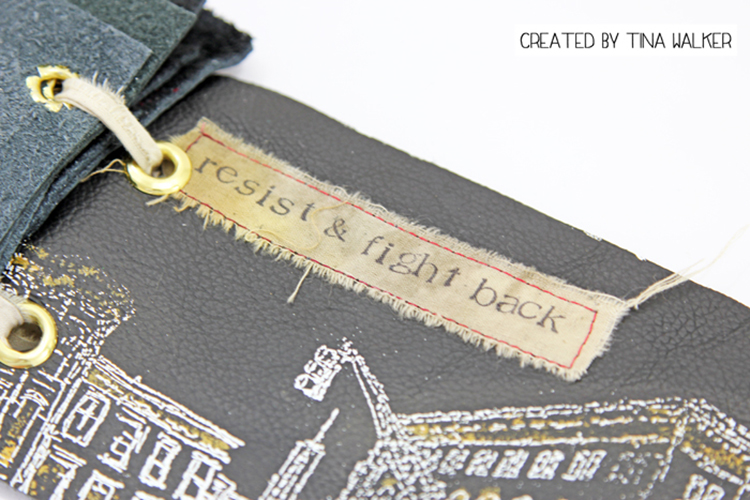 Using small scraps of leather, heat emboss the graffiti words from the stamp collection and stitch to the pages with a decorative zig zag stitch.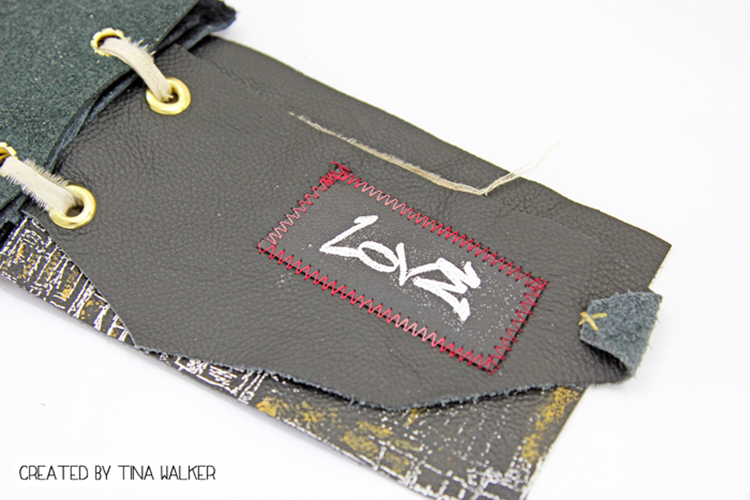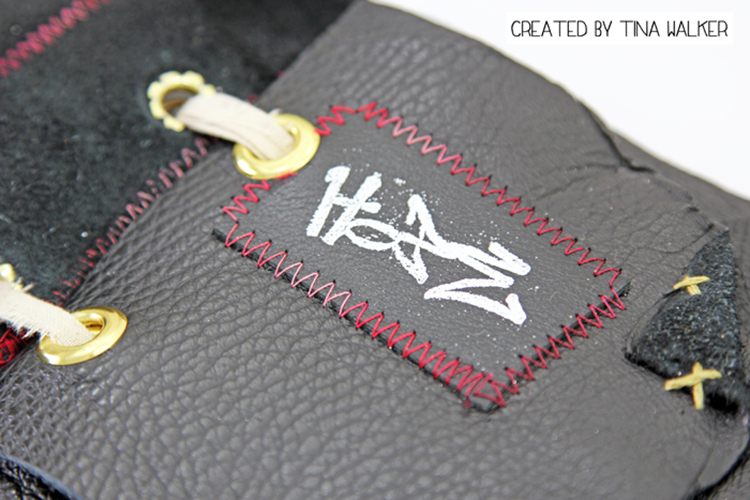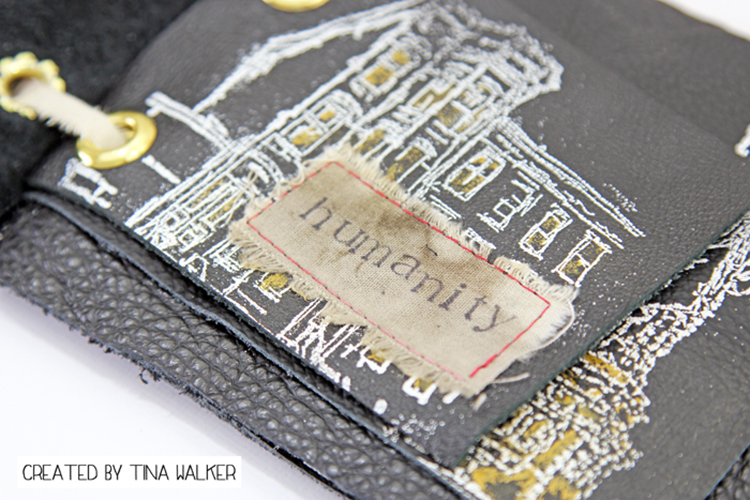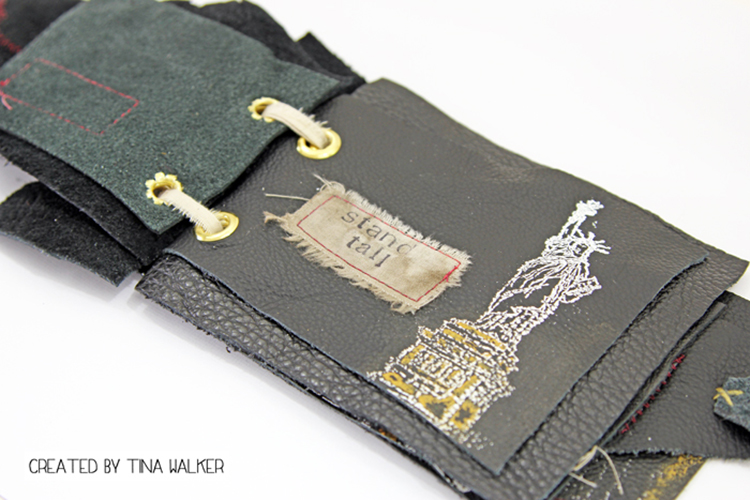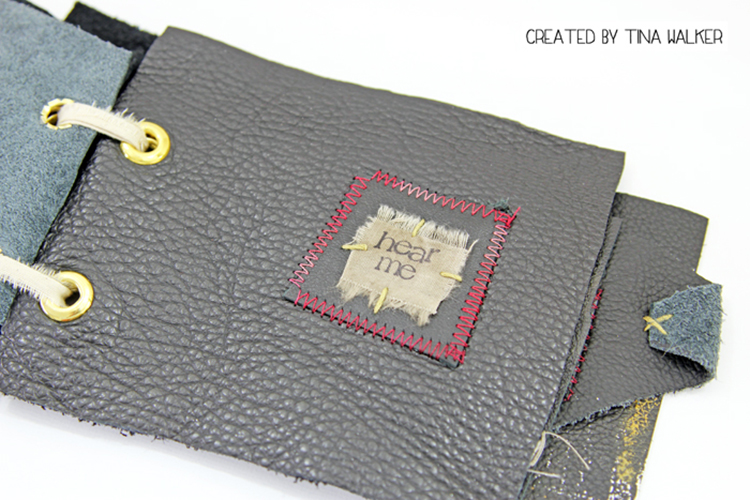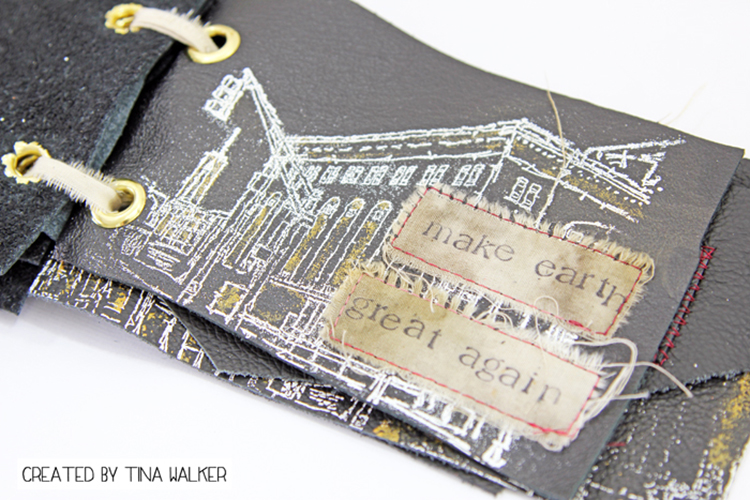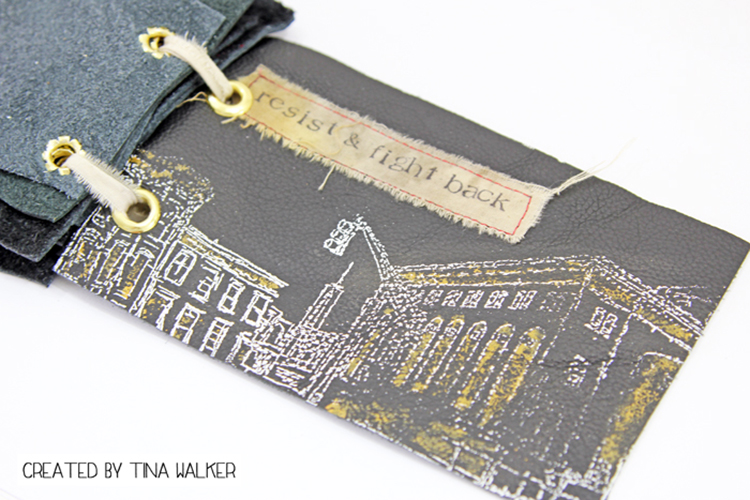 The binding for my mini are large eyelets. It was a challenge to get the large eyelet holes through the leather, but in the end, it was worth it.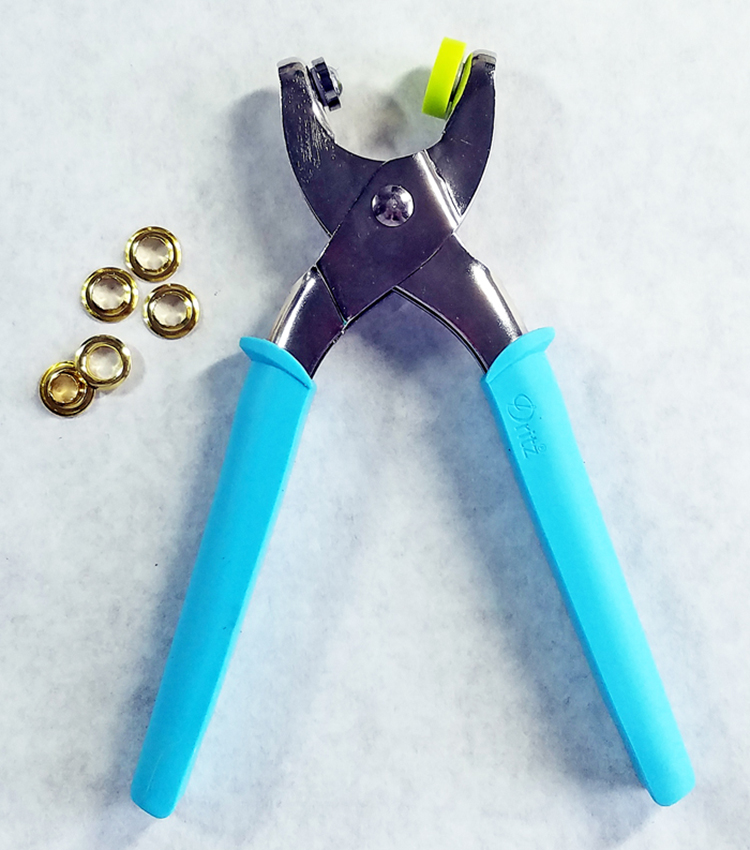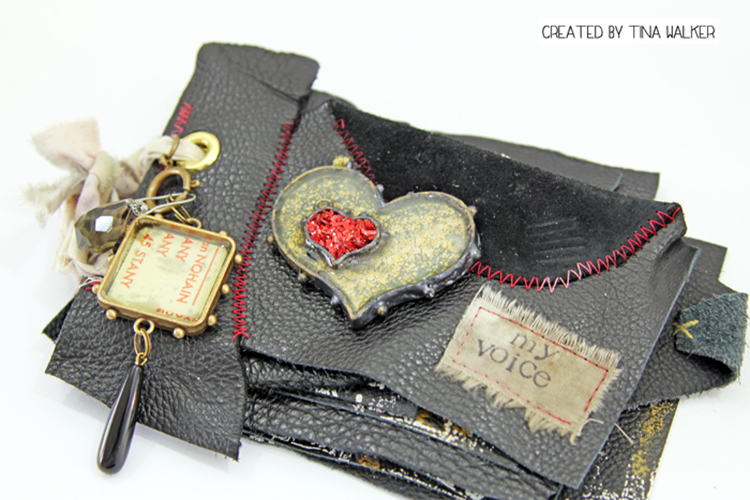 Do you create and put your thoughts and feelings to paper or fabric? Do you find personal liberation when writing or creating with your feelings? I'd love to hear how you voice your mind.
---
Wow. Thank you Tina for a such an honest and meaningful project. You are right – when passion and creativity come together in art, something truly special comes out of it. In addition to scrap fabric, a sewing machine, and various embellishments and jewelry, Tina used these supplies – some links are affiliate links:



Play along with us! I love to see how you interpret our monthly themes. Email me how you used my stencils and stamps with the theme and email me an image – I would love to share your projects in my "n*Spiration From Around the Globe".