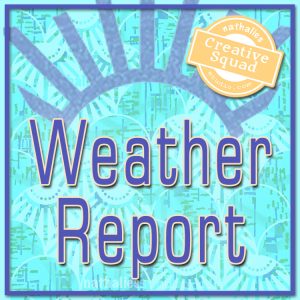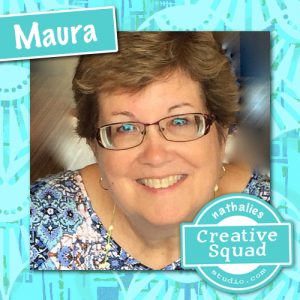 Hello from my Creative Squad! Today we have a series of cards from Maura Hibbitts that are sure to brighten your day even in these difficult times. Maura is using my Amsterdam 6×6, Mesa Verde, Art Deco Wallpaper, Signals, and Art Deco Empire stencils. The theme this month is: Weather Report – Let's talk about the weather! Do you love thunderstorms? The crisp air of Autumn? A good snowstorm? Are you a fan of endless sunshine? Create something inspired by that go-to topic of small talk – the weather!
---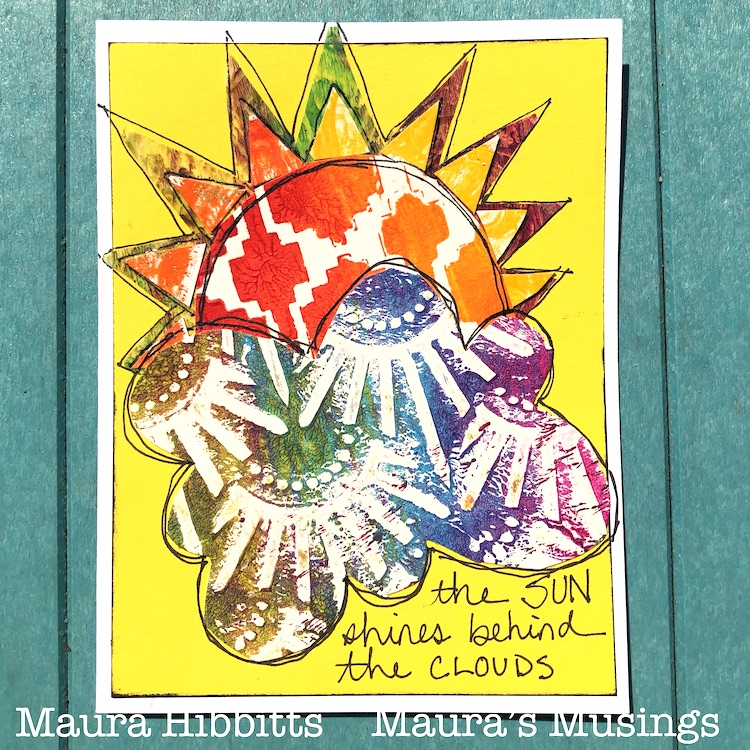 April certainly is a month of changeable weather! One day it can feel like a beautiful spring day full of sunshine and warmth (and I certainly want more of these kind of days!). The next can bring in snow and cold, but luckily these storms don't last too long and the snow melts away quickly. And of course, there is the saying about April showers bringing May flowers, but be sure to check for rainbows too! So, check the weather report before you head out!
I've been making and sending out cards to let people know I am thinking about them during these difficult times, so I knew I wanted to use this month's theme to make some more cards.
 I started off with an array of rainbow colors, my gel plate, and several of Nathalie's stencils to create some papers to use for the project. I used a brayer and a mix of red, orange and yellow along with a stencil, like the Amsterdam stencil here. First time the stencil goes on the plate and the paper on top; then put the painty stencil on paper, and third take another print off the plate. I used watercolor paper to do this.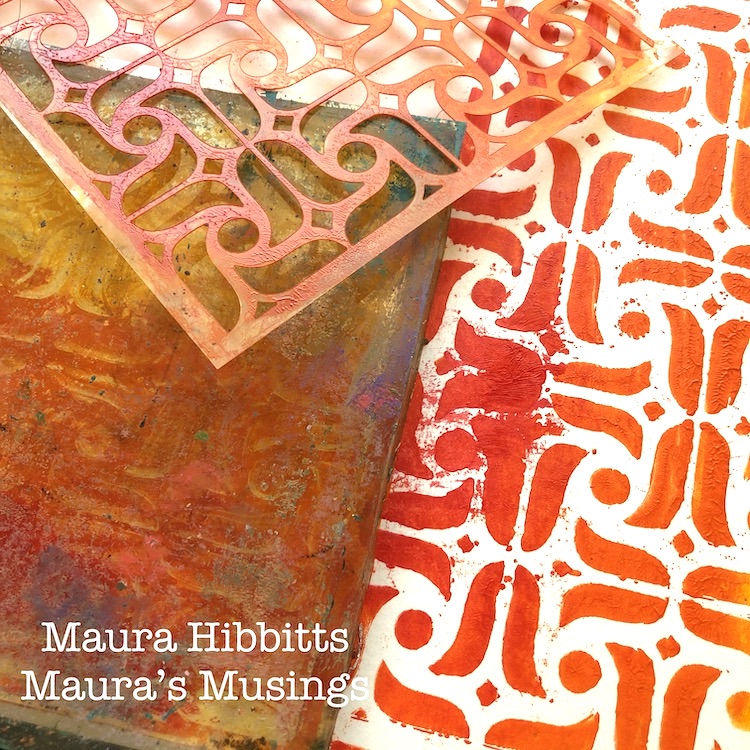 I also keep some deli paper handy when I am printing to use for excess paint. Quite by accident, I happened to have the deli paper sitting on a stencil, and when I rolled the brayer over it, it picked up the pattern.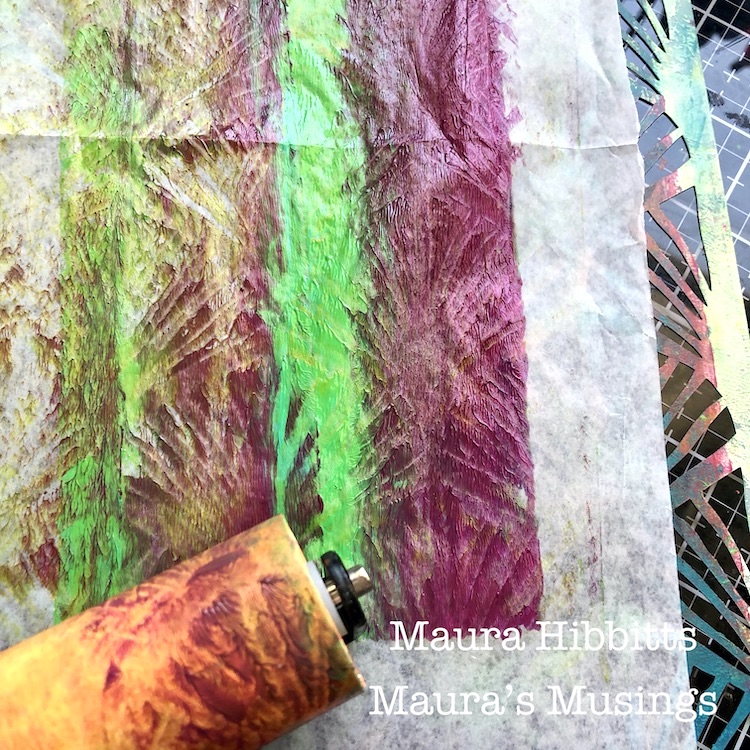 I repeated the printing process with the green, blue and purple blend on watercolor paper and deli paper. First print here is off the plate with the Art Deco Empire stencil, and the second is printing with the stencil.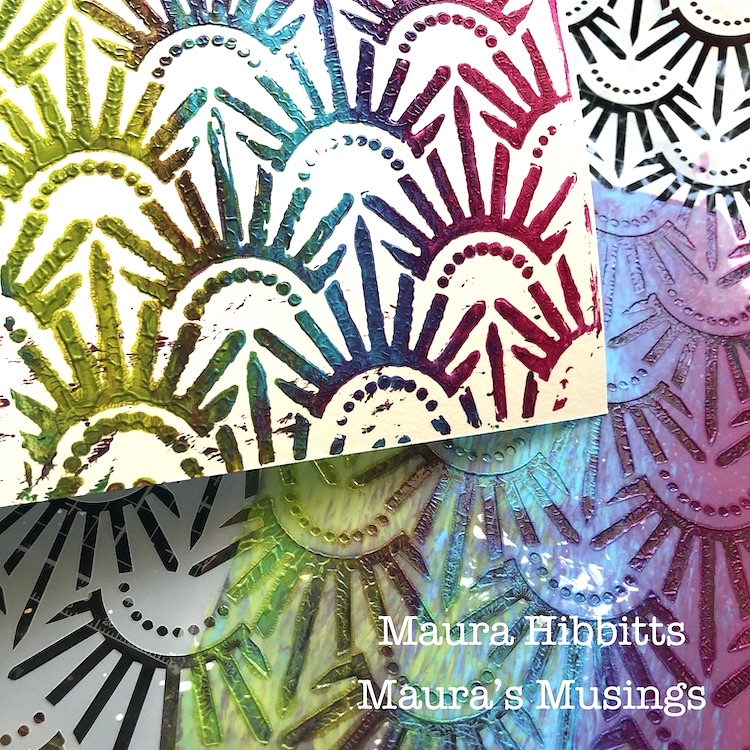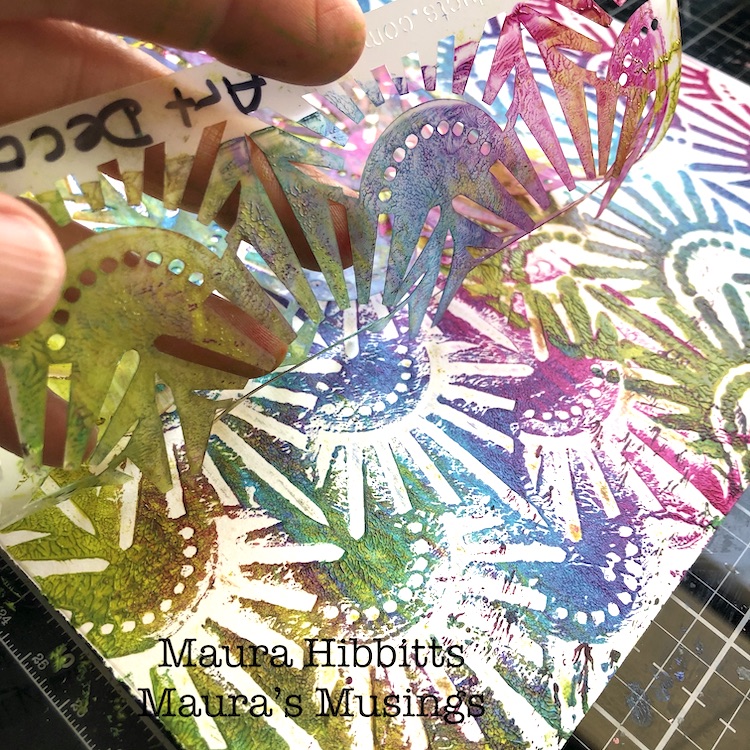 I decided to add in more color with a rainbow mixture of fluid acrylics. Here, I blended in the opposite group of colors with a baby wipe. Since the heavy body acrylic was dry, it acted like a resist, so all colors now show.
On some of the printed papers, I used a splatter brush and fluid acrylics to add a subtle layer of color.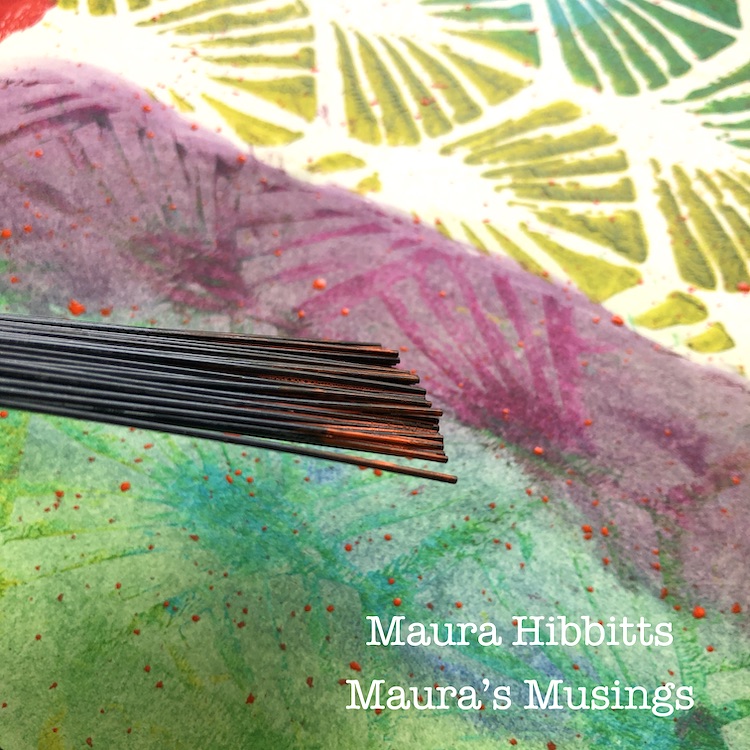 Gold accents always take it up a notch, so I used the Signals stencil with gold paint to add a shimmery layer to some printed papers.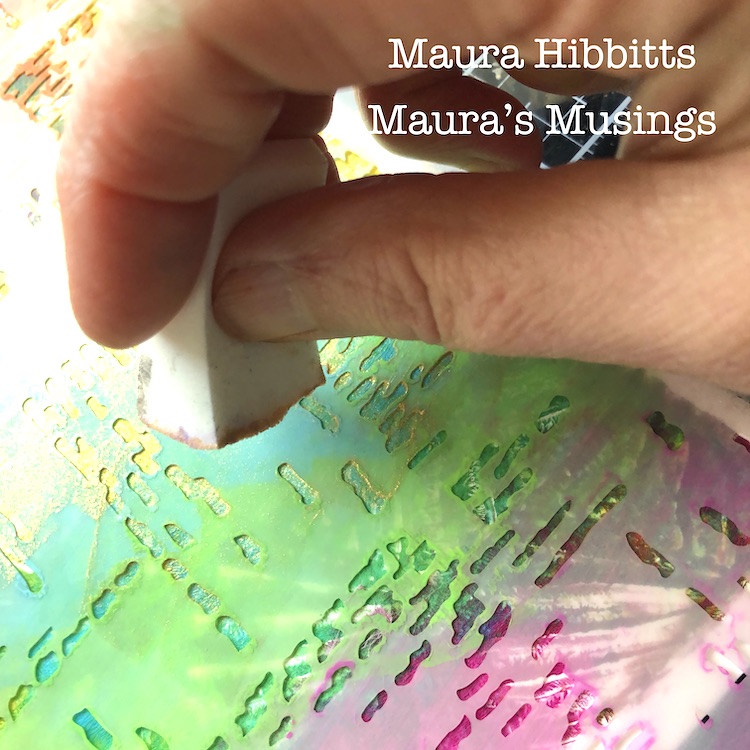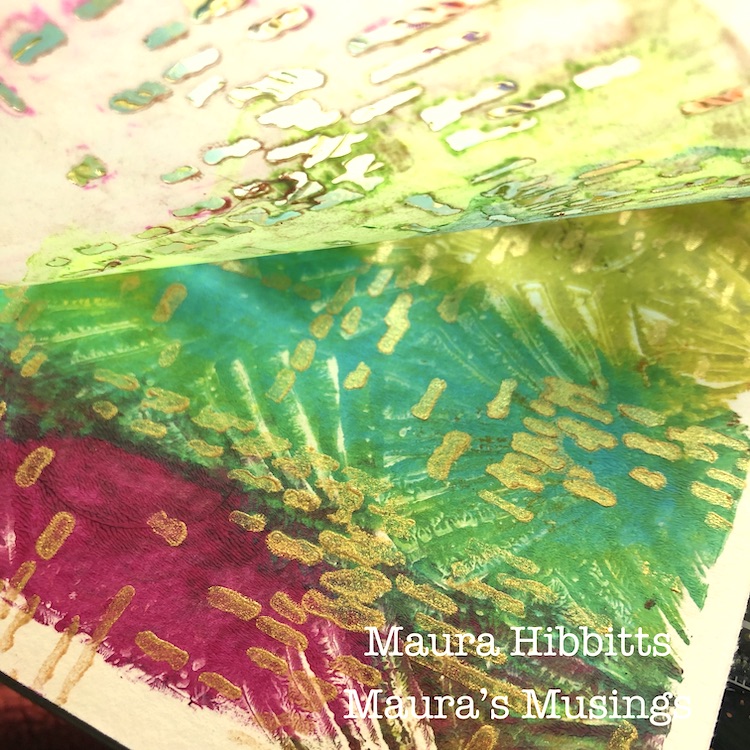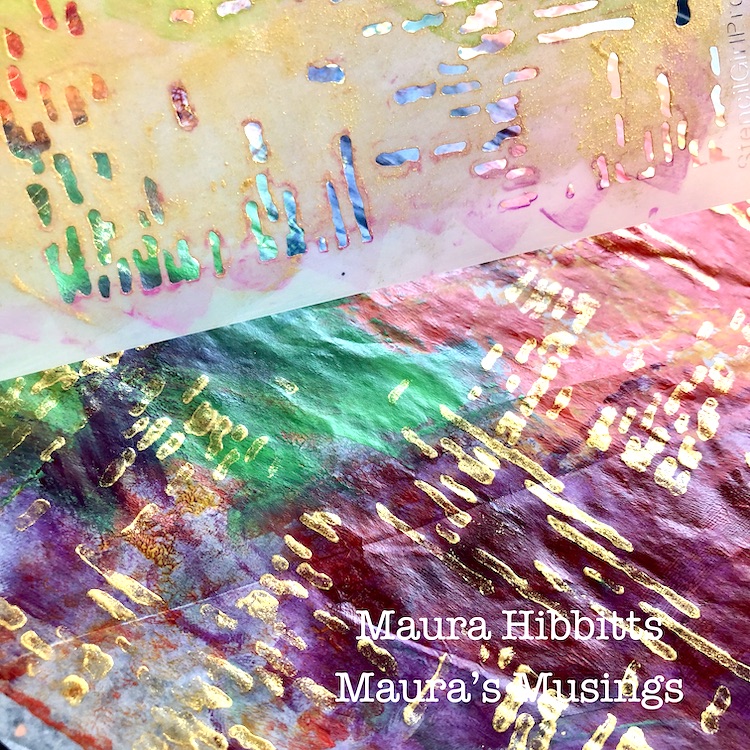 Now I have a mix of rainbow painted watercolor sheets and deli papers to use for my cards. Plus, a quick look at some of the rainbow assortment of supplies I used.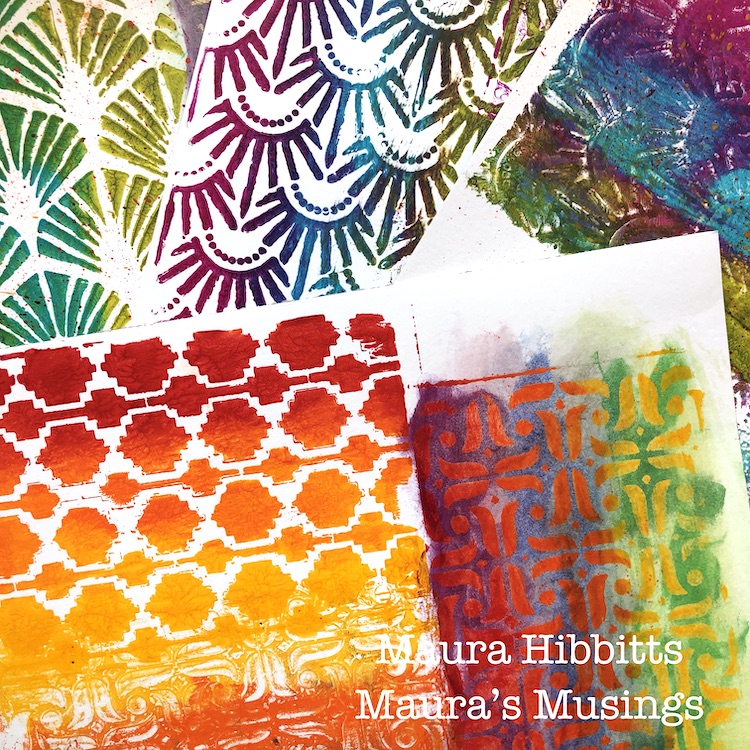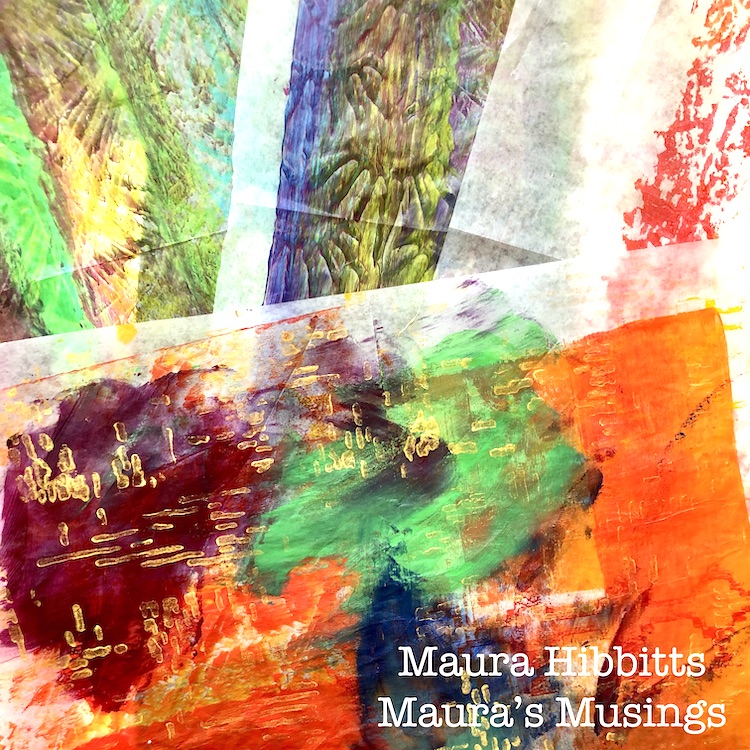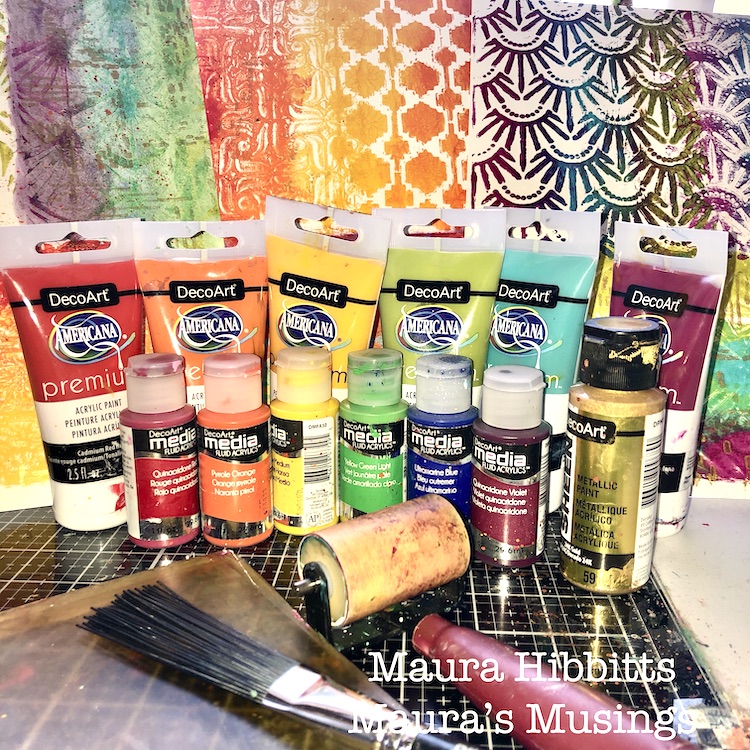 Now, the fun begins! I cut out all kinds of shapes related to weather and pieced them together to make my images….sun, clouds, an umbrella, snowflakes, raindrops, and a rainbow. I did use a pencil to sketch out a few. I adhered the heavier paper with tacky glue, and the deli paper with matte gel medium. Oh, and I had previously used the paper trimmer to cut white card stock for the base, and yellow for the background, which I edged with black ink.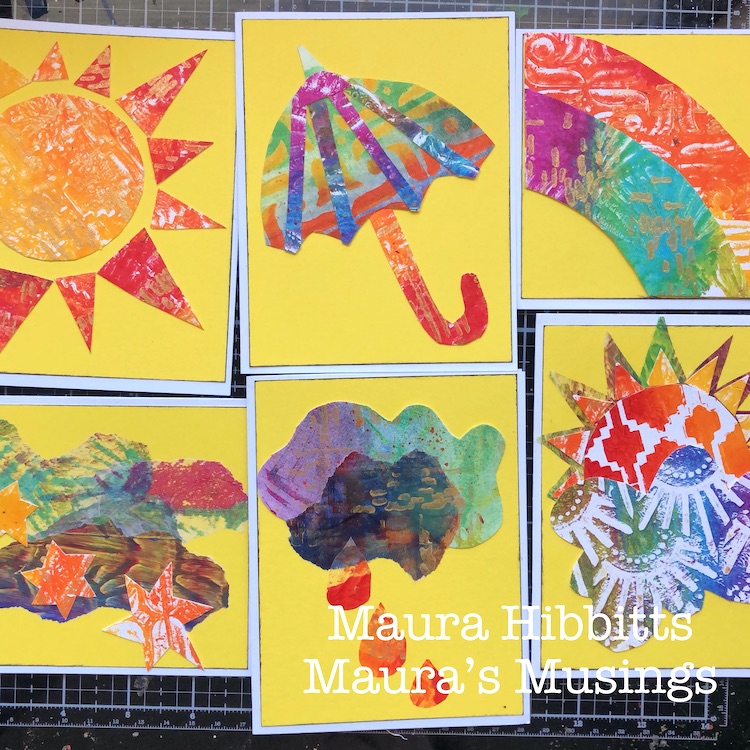 Once the cards were dry, since it was such a beautiful day, I headed out to the deck to do the doodling on the cards. I am using a carbon ink pen, but any black permanent pen will work. I also added in thoughts about the weather.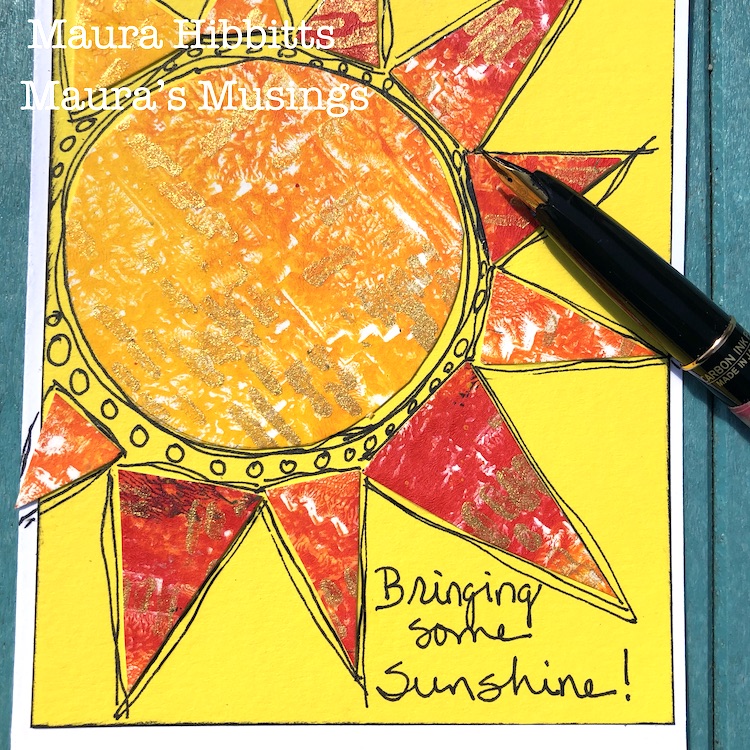 Softly falling snow (well, I hope not, lol!)…The sun shines behind the clouds…Singing in the rain…Look for the Silver lining…Bringing some sunshine…and Look for rainbows! I hope these thoughts and the rainbow colored cards will bring some much needed encouragement into our lives right now. Be well, be healthy, and find joy in April's weather! – Maura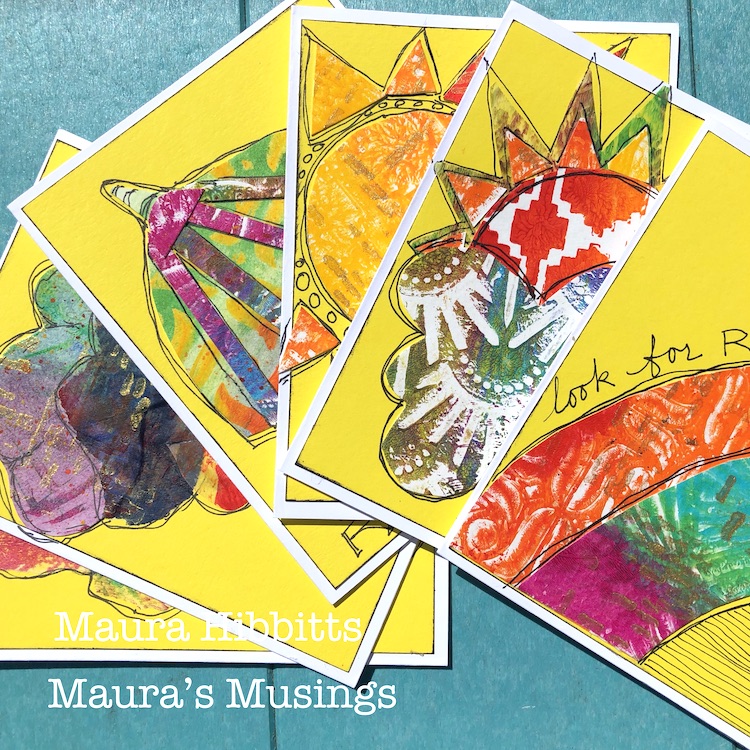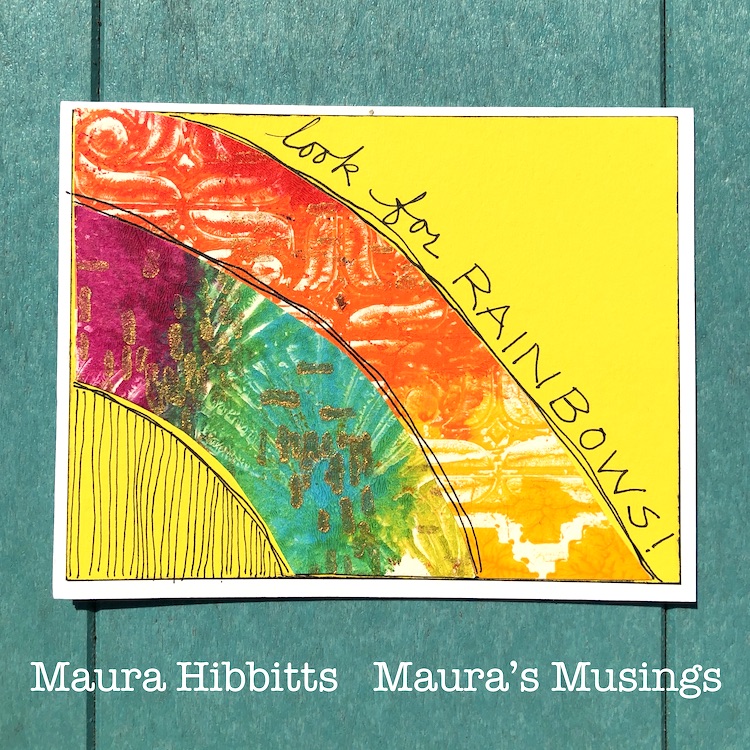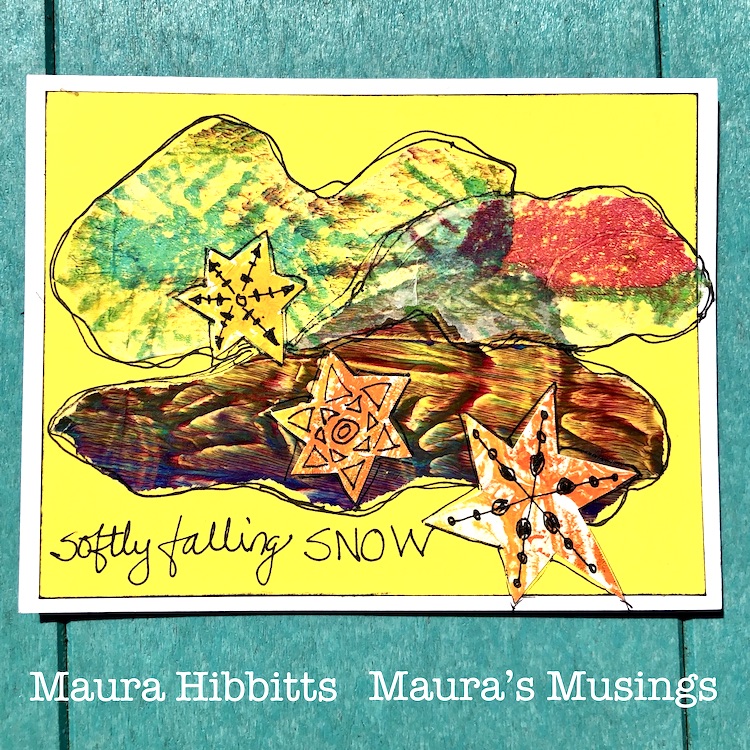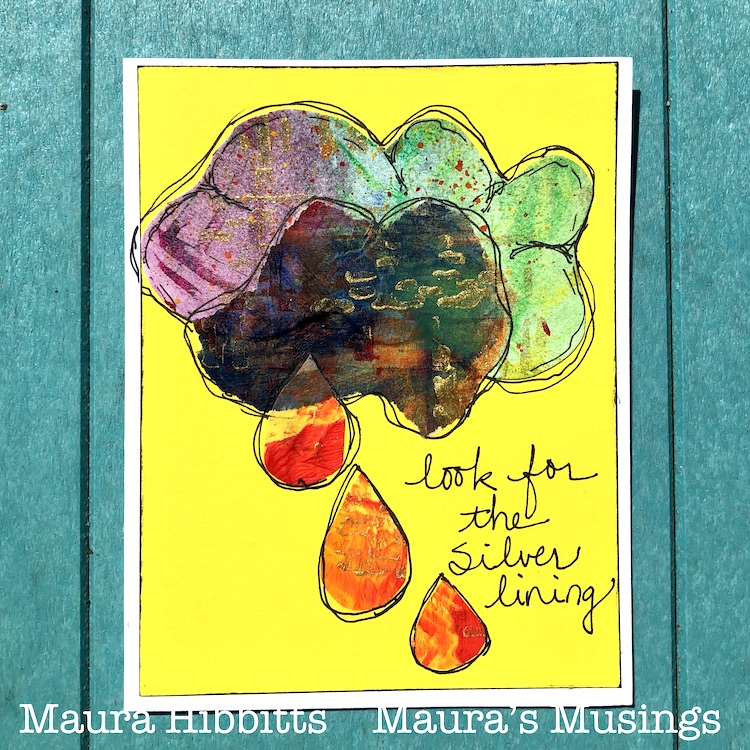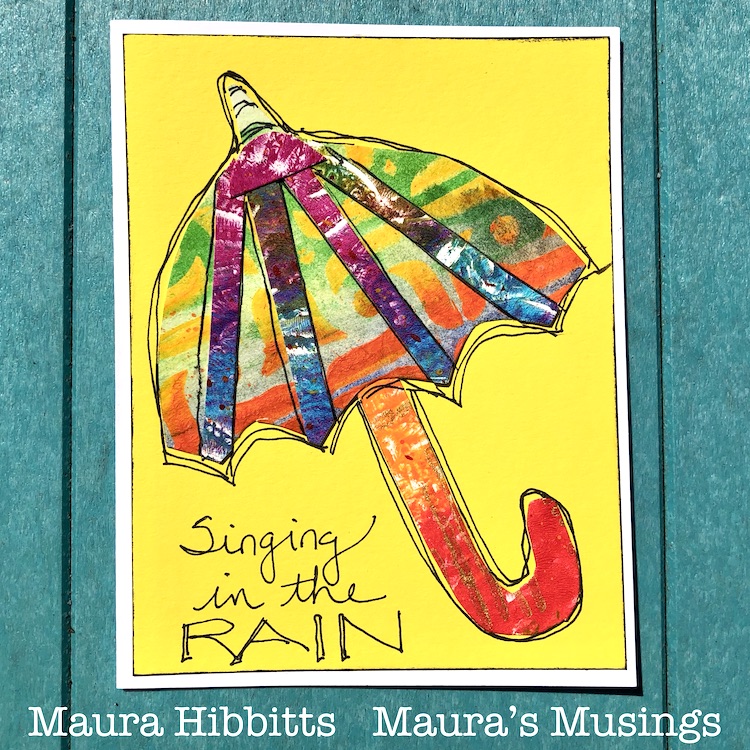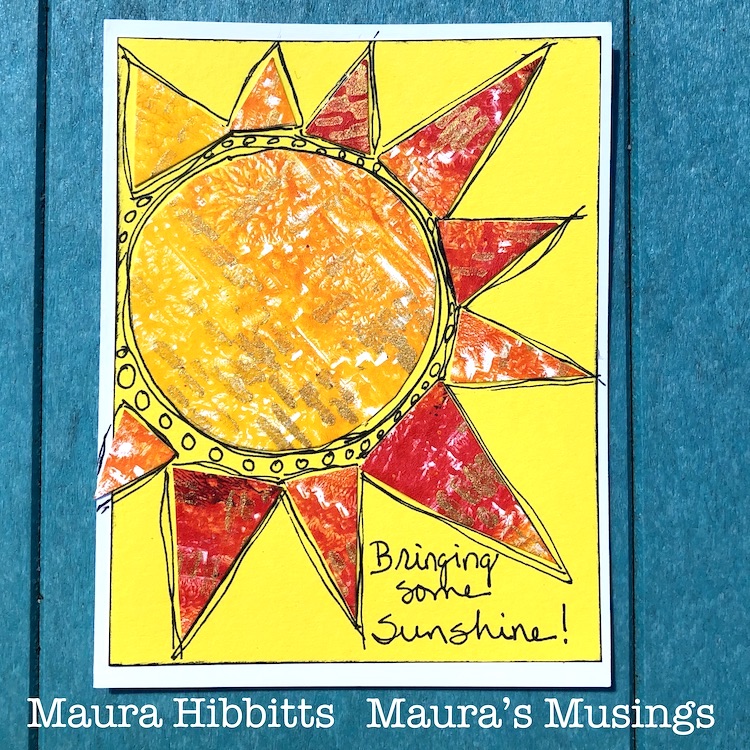 ---
Thank you Maura for lifting our spirits today!!! These cards are so happy and beautiful.
Want to give Maura's project a try? You can find all my Stencils in my Online Shop. Here are some of the other supplies Maura used:

Feel inspired? Working on something yourself that you'd like to share?  I love to see how you interpret our monthly themes. Email me how you used my stencils and stamps with the theme and email me an image – I would love to share your projects in my next  "n*Spiration From Around the Globe".