DISCLAIMER: This Blog Post contains a picture that some might think of as offensive (I think it is hilarious), if you have a problem with this, you might be better off looking at something else  . Don't email me to complain, don't visit my blog anymore because I might post things like this again and for sure do not let your kids look at this !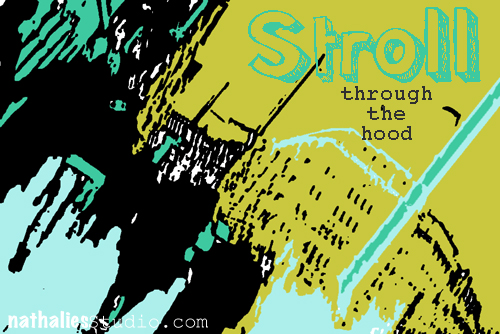 A lot of times I get asked what inspires me. And one of my key answers is always "a stroll through the hood". It might be street art, it might be thoughts or feelings connected with certain sights, it might be stuff I find to buy…in one way or the other you might find the photos, the thoughts, the feelings, the colors or anything from those strolls in my art journal, a mixed media project or a scrapbooking layout.
I would love to show you once a month what inspired me while strolling through my neighborhood. I hope you like the little insights into my daily life where I live (this is the first one from my new home in Jersey City, NJ). This is also a wonderful way for me to remind myself on the inspiring things in the hood. Maybe you get inspired by those posts and even invite ME to a stroll in YOUR hood – feel free to grab the logo and leave a comment for me on the post and share!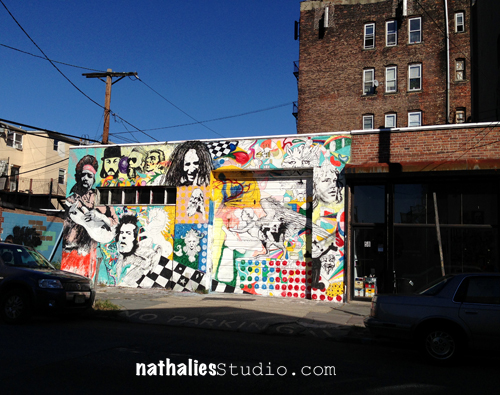 Jersey City is oozing with creativity and it really makes me happy to wander around here. I wasn't even surprised when I read that it shows in a 2011 survey of census data  Jersey City to have one the nation's highest percentages of residents who work as artists. And now  there is one more ;)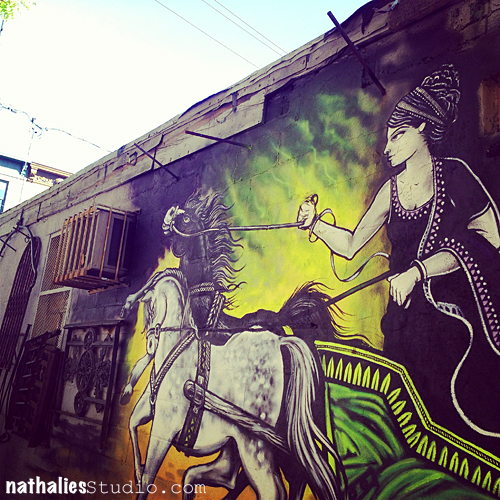 And it is a 20 min Path-Ride away from Manhattan – I mean seriously- I met my wonderful friend Julie at MoMA and from door to door it took me 45 mins with walking between stations and getting lost and buying a Metro Card…not too shabby, eh? Next time I make it in 35…I hope – hehehe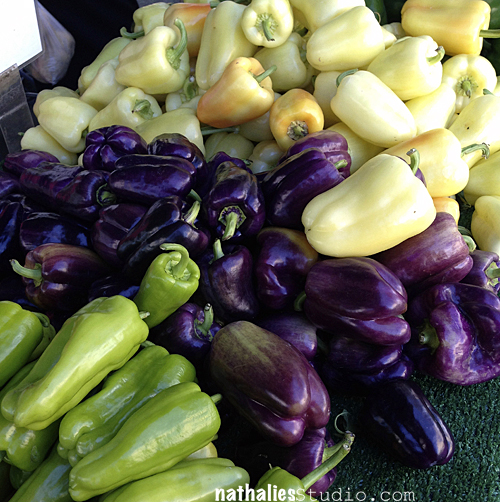 There are farmers markets almost every day in close walking distance and I love to discover new or fun things. The purple peppers for example- beautiful. Also the New Jersey Tomatoes- all kinds of colors and forms and boy are those yummie!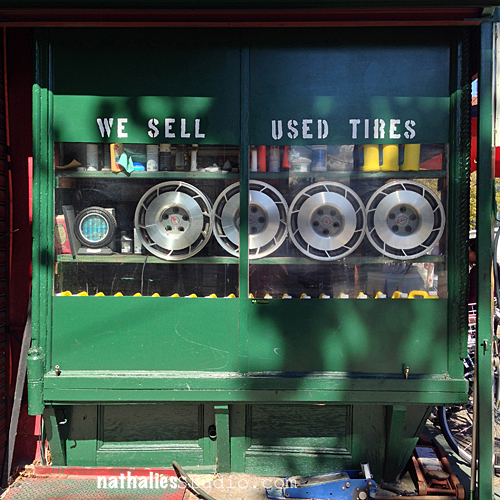 Also very interesting business models around here- LOL- I am not sure if that store would work in Germany-but hey- I love the set up and think it is also very inspirational with the green and yellow,  the circles and the stenciled title :)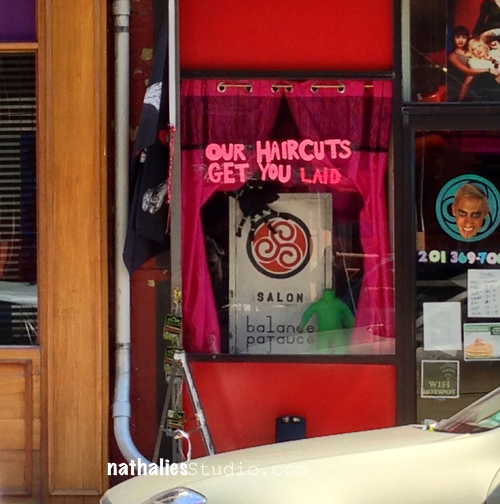 Advertising at it's best…LOL- love this – I was cracking up!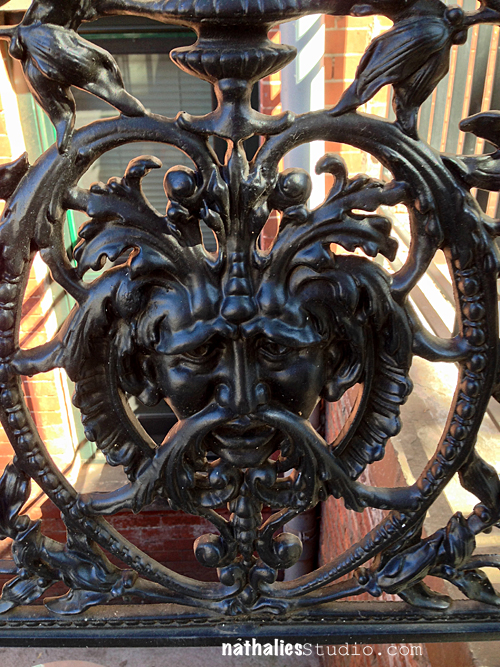 I also love all the black iron cast railings in front of the brownstones here- so beautiful and so detailed too.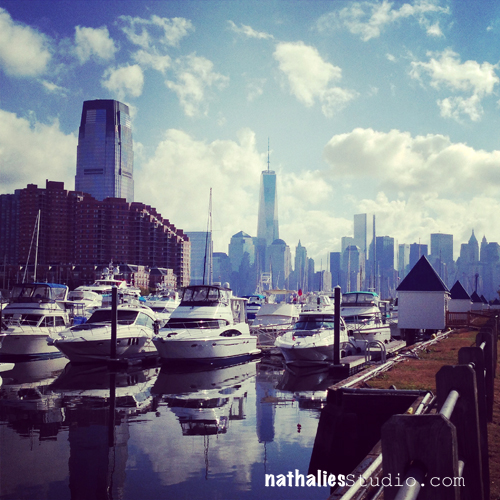 About a 20 minute walk from here starts the Liberty State Park – I love this place! It starts with this Marina and this view of Jersey City Down Town and Manhattan.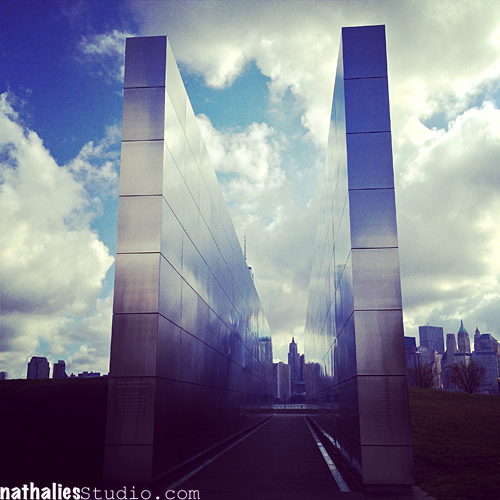 Also in the Park is the official New Jersey 9/11 Monument called "Empty Sky" .  It's short illusion of the twin towers still existing is very emotional and touching.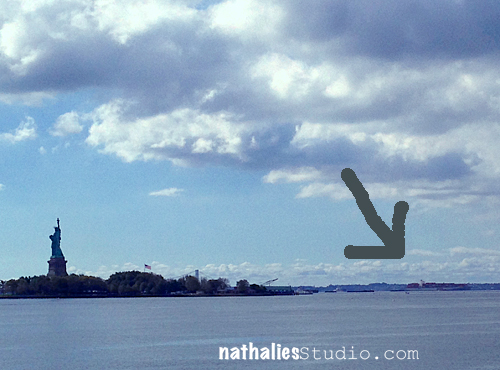 While walking further along the Park, my husband and I started talking about our container and when it should come in, we knew it should be in around that day and go to somewhere in Newark Harbor. So we checked on the vessel's tracking and I kid you not – my husband yelled "It just passed under the George Washington Bridge three minutes ago"…and we were staring right at the bridge at that very moment. So we started running like idiots until we saw the ship coming out again behind the Statue of Liberty – you cannot really see it on the photo – as a cell phone camera can only do that much – but YES it was it. It was quite funny. So the container is in…now it is up to customs on how long this will take to clear. After we got clarified our ship made it, we were able to look at the main tourist attractions again ;)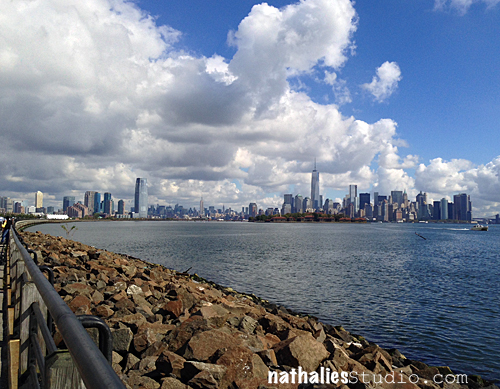 Jersey City Skyline to the left, Manhattan in the middle and to the right. Amazing to see these buildings all together.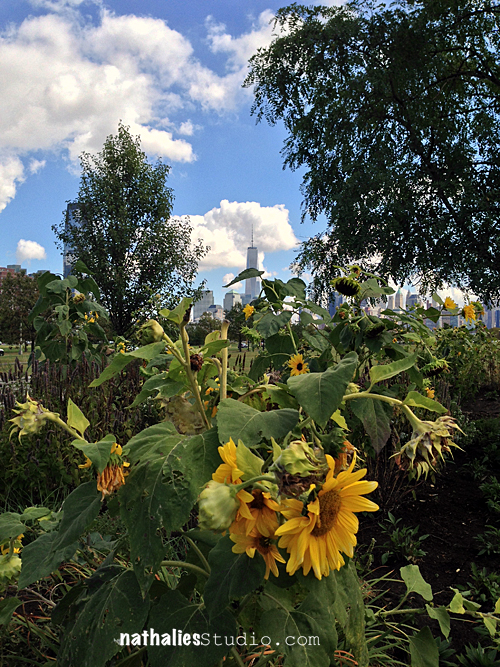 I couldn't pass up this opportunity to photograph the Freedom Tower through a field of sunflowers. The one leave drives me nuts though- hahahha- but I couldn't get  it over me to take it off (read – I am wayyyyy to short to even reach it ;) ).
I hope you enjoyed the first stroll through my hood here in J.C. and I for sure will keep them coming ;)
have a beautiful day!
nat