Time for a Stroll Through the Hood . Strolls through my hood get me out of my studio, they help me unstuck and often I get inspired by what I see and to get new ideas to create something. It is part of my philosophy about Artful Adventures in Mixed Media – which is the subject of my book. Here are some photos that I gathered in the last couple weeks.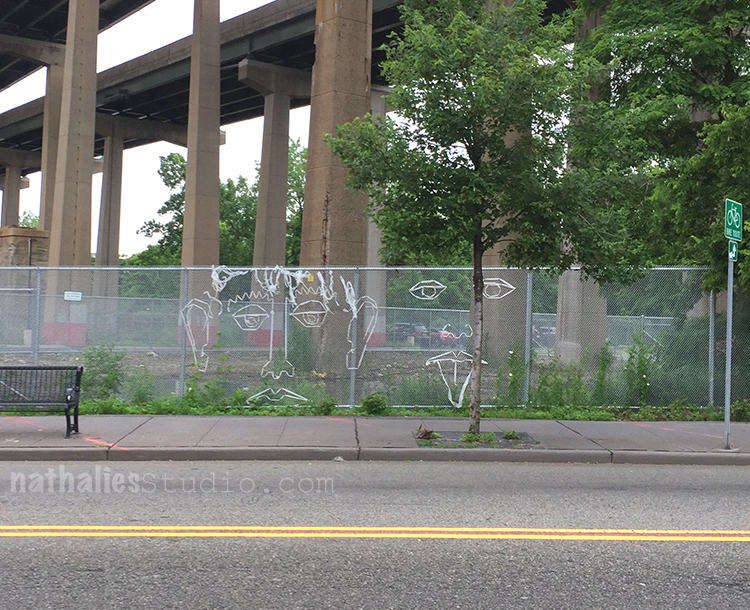 When I had to go to get an MRI after hurting my shoulder playing table tennis (yes…you heard right) – I had to walk underneath the turnpike – ugly ugly- but there was a bit of Norman Kirby Fence Art to make the feel better. The funniest thing – the tongue on the right moved in the wind :)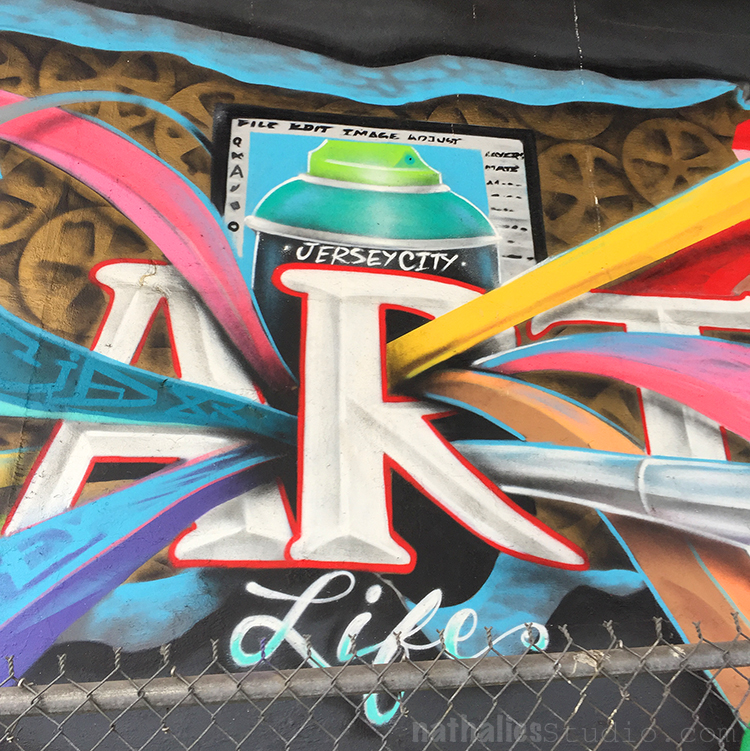 I love how the color bands come out of the R and the movement in this mural.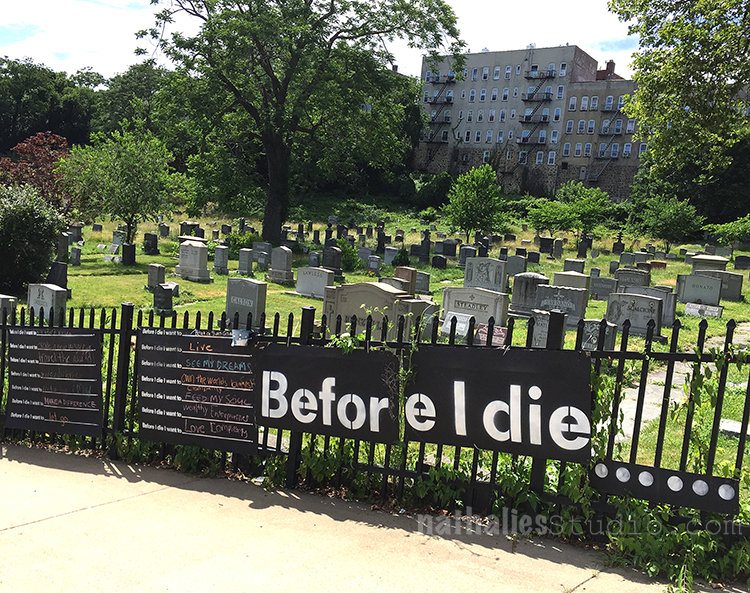 This is the Historic Jersey City and Harsimus Cemetery again – they had an Oddity Market there one weekend and ha- that is a great location for this. I loved seeing the Before I die… Wall there. I thought it was so clever to have it at a cemetery what a fitting place for this public art project. I did a painting a long time ago called "Before I die, I want to become the person that I am " – but I think it is time to do this again in my art journal and think about it :)
I also found humor in seeing those to guys in sitting in the grass in between the headstones typing on their cellphones ;)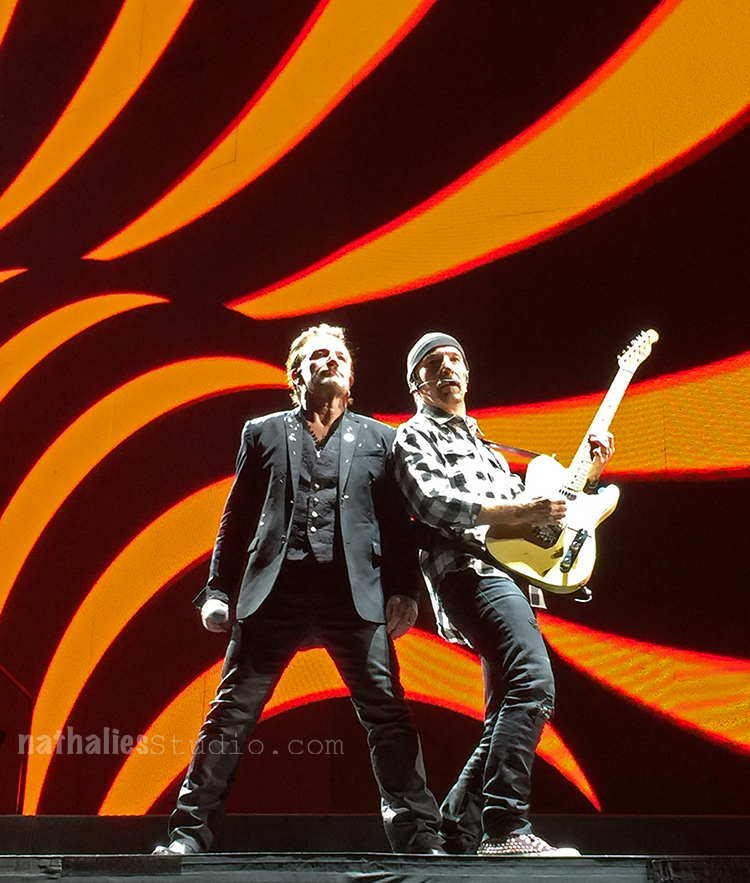 Ok – this one is a bit cheated- as it wasn't in my walkable hood – but close enough – I went to a U2 concert and our General Admission spot was spot on ;) Well…it pays when you go with friends who are die-hard U2 fans and know the ins and outs of where to stand at the tour- LOL. Love the swirls- the whole concert was a feast for the eyes.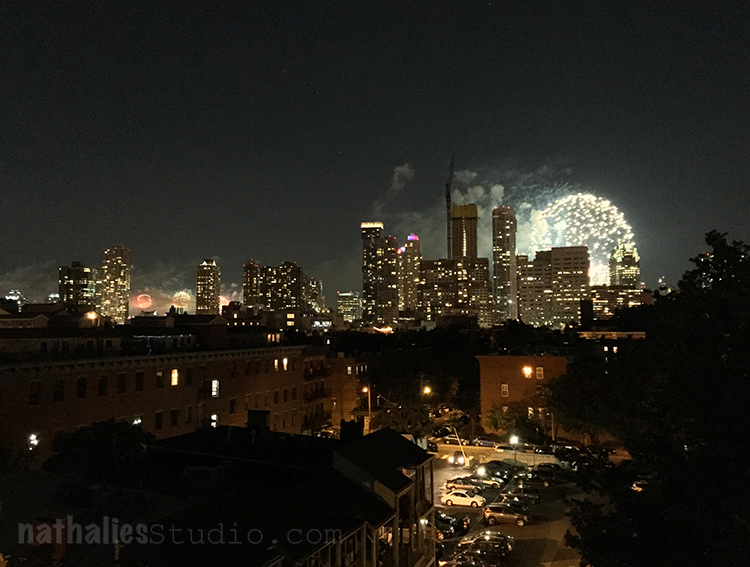 Of course there was 4th July celebration – we had a small party on our deck and saw several fireworks at the same time -here to the left the NYC Macy's firework on and on the right at the same time the Jersey City firework.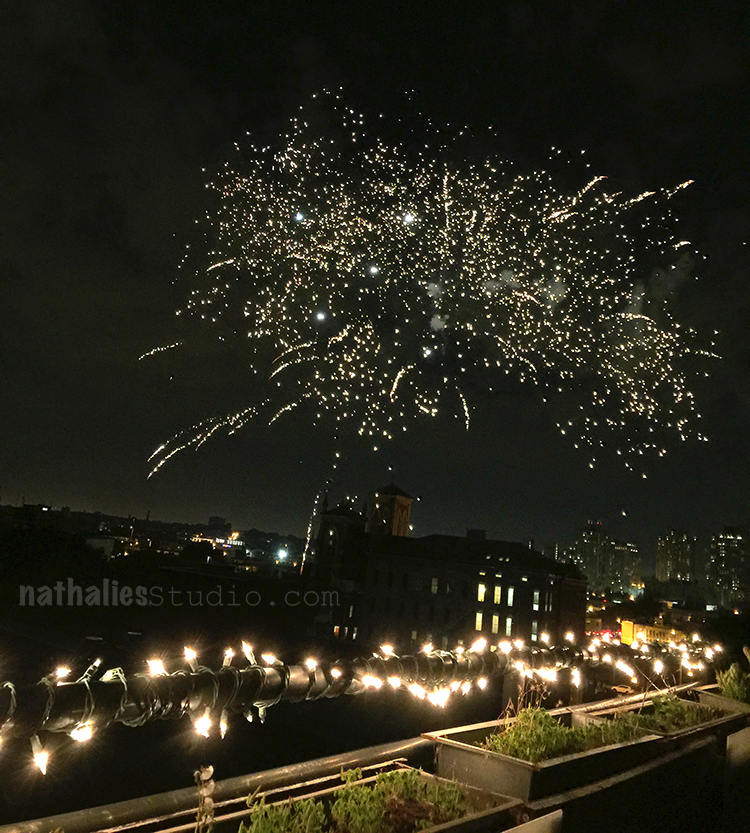 And this one was apparently a "personal" one  – in the neighborhood – but I take it-as the next day was my birthday- so basically I get free fireworks for my birthday- not too shabby, right? This reminded me of ink/paint splatters.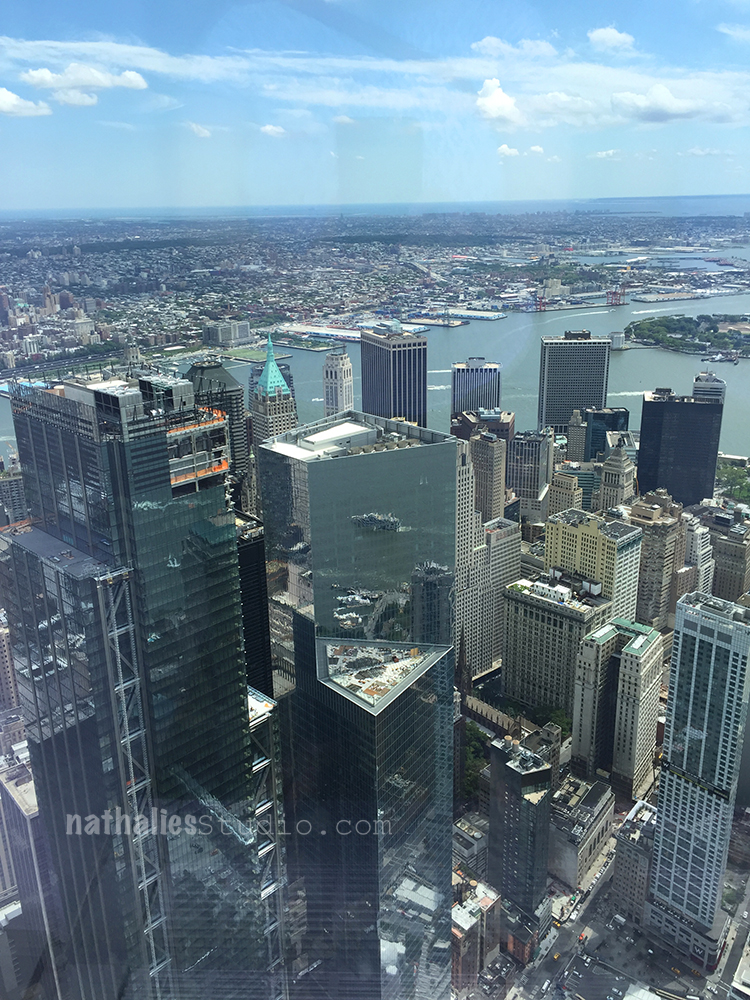 And those here are also a bit cheated- but hey- I am the boss of my hood- LOL- and this month Manhattan belonged to it too- I mean…I can basically just spit over the river from my hood. We went to the Freedom Tower with family as part of a family day. What a view. Look at the reflection in the skyscraper – I love that- I want to do something with this in one of my paintings.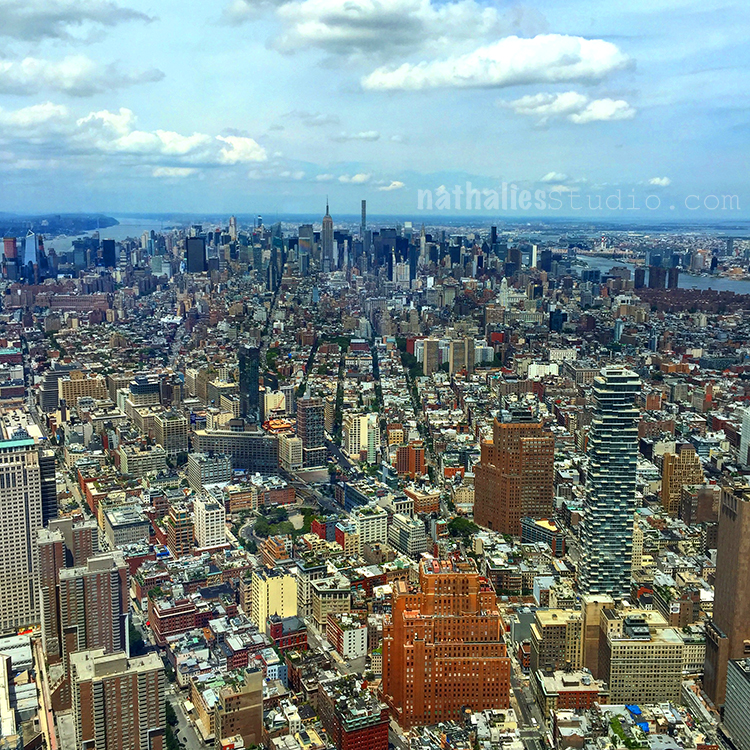 And oh man ….amazing. It never ceases to amaze me to look at Manhattan from that perspective – it looks all so unreal and orderly and cool. It made me really itch to continue my big Manhattan painting, I am working on for a while now.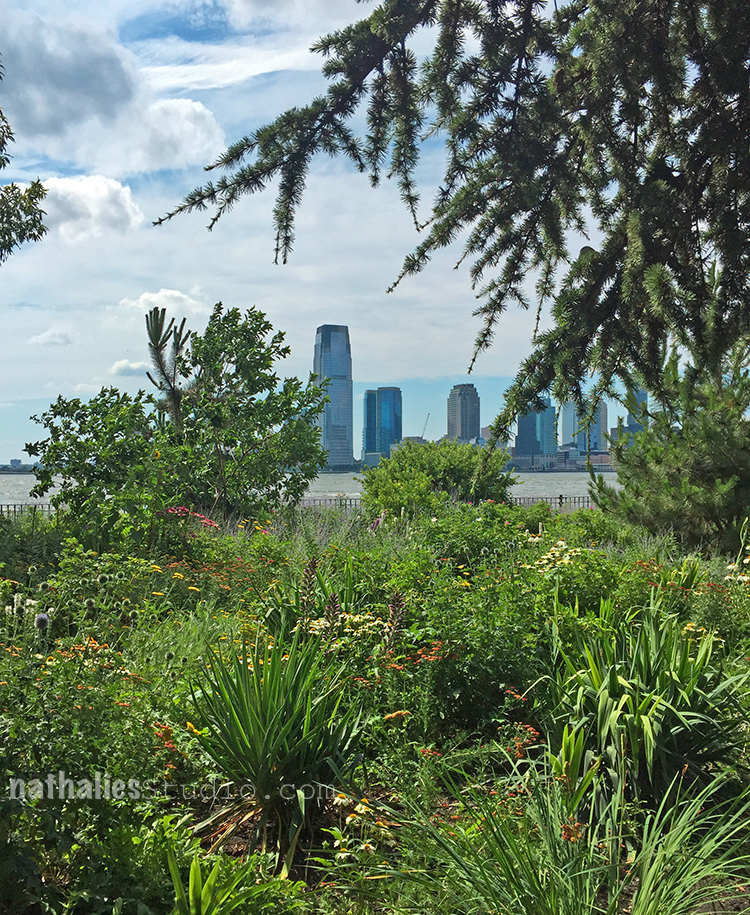 And – just because- Jersey City from the Manhattan side- HA  – at Battery Park. I love the juxtaposition between plants and garden and skyscrapers.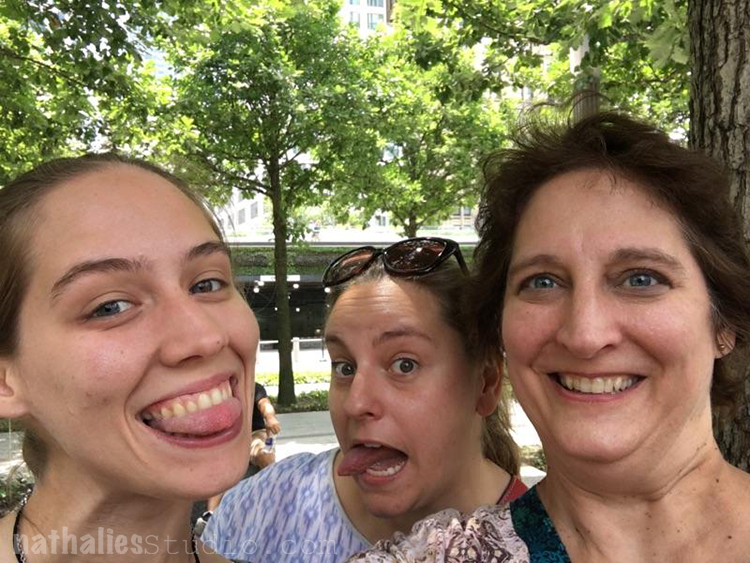 And just for fun – I am sure my sister in law at a different idea when she wanted a photo of the girls- but here we are, my niece and I being goofy and my sis in law being her awesome self ;)
Hope you enjoyed this stroll through the hood – until next time!