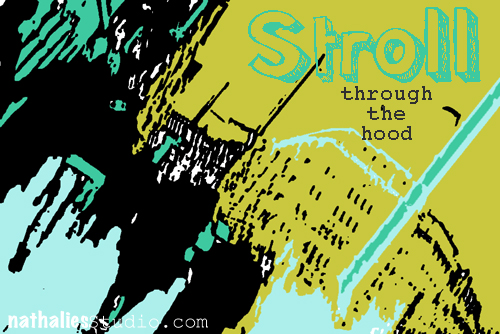 Time for a Stroll Through the Hood . Strolls through my hood get me out of my studio, they help me unstuck and often I get inspired by what I see and to get new ideas to create something.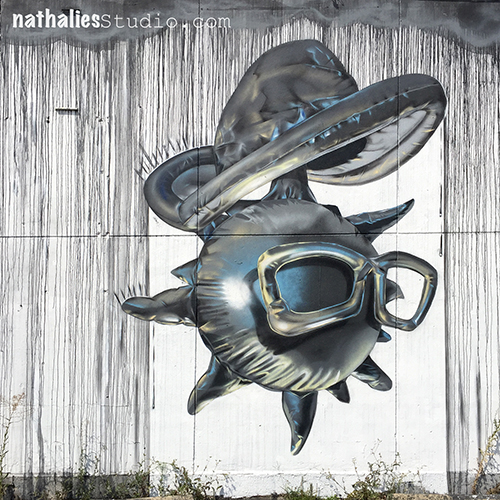 The area around the Holland Tunnel in Jersey City is not really the most beautiful area- in fact …it is really really ugly and unfortunately often all that people see when they drive to or from New Jersey. So I love that there is some street art popping up here and there on the walls of ugly concrete. The above has some cool drippings and I love the monochromatic color scheme.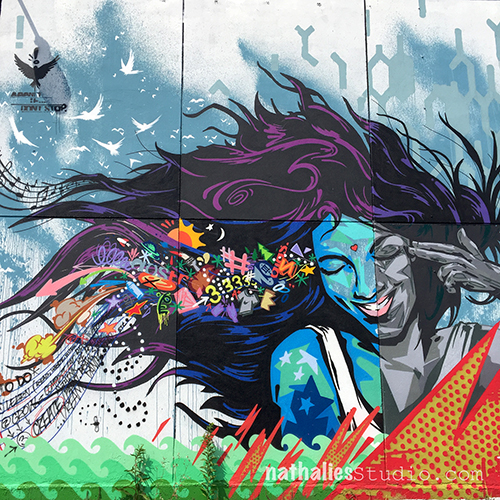 Love the stencil work in this one with all the different layering.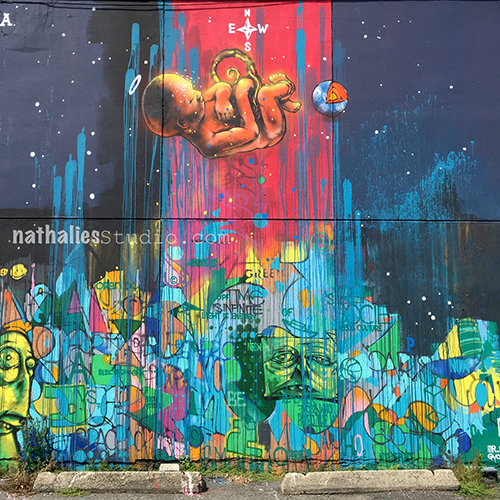 And this one just makes me happy because of the colors.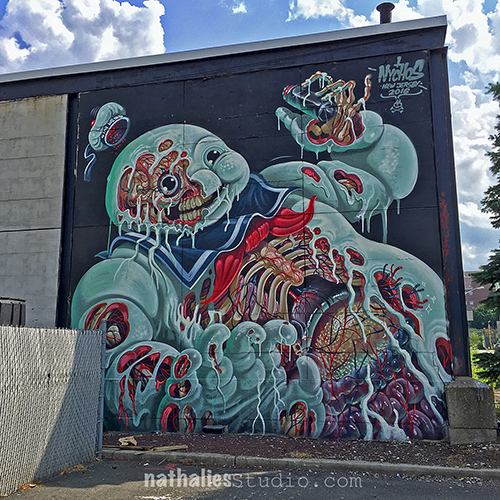 this one made me laugh – I think there was a time where we had cards that you could exchange with those- kind of like trading cards? Anyone remember – maybe only in Germany – I guess I am getting old I only have a vague idea of this.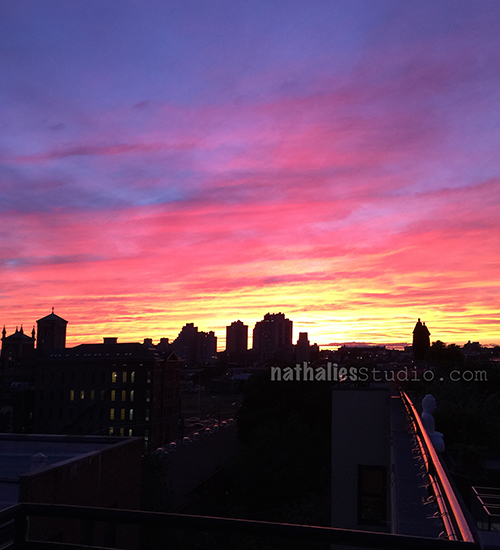 Oh my- nature is the best painter …or maybe air pollution but let's not think about this right now *Wink .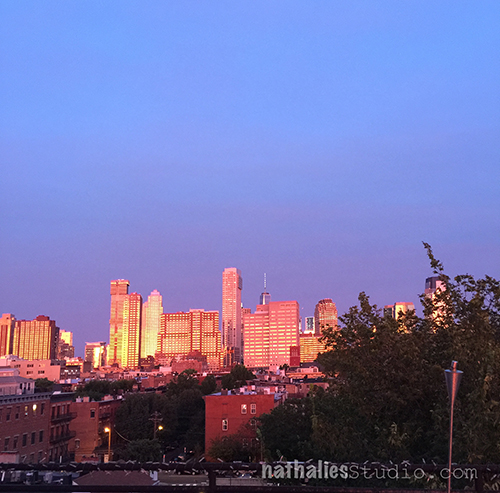 This time is truly amazing regarding sunsets viewed from our deck.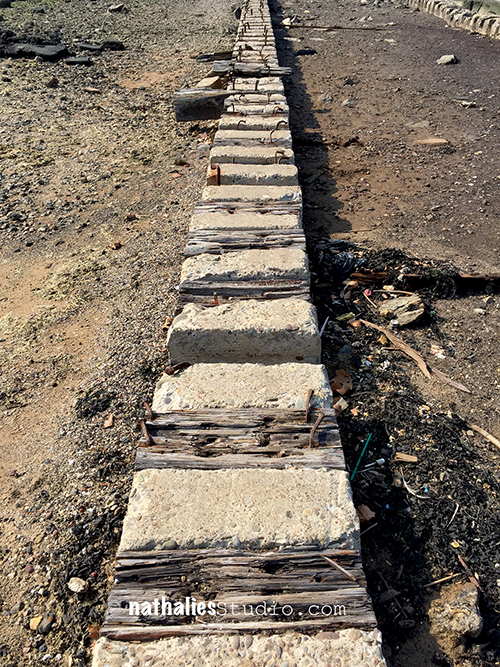 This one are the remains of a boardwalk at Liberty State Park – I assume it got destroyed in Hurricane Sandy. I love the texture and the pattern with the different materials- wouldn't that be cool as a textured stamp?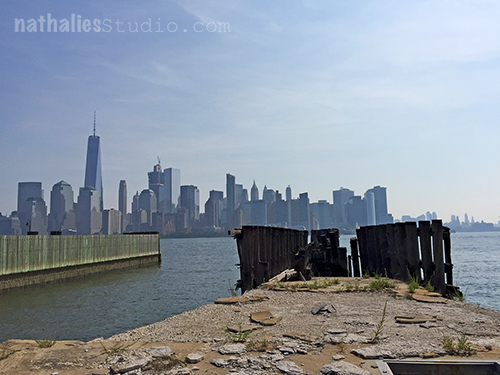 Here is a view of Manhattan from Liberty State Park – the historic landing pier here in the front of the picture was also heavily damaged in Sandy and has not been restored yet.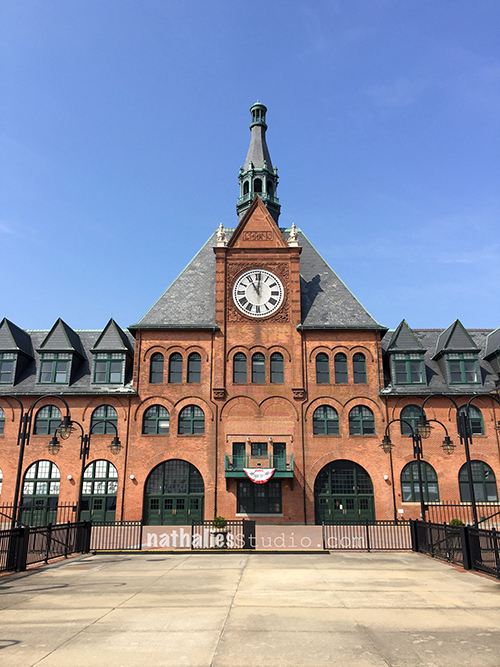 The beautiful historic Liberty State Park train station, where the immigrants that came through Ellis Island headed out to all over America to start a new live. I love the building. It is talking to me *Wink. I need to make a painting of it some time.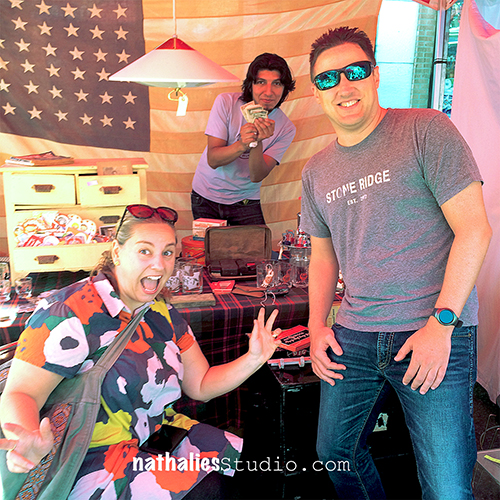 Last week some of our friends hung out at my wonderful friend's from Beekman Lane – who had a booth with their awesome vintage and antique stuff at the Historic All About Downtown Market. As you can see we are amazing helpers and made sure people came in and bought things ;)
I had to get this hilarious Valentines Card- probably from the 40s – it made me laugh.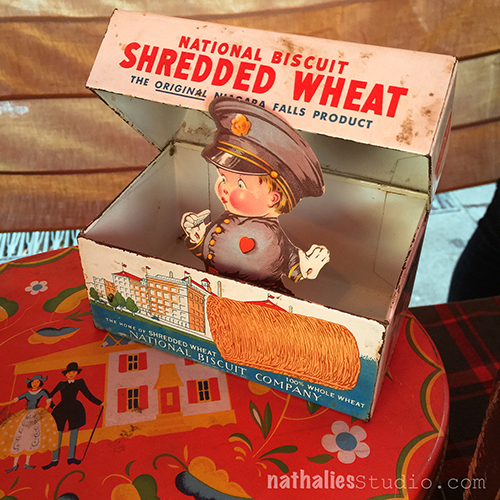 and you see …we helped placing things at the right places too …the policemen on this Valentine's Card actually has no pants on ….so …we needed to make sure he was covered – LOL . but joking aside the graphics of the box and the cards, and the red lunch box you see peeking underneath are just beautiful.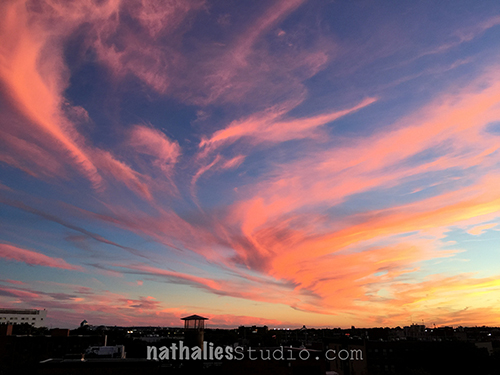 And last but not least …another sunset picture. I wish I could make such a nice color swirl into one of my paintings. Maybe by using Pouring Medium.
I hope you had fun with this stroll through my hood – take a walk next time you feel stuck when you are creating something or need a spark – it always helps me to get new ideas!