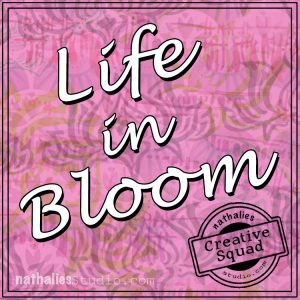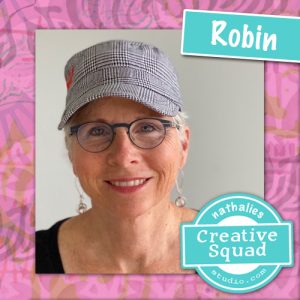 Hello from my Creative Squad! Today we have a super unique project from Robin Seiz – a birthday book to help her keep on top of those special days for friends and family. She's using 12 different stencils, one for each month of the year: Art Nouveau Wallpaper, Ornament Wallpaper, Flower Maze, Art Deco Fairview, Santiago, Star Struck, Art Deco Summit, Signals, Hamilton, Mesa Verde, Manhattan, and Downtown stencils and our theme: Life in Bloom – It's been a long winter where we are and I'm dreaming of flowers and gardens and spring. Indulge us all in a project that focuses on one of Mother Nature's most exuberant symbols of life: flowers flowers flowers!
---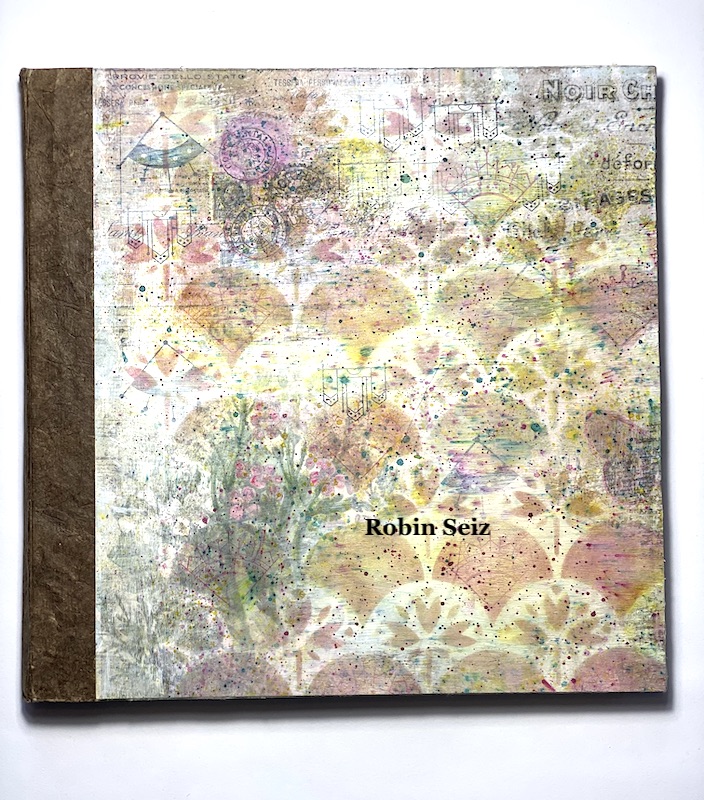 Hello friends, This month's theme is flowers. We are still under a few inches of snow here in New Hope, PA, so this project was exactly what I needed to get me thinking about more mild temperatures and flowers popping up.
I decided to combine the theme of flowers with a project that I have been longing to do. I love sending happy mail, cards of all types, especially birthday cards. My list of people and their birthdays is housed on sticky notes in my studio.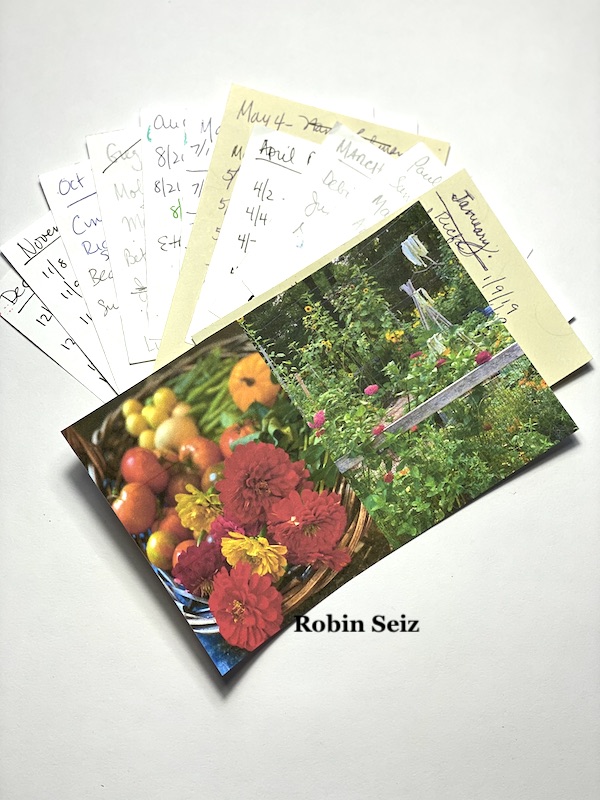 Birthdays are also in my phone of course, but I like to have an "at-a-glance" look at all the birthdays for the month. When the spirit moves me, I make cards in advance. I have wanted a place to keep a list of the birthdays by month and a corresponding pocket for the cards I make in advance. So basically, I wanted to create a Birthday Book! Old fashion you might say, but it will work really well for me.
Last month, for my blog submission, I made a piece of layered paper. When it was finished, I wasn't sure how I would use it, but I knew the right project would speak to me.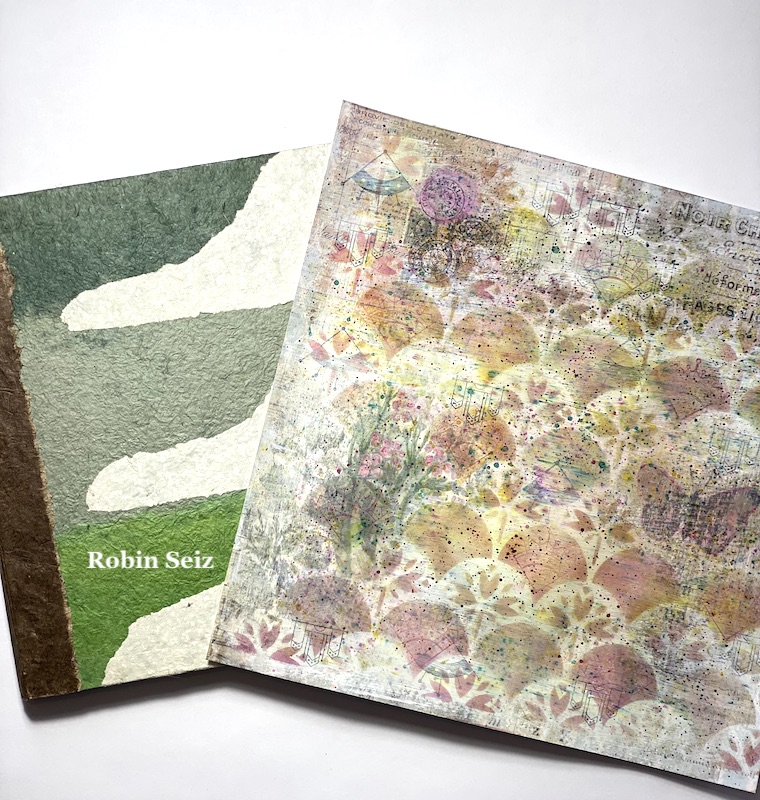 This months theme created the perfect opportunity. I found a book on my shelf that was made in the foothills of the Himalayas of Nepal by local craftsmen. It's a gorgeous book with beautiful textured paper and the cover was lovely in it's own right, but I decided the layered paper from last month would make the perfect cover.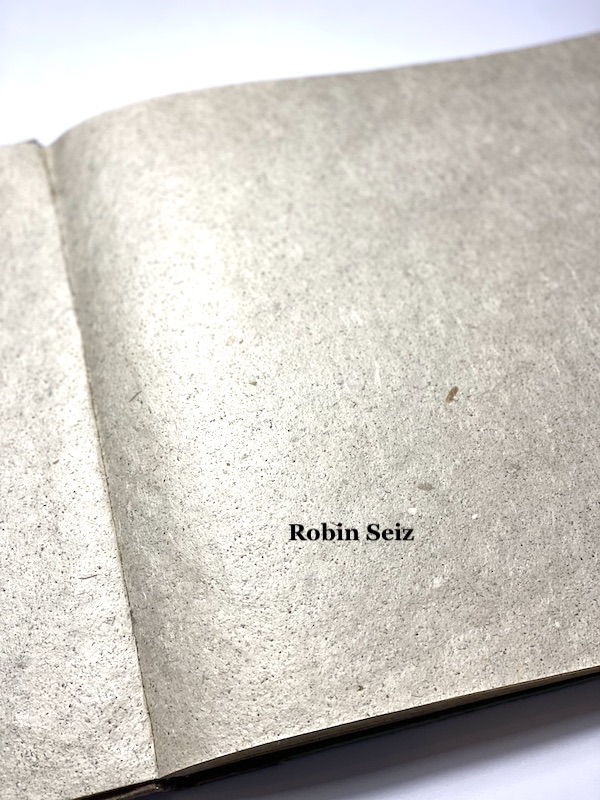 As I looked at all of Nathalie's beautiful stencils, I chose to use them as a background for my flowers, but I wanted the right balance of letting the stencils shine and highlighting the flowers. I found the best way to do this was to make the flowers simple, mid-century modern designs, and only include a few on each page. And some pages, just spoke for themselves without the flowers.
To go with the theme, I chose an old garden book, removed pages, and applied a small amount of gesso with an old brush just to give the page a little more strength. Once they were dry, I sprayed Distress Ink Stain in Old Paper, Mustard Yellow, and Festive Berries. Next I drew the mid-century modern flower designs on these pages using Black and White Posca Pens and embellished as needed. I cut out the flowers; some were the whole flower, some were just the heads since I knew I was going to attach them to the page with my sewing machine.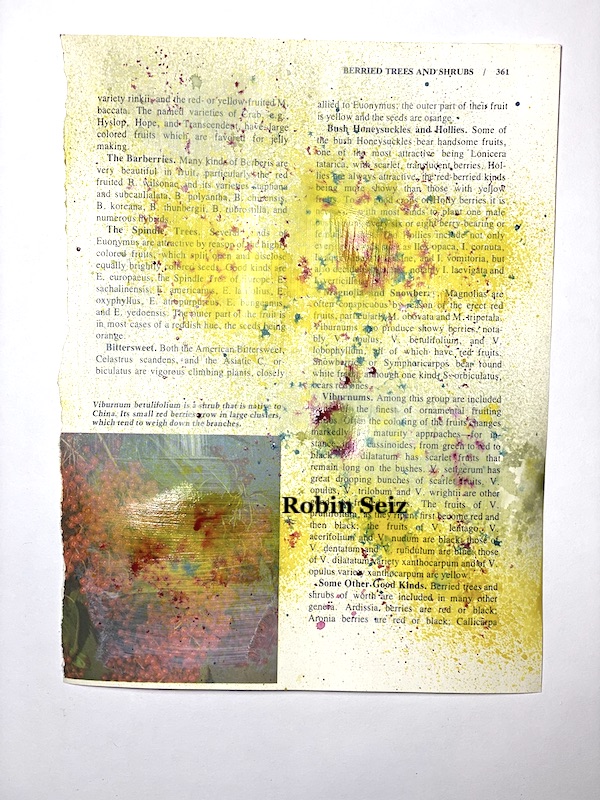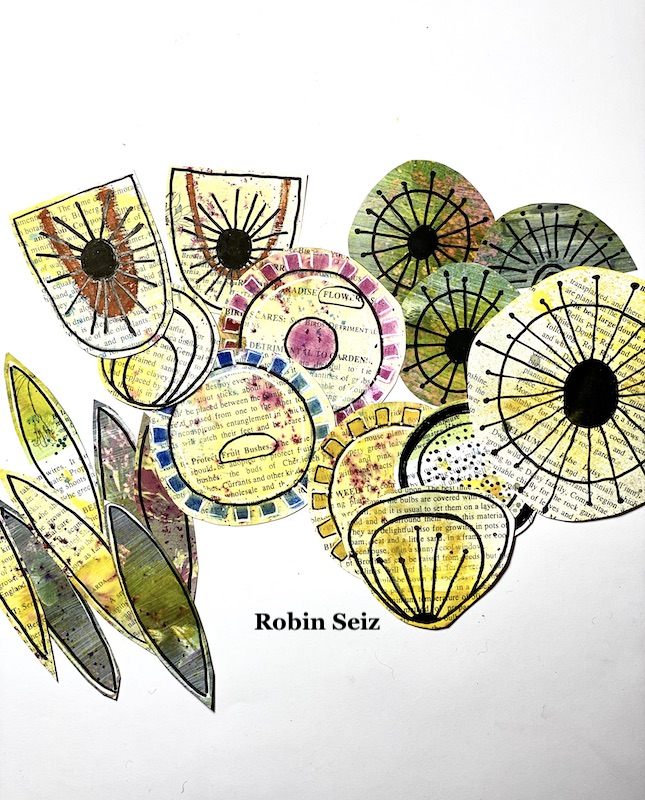 I created a template for each month of the year, printed it on card stock, and attached it with Matt Medium to the left-side of the spread.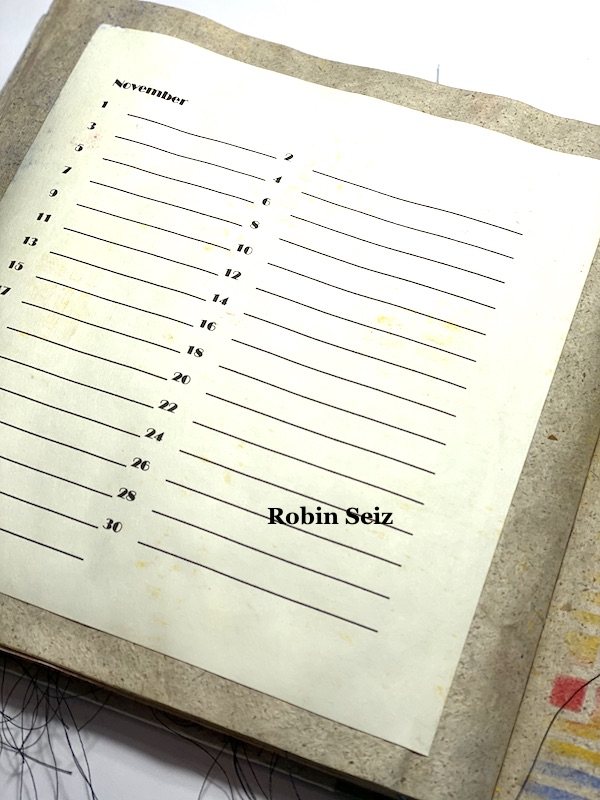 Now it was time to use Nat's stencils. I tried a variety of different mediums, but in the end, I chose Pan Pastels because the effect matched the organic feel of the pages. The only thing about Pan Pastels is they smudge easily and bleed onto the adjacent pages. It would have been difficult to apply a fixative to these pages because of their weight and textural nature. This messiness doesn't bother me; as you all know by now, I'm not about perfection! If I were giving this as a gift, I would need to figure something out to eliminate this issue. (I would love to hear your ideas for this.)
I used a makeup sponge to apply the Pan Pastels to Nathalie's stencils on the right side of the spread. (1 stencil for each month of the year) Throughout the book, I used the colors from the cover to make sure the book had a consistent look and feel. Here are Nat's Art Deco Summit and Hamilton stencils used.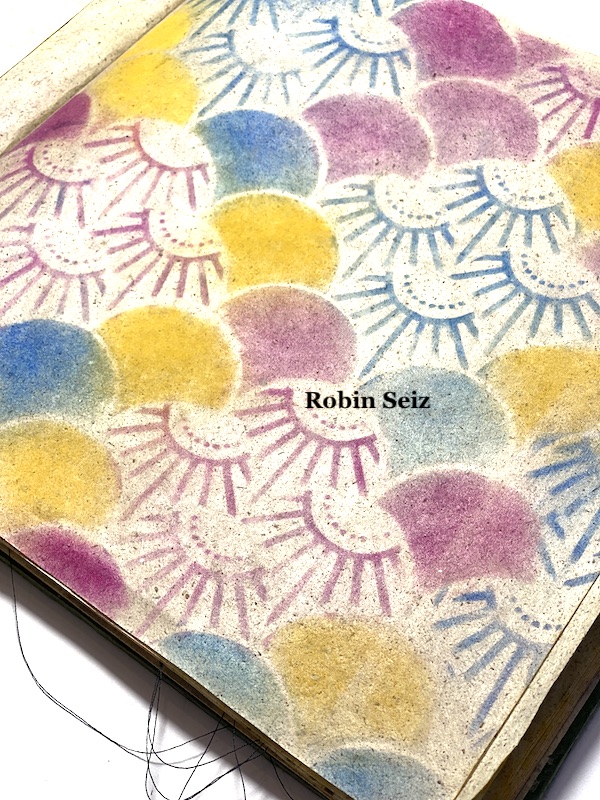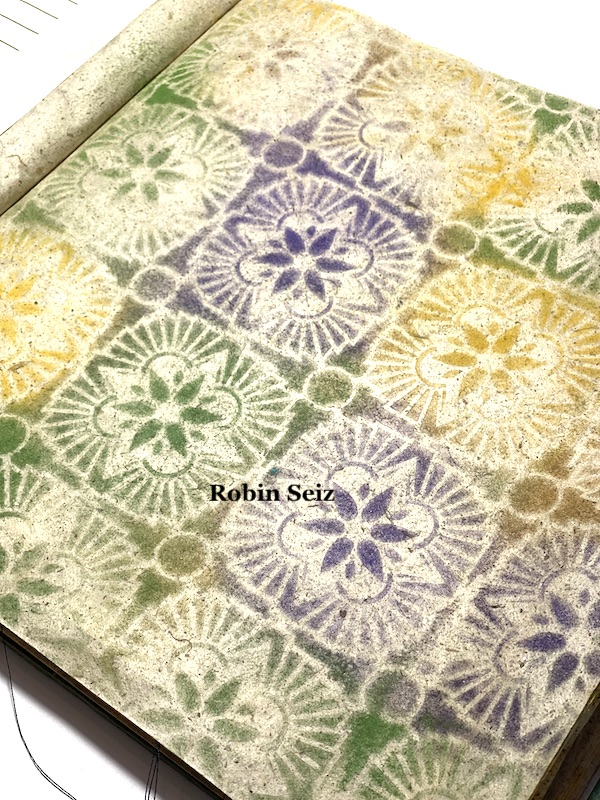 Next, I sewed on the flowers with the sewing machine. (which honestly, wasn't all that easy since I was working in a bound book) I like to leave the long strings attached — I just love that look, but of course you can cut them if you like. If you don't have access to a sewing machine, you could use the Matt Medium to attach the flowers and draw the stems with Posca Pens or whatever mark making tool you have in your stash.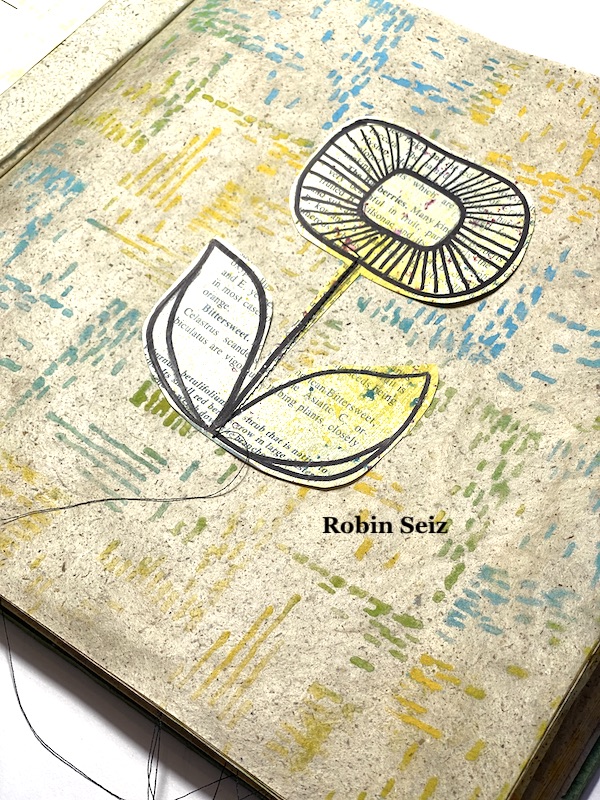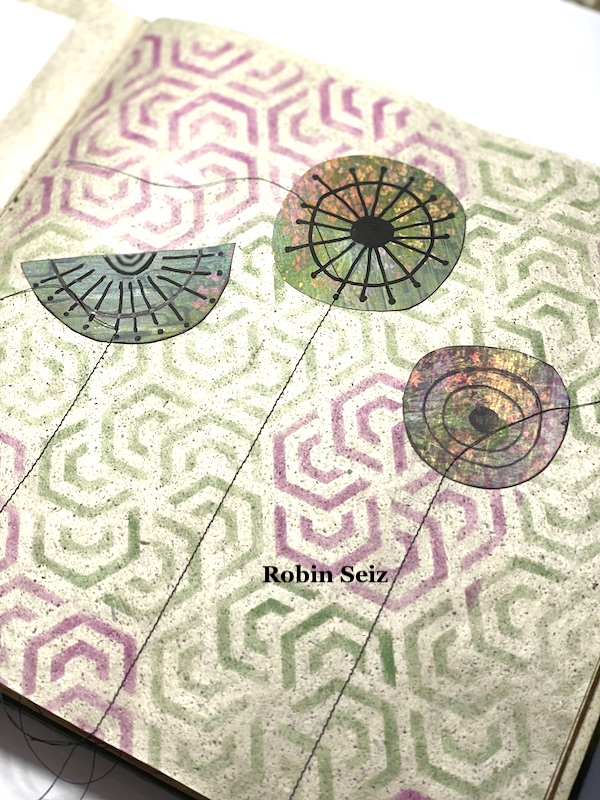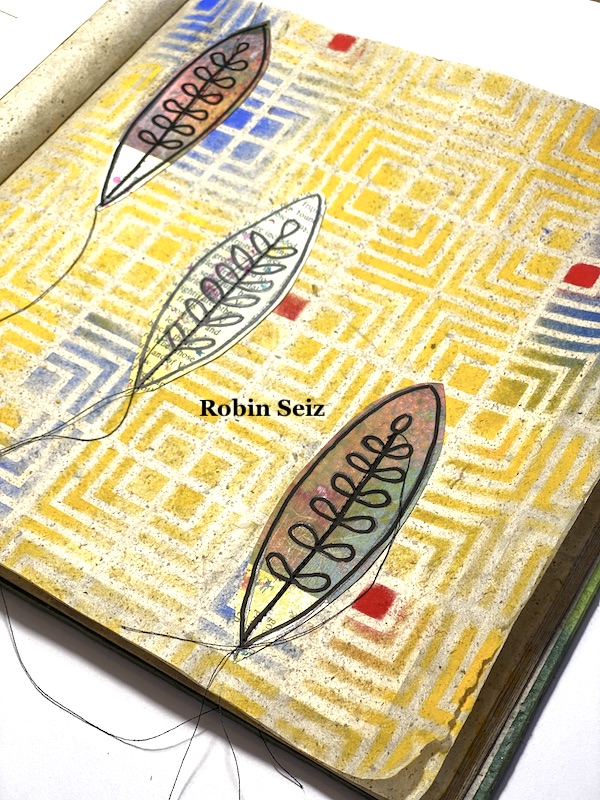 After each spread, I skipped two pages (1 full spread) so that I could attach pockets to keep the cards that I make in advance. I love to recycle and reuse. I receive several Stampington Magazines every quarter. I love going through the pages; the pictures are beautiful, the weight of the pages is perfect, and of course there are lots of good ideas. The issues are hard to part with, but I pulled out some pages with pictures that spoke to me and attached them with packing tape to the pages where I was going to keep the cards. So basically, I created a pocket for the cards.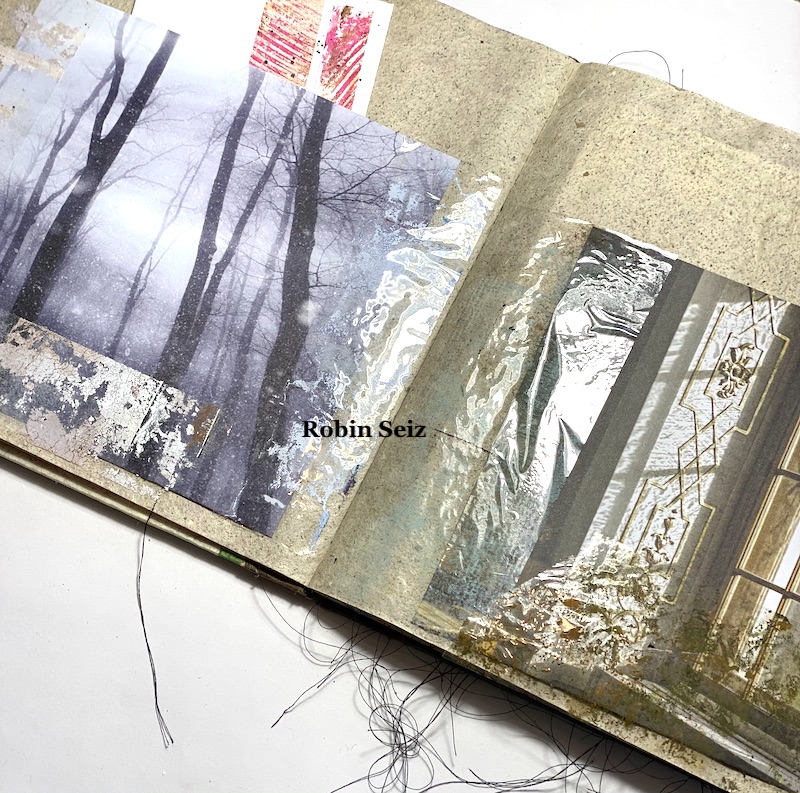 Just a note about the packing tape: I sometimes use packing tape to pull paint off my gel plate. I often get wonderful bits of grunge and I save the grungy packing tape. (who wouldn't!) It has all kinds of uses. Again, I wanted an organic, textural feel to this book and so this grungy packing tape was just perfect, not only to keep the pockets in place, but to enhance the organic feel of the book.
I now have a place to keep track of all my birthdays and the corresponding cards as I make them. This makes me so happy!
Thanks so much for reading this blog and for walking with me on my mixed media journey. If you aren't already following me on instagram and facebook, please consider doing so. I love keeping in touch with each of you.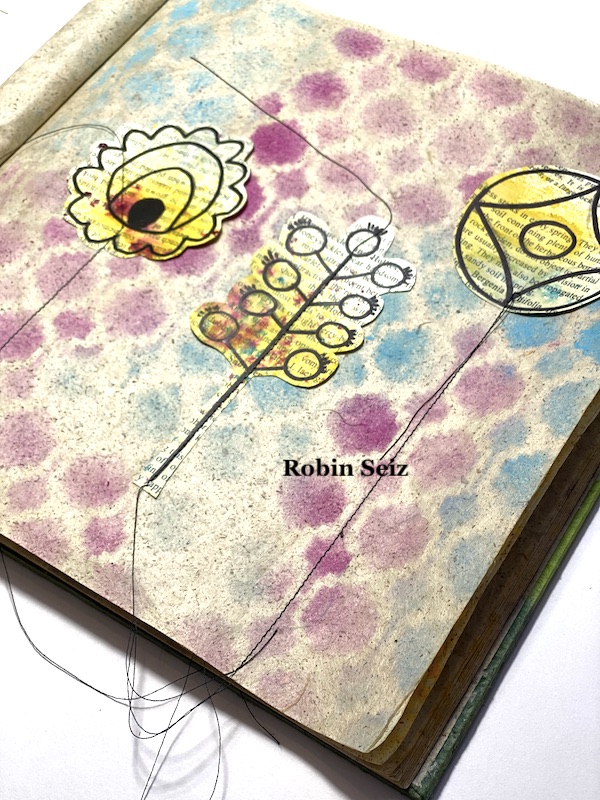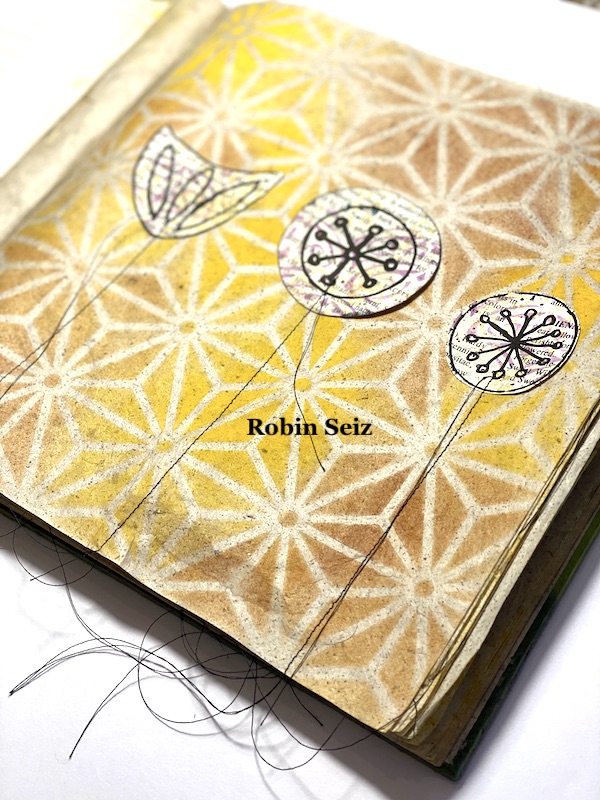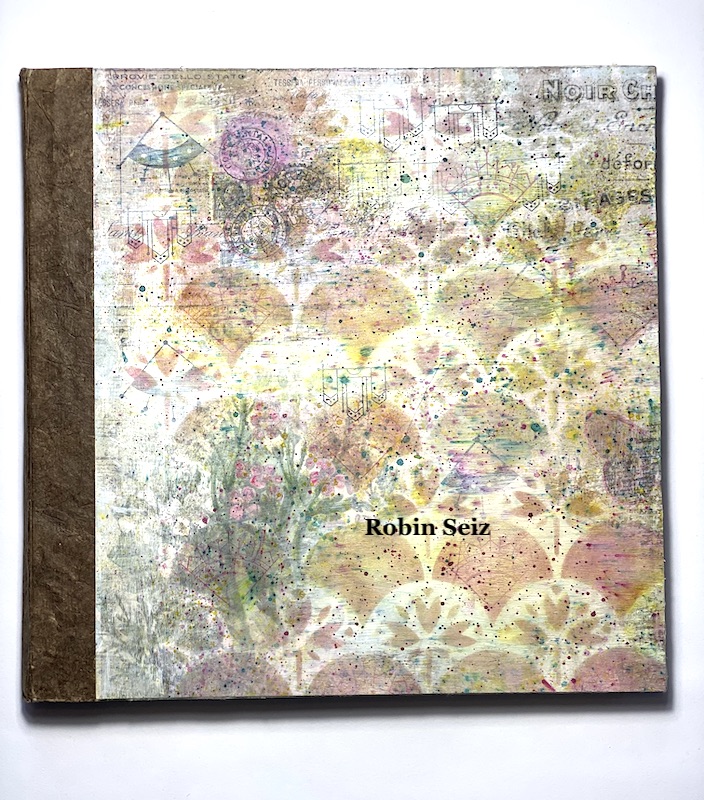 ---
Thank you Robin – what a fabulous way to organize everyone's birthdays!
Give it a try: you can find all my Stencils in my Online Shop and in addition to a journal, magazine pages, a sewing machine and a printer, here are some of the supplies Robin used:

Don't forget to check out Nat's Creative Squad on Instagram too: Each week we post projects, ideas, and inspiration for mixed media art.