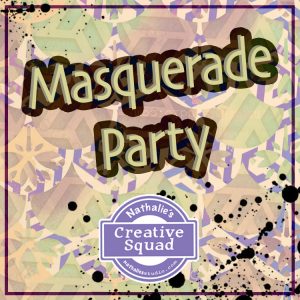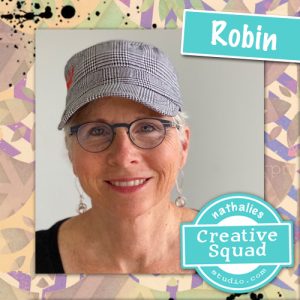 Hello from my Creative Squad! Today we have some fantastic cards from Robin Seiz who is using my Grove Street, Central Avenue, Valley Road, and Park Blvd stencils and our theme: Masquerade Party – Let's play with disguises, the technique of masking, or maybe creating a bit of mystery this month. Not everything is what it seems, and it can be an interesting artistic trick to obscure or reveal in your artwork.
---
Hi friends, This month's theme is Masquerade Party. I'm not a big fan of Halloween (I know I must be the only person in the US) LOL So I decided to interpret this theme in the broadest sense of the word. (One of the many great things about being on this Creative Squad is that we have license to do this! ) I thought about what the word Masquerade means — to conceal something — and I decided to use the mixed media "masking" technique for my project.
I find "masking" a bit challenging, both in terms of the layers of paint and really thinking through and planning in advance the results that I want. I am more of a "put it down and see what happens" artist typically, but that doesn't really work with masking. How about you? Do you find masking easy or challenging?
I am committed to working with supplies that I have in my studio rather than buying new things. As a result, I decided to use the paper from a 12×12 paper pad that I had on my shelf. I love using patterned paper for Gelli printing. The paper I chose dictated the size of the Gelli plate — 12×14.
If you have read my recent blogs for the Creative Squad, you know that I have been loving Gold Gesso. I believe gold adds so much to a piece of art. I began this project by putting gold gesso down on the Gelli Plate and pulling a print. I wanted enough paint to have good coverage, but I also wanted the pattern to show through.
I cut out nine circles the same size as the patterns of the 4×4 stencils I planned to use (Grove Street, Central Avenue, Valley Road, and Park Blvd) These became my masks. Next I placed them down on the Gelli Plate, remembering that the pattern would be reversed when I printed it. Sometimes taking a "practice print" at this point is good. You can rearrange the masks if you don't like how they turn out when printed. Once I was satisfied with the arrangement, I spread orange and yellow paint with a brayer over the masks.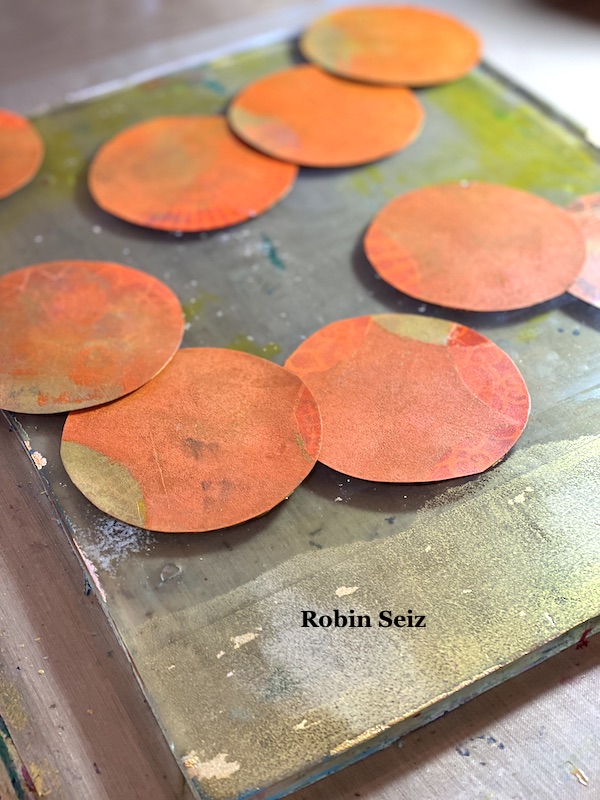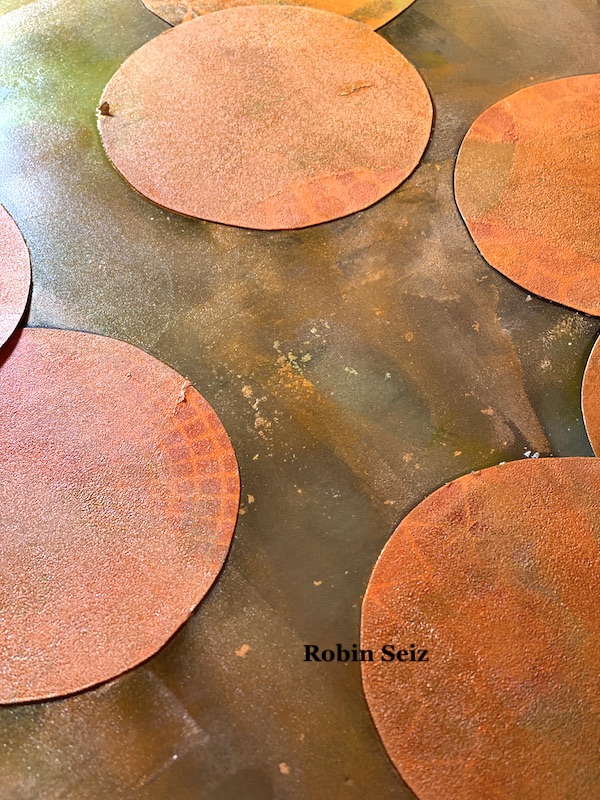 Next I removed the masks and now gold circles were visible where the masks had been. These circles were my guide to where I wanted the stencils and provided a lovely gold background for each stencil.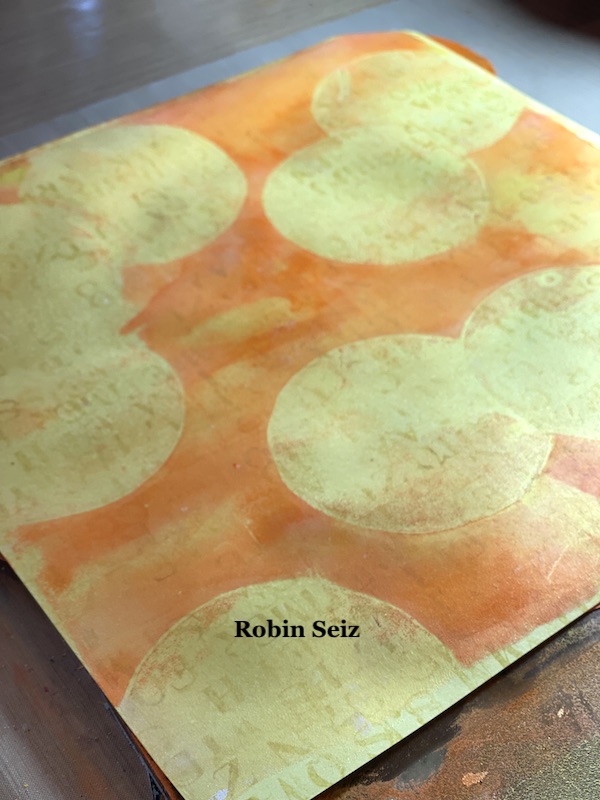 The next step is the one I find most challenging — determining which stencils to put down first. The rule of thumb in masking is to complete all the pieces in the foreground first. Once you do that, and your stencil is dry, you can then place the mask back over what you just stenciled to move on to the next piece that will be concealed. On my page, I started in the upper left hand corner with the blue Valley Road stencil.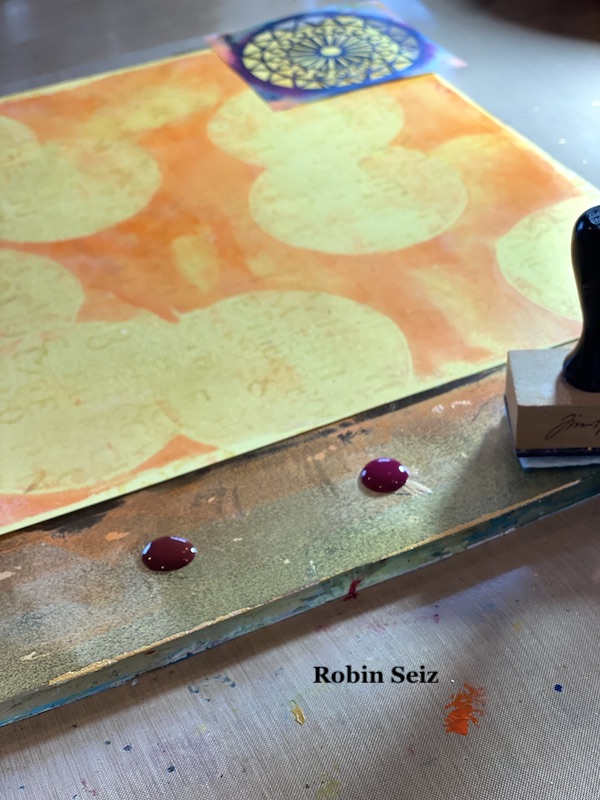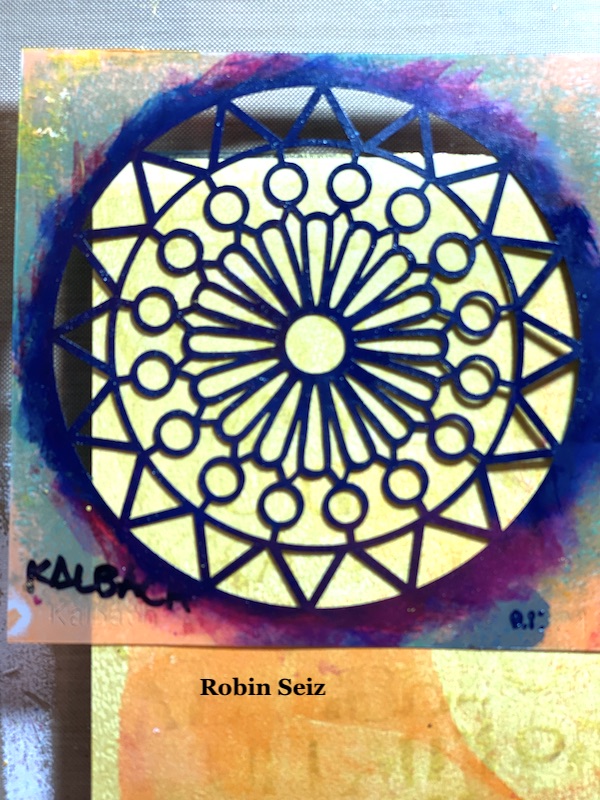 Then I did the Magenta Park Blvd stencil on the right middle and then the brown Central Ave stencil on in the lower left hand corner because all of these were going to be in the foreground. Once these were dry, I could move on to masking each one and stenciling the ones next to them that would be concealed. (In this case the two Quinacridone Magenta Grove Street circles on the right middle and upper left and the Quinacridone Magenta Valley Road Stencil in the lower left).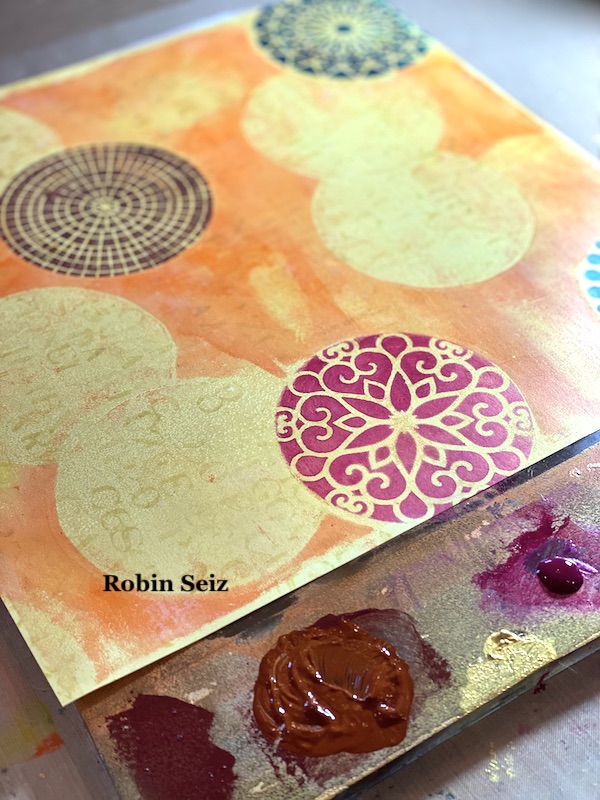 The most important thing to remember when you move to your second piece (or the piece that will be concealed) is to place the mask about 1/8" inside the first stencil — so 1/8" of the masked stencil is showing outside the mask. If you don't do this, you will get a gap and the conceal won't look natural. You will have white space (or in this case gold space) between the two pieces. I used washi tape to place the mask on the page.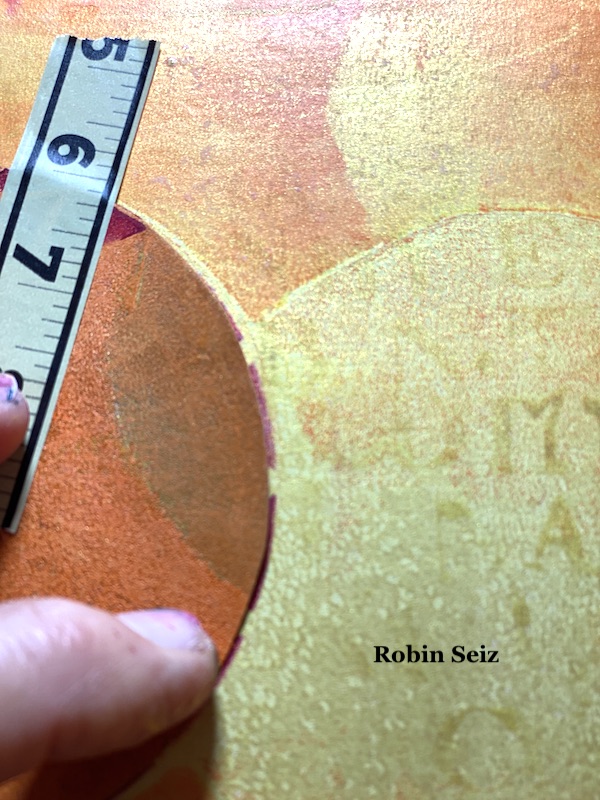 Just a note about applying paint to the stencils. I first tried a makeup sponge, but found that I am too heavy handed and the paint tended to glob up. I used one of my Tim Holtz applicators that are made for distressed inks or alcohol inks. I found rubbing the paint over the stencil worked best for me and gave me a clearer image. You may be skilled at the make up sponge, but I'm a heavy paint user!!!! LOL
I repeated this technique, masking the second stencil so that the third would be concealed. (see the middle center three.)
I'm realizing this is a hard process to describe in words. I hope it's clear. Just send me a note if you have questions.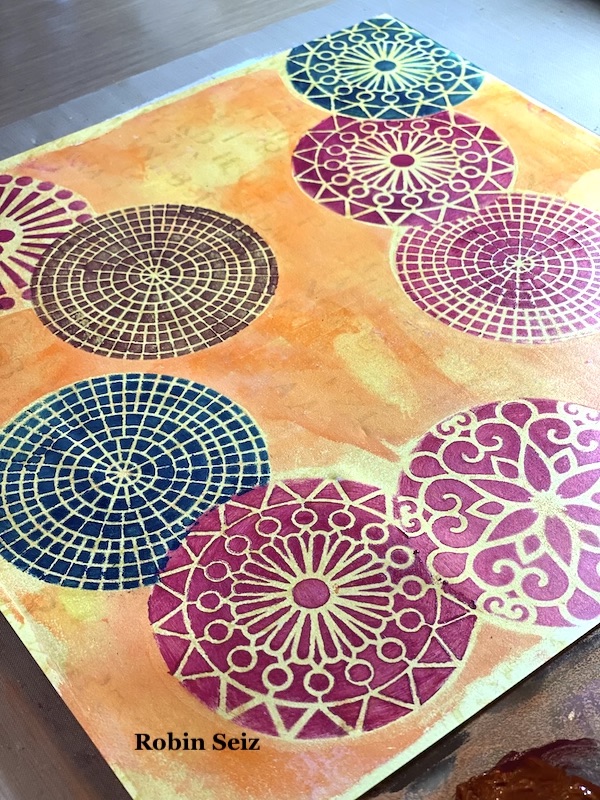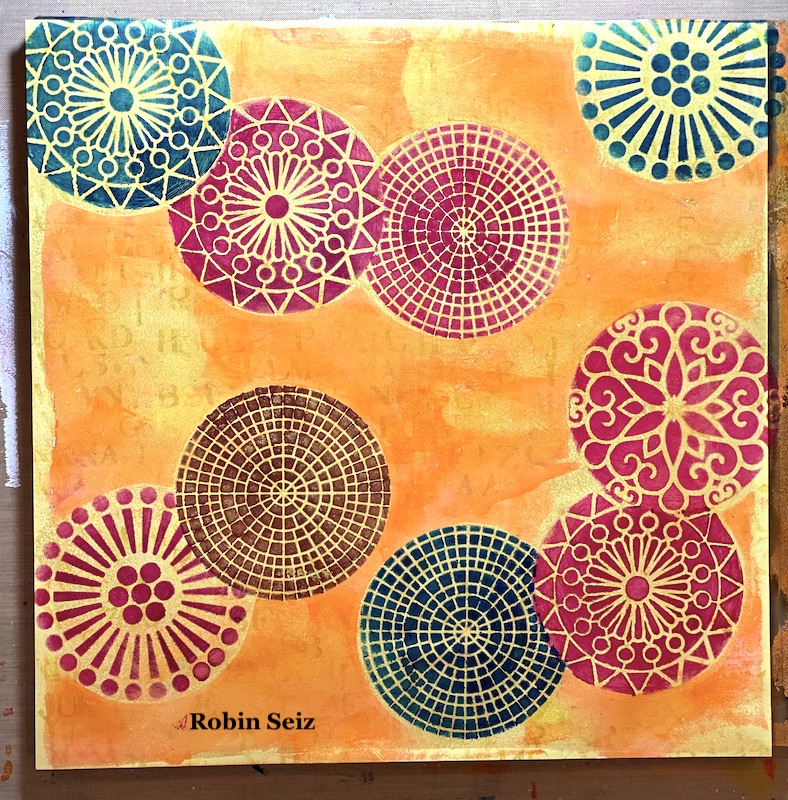 When I was finished with all the masking, the page looked like it needed a little something else. I laid down some black and gold splatter on the page. This always gives a piece a finished look.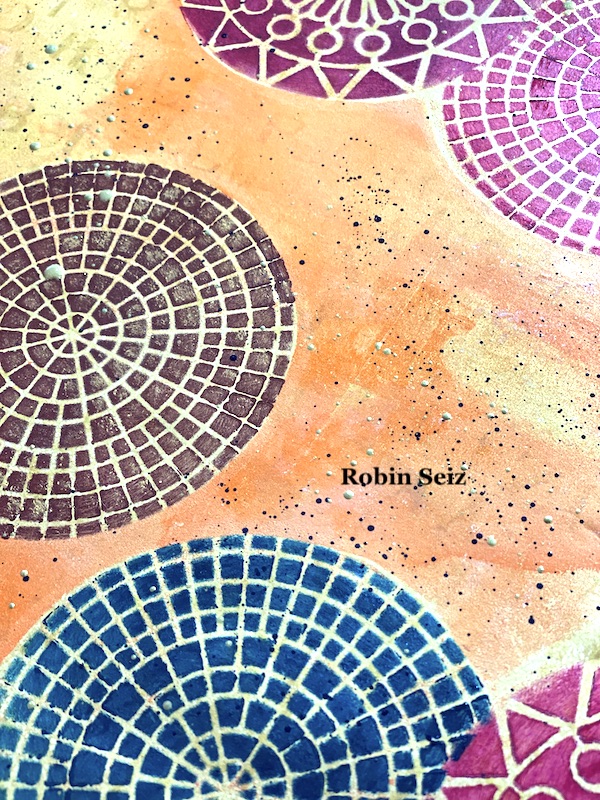 This page, since it's large, could be used as a journal page, gift wrap, emphemera (if you cut out the stenciled pieces), or greeting cards. I chose to cut the paper into 4 sections and make 6×6 greeting cards. I love the size and how vibrant they turned out. I sometimes like my work more when I cut it into smaller pieces. Don't be afraid to try this! You might be surprised at the results.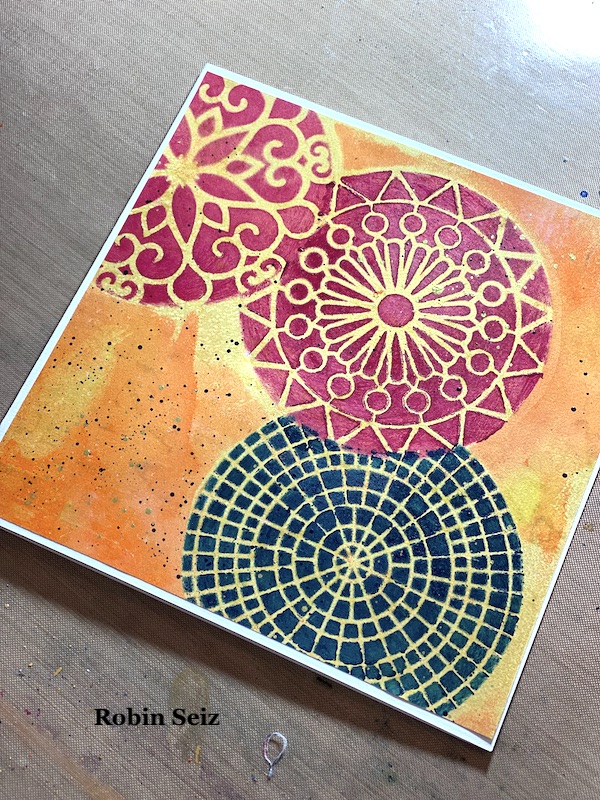 I hope you try this Masquerading project. Please post your projects. I can't wait to see them!
---
Thank you Robin and I love that you chose the more abstract interpretation of this theme and showed us a masking technique!
Give it a try: you can find all my Stencils in my Online Shop and here are some of the supplies Robin used: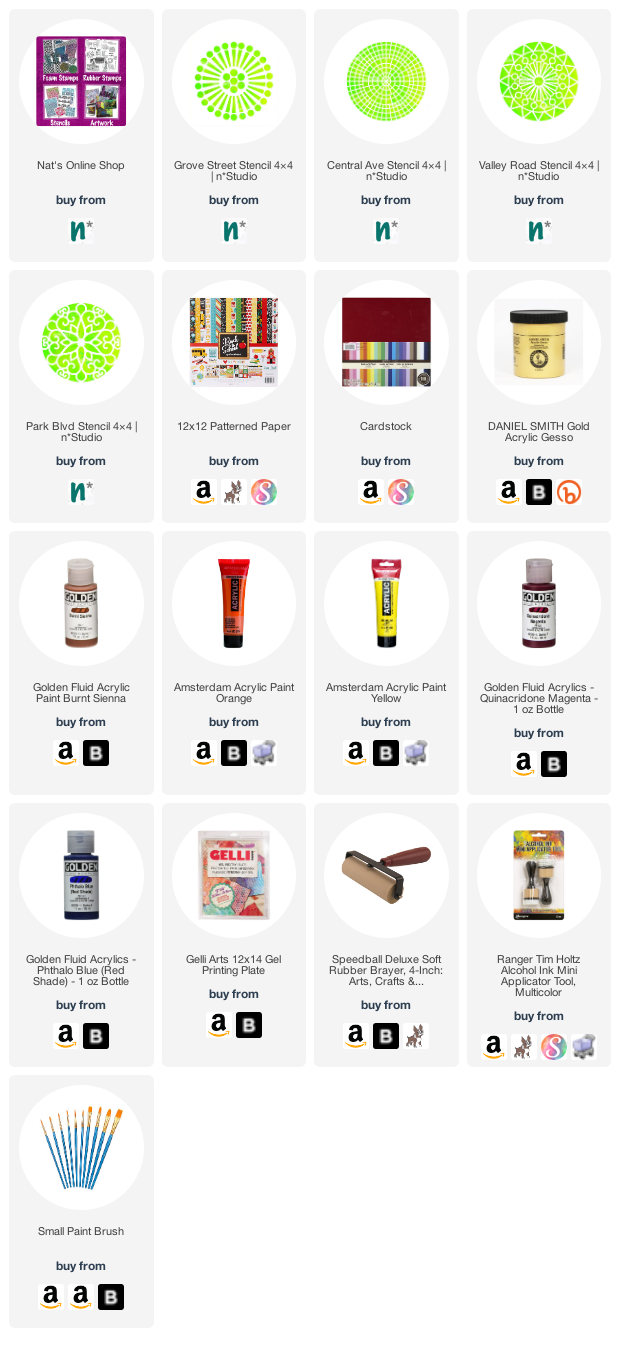 Follow the Creative Squad on Instagram for weekly posts, artwork, and inspiration.