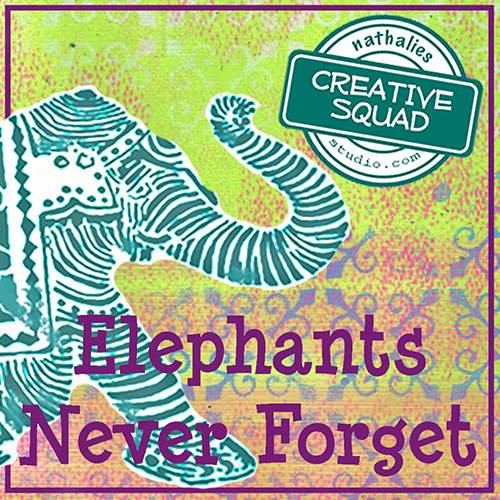 It's Tuesday and time for a project from my Creative Squad and this month's theme: "Elephants Never Forget". Throughout the month of May, the team is using my new Elephant Foam Stamp, Rubber Stamp and Stencil Set to interpret the theme. I asked them to draw from a childhood memory, and to use the elephant as a symbol of something that fascinated them as a child. And if you want to hear a little bit about me, you can read about my personal connection to elephants here (just scroll down to "WHY an elephant…")
Today we have an art journal spread by Michelle Rydell. Michelle used the theme as a jumping off point for this colorful page.  I love her inspiring message!
—————————————————————————————————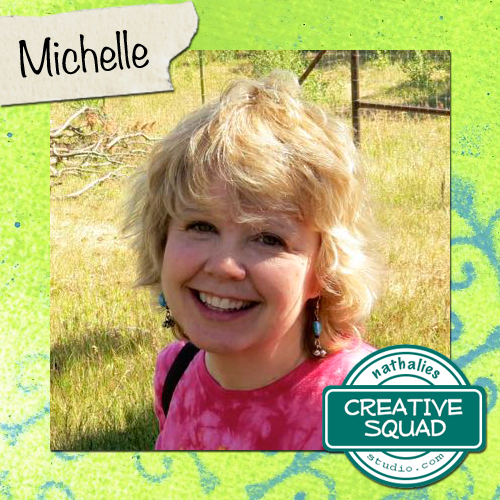 When I heard the theme "Elephants never Forget," the first thing I thought of was my daily entries in my art journal. The ones where I record little bits of my life each day, so I don't forget them! I decided it would be fun to let Nat's regal elephants guard my memories for the week! Here's how I did it…
I painted my whole background with black acrylic paint, and then covered up the black with squares of bright colors. Next I stenciled the foam elephant stamp with white paint onto black cardstock – twice, and then cut them out.  You know how sometimes people wrap a thread around their finger to help them remember something? I wrapped a little crochet thread around one elephants trunk, and the other ellies leg to symbolize that! After that I pasted the two elephants onto the journal spread.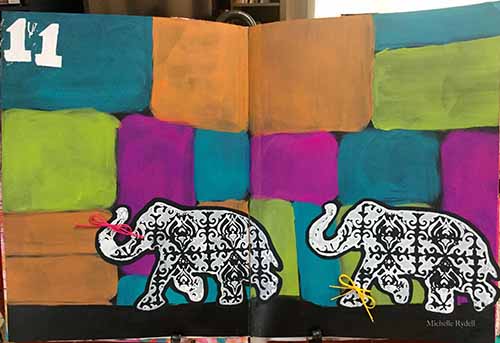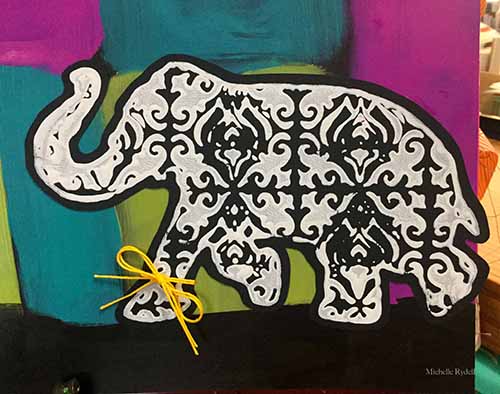 I felt like the page needed something to make the colored blocks work cohesively together; so I glazed the whole page (except for the ellies) with a thin coat of Golden's fluorescent chartreuse paint.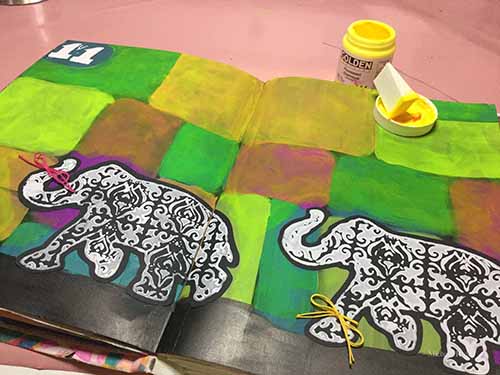 I used the stencil that comes with the kit to create a border with black paint. My page was then ready to add memories as the week progressed!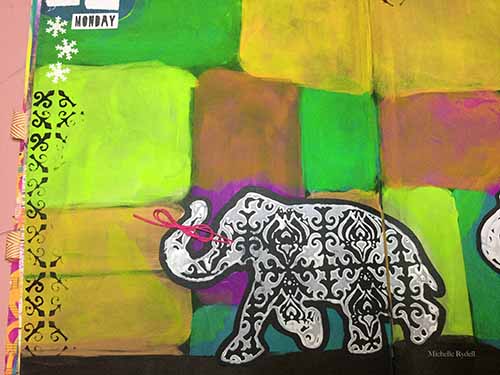 Here's how the week looks all finished. I just love my elephants parading across the bottom. I really feel like it makes the page special!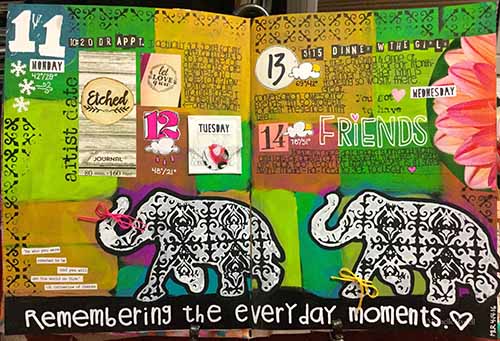 —————————————————————————————————
I love Michelle's color block background and the very fun way she tied reminder bows on the elephants!  Here are the links (some are affiliate links) for the supplies Michelle used: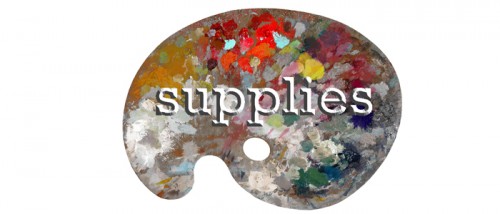 Maybe you will even play along with us -I would love to see how you interpret our monthly themes. Email me how you used my stencils and stamps with the theme and email me an image – I would love to share what you did at the end of the month!
See you next Tuesday for inspiration from around the globe using some of my stamp and stencil products!