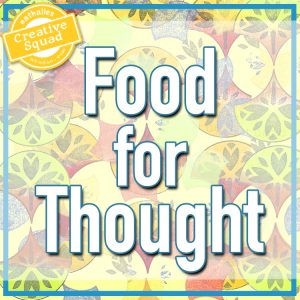 Hello from my Creative Squad! Today we have a post from Judi Kauffman. You can learn more about Judi from our Nice to Meet You blog post featuring her creative story and artwork. This time Judi is sharing some upcycled folders and some new bookmarks that she creates using my Downtown Stencil and my FANtastic Large and Solid Fan rubber stamps. This month's theme is: Food for Thought – Let's take a lighthearted look at food! While the culinary world has become an art and a science in terms of preparation and presentation, sometimes it is the simplest foods that bring us the most joy. Simple fare or elaborate family traditions, we all have our favorite foods. What is yours?
---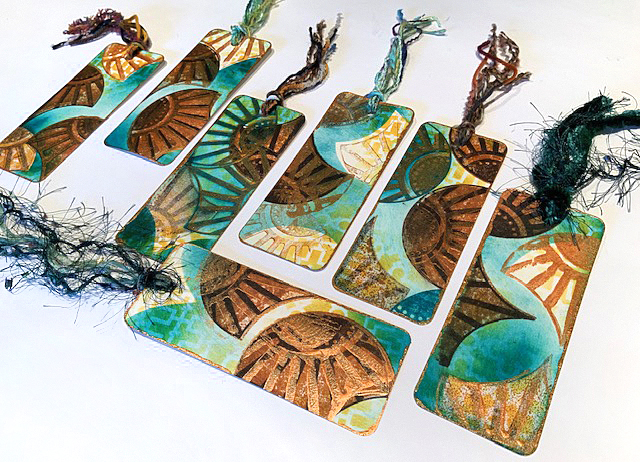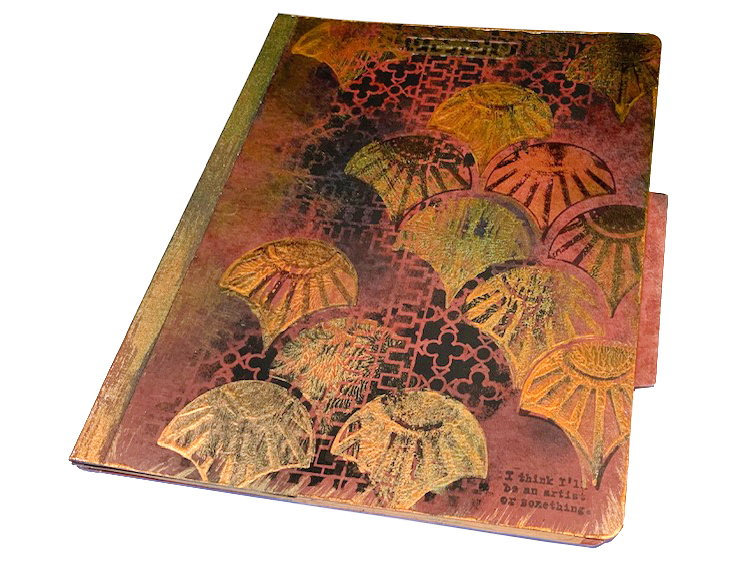 Food for Thought is such a great theme. I asked a neighbor, age 8, what it meant to her and she said it was about reading because reading is food for your brain! Out of the mouths of babes, right?

I'd been considering recipe cards and a mixed media spoon doll, but her comment took me in a different direction: Bookmarks and a folder for storing newspaper articles, drawings cartoons, clippings from magazines! Of course the bookmarks could be tucked into recipe books, making it easy to find favorites, and the folder could be used for recipes, but I think if I went that route I'd use lighter, brighter (more 'appetizing') colors.
Instructions for Folder:

1. Using black acrylic paint, randomly add portions of the 9×12 Downtown stencil to the front and inside flaps of the folder.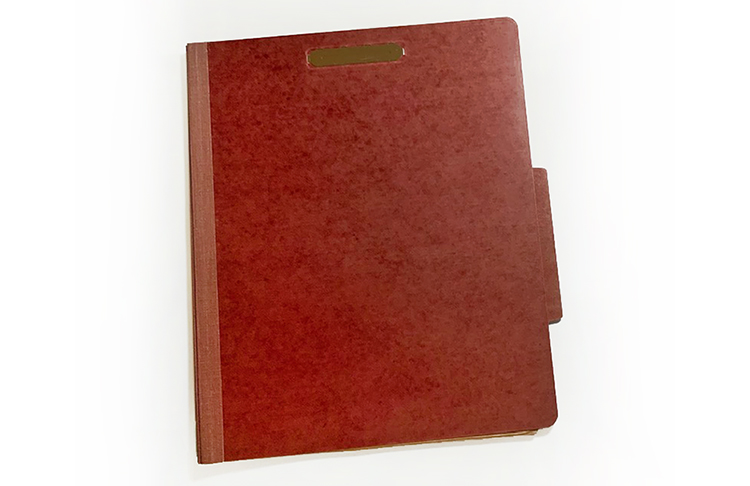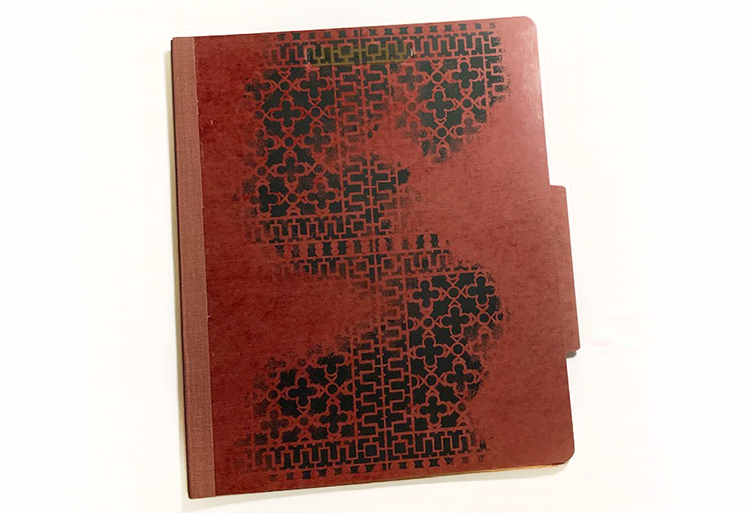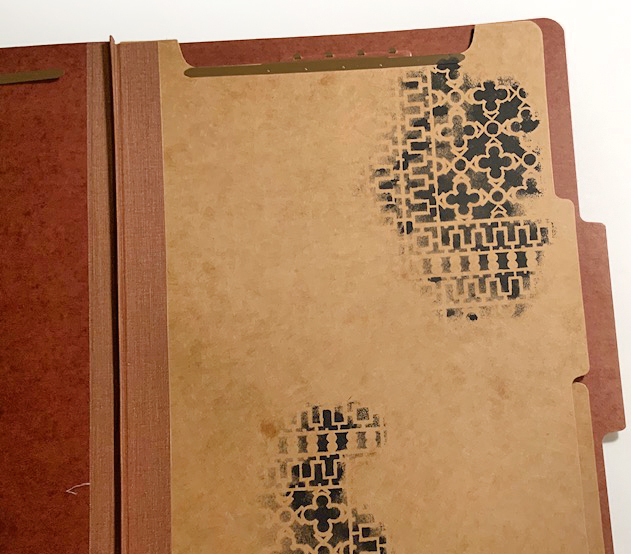 2. Using copper metallic acrylic paint and black permanent ink, stamp Solid Fan and Broadway Fan onto the cover and inside flaps of the folder.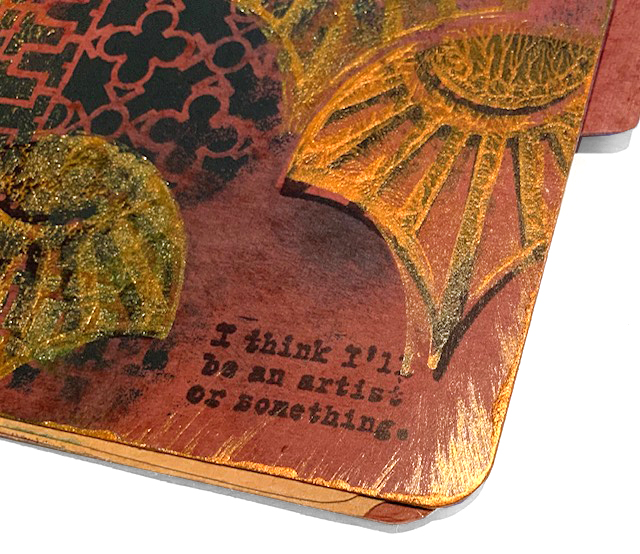 3. Using a stiff brush, add copper paint to the left side and all edges of the folder, and randomly on top of the stamped and stenciled areas.

4. Using a craft sponge, add teal ink here and there, masking some of the fans to add color around the shapes.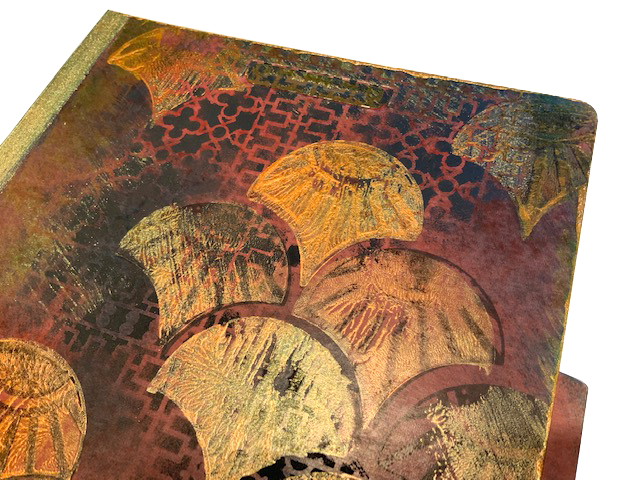 Instructions for Bookmarks:

1. Using a light butterscotch ink, randomly stencil portions of the 9×12 Downtown stencil onto a batch of bookmarks.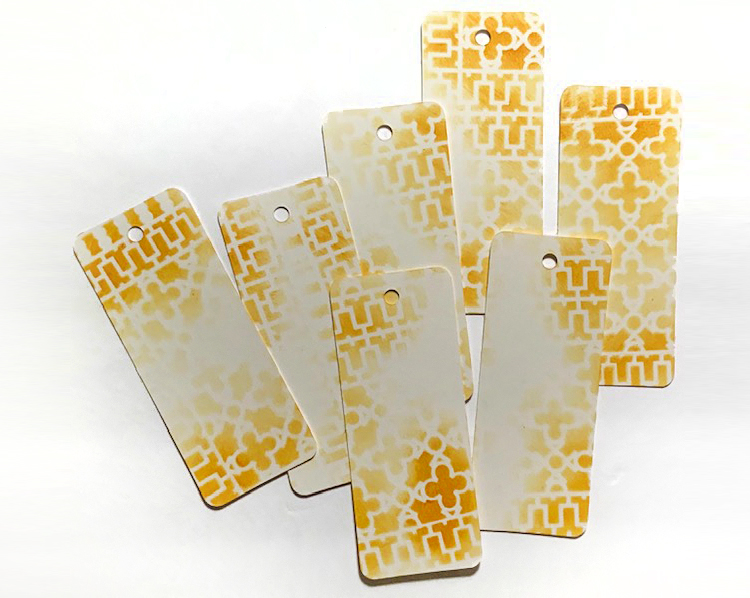 2. Using ginger and black inks, randomly stamp Solid Fan and Broadway Fan onto the bookmarks.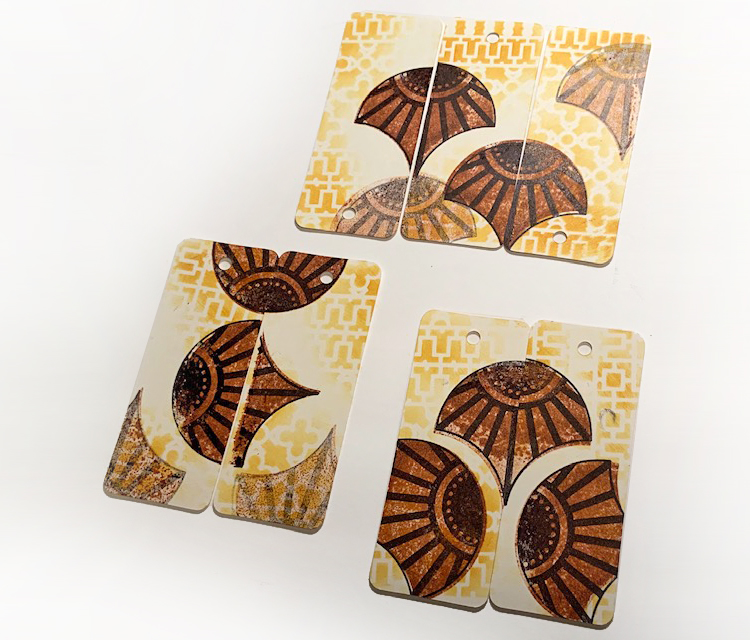 3. Using teal ink followed by copper metallic acrylic paint, stamp Broadway fan on top of inks from step 2. Allow to dry.

4. Stamp a fan, cut it out to use for a mask, and use teal ink to smudge around some of the fans for contrast and to create a mottled background.

5. Add copper paint around the edges of each bookmark. Allow to dry.
6. Add fibers to the hole at the top of each bookmark.
---
Thank you Judi! I love this take on our monthly theme! You can find all of my Rubber Stamps and my Stencils in my online shop. Here are some of the supplies Judi used: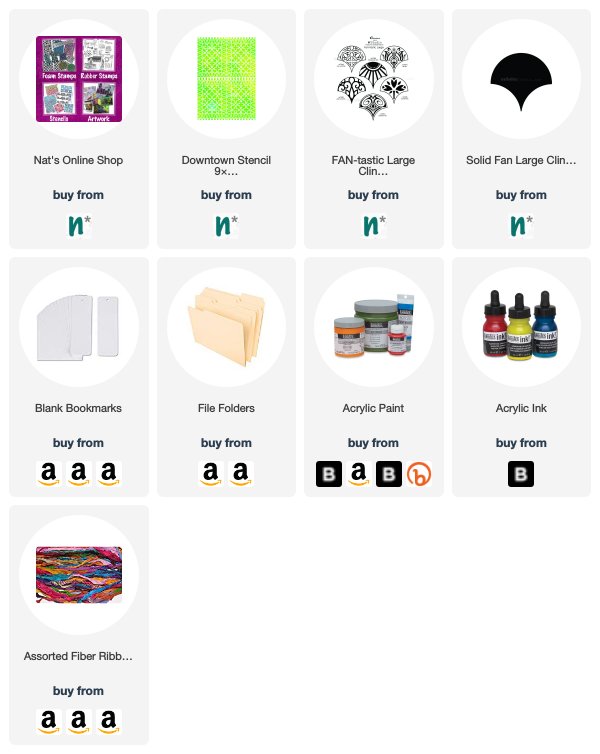 If you are working on something yourself that you'd like to share, please do! I would love to share your projects in my next  "n*Spiration From Around the Globe".
And TODAY is the last day to buy Creative JumpStart 2019 (the one that was released back in January of this year) so if you haven't yet you can sign up here. It is an amazing lineup of artists, full of inspiring and fun content, and you have until November 15th to download all the videos.