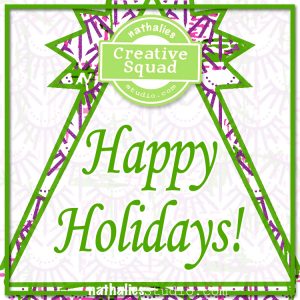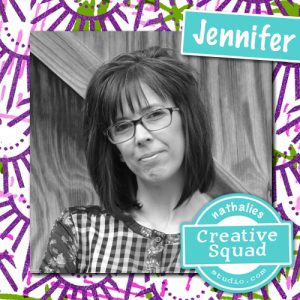 Hello everyone and welcome to a Happy Holidays post from our Creative Squad. Today we have a group of super cool looking cards from Jennifer Gallagher that you can make with the whole family! Jennifer is using my Kassel, Park Blvd 4×4, and Flower Maze stencils and this month's theme: Happy Holidays – It is a time of year where we are celebrating and coming together and enjoying some merriment. Create something holiday related (whatever holiday you may be celebrating) and enjoy the season!
---
This month we are celebrating the holiday season and what better way than to create some fun holiday cards. You're going to love this tutorial because it's fun, easy, and family friendly. So break out your favorite n*Studio stencils and let's get started.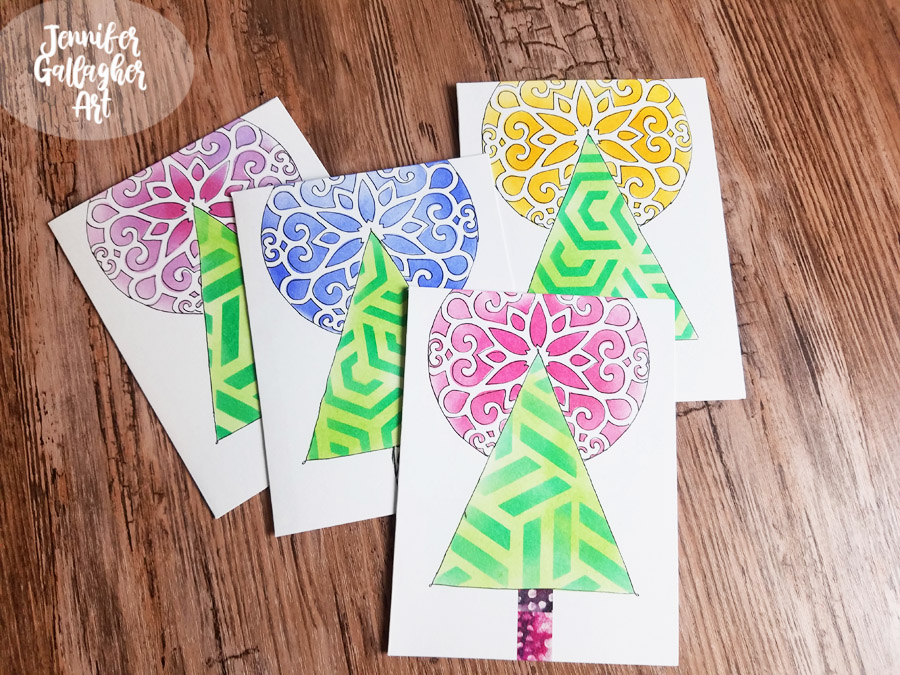 I began by drawing a simple tree shape onto craft card stock and cutting it out with a craft knife. I kept both pieces, one we will use as a stencil and the other as a mask.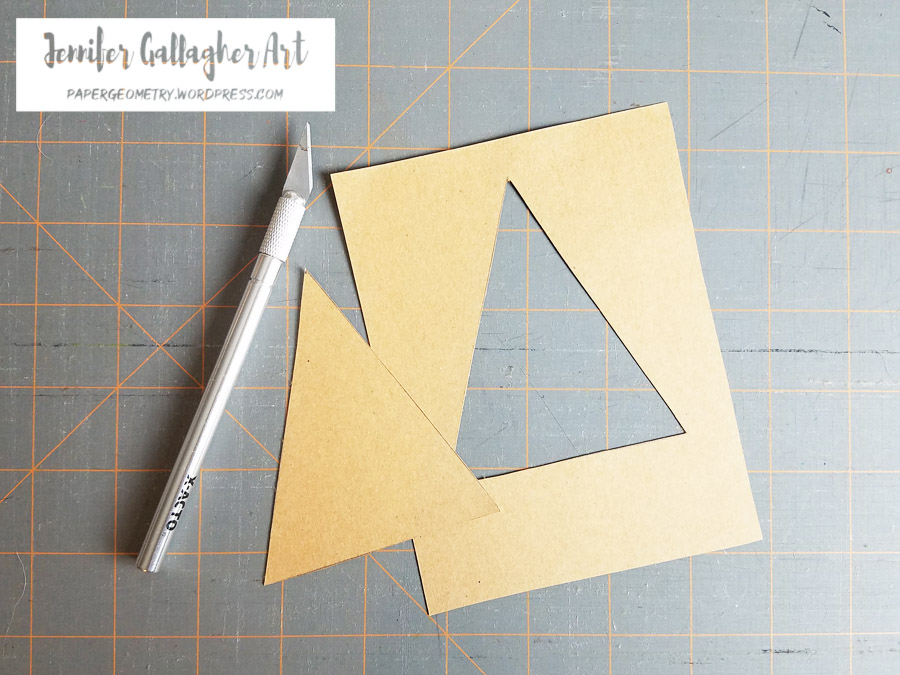 Using the tree mask and Nat's Park Blvd 4×4 stencil, I placed the designs down using a low tack washi tape. The mask allows me to protect the area where I don't want to apply color.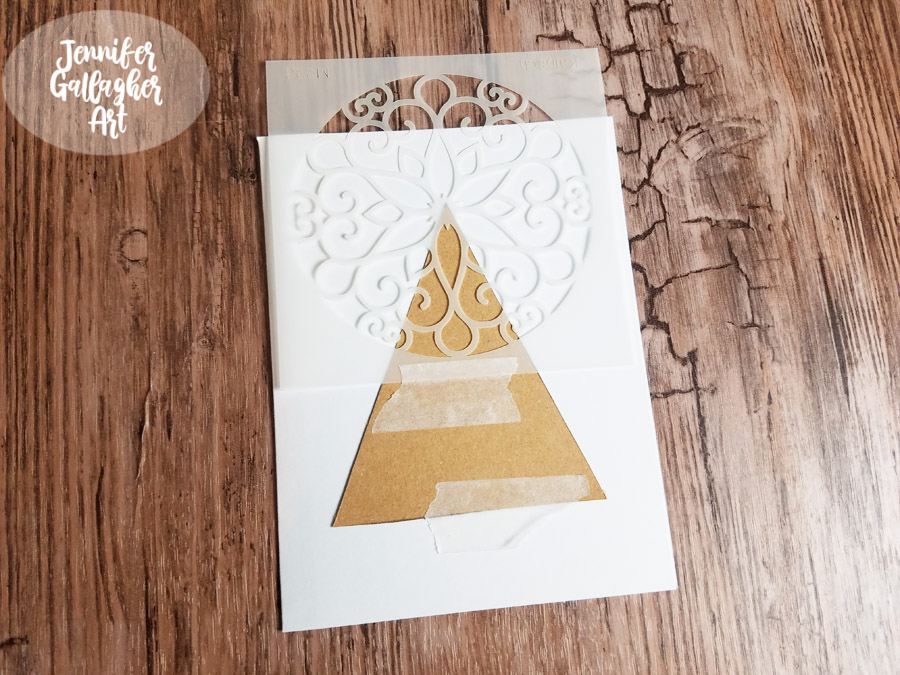 Next, I applied distress ink in blueprint sketch to the Park Blvd. stencil. This creates a lovely halo around the tree.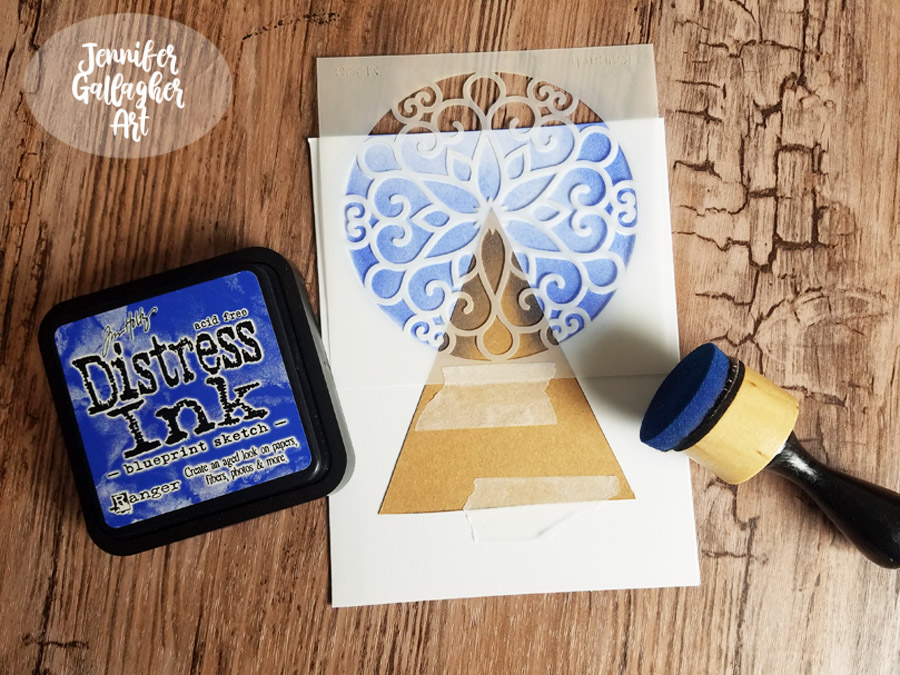 I placed the tree stencil in the spot where the mask was and applied mowed lawn distress ink. Next, I laid Nat's Kassel and Flower Maze stencils down and applied lucky clover distress ink over that.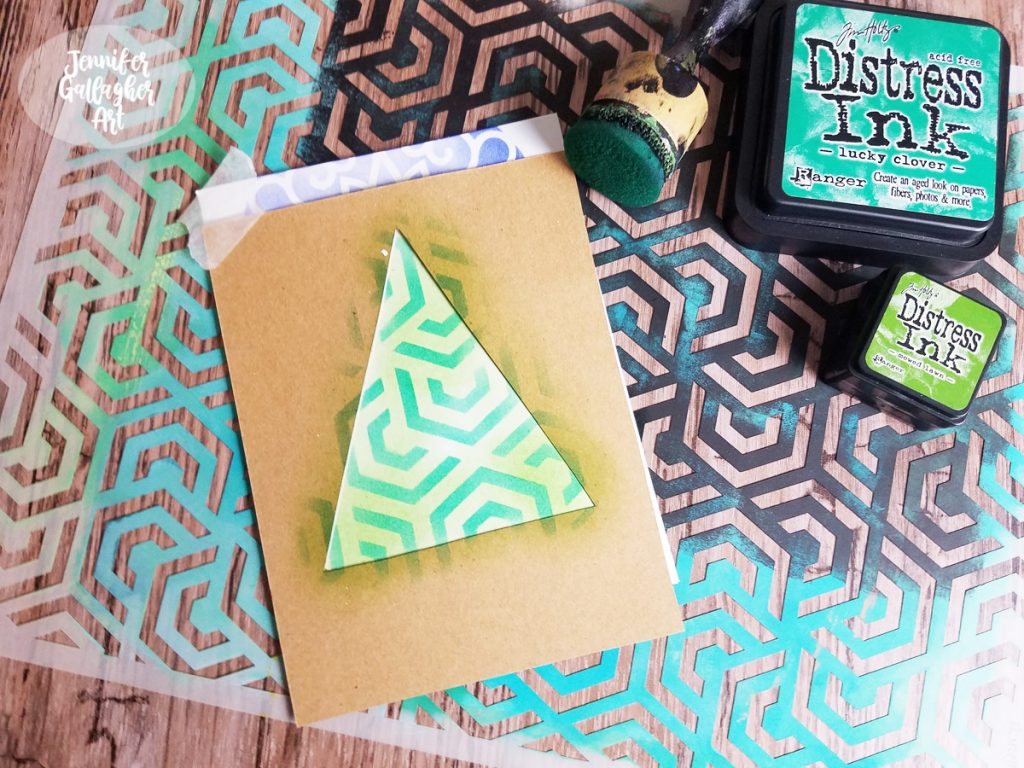 Now is the time to pull out all of your favorite washi tapes. I chose one of my favorites and used a small piece to create the tree trunk. Then, using a Sakura Gelly Roll in black, I outlined my tree and halo.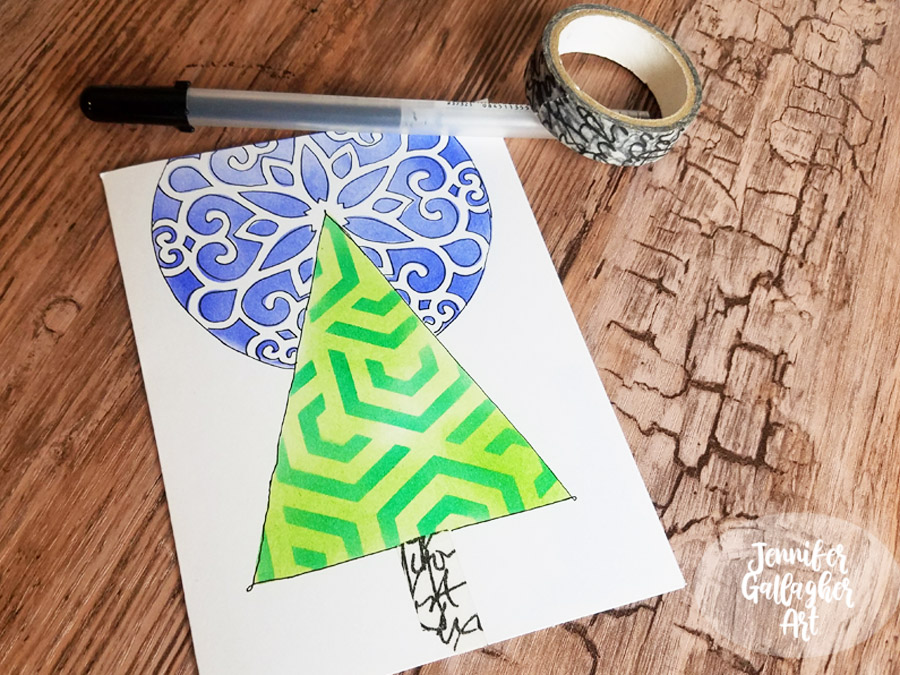 Now it's time for the remix! Change up your ink colors, stencil designs, and washi tapes to create different designs. I suggest trading out the Kassel stencil for Nat's Flower Maze stencil in your trees. Some additional ink colors I used are picked raspberry, wild honey, and shaded lilac. Check out these variations: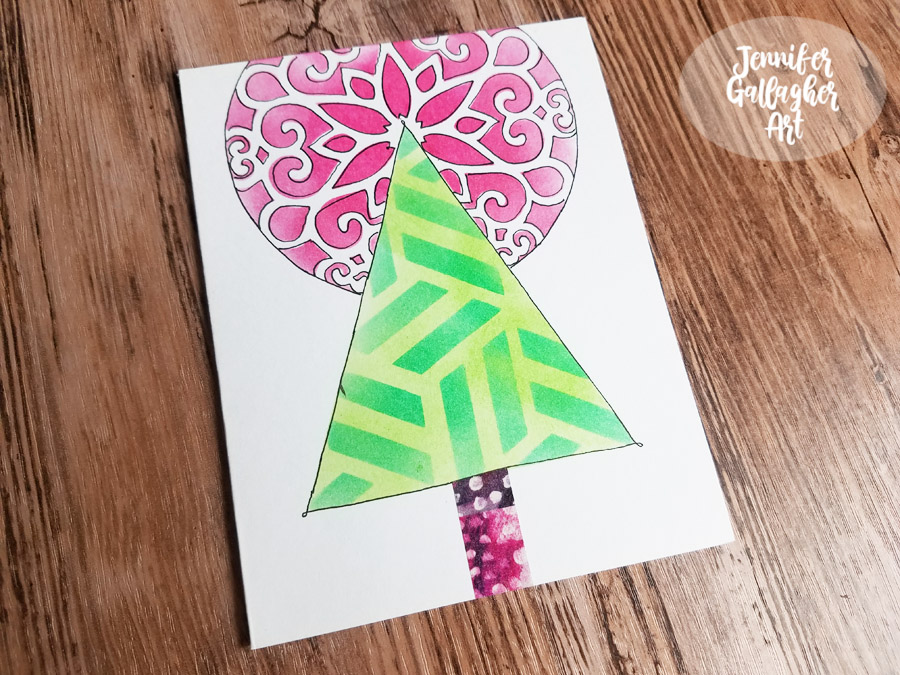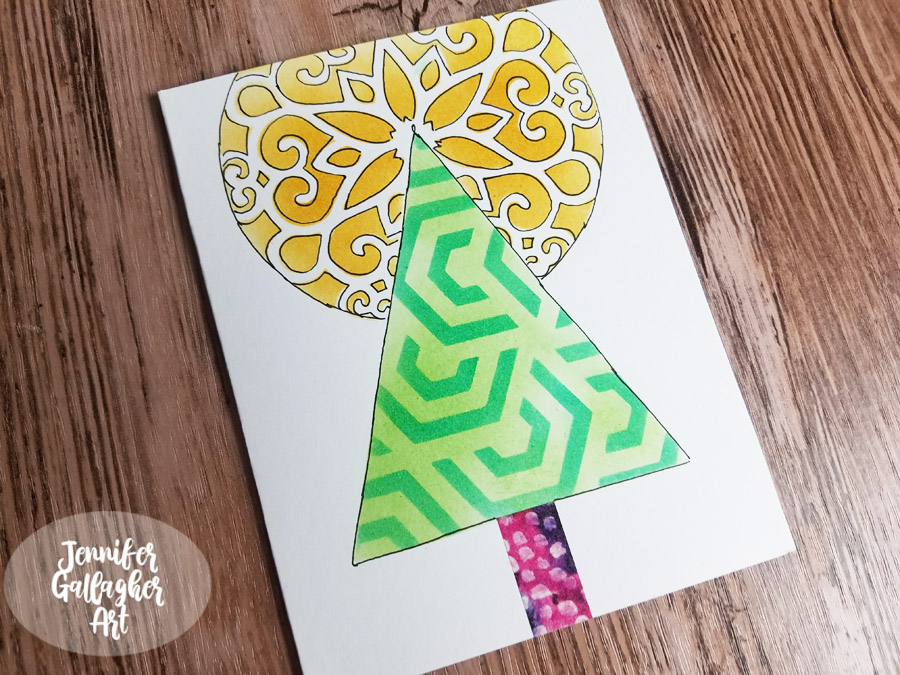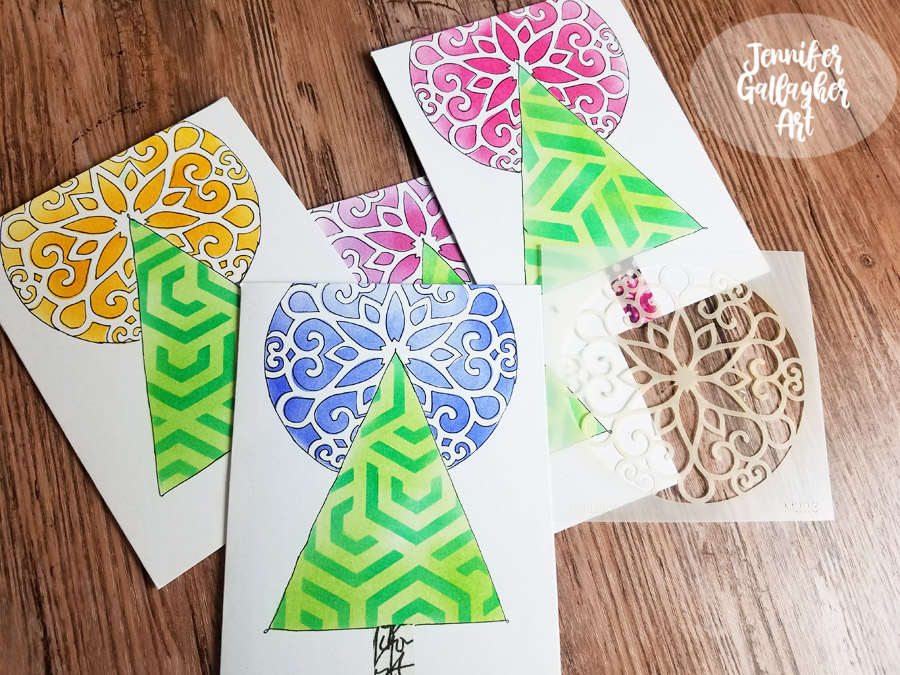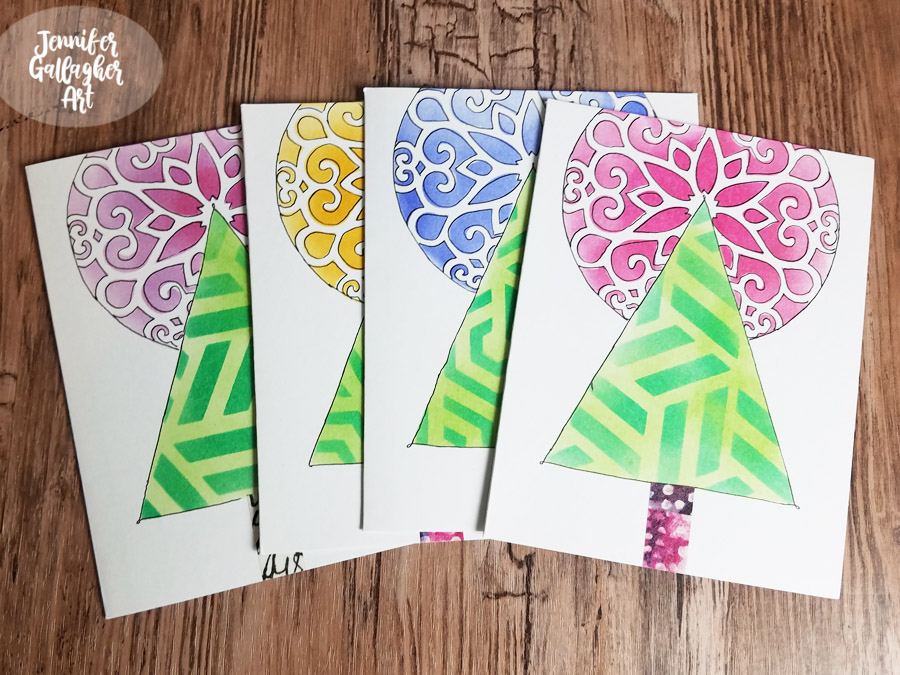 I hope you have enjoyed this tutorial. This would be a great craft to make with your kids and grandkids. There is nothing better than receiving a handmade card around the holidays. If you try out any of this month's tutorials, be sure to share with us. Happy Holidays!
---
Thank you Jennifer for this kick off to our December Creative Squad posts – love how doable the cards are and the very fun results – great design!
Give it a try: you can find all my Stencils in my Online Shop and here are some of the other supplies Jennifer used: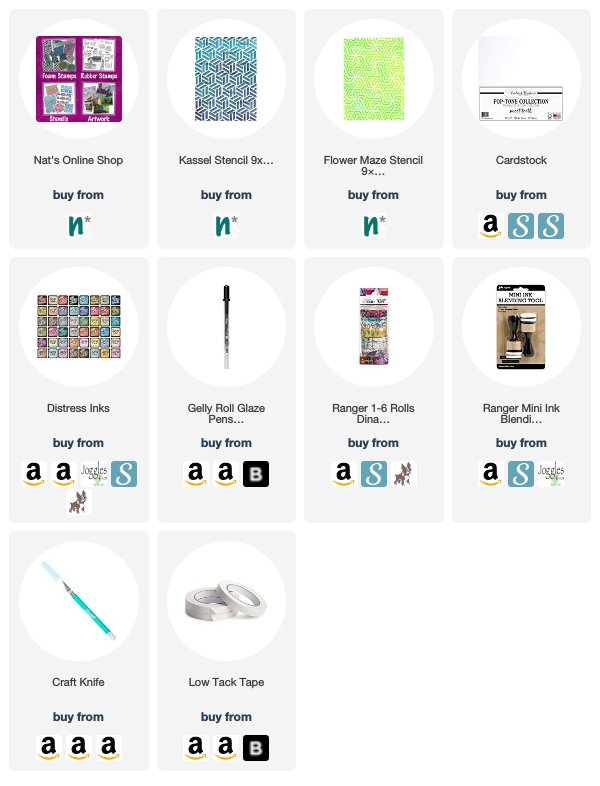 Feel inspired? Working on something yourself that you'd like to share?  I love to see how you interpret our monthly themes. Email me how you used my stencils and stamps with the theme and email me an image – I would love to share your projects in my next  "n*Spiration From Around the Globe".