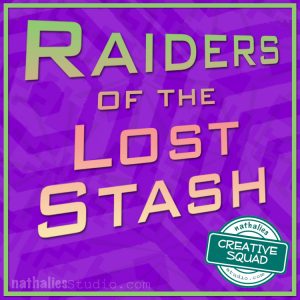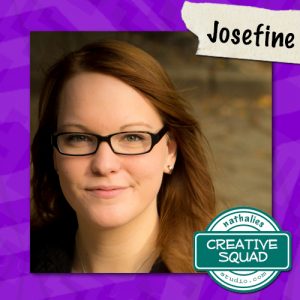 Happy Tuesday from the Creative Squad! Today we have a cool upcycled jewelry box – something I know we all have in a drawer or closet somewhere just waiting for a new life – from Josefine Fouarge. Josefine is using my Beacon and Mini Toledo foam stamps, my Love Tag rubber stamp, and this month's theme: Raiders of the Lost Stash – It's time to raid your stash of art making stuff. Pick a few things you've tucked away for later and use them NOW. Maybe you have some leftover scraps or deli papers that you couldn't bear to part with. Maybe you've squirreled away a new product that you've been meaning to try. The time is now! Raid your stash and try it :)
---
Wow, what a topic. I knew that I have a lot of "lost stash" but because we are renovating our house, there is even more that has come back to the surface. So, over the last weeks, I put aside a some of those lost items, thinking that they would be perfect for this theme – and I'm telling you, that stash was a hodge podge of stuff ;)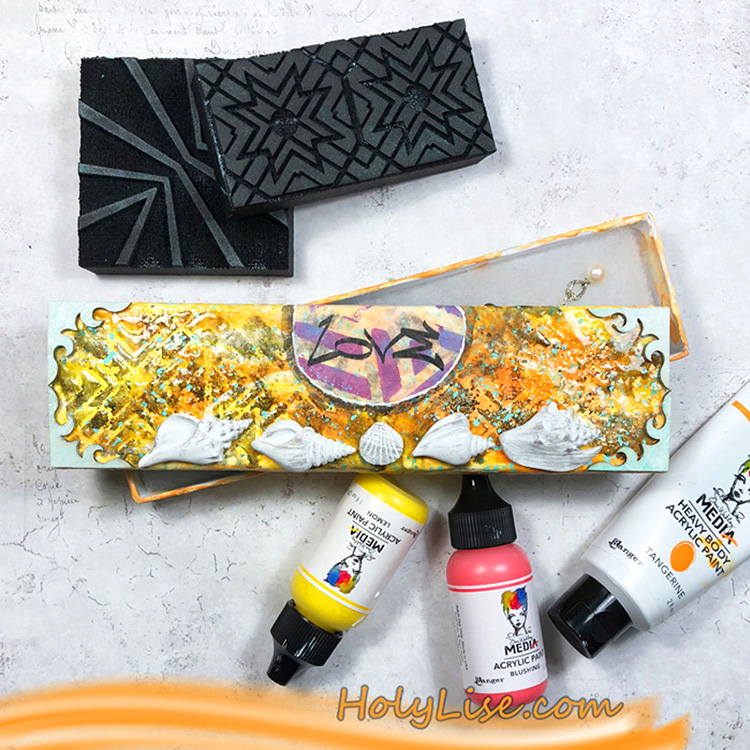 I really like this topic though. It gets you digging and you find some really neat things. For my project for the "Raiders of the lost stash" theme, I decorated a jewelry box. My idea was to do some paint pouring and then add a few of the little items all over it. Because paint pouring is so fun to watch and because I already knew that the decorating part would be a hot mess, I recorded everything. That probably makes it a lot easier to follow the process.
You might have seen more than two hands during the pouring process. These were my husband's hands. He got into paint pouring a few months backs and we wanted to try the new Ranger pouring medium together. Everything afterwards is just me :)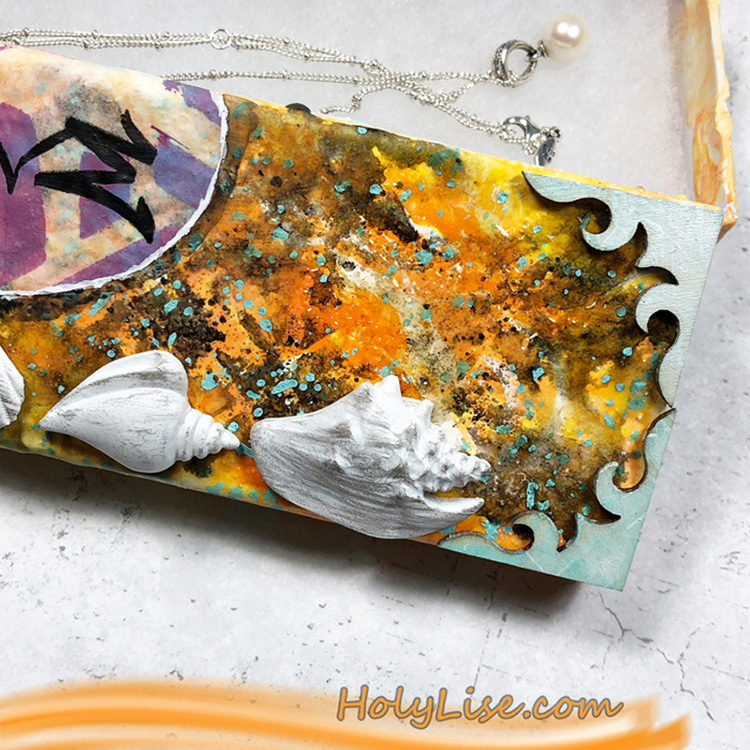 As you can see in the close ups, the embossing powder melted beautifully and helped with creating a fuzzy outline of Nathalie's Mini Toledo stamp. This way it looks old, as if this box has been through a tough time.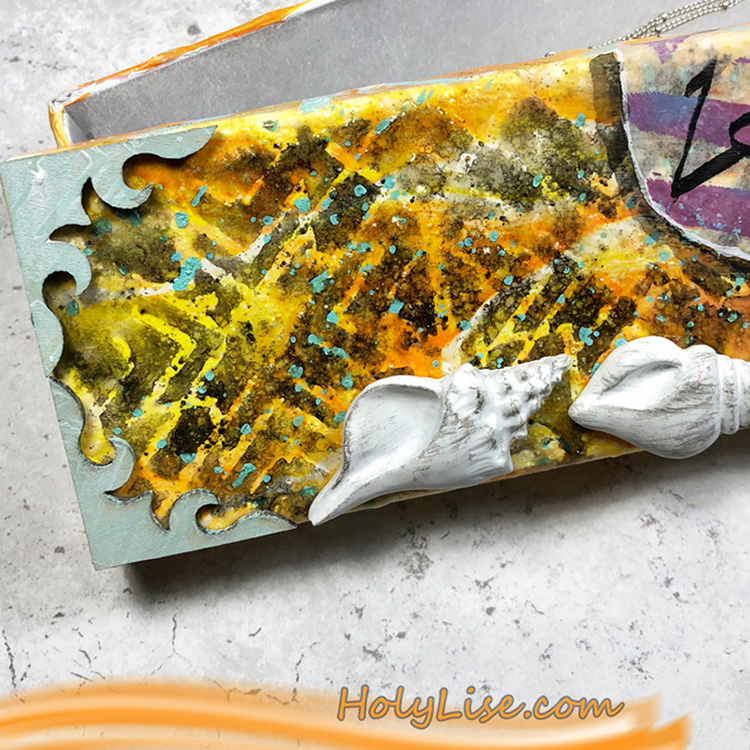 I also like the subtle pattern that the Toledo stamp left on the wood pieces. It looks like there is something going on, but only with a close look you get an idea of the pattern.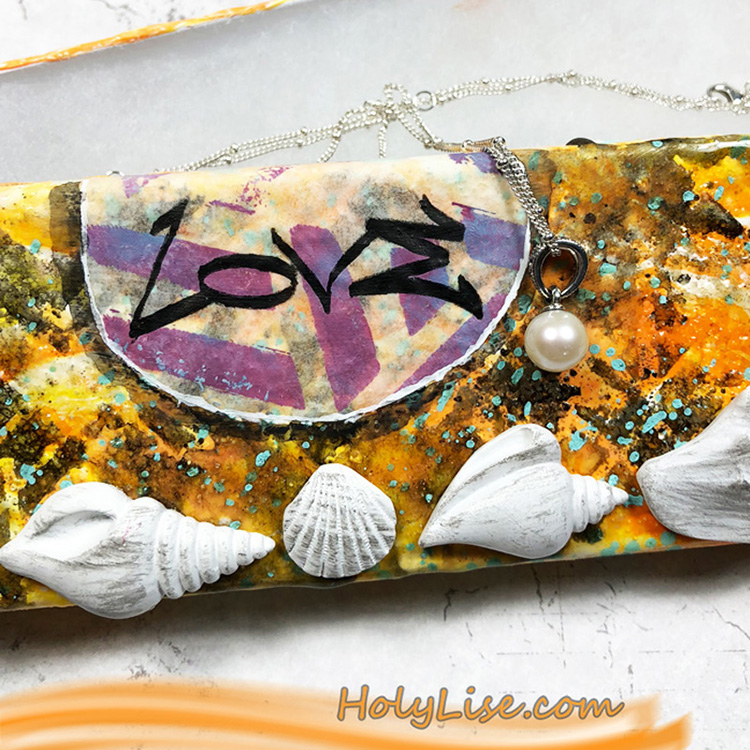 The "lost" gel print perfectly fits as a centerpiece in the middle of the jewelry box. It's the right amount of contrast and different patterns to add to the entire look. I love contrasts and the entire box is a big contrast of everything.
I kept the bottom part simple though. At the end, you don't see it as much and because of the pouring medium, it was already difficult to close the lids. So, I simply stamped the negative Beacon stamp all over it using a contrasting color.
I hope you enjoyed my little experiment. Don't forget to look through your own drawers and boxes, I bet you have some amazing decorative pieces, leftover scraps, paints, pens and more laying around that just want to be tested and played with.
---
Thank you Josefine – I love watching you play in your video (and hubby too – so cool he was interested in trying out the pouring medium)! Here are some supplies that Josefine used and for my foam stamps and rubber stamps, be sure to stop by my online shop.
Feel inspired? Working on something yourself that you'd like to share?  I love to see how you interpret our monthly themes. Email me how you used my stencils and stamps with the theme and email me an image – I would love to share your projects in my next  "n*Spiration From Around the Globe".