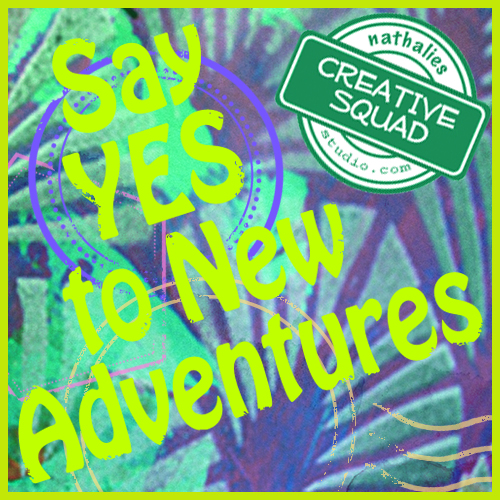 It's Tuesday and time for my Creative Squad to share a project with you with this month's theme: "Say Yes to New Adventures". Throughout the month of August, the team will use any of my n*Studio Stamps and Stencils they would like to use to interpret the theme. Here in the northern hemisphere, summer is coming to a close and it's about time to seize the days and go on a little adventure before hibernation! With this in mind, the team will create something that celebrates the spirit of adventure.
This week we bring you Marsha Valk and her adventure with a new tool and the gorgeous accordion book that resulted from her journey!
—————————————————————————————————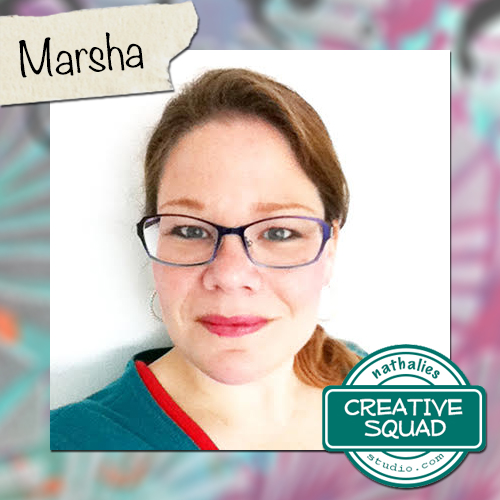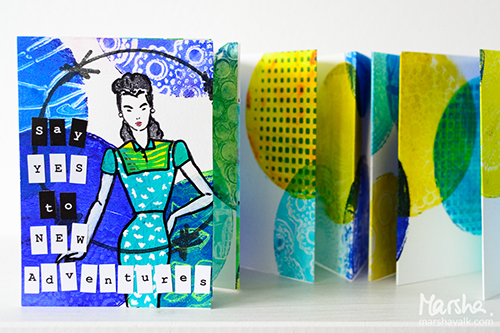 I go on new adventures all the time. I'm on new adventures as we speak. But the problem with new adventures is that it's not always easy to talk about them. Because they're new… and I'm only just getting used to the idea… and I don't yet know how I feel and what I think about it.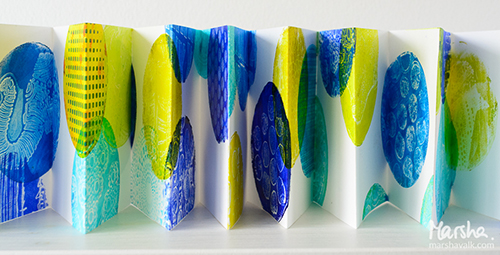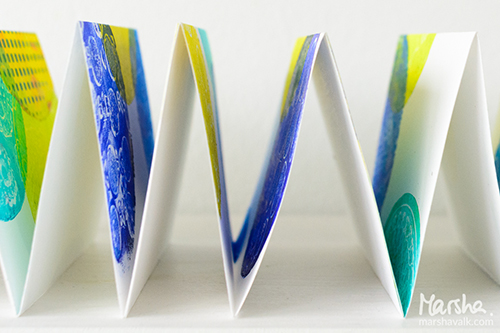 So for this month's theme I took a simpler approach: I wanted to use something from my stash that I hadn't used before. I decided to go with the round mini gel printing plate. And I just started printing on a A4 sized sheets of paper: adding paint to the little plate, making marks with my n*Studio Cling Stamps and using some stencils too. The outcome was sometimes unpredictable and messier than I had hoped, but that's what happens when you go on an adventure!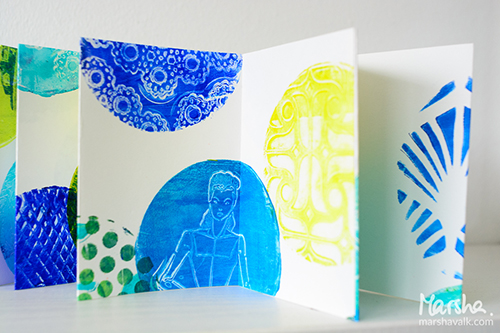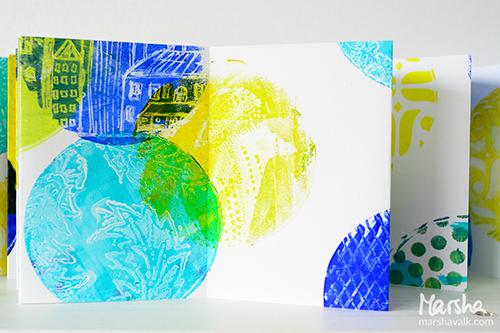 Once I had a couple of prints, I thought about what I wanted to do with them. I didn't know. So I thought about how sometimes things get better when you cut them up and I started to cut each print in half.
Then I thought: these prints would make nice simple cards. But once I had folded them into cards I thought: or maybe this could be a mini book or mini art journal. So I decided to fold the cards up like accordions and I glued each far left panel behind the far right panel of the previous accordion card.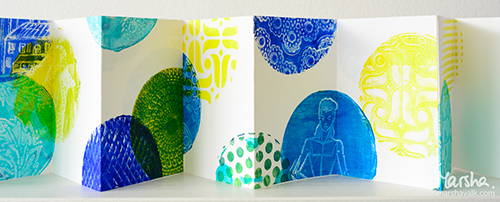 I haven't decided if I want to keep it like this or to glue the backs together to make an actual little book. I figure that it will be easier to work on it in this state, so I decided to just embellish the front a bit more and leave the rest blank (and unglued) for now. It's small and light, so it's ideal to just doodle in whilst watching TV or to take with me when I have to go on a long train ride. I'm ready to take it on another new adventure!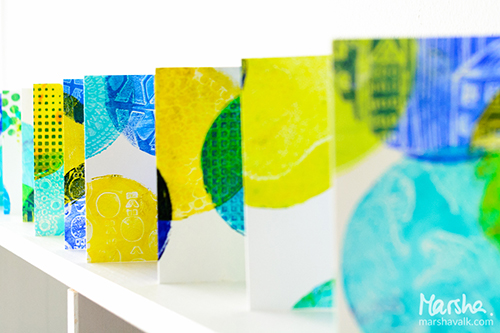 —————————————————————————————————
Marsha's accordion book is stunning.  I love the super fresh color palette she chose and her bold move to cut the prints in half and reimagine the whole thing.  And of course, look at all those stamps!
Marsha used the supplies listed below (some are affiliate links) as well as Toga Alphabet Stickers: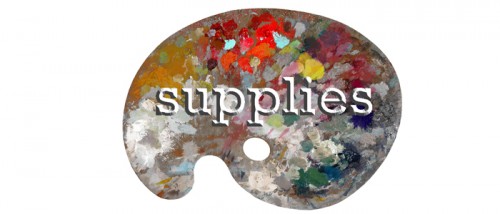 Maybe you will even play along with us -I would love to see how you interpret our monthly themes. Email me how you used my stencils and stamps with the theme and email me an image – I would love to share your projects in my next "n*Spiration From Around the Globe".
See you next Tuesday for another project from the Creative Squad!