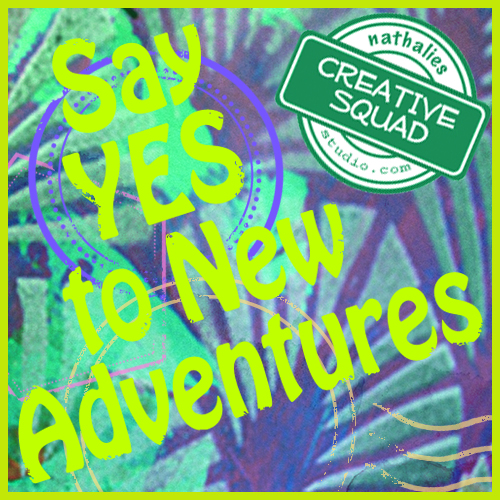 It's Tuesday and time for my Creative Squad to share a project with you with this month's theme: "Say Yes to New Adventures". Throughout the month of August, the team has been using any of my n*Studio Stamps and Stencils they would like to use to interpret the theme. Here in the northern hemisphere, summer is coming to a close and it's about time to seize the days and go on a little adventure before hibernation! With this in mind, the team has created something that celebrates the spirit of adventure.
This week we bring you Michelle Rydell and an art journal page all about her adventures with love!
—————————————————————————————————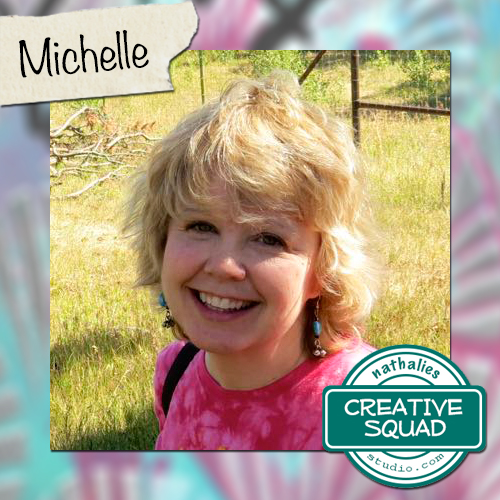 As soon as I heard that the theme for this month was "Say Yes to New Adventures," I knew I wanted to do a colorful, many-layered page, to represent the many adventures I've had with my hubby Michael! I also thought it would be a great opportunity to make the creation of the page an adventure in itself, by letting it develop organically, instead of having a set plan before beginning…
Here's how it went…  I opened to a page in my journal that already had the background painted, and a few random collage elements pasted on. I set up my table with a bunch of Dylusions acrylic paints, and foam tools, and got to work…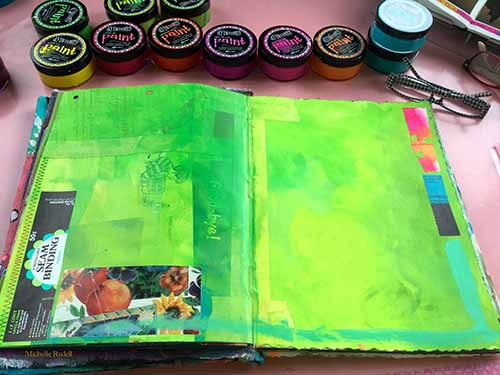 The first stencil I used was the one from the Fashion Dame set, which I applied randomly around the page with turquoise paint…
And then added some white doodling with a paint pen.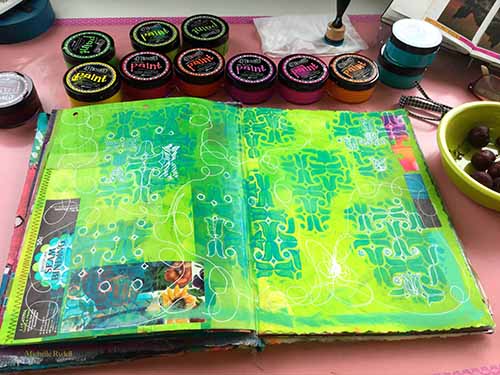 Next I used the Batik Stencil, with Pomegranate paint for contrast. I applied random bits of it in the "empty" spaces…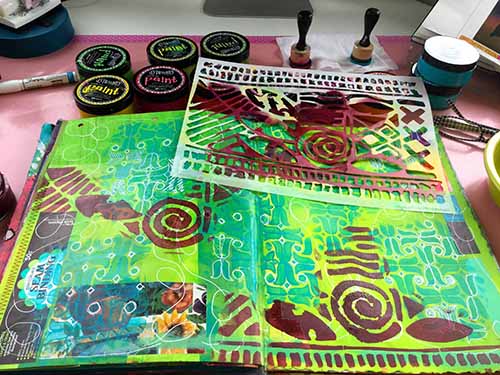 I kept up the same process, adding the stencils from the following foam stamp sets: Bird (in pink), Elephant (in yellow) and then Urban Scribble (in orange), adding doodling here and there along the way…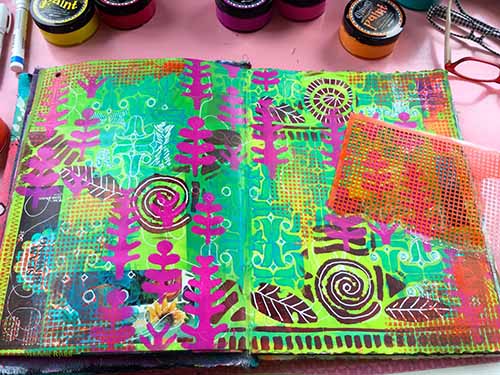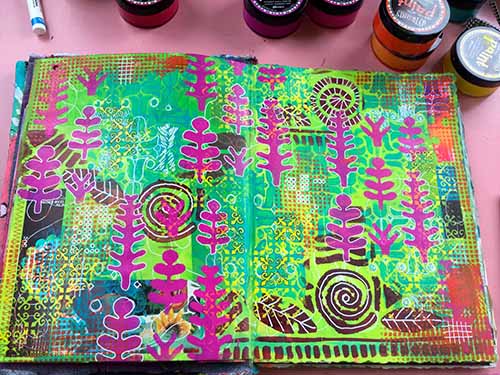 At this point, I printed out a 5 x 7" photo from our wedding, and gently set it where I thought I wanted it to go, outlining with a Stabilo all pencil.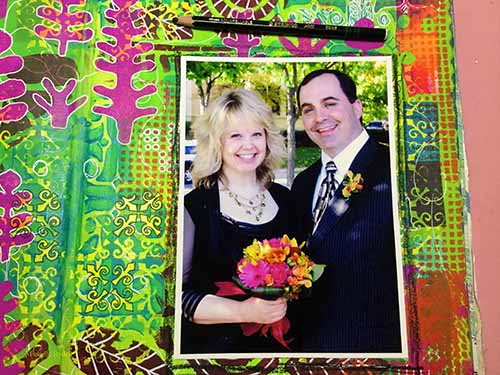 I removed the photo (so as to not get it dirty) and activated the water-soluble pencil with matte medium to make a nice black frame for contrast. After that I realized the page was needing some drippage! Over to the spray station it went, and high flow paint was added along the top edge, spraying with water to increase the dripping effect.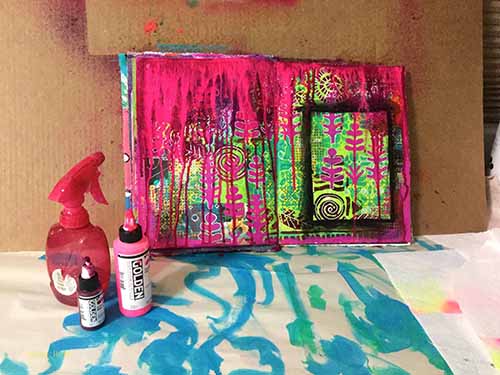 Looking at the page without the photo gave me an idea – that frame would be a perfect place to put the quote I had in mind! Busting out the stabilo pencil again, I created the journaling lines, and then used a paint pen to create the background and lettering. I stepped back and took a look… I felt like it was complete! No photo needed! Here's how the final page turned out…
—————————————————————————————————
Michelle's art journal page was an adventure in creation and I love the outcome with all those layers and that quote.
She used the supplies listed below (some are affiliate links):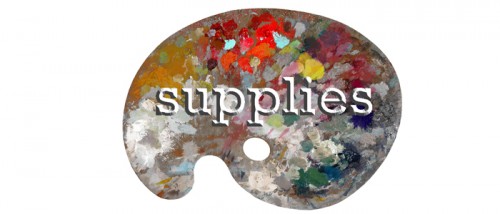 Maybe you will even play along with us -I would love to see how you interpret our monthly themes. Email me how you used my stencils and stamps with the theme and email me an image – I would love to share your projects in my next "n*Spiration From Around the Globe".
See you next Tuesday for another project from the Creative Squad with a brand new theme for September!