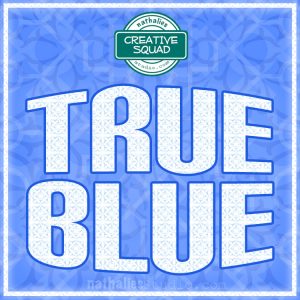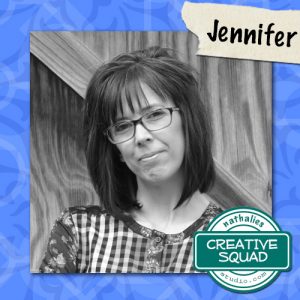 Hello from my Creative Squad! Today we have some gorgeous tags from Jennifer Gallagher that show just how well stencils work with embossing powder. Jennifer is using my new Van Vorst and Broadway stencils and my Small Circle Jumble rubber stamp set. This month's theme is: True Blue – Blue is the color of honesty and serenity. It's calming and has even been shown to promote healing. It reminds us of the water and the sky. Let's slow things down this month and bask in the tranquility of the color blue.
---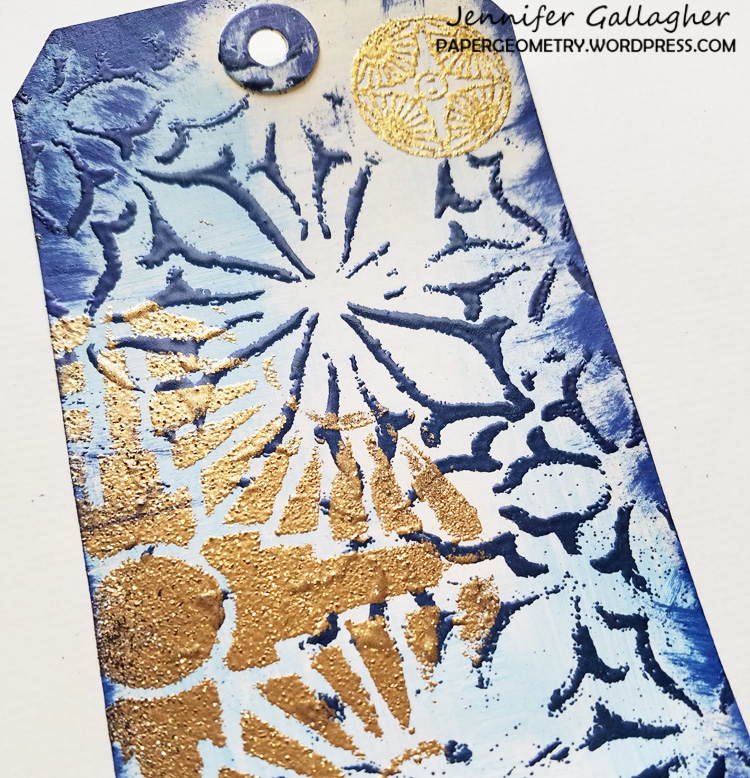 Blue is one of my favorite colors so I was very excited to see that the creative squad would be focusing our creations on it this month. The color blue makes me think of cold weather, snowy mountain scenes and holiday time with family. These quick and easy tags would be perfect for holiday gift tags.
Begin by brushing on a thin layer of light blue paint and white paint onto your tag with a dry brush. We want to get a distressed look so try not to apply too much paint. Leaving areas unpainted will also add to the interest and texture of the tag.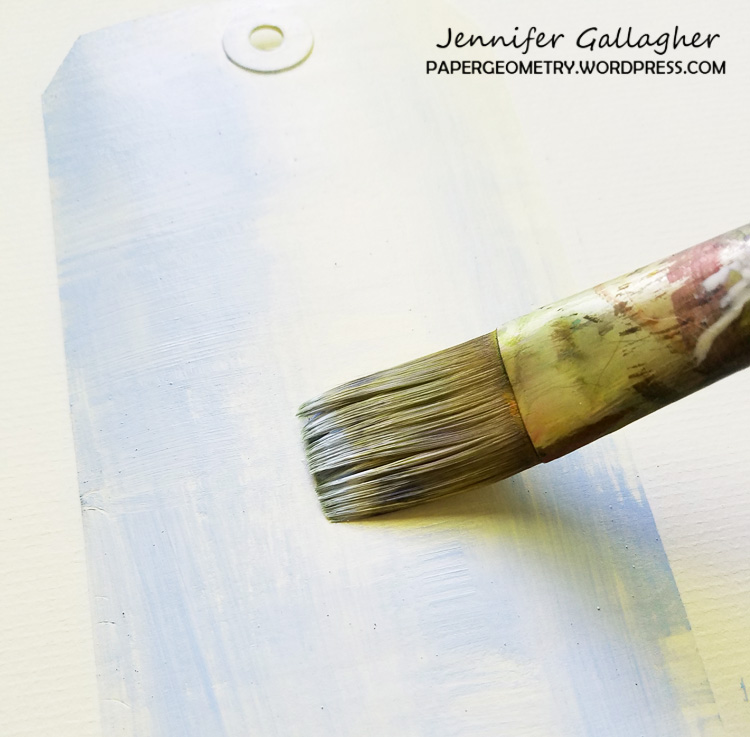 Next, place your Van Vorst stencil down onto your tag and press the perfect medium through the stencil.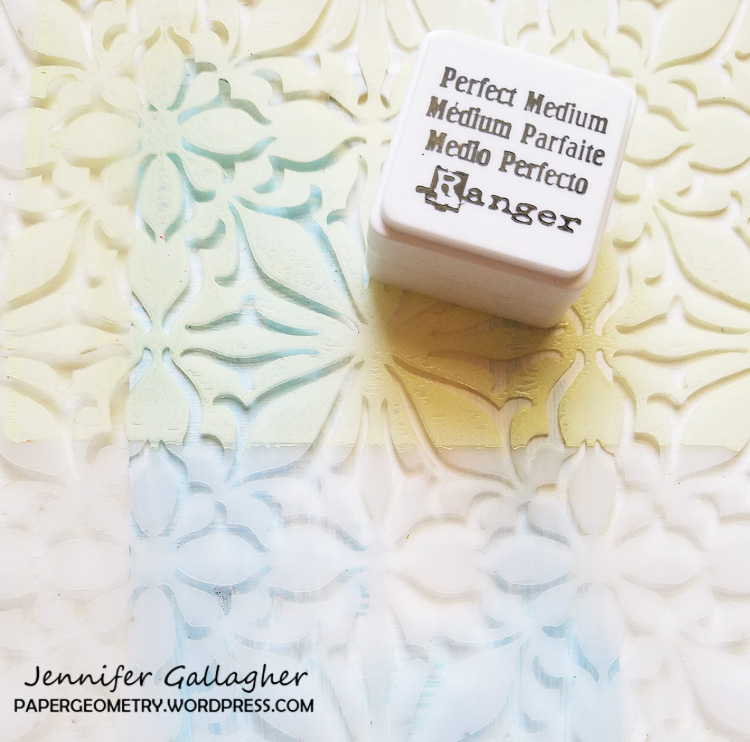 Sprinkle the navy embossing powder over the perfect medium. Use a small soft bristled brush to knock off any areas you do not want the embossing powder or to clean up any mistakes. Apply heat from your heat tool to melt the powder and set it. Let it cool.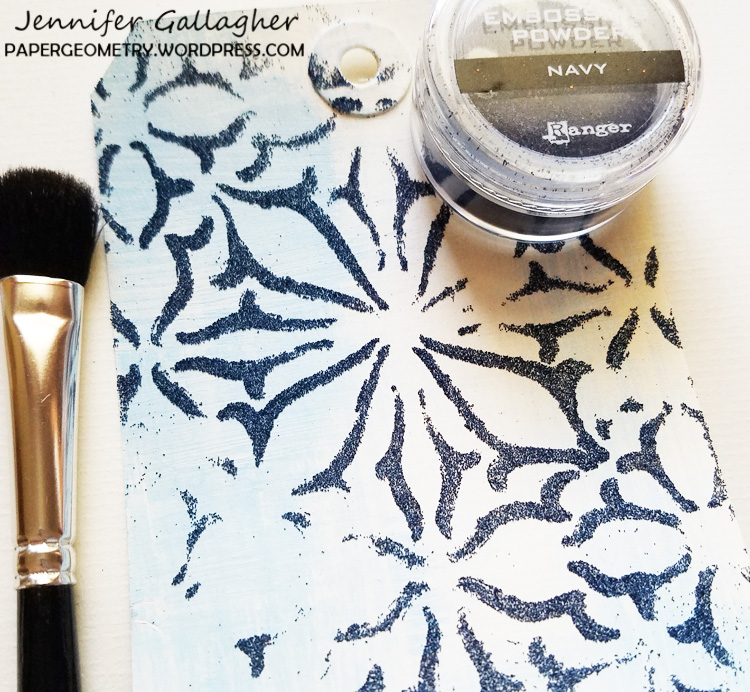 Lay the 4×4 inch Broadway stencil on the tag and repeat the same process with gold tinsel embossing powder. Then stamp the coordinating small Broadway stamp from Nat's Small Circle Jumble stamp set with perfect medium in the top corner of your tag. Emboss it in gold tinsel as well.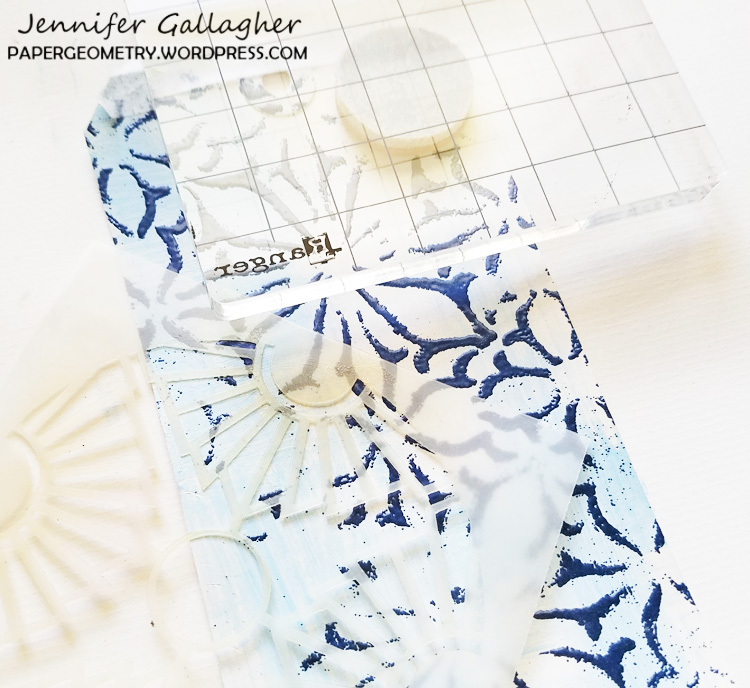 Lastly, take your cobalt stamping pad and edge around your tag, smearing a bit of ink from the edge onto the tag. This will add additional interest and texture.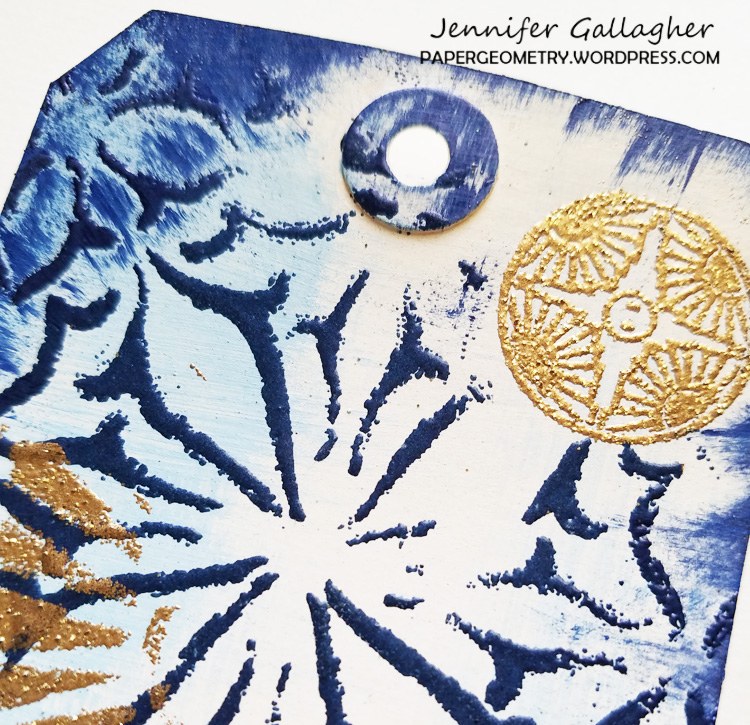 I created a second tag switching up the colors a bit. I painted the tag with real navy, embossed Van Vorst with bridal tinsel embossing powder, and embossed Broadway with rose gold embossing powder.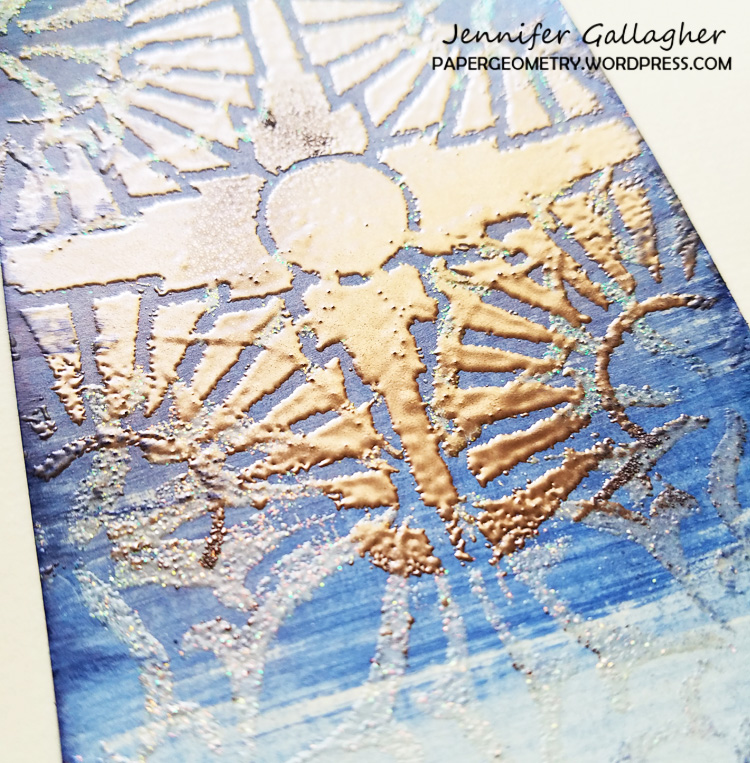 I hope you find these tips useful for creating your own beautiful holiday tags. You can also change up your background color and embossing powders to create non-holiday versions. Have fun and be sure to share your projects with us.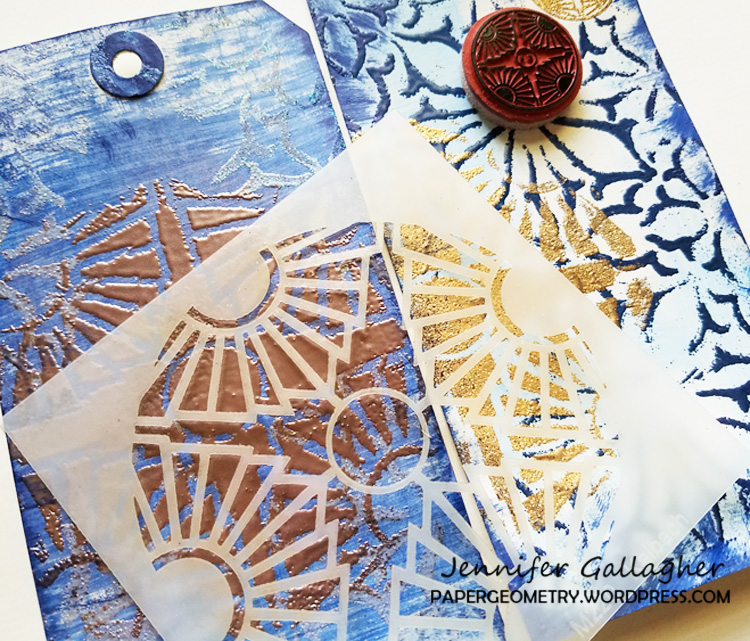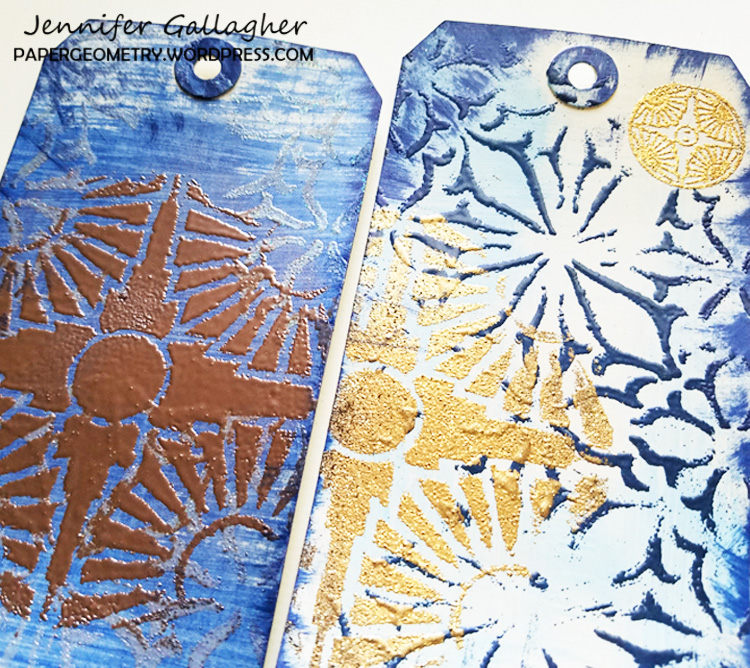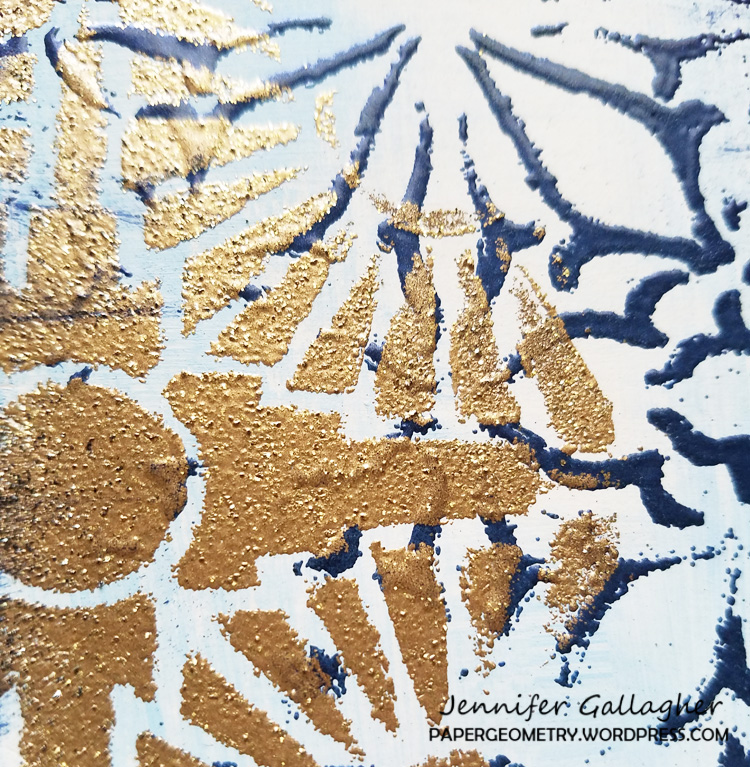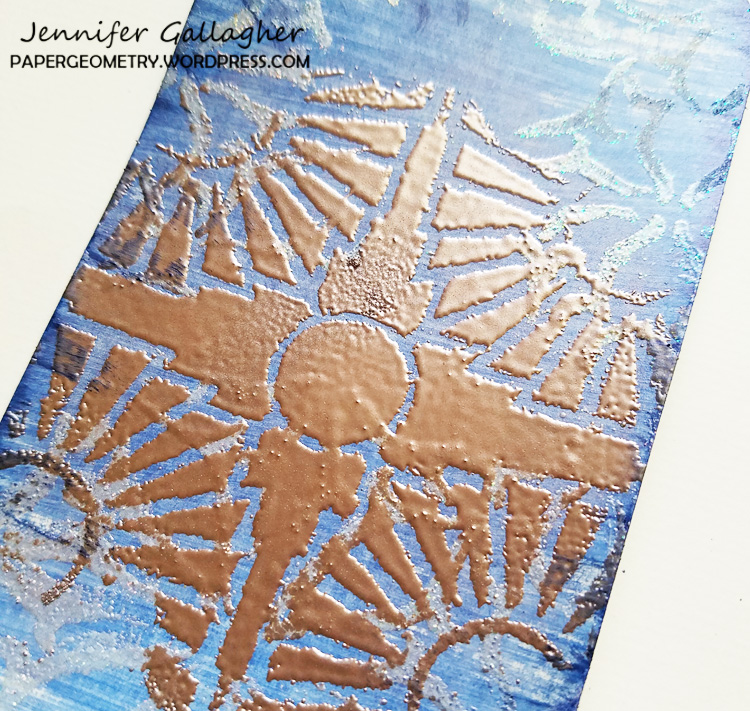 ---
Thank you Jennifer – I just love how that gold embossed pattern looks! You can find all my stencils and stamps in my Online Shop. Here are some of the other supplies that Jennifer used:
Feel inspired? Working on something yourself that you'd like to share?  I love to see how you interpret our monthly themes. Email me how you used my stencils and stamps with the theme and email me an image – I would love to share your projects in my next  "n*Spiration From Around the Globe".