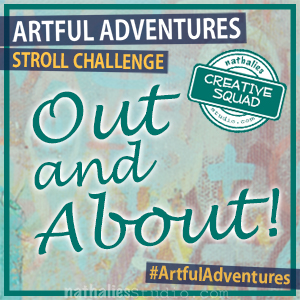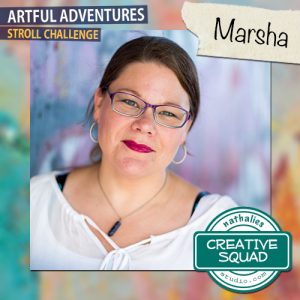 Hello my friends!  This month the Creative Squad is playing along with my Stroll Challenge and today Marsha Valk is sharing some super cool cards. She's using my Stroll Through the Hood #1 & #2, Cardboard, and Embroidery stamp sets, and working with the prompt word Pattern and the theme Out and About – Sometimes it's hard to see all the cool and inspiring stuff that's right under our noses. This month we hope you will join us in our 30 day Stroll Challenge and get Out and About where you live, and find some local inspiration.
---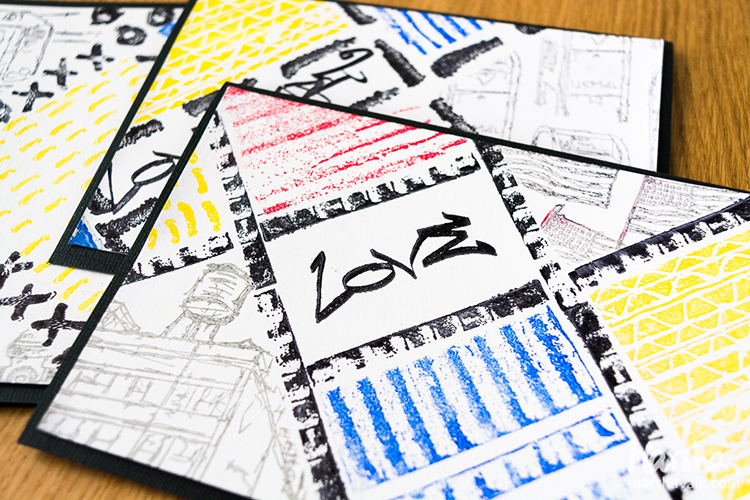 Merriam-Webster has 11(!) definitions for the word 'Pattern'. One of these is:
3: an artistic, musical, literary, or mechanical design or form, the geometrical pattern of the carpet, the strict pattern of rhythm and rhyme for a sonnet — Gigi Marino
…and it's super fitting for the pattern I saw whilst Out and About.
I see patterns everywhere and all the time: tiles, bricks, grids, shadows, on flora and fauna… and I have quite a library of photos of patterns found right here where I live in Amersfoort, the Netherlands. But… there is a different pattern plastered all over my city right now and this particular pattern ties my place of residence to New York. And as my assignment was to combine today's Stroll Challenge prompt with the Stroll #2 stamps, going with this pattern made sense to me.
2017 has been declared the national year of De Stijl, because the art group was founded a hundred years ago, in 1917. Amersfoort is taking this opportunity to celebrate one of its most famous former residents: Piet Mondriaan (or: Mondrian).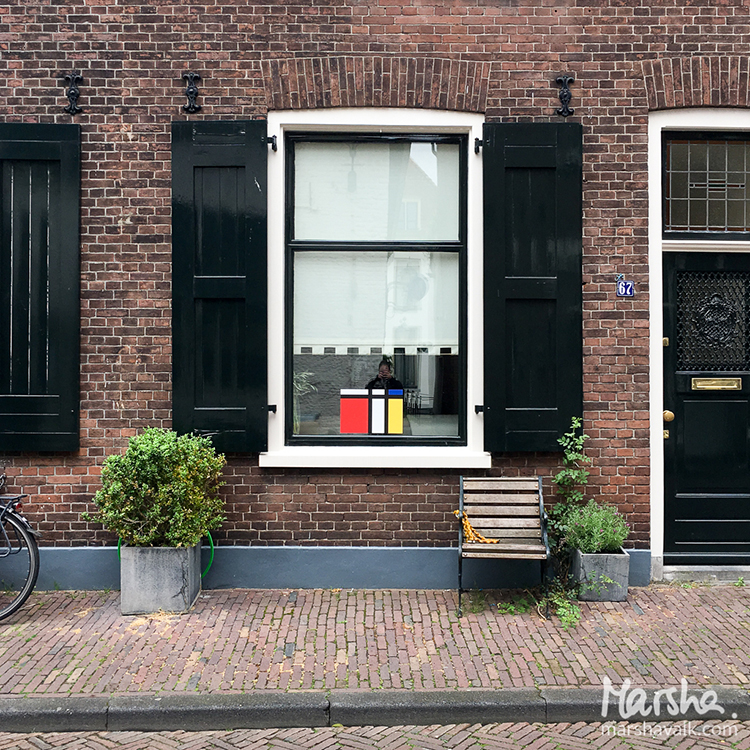 Mondriaan was born in Amersfoort in 1872 and he died in Manhattan in 1944. He lived in Amersfoort until 1880, when his family moved to another part of the Netherlands.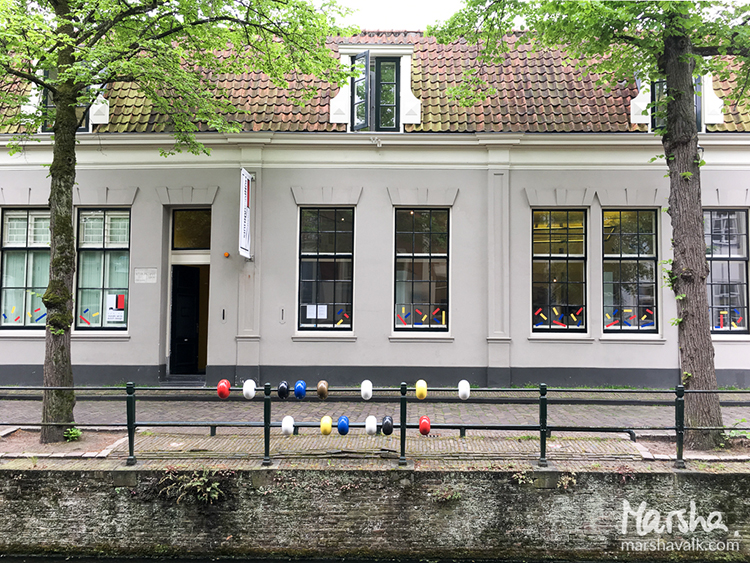 His birth house in now a museum where you can see some of his early (still naturalist) works and learn about his life.
Now onto the project!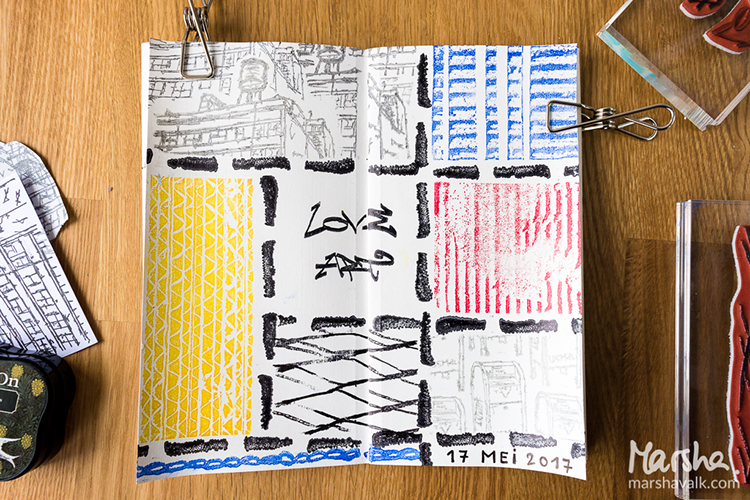 I started out playing in the journal I keep for the Stroll Challenge prompts and then moved on to square and rectangle pieces of cardstock. I didn't have to think about colours. I searched my stash for suitable stamping inks in the De Stijl colour palette: red, yellow, blue, black, grey and white. I covered each base with gesso first because I felt the plain white paper was too flat and stark.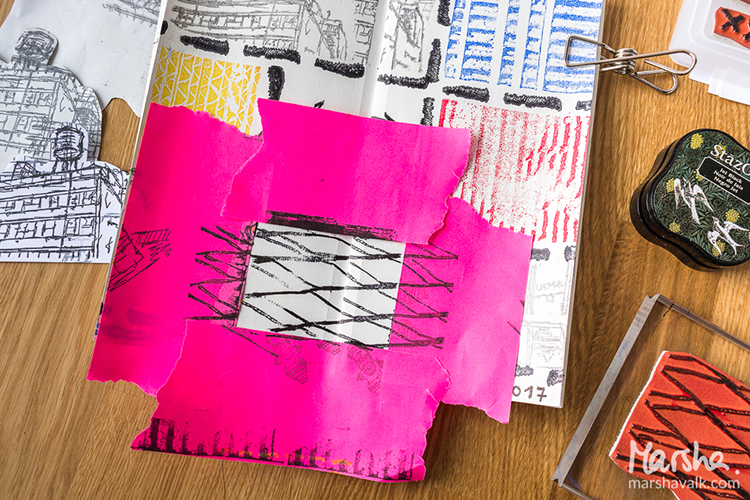 And then I just stamped my compositions on top, starting with the grids and then filling in the spaces with colour and pattern, using post-it tape and scraps of paper to mask off and protect parts of the design whilst stamping. I'm not sure why, but I didn't feel that the compositions with straight lines looked right. So I tried some more on a diagonal square piece of cardstock, which I liked much better.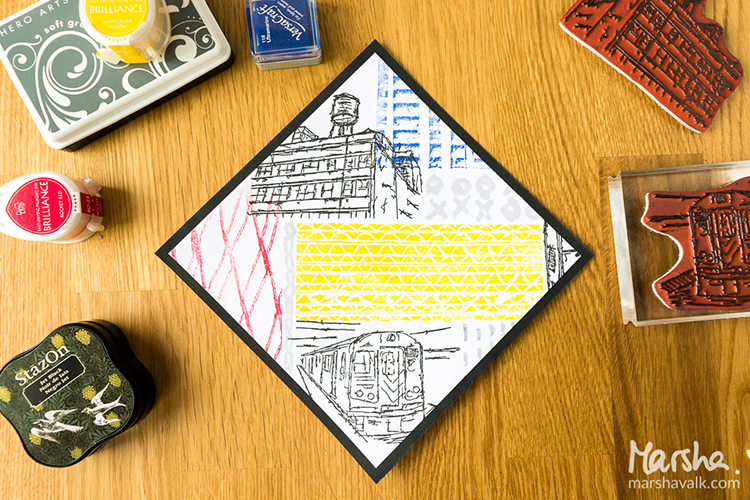 But then it occurred to me that having the paper diagonal wasn't very practical for, for instance, making cards. So I continued to play with diagonal lines and blocks of colour and left the paper straight.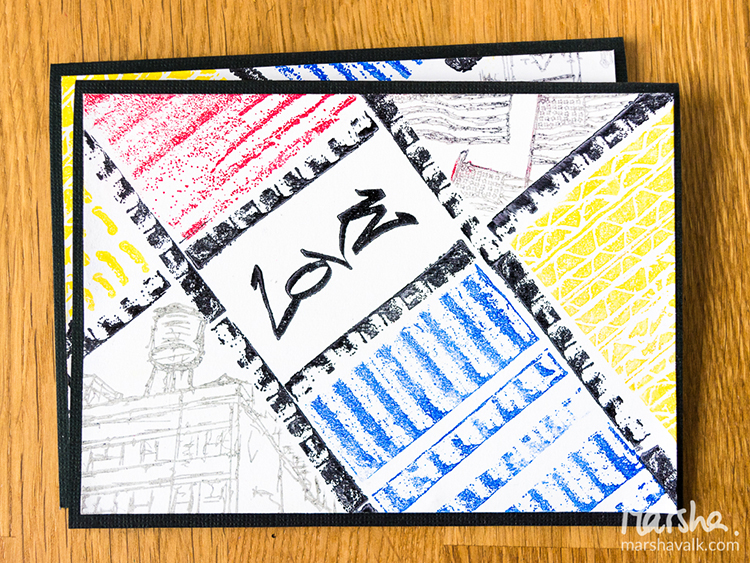 Once the ink was dry, I adhered the cards I liked best onto black folded notecards.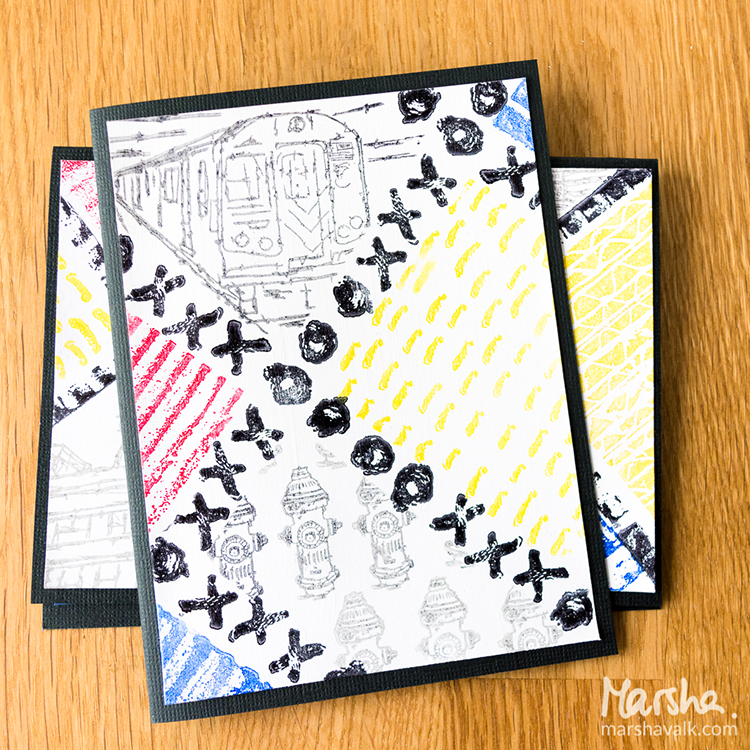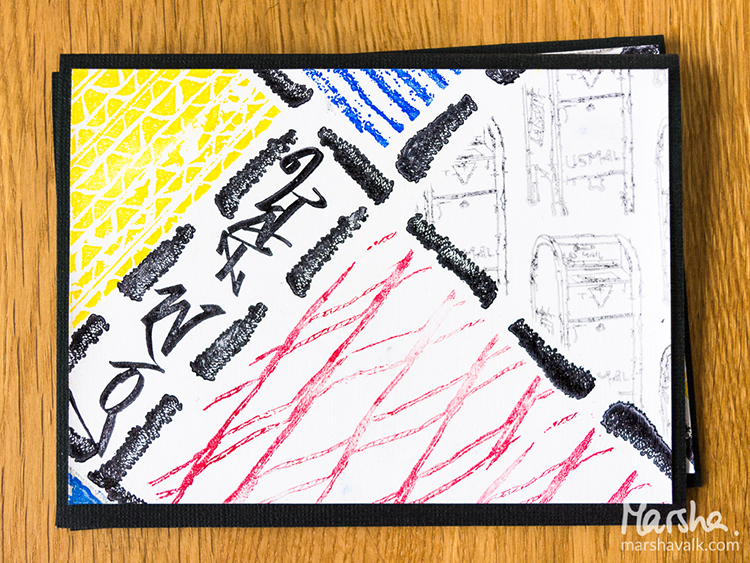 Conclusion: creating pleasing compositions with just blocks of colour and lines is much harder than you might think. I hope you try it too. It's an interesting and fun exercise!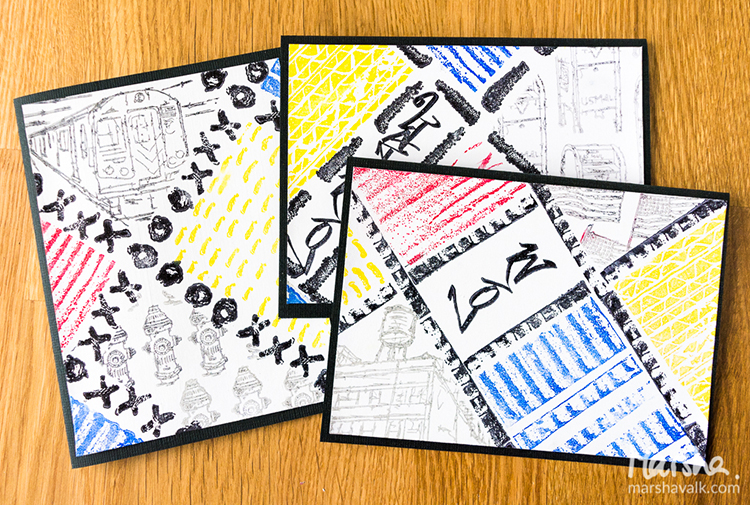 ---
Thank you Marsha – these rock! And so cool that your 'hood is celebrating such an important artist! Marsha used the following supplies (some are affiliate links):

Play along with us this month and join the 30 day Artful Adventures Stroll Challenge! I love to see how you interpret our monthly themes. Email me how you used my stencils and stamps with the theme and email me an image – I would love to share your projects in my "n*Spiration From Around the Globe".