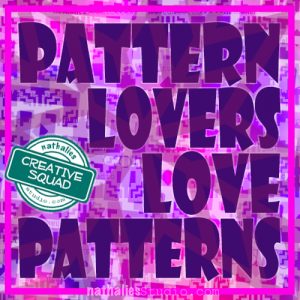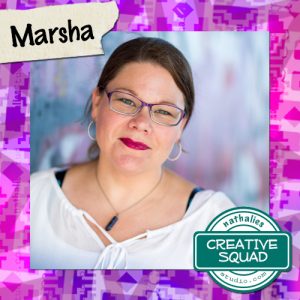 Happy Tuesday from the Creative Squad! Today Marsha Valk brings us a fresh and colorful set of tiles for the home using my  Santiago stencil and my Embroidery stamp set. This month's theme is: Pattern Lovers Love Patterns: We admit it – sometimes we go a little crazy over cool patterns. We see them everywhere and whether it's in the human-made stuff all around us or in the designs by Mother Nature, we love them all. So this month we're playing with pattern and giving it the attention it deserves!
---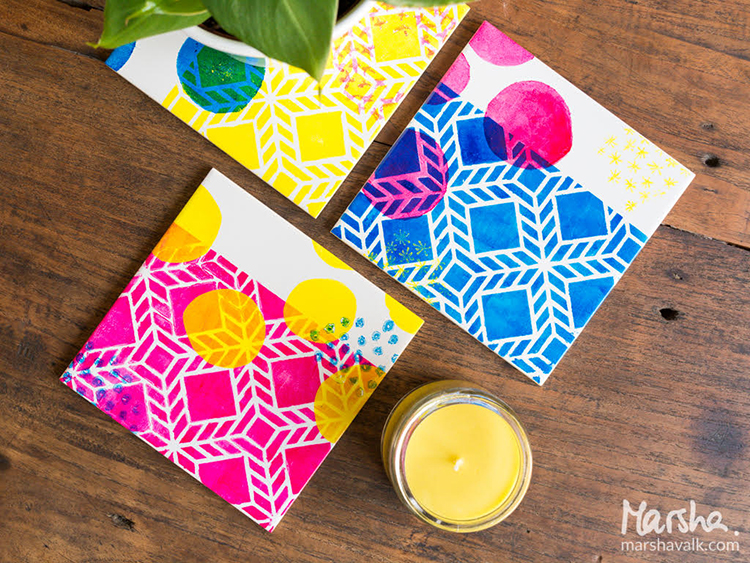 I love patterns! I'm especially drawn to clear, graphic designs and that's why I love Nat's stencil designs so much!
We're in the middle of painting our living room and I've been dying to add a splash of fresh colour to our home decor. So that's why I decided to decorate a couple of plain white ceramic tiles, that I plan on using as coasters or to put plant pots on.
Here are the steps I took: First clean the tiles before you start. They need to be dry and free of grease.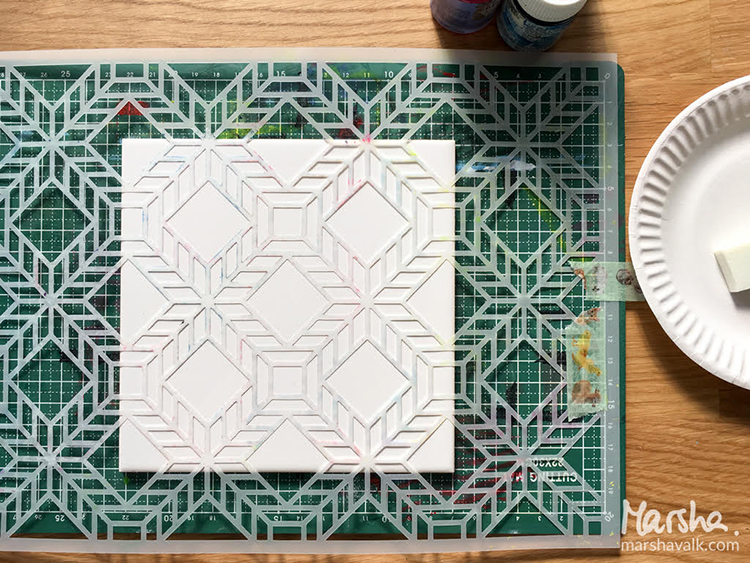 Place the Santiago stencil on top of the tile. Use tape to keep the stencil in place. You can also use washi or masking tape to block off parts of the tile you want to keep white.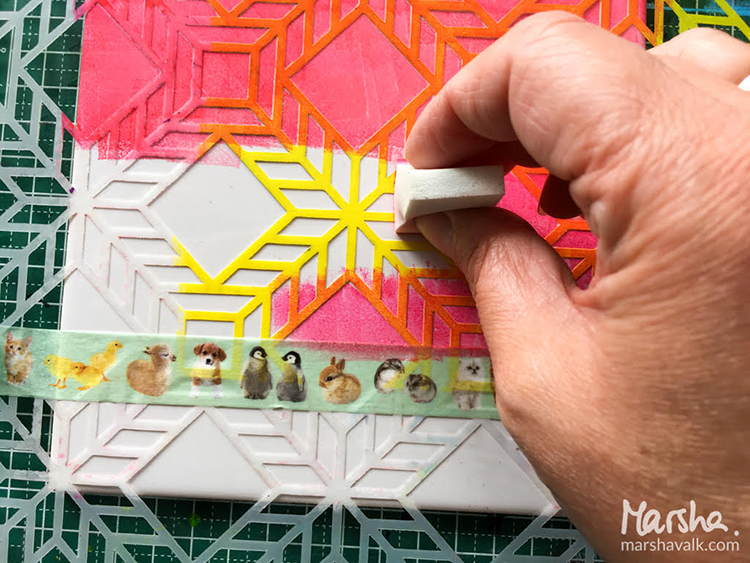 Use a cosmetic sponge to dab porcelain paint through the stencil onto the tile. Dab the cosmetic sponge in the paint and dab the excess paint off before applying it to the tile. Keep the sponge as dry as possible to prevent the paint from seeping under the stencil.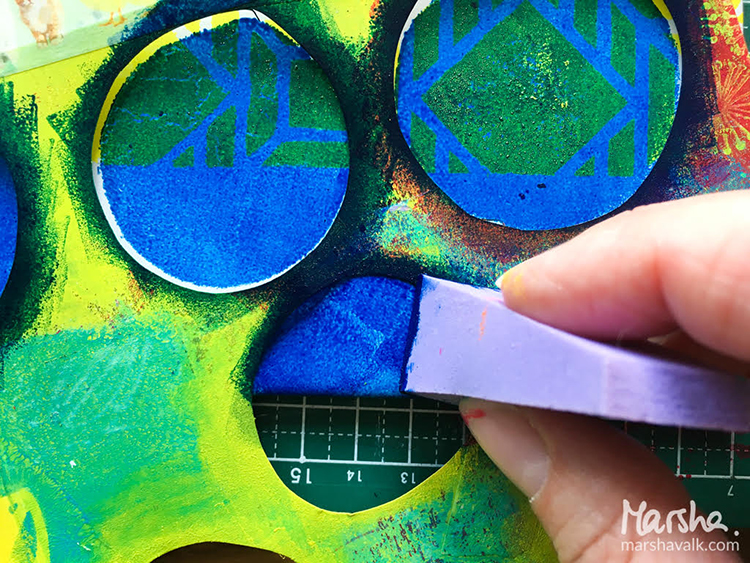 I used a hand-cut stencil to apply the circles onto the tiles.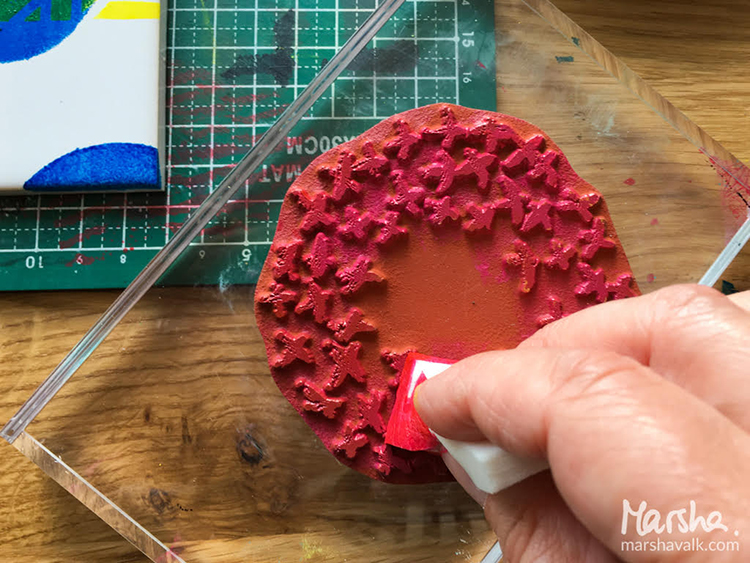 Dab paint onto one of the stamps from the Embroidery set (in this case the Cross Circle stamp) using a cosmetic sponge and stamp the image onto the tile.
Let the paint dry and then let it harden following the instructions on the porcelain paint you are using. To become wash resistant, the porcelain paint I used needed to harden in an oven at 300F/150ºC for 45 minutes.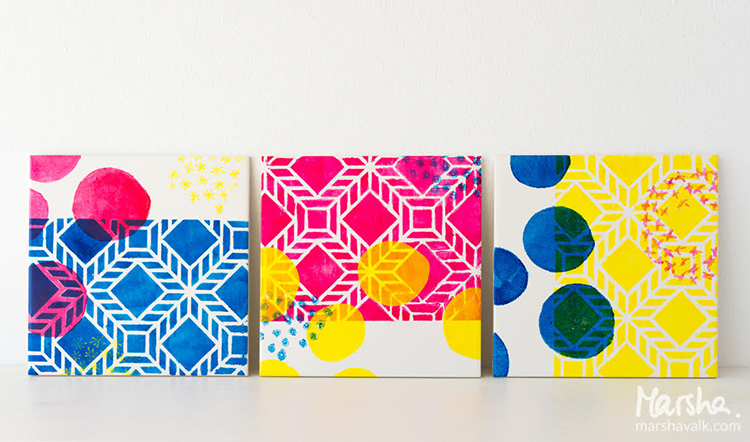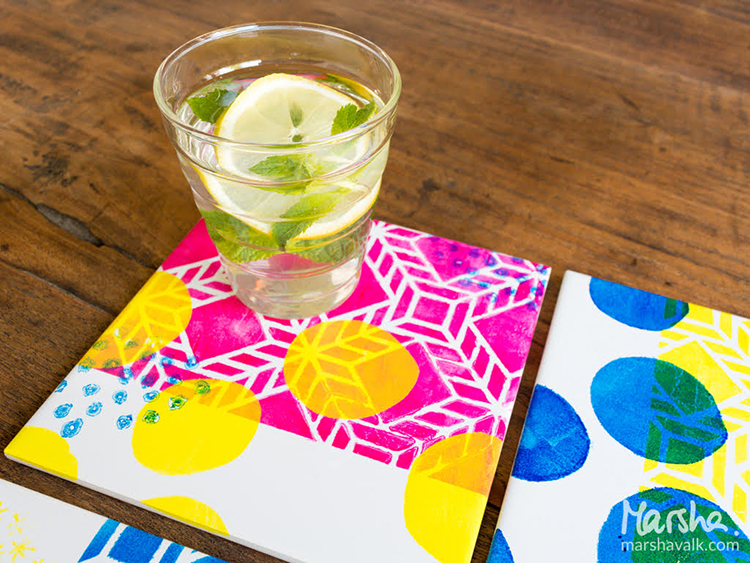 ---
Thank you Marsha – these are a great project for the home! Marsha used the following supplies (some are affiliate links):

Play along with us too! I love to see how you interpret our monthly themes. Email me how you used my stencils and stamps with the theme and email me an image – I would love to share your projects in my "n*Spiration From Around the Globe".