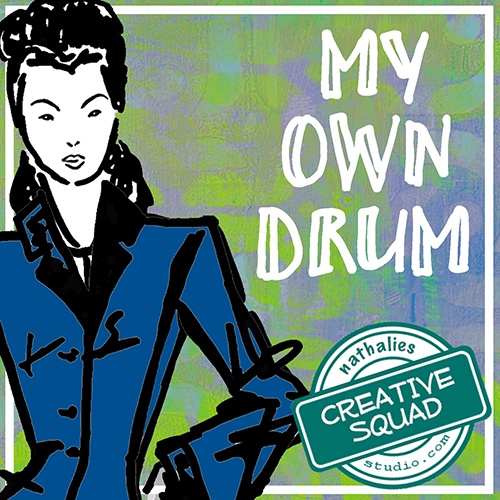 Happy Tuesday! It's time for my Creative Squad to share a project with you with this month's new theme: "My Own Drum". Throughout the month of June, the team will use my new Fashion Dame Rubber Stamp Set to interpret the theme. This theme is all about inspiration, creativity, and personal expression. I asked my squad to create something that celebrates the power of individuality. March to the beat of your own Mixed Media drum this month!
We are kicking off with an art journal page from Gwen Lafleur. This is a super inspiring reminder to us all to do what we love, even if it means covering stuff up :)
—————————————————————————————————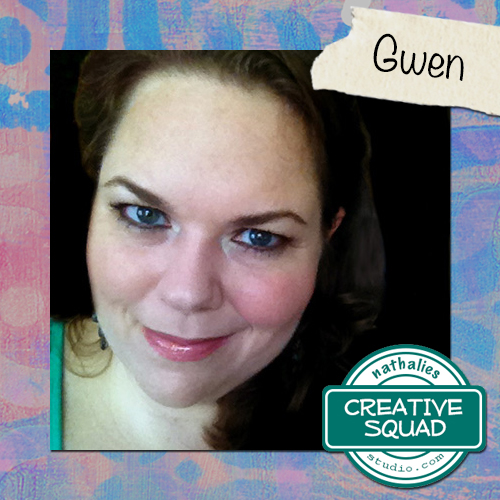 This month's theme, "my own drum" was perfect for me, and lots of fun to work with! I tend to be a bit of a loner – I'll go off on my own or join up with tour groups where I don't know anyone else and go on crazy, exotic adventures. I'm also usually one that follows what I like rather than what's trendy in clothes (even as an 80s child in elementary school, I knew parachute pants weren't a good idea for me. LOL.) I'm the same with music, food, and especially with my art! Don't get me wrong… I love to see what new things other people are doing and what tools and techniques are cool. That's how we learn, right? But more and more, it's important for me to take whatever I learn and go in my own direction as much as possible; to be true to myself in my work, even if no one else likes it.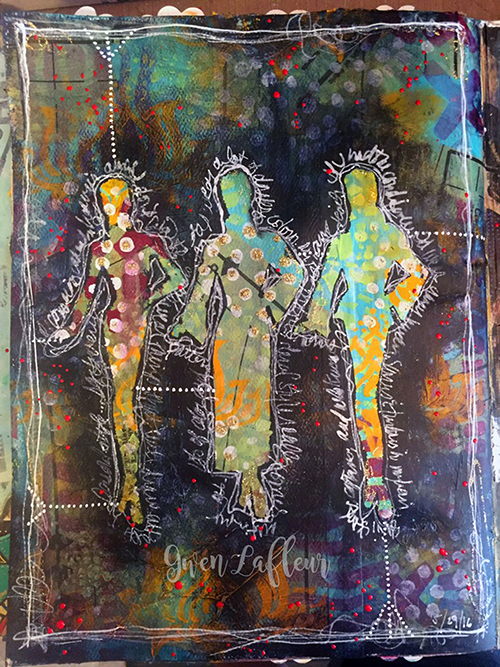 For this month's project I took those thoughts and used them to create this art journal page. I used the Fashion Dame stamp set and created three silhouettes as my focal point – in my mind, they're three different aspects of me. There's a bit of a double meaning to the color and pattern on this page… first, something I like to do a lot in my work that really bothers some people is to cover things up. Second, I love the idea of the inside of the silhouettes being full of pattern and bright colors while the outside is extremely subdued. I think that speaks a lot to my own personality (and the rich inner life of an introvert. Ha!)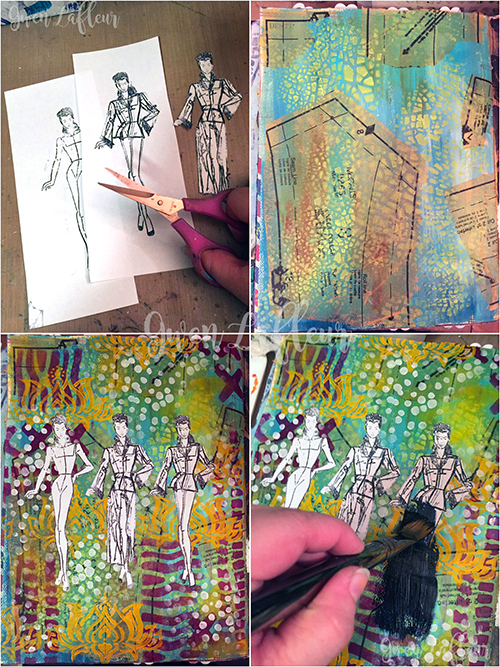 To make this page, I started out by stamping with the Fashion Dame stamp set – I did different combinations of the body and clothes to get the three silhouettes. I just stamped them on copy paper and then cut them out. Next, I prepared my background. I gesso'd and painted, then I collaged on pieces from a sewing pattern (I couldn't resist the tie to fashion!) I did some stenciling on top with some of Nathalie's StencilGirl stencils. Once I had a nice hot mess of color and pattern, I took my three silhouettes and adhered them securely with repositionable adhesive. Next is the part that upsets some people… I took some Payne's Gray paint and mixed it with satin glazing medium, then proceeded to paint over the entire page.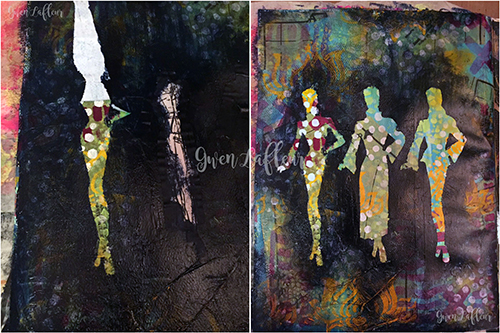 For the next step, I use baby wipes to push back a little of the wet paint. I wanted most of the page to be at least somewhat veiled with the darker color, especially near the silhouettes. Then I peeled off the masks / silhouettes (do this while the paint is still wet so it doesn't seal down the edges of the mask.) I love the contrast of the areas that were masked off versus the dark background with just hints of pattern and color showing through.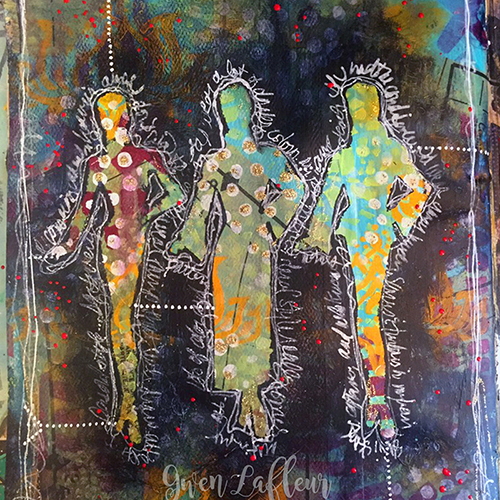 To finish it off, I took a fine line painting pen and filled the well with white acrylic ink. I used this to add the journaling around the silhouettes and to put a border on the page. I added the dots with a white paint pen, then used red fluid acrylic paint mixed with airbrush medium in a fine line applicator to sprinkle some dots around the page. Voila! A finished art journal page that shows how I like to march to my own drum both in my art and in life.
—————————————————————————————————
I think it is so cool that Gwen followed her instincts with the dark overlay – this is what the  theme is all about and the results are gorgeous.
Besides the supplies listed below (some are affiliate links), Gwen also used a vintage sewing pattern and Hermafix temporary dot adhesive: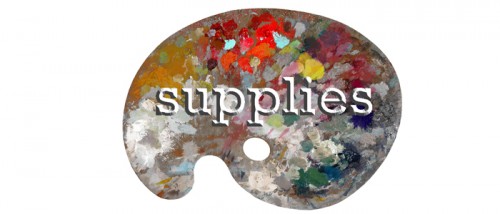 Maybe you will even play along with us -I would love to see how you interpret our monthly themes. Email me how you used my stencils and stamps with the theme and email me an image – I would love to share your projects in my next "n*Spiration From Around the Globe"!
See you next Tuesday for another project from the Creative Squad!