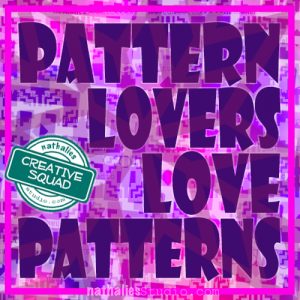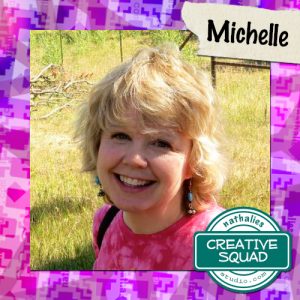 Today we have a project from the Creative Squad! Michelle Rydell is sharing a really happy and colorful journal cover using my Santa Fe stencil and my Embroidery stamp set. This month's theme is: Pattern Lovers Love Patterns: We admit it – sometimes we go a little crazy over cool patterns. We see them everywhere and whether it's in the human-made stuff all around us or in the designs by Mother Nature, we love them all. So this month we're playing with pattern and giving it the attention it deserves!
---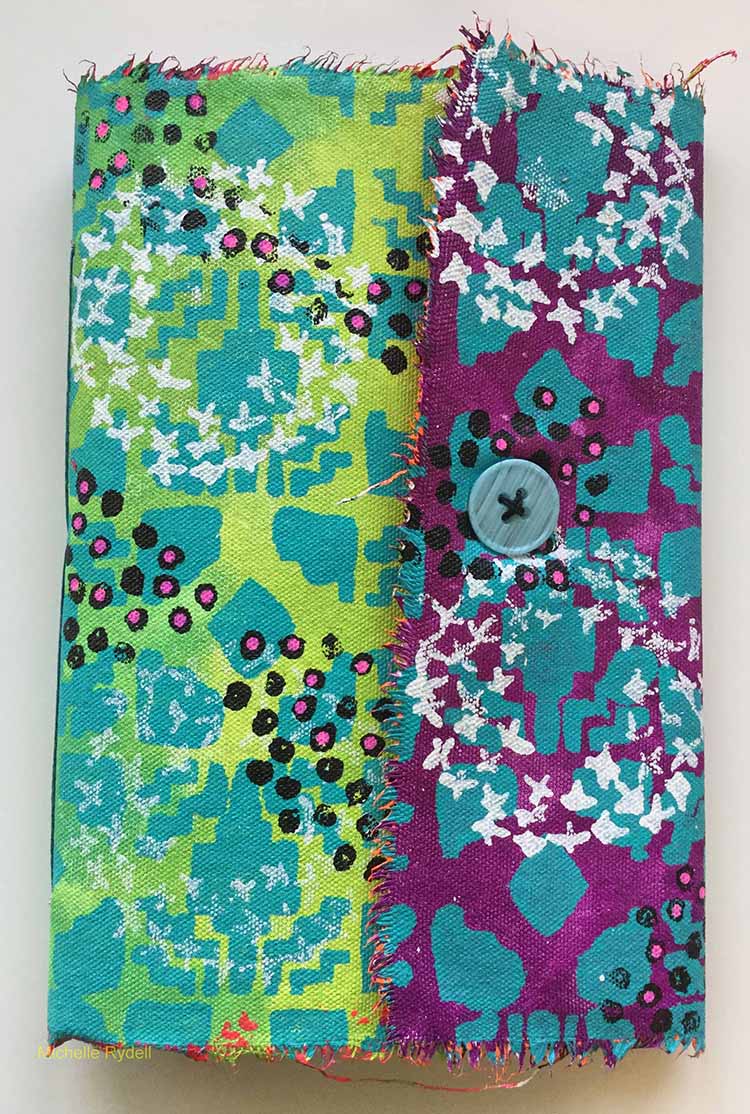 One thing I love just as much as art journaling, is making the journals to journal in!  When I heard that the theme for this month was Pattern Lovers I thought it would be perfect to do a journal cover!
I started by folding some 9 x 12" paper in half to form a 6" x 9" journal. I cut/tore a long piece of unprimed canvas 9" high to match the height of the journal.  Then I wrapped it around the papers to decide how long to make it.  I wanted enough to create a flap.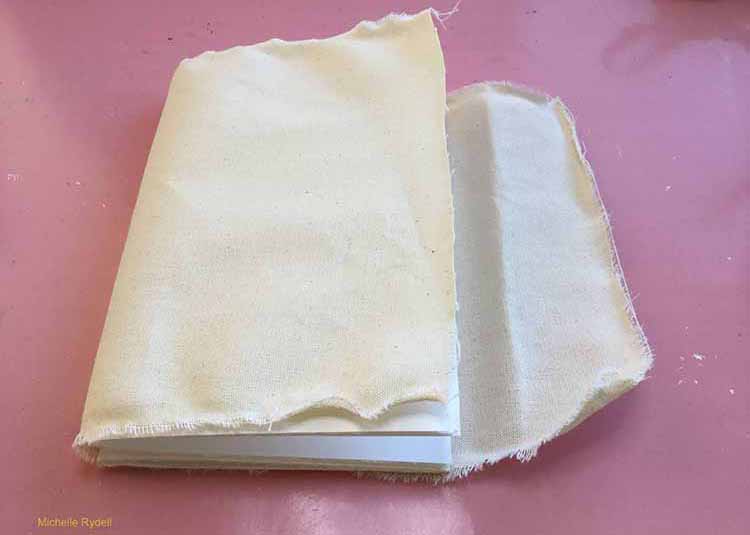 I primed the canvas on both sides with some white gesso.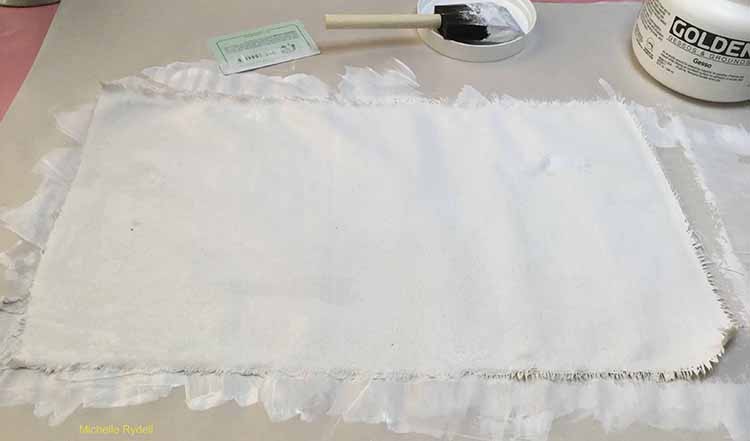 I wanted the outside of the cover to be a progression of cool colors, so I used a makeup sponge to rub on some acrylic paint in lime green, turquoise and purple.

Then I sponged some teal over the whole thing with the Santa Fe stencil. I love how the blue creates a different effect depending on what color it is combined with…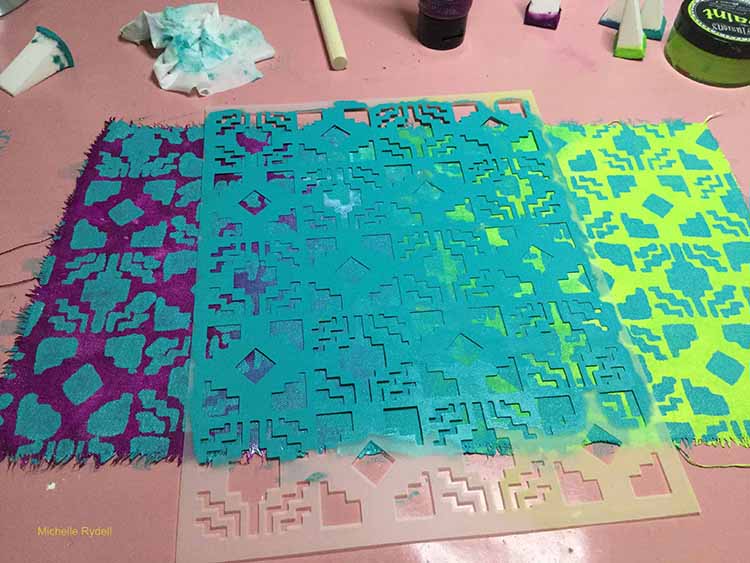 I used white gesso to stamp the Cross Circle stamp (from the Embroidery set) randomly.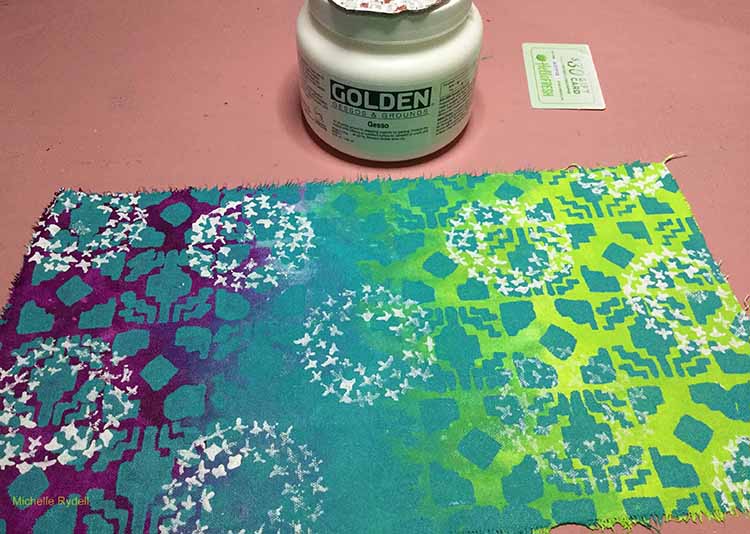 Then, I added the Grannies stamp with black for contrast.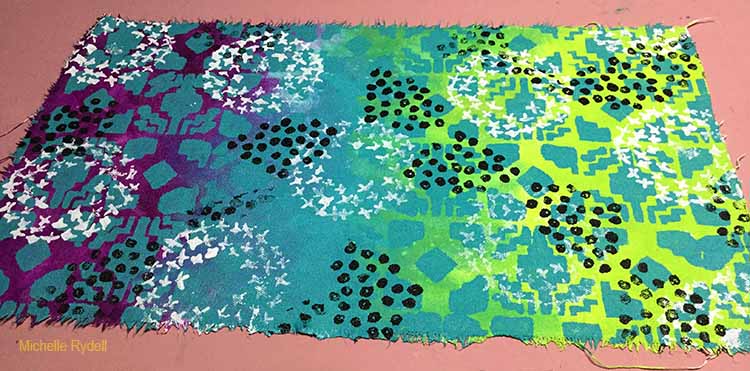 As a final touch, a little pink was added with a paint pen to fill in some of the circles.
Then I flipped the canvas over to paint the inside. For high contrast I used warm colors to create a similar progression as a base.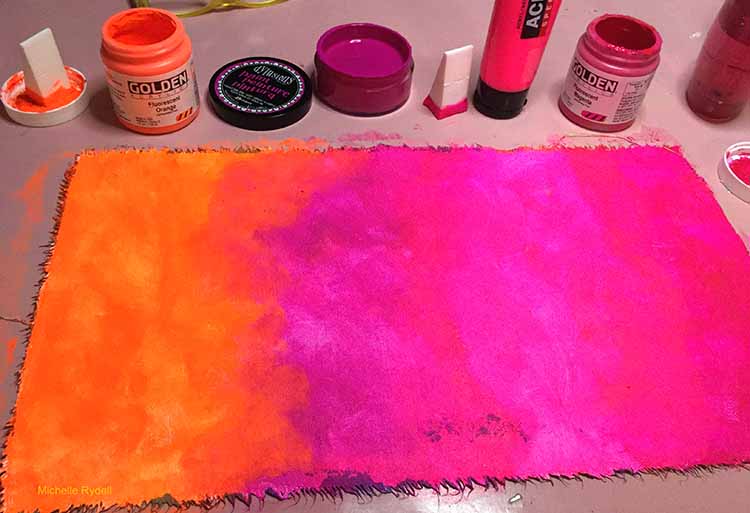 Then, used the Running stamp with white gesso to create an all-over pattern, and the cover was done!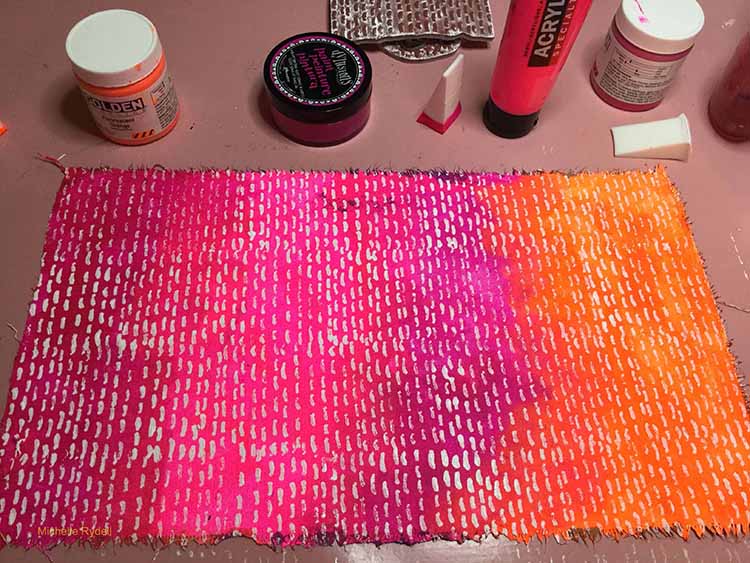 Here are some photos of the completed journal.  I made a slit in the flap and sewed a button to create a closure. I used a simple pamphlet stitch to sew in the signatures.  I hope you enjoyed this tutorial!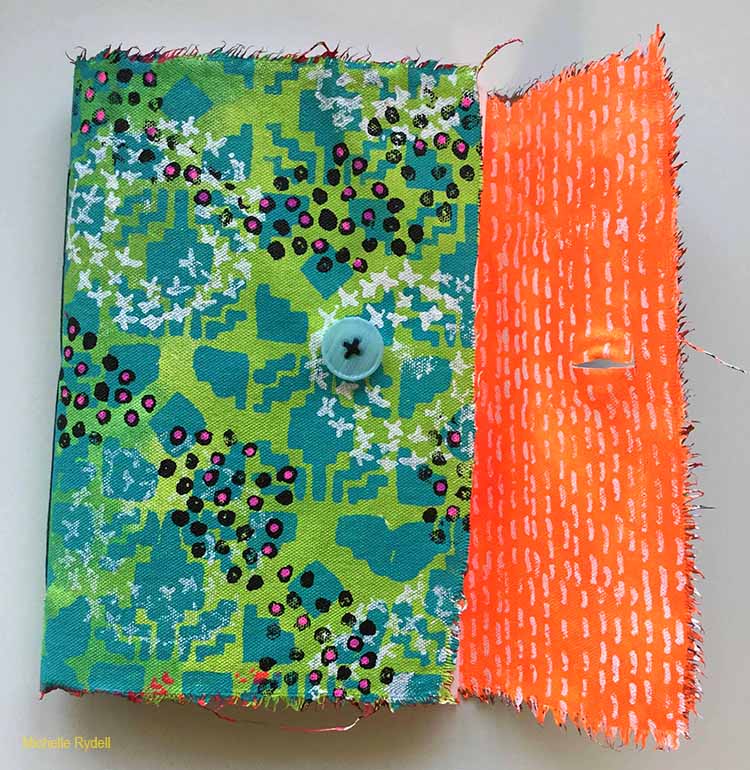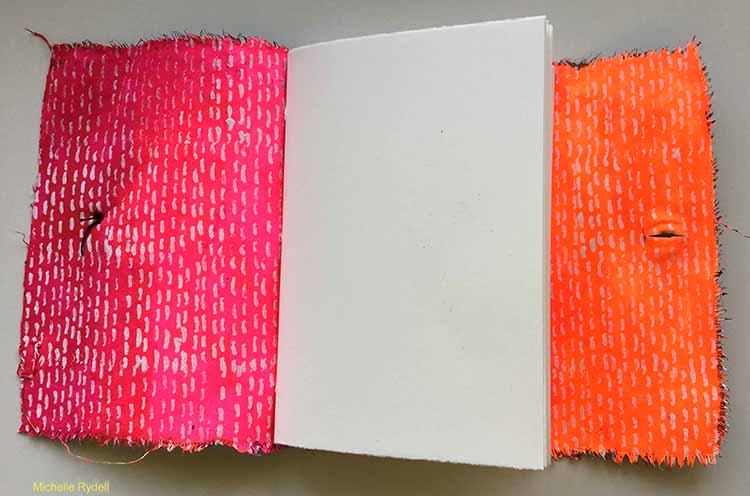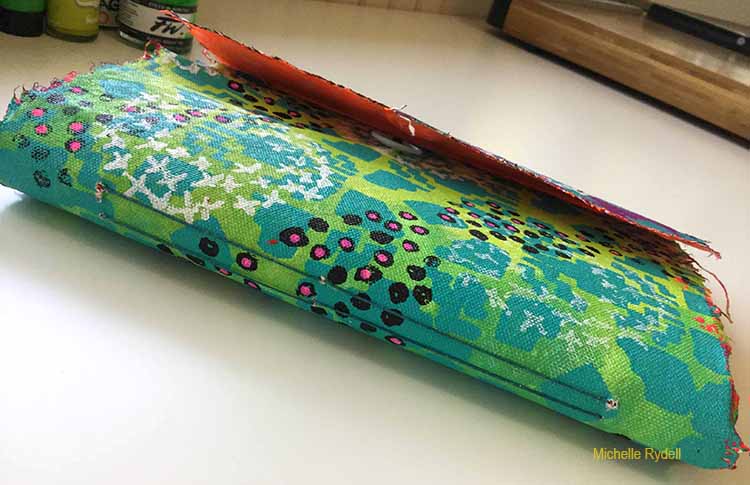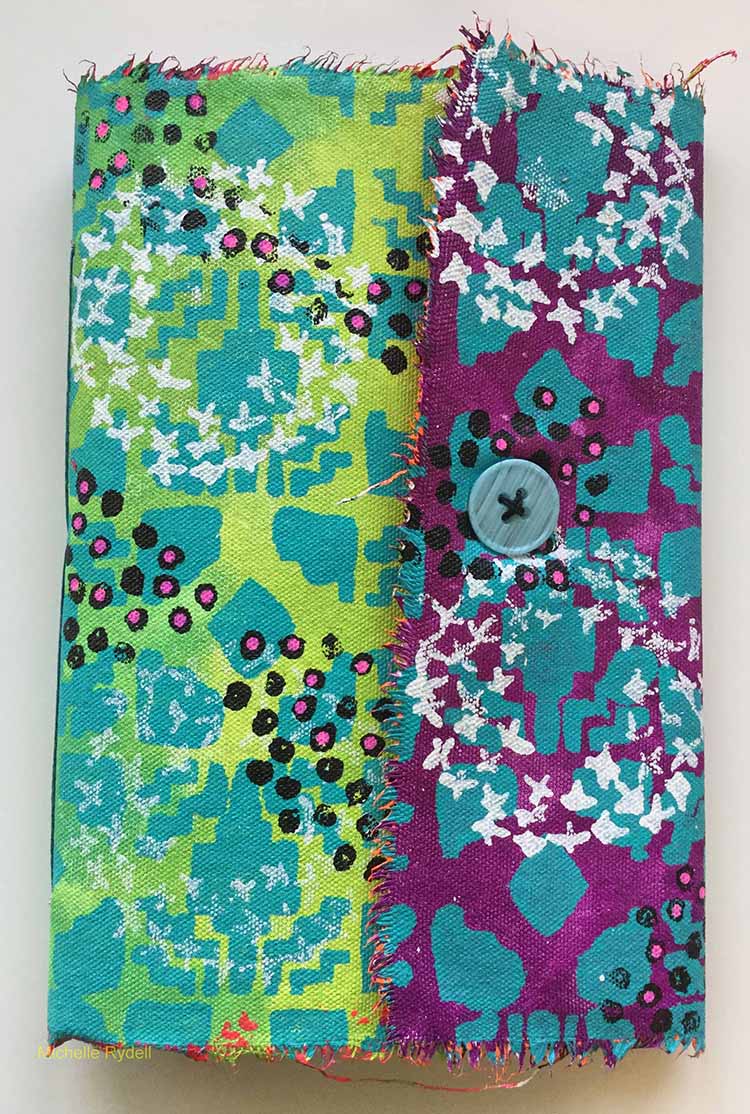 ---
Thank you Michelle for sharing your project with us! In addition to a button and some thread, Michelle used the following supplies (some are affiliate links):

Play along with us too! I love to see how you interpret our monthly themes. Email me how you used my stencils and stamps with the theme and email me an image – I would love to share your projects in my "n*Spiration From Around the Globe".