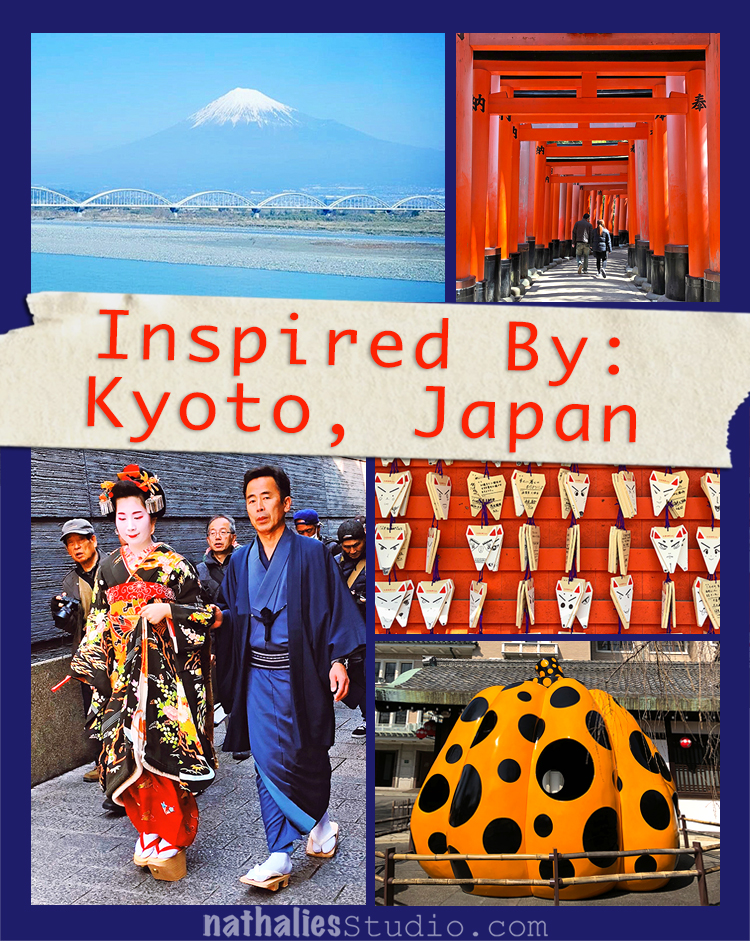 After we spent a couple days in Tokyo, we took the Shinkansen to Kyoto.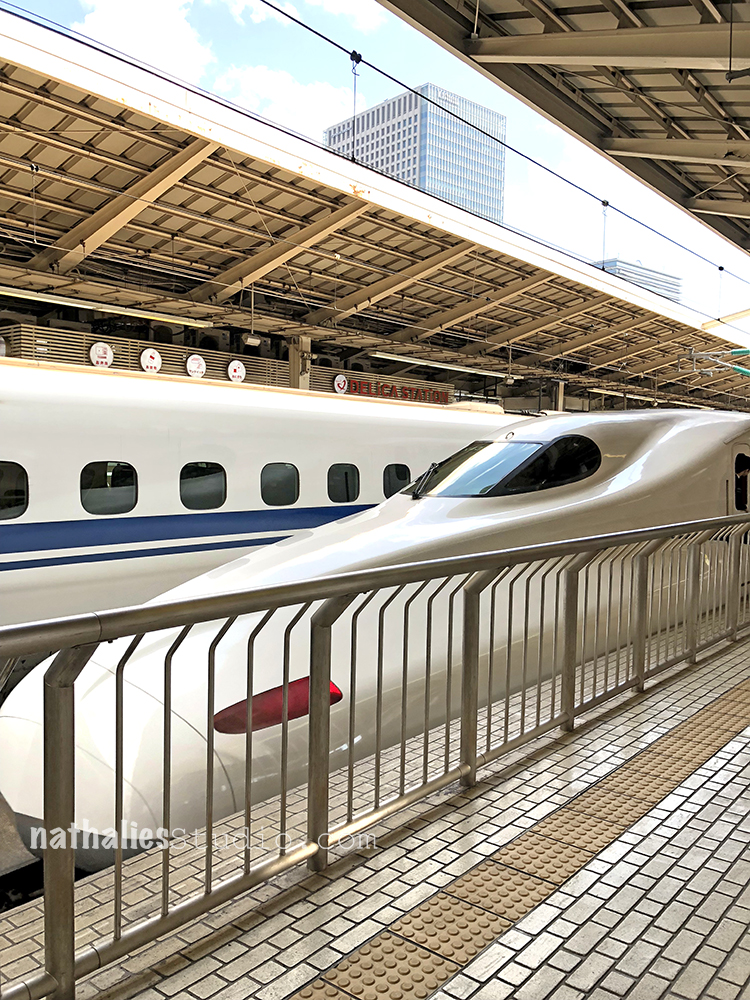 I am spoiled with nice trains from Germany …the ICE is a pretty nice high-speed train- but the Shinkansen steps it up a notch – very pleasant traveling in it and 2 1/2 hours later you are in Kyoto.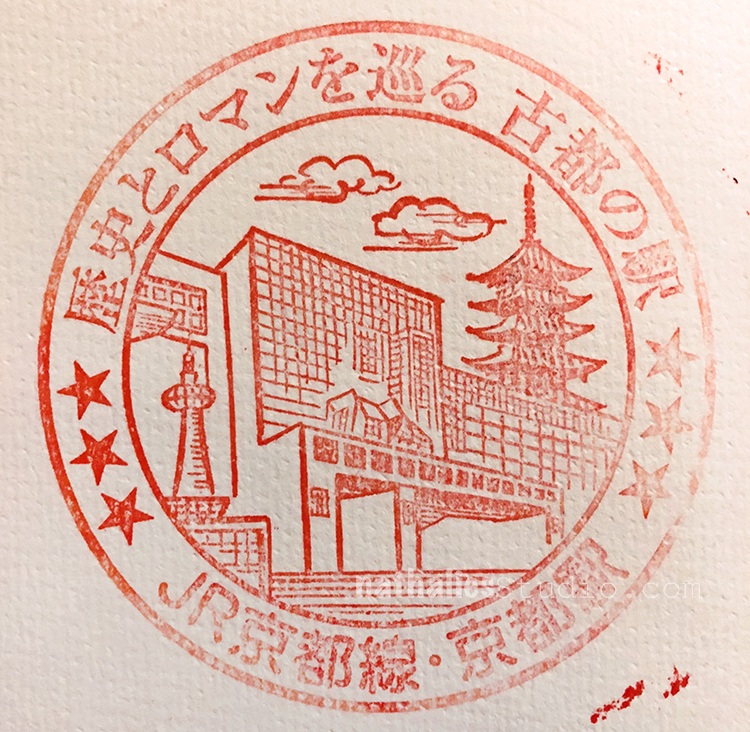 This is a train station stamp from Kyoto. Almost every train station in Japan has a stamp that shows symbols and buildings around the location. I collected them in my travel journal – if you go to Japan bring a red ink pad with you as some of the station ink pads are a bit dried out.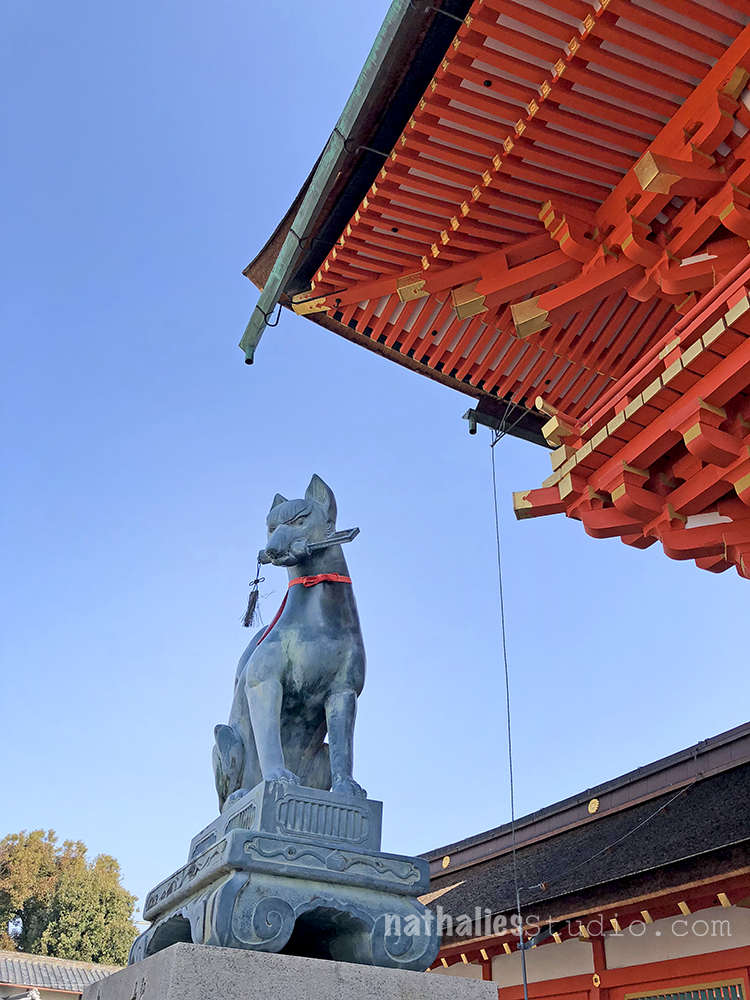 A bit outside of Kyoto is the Fushimi Inari-taisha Shrine. A reoccurring theme at the shrine are foxes – some fox statues carrying a key in their mouth.  The fox is the messenger of Inari, as well as the shrine guardian. You often see shrine guardians wearing a red bib added by worshippers out of respect.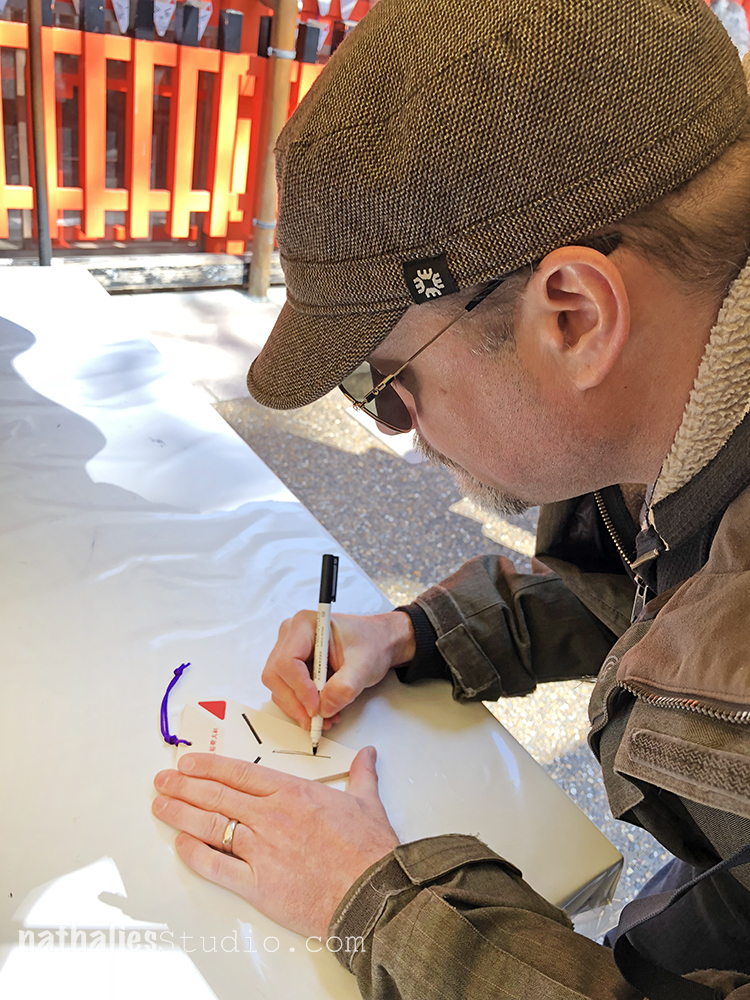 Every shrine seems to have their own individual Ema – a wooden wishing plaque. You can purchase them and the fox plates at this shrine are actually made so that you can fill and draw in your own fox face design. On the back of the plaque you write your wish and then hang it up.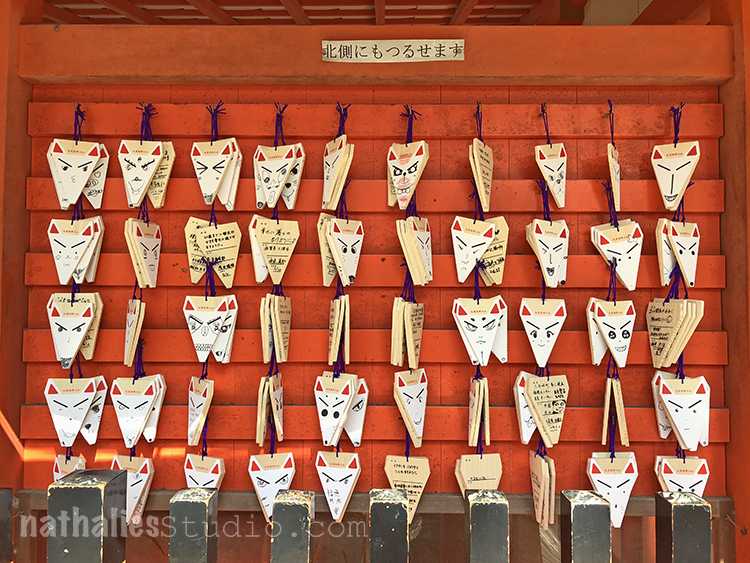 Look at all the different faces.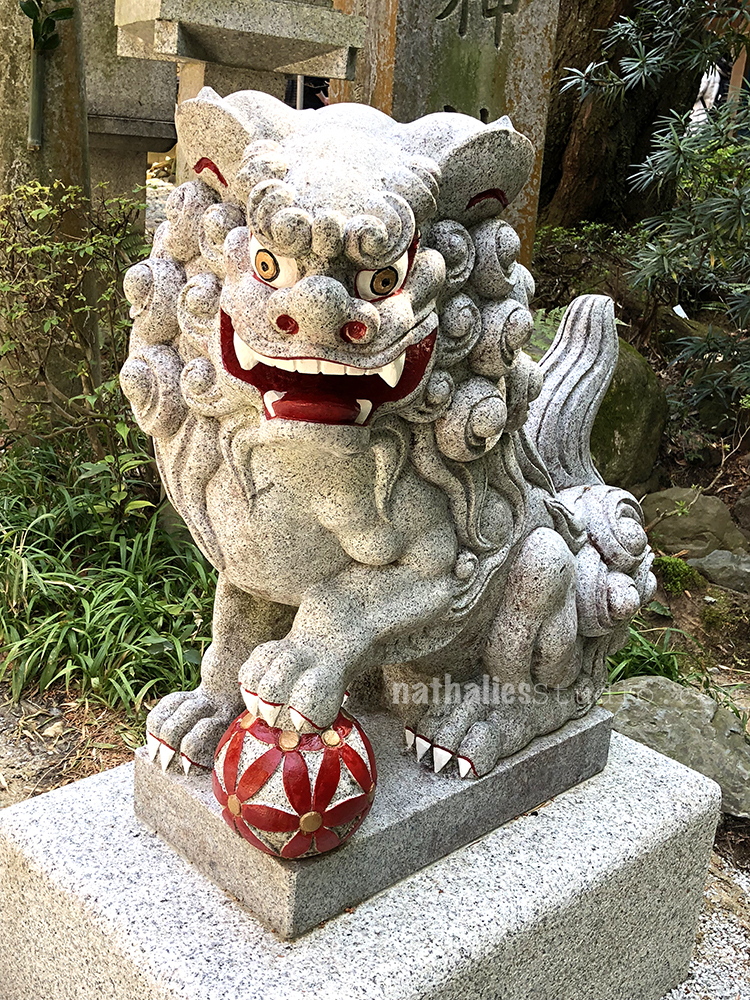 Another Shrine guardian – a lion dog.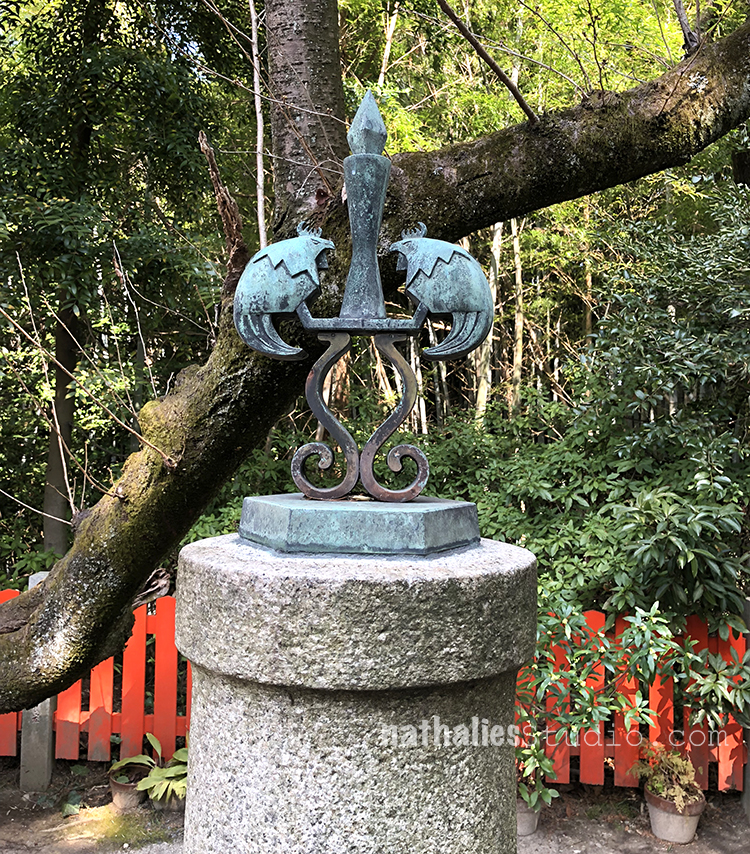 Such a beautiful walk up the mountain to the shrine.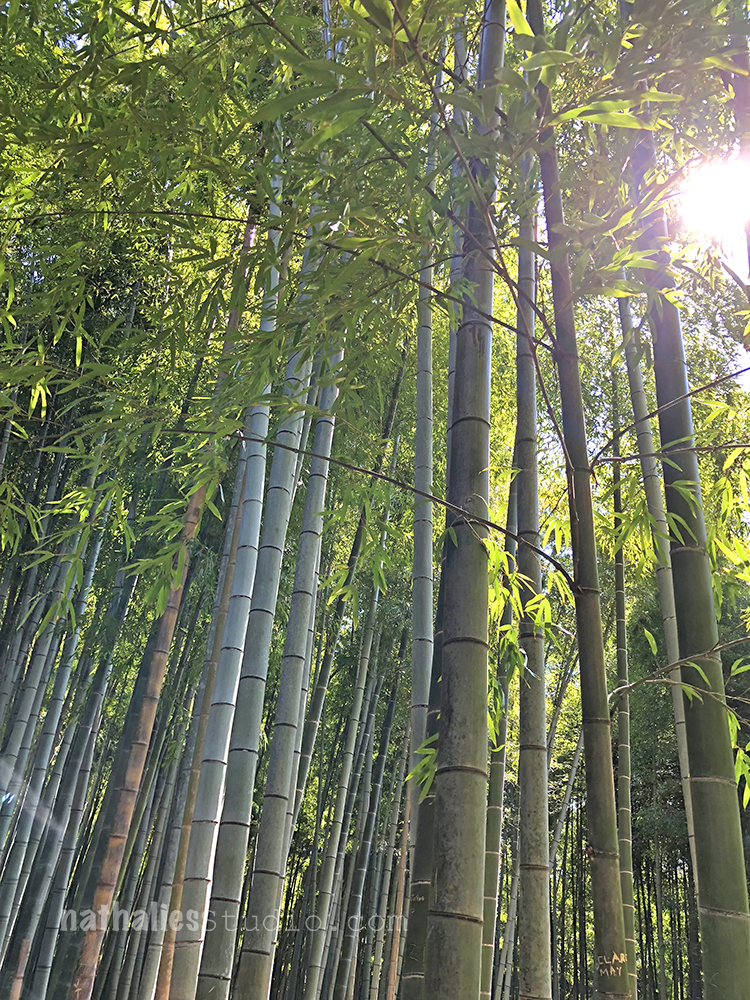 through a little Bamboo forrest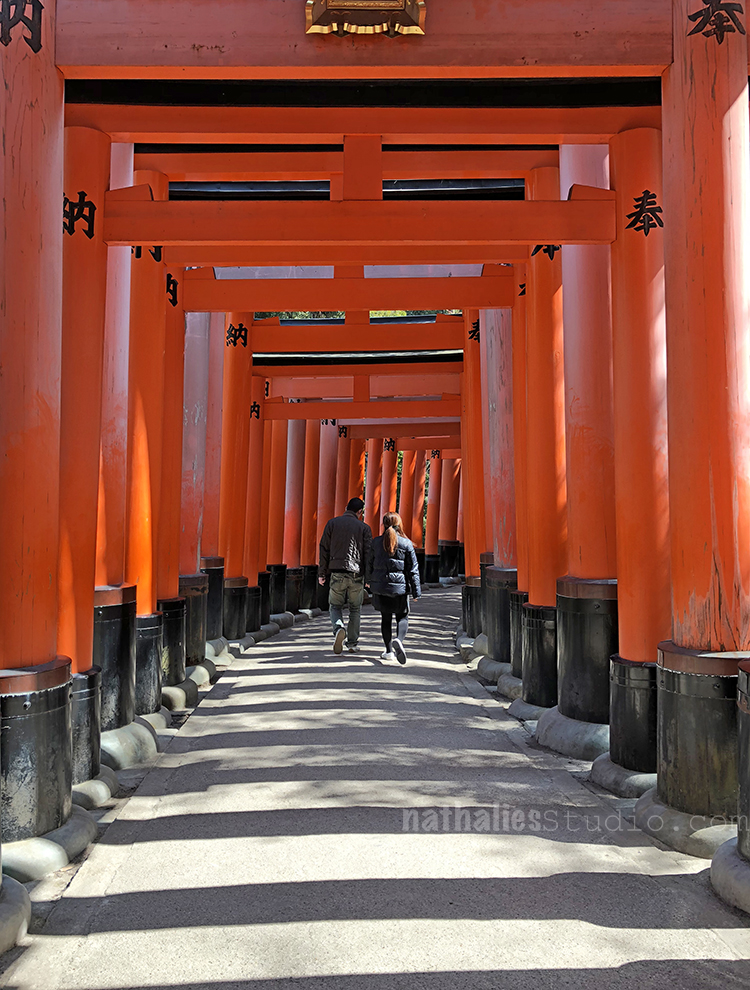 and thousands of Torii Gates- that was so beautiful and of course a lot of us remember the scene of Memoirs of a Geisha.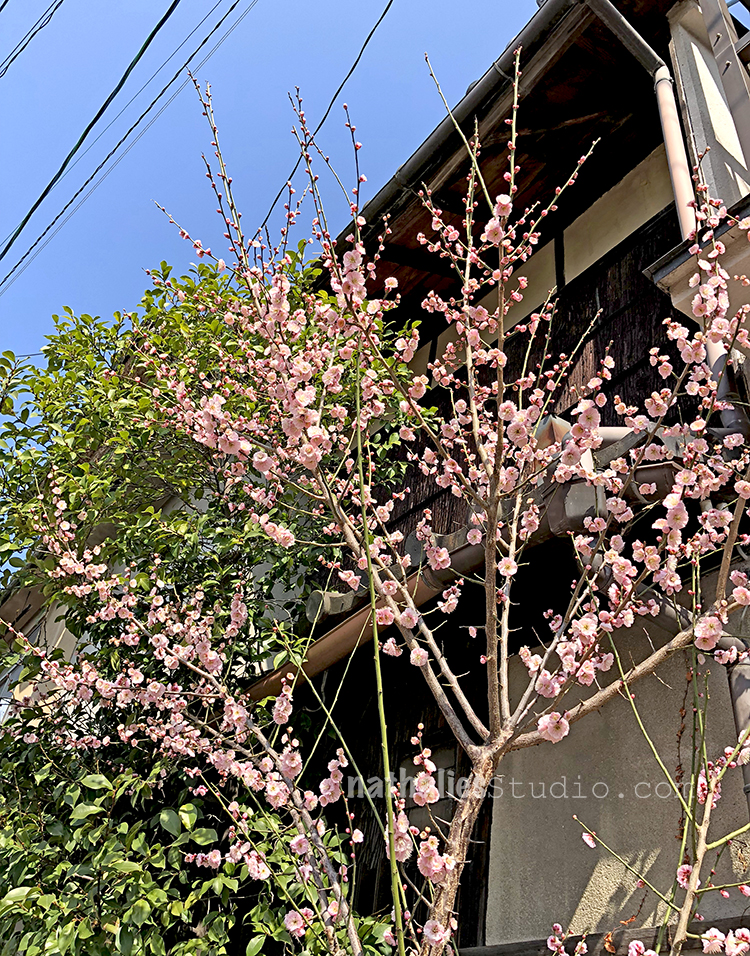 First signs of Cherry Blossom in Kyoto – so beautiful!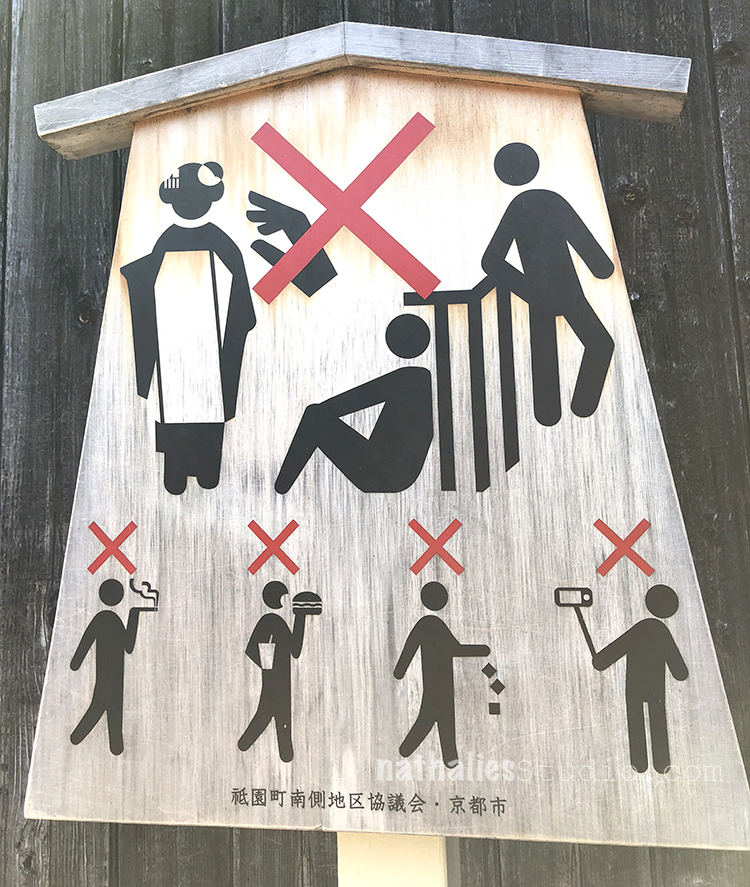 But also interesting signs in Gion – I cannot believe that you actually have to tell people to not touch a Geisha- seriously? What is wrong with people?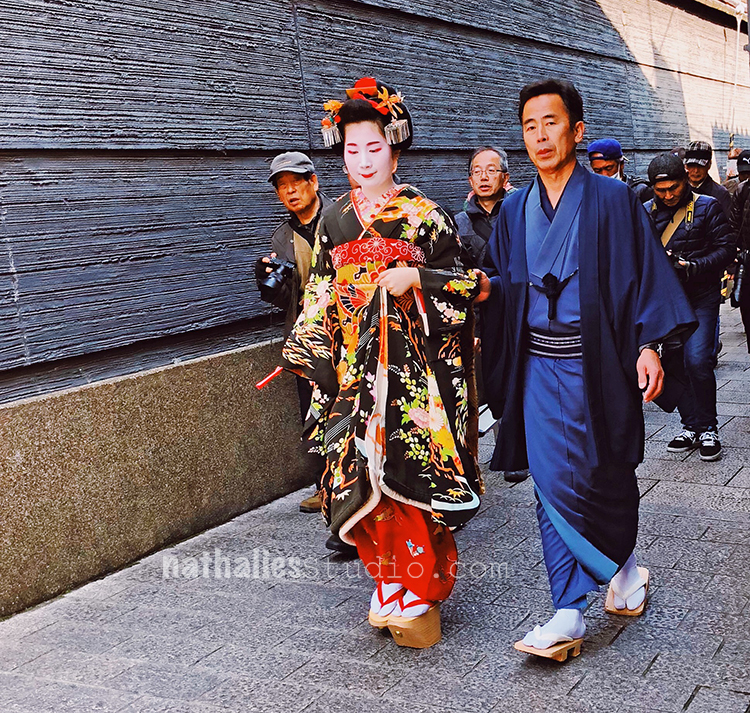 And then all of a sudden I was standing at an alley way – this beautiful stunning Maiko appeared with a huge entourage of photographers following her. I cannot really describe it but the way she moved and looked was one of the most beautiful sights I have ever seen. A Maiko is a trainee  before she becomes a Geisha (and no Geishas are not prostitutes! )Maiko are trained and constantly training in traditional Japanese arts, such as dancing, singing, classical Japanese instruments and the tea ceremony.  I asked one of the photographers why they were following her all and he told me that this was a very special day and something you would not see often, as for this Maiko it was her Misedashi – basically her graduation day where she turns into a Maiko and gets introduced into the neighborhood. This Maiko's name is Nanoha as I found out later.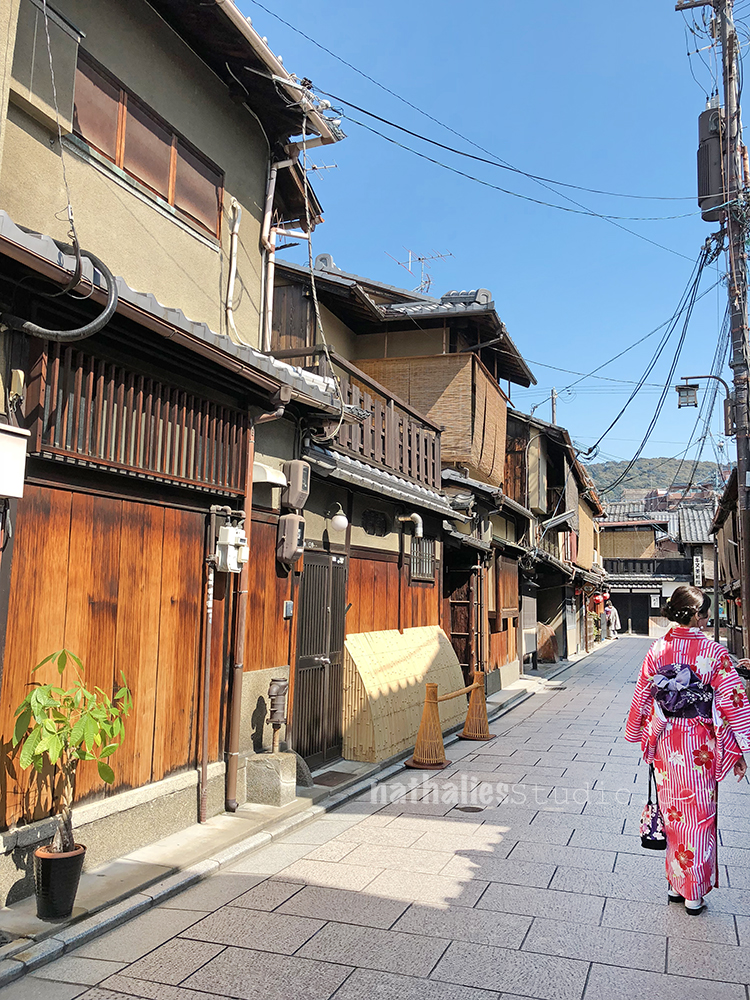 I loved the Gion neighborhood with it's traditional wooden houses and a lot of people walking around in traditional kimonos.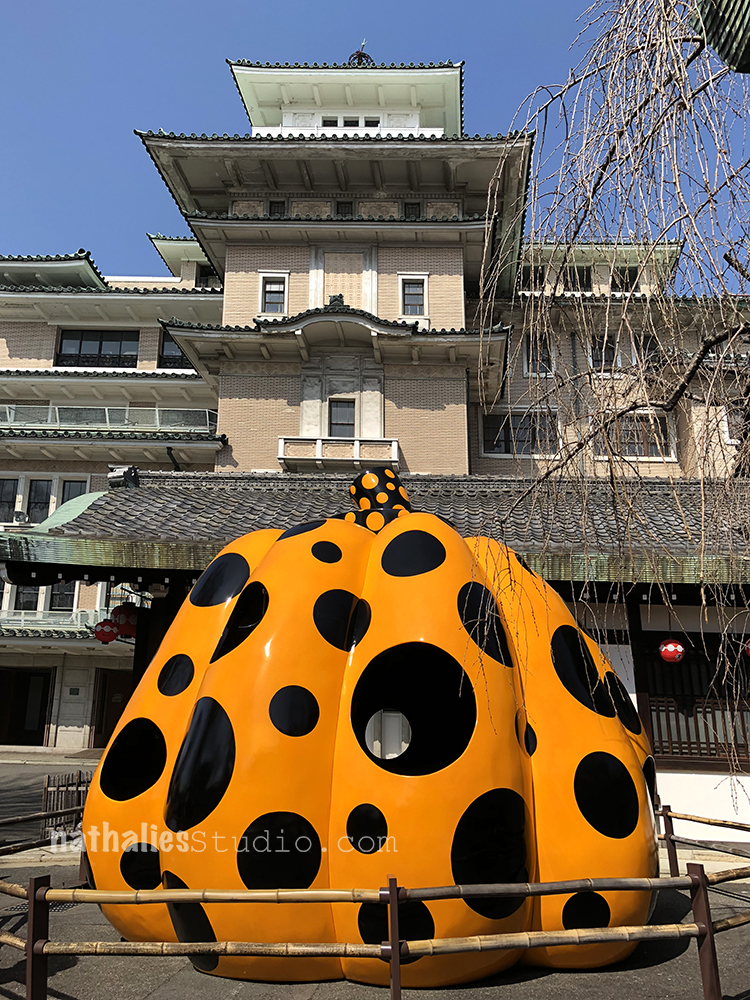 A dotted pumpkin by Yayoi Kusama also in Gion.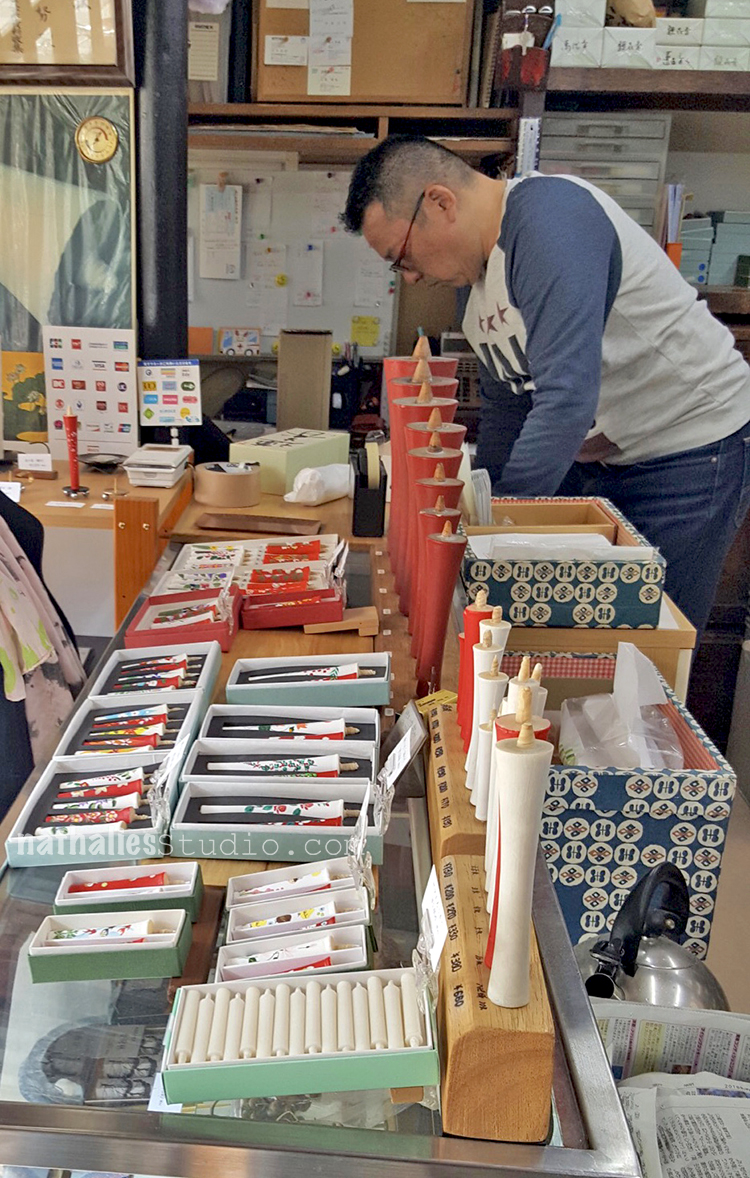 I had seen a documentary at home on how these beautiful traditional candles often used in temples are being made. They are made with handcrafted vegetable wax and burn a long time. When I did some research I found this little store in Kyoto where they are sold and we went and bought some.Tanji Renshodo sells mostly to Buddhist temples. It was such a wonderful little store and you can actually see where they are made.  If you are in Kyoto- step by and buy some – they make wonderful gifts!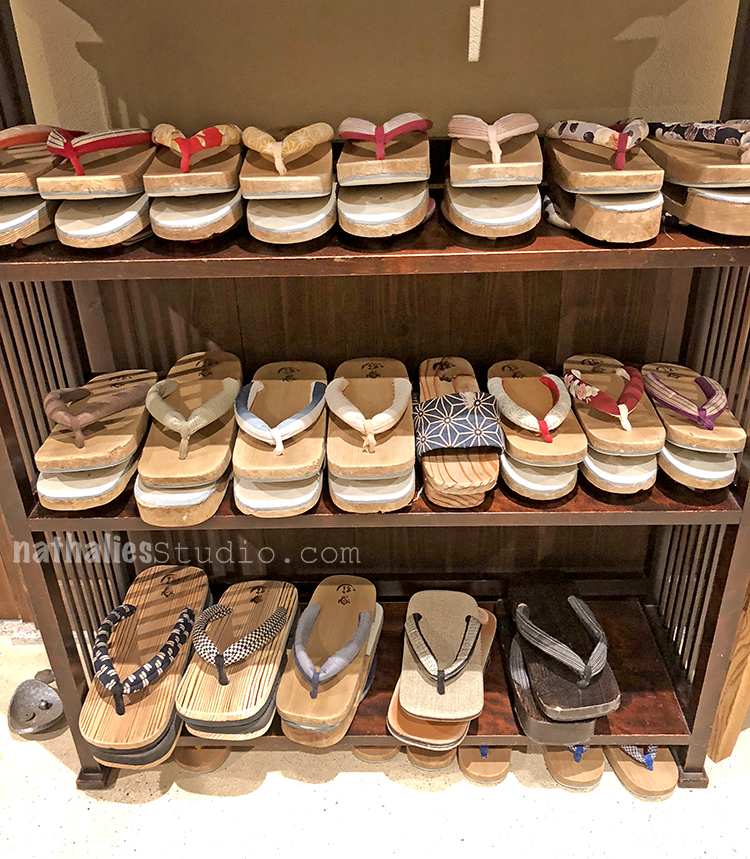 We stayed in a really nice Kyoto guesthouse – sleeping on traditional tatami mats on a futon and you have to take your shoes out upon entering your room – here is the slipper shelf – loved that.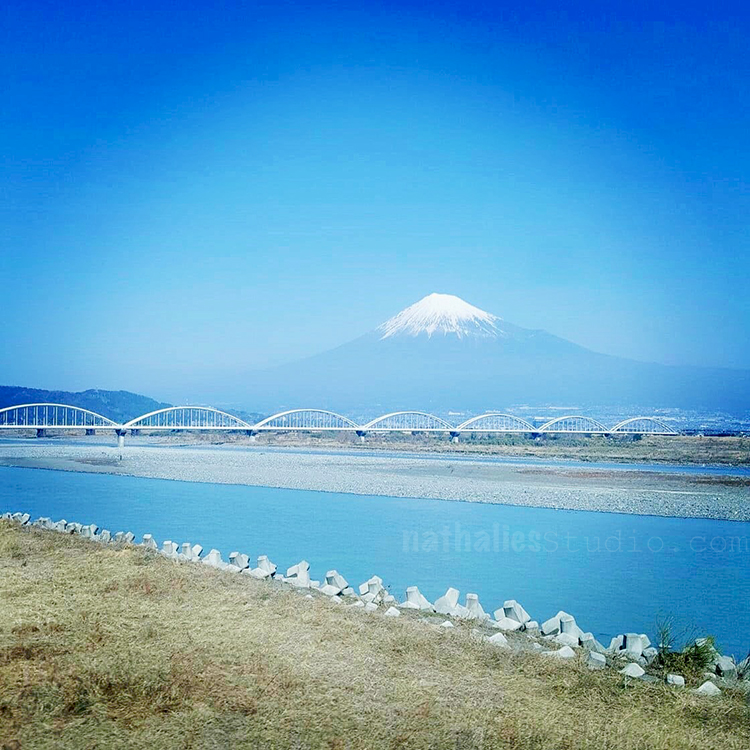 And here is Mount Fuji as seen from the Shinkansen on the way to Hakone. I will show some pictures from Nara next. I hope you enjoyed this post from our stop in Kyoto.