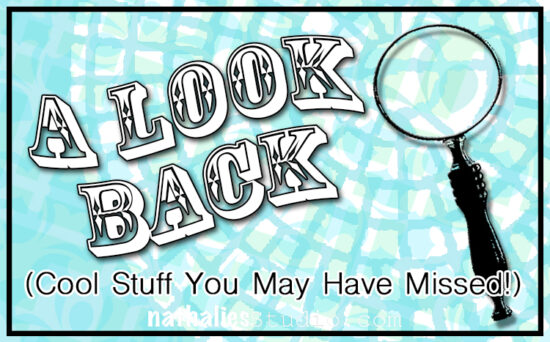 A Look Back – Want to know a great recipe for an art journal page? Just stencils and words. Yup. That's it. There are days when I feel the urge to sketch and other days I am in a stamping mood or feeling a layering vibe. And then there are days when I just want to get my words down and I want a background that is straightforward and comes without too much exertion. Not everything needs to be complicated. Let's take a Look Back at a few art journal pages that use just stencils and words.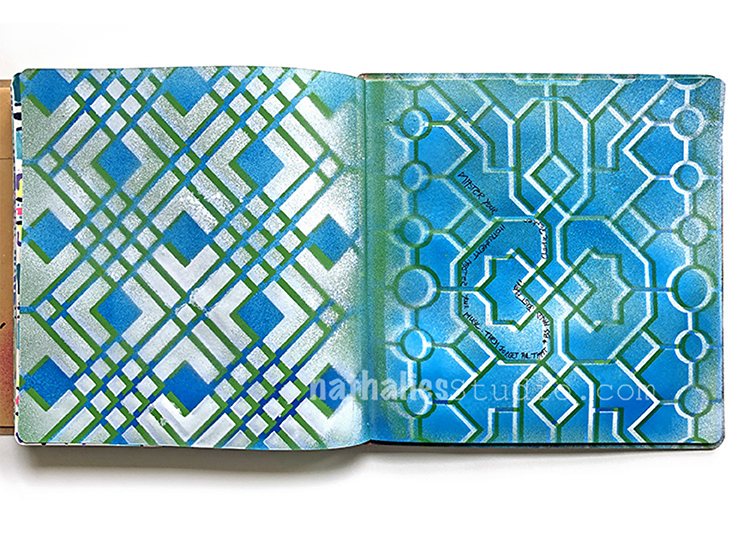 This art journal page was part of my Stencilbop challenge and uses two different stencils, Chicago and Exchange Place, along with acrylic spray paints. I love how fast it is to use spray paint with stencils, and shifting them slightly to create a shadow effect is a pretty cool trick. Where to journal on this one? Just follow the lines on the stencil :)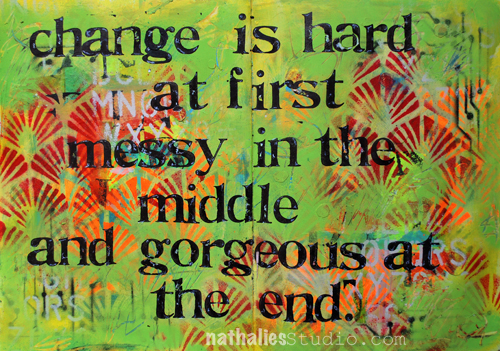 Two stencils work in harmony in this art journal spread that you wouldn't necessarily think to put together: Art Deco Wallpaper and Circuit. I think it came together because Circuit is "playing second fiddle" in this case and just providing a more delicate detail to balance the assertiveness of the Art Deco fan pattern. BUT the star of the show really is the boldly stenciled words. Play with what takes center stage – it could be a stencil or your journaling.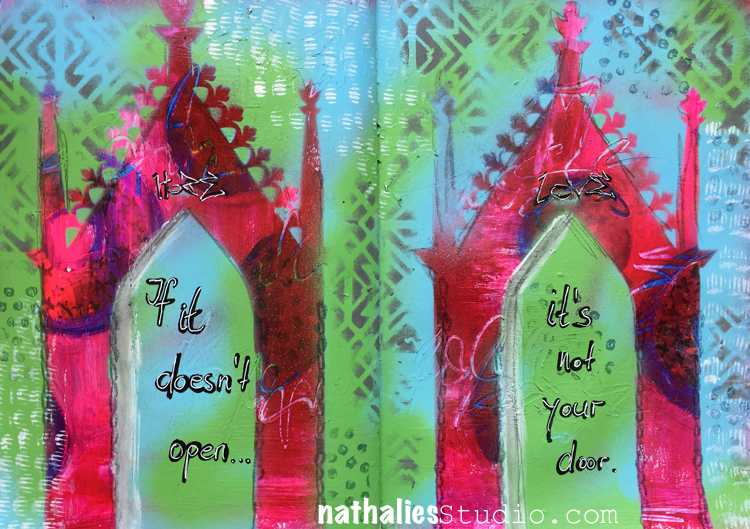 What is a stencil? In this spread I used my Toledo stencil but also a template to a shrine kit that I had. Think about what you have around that could work like a stencil when you are creating. In this case the shrine shape made the perfect spot to journal in.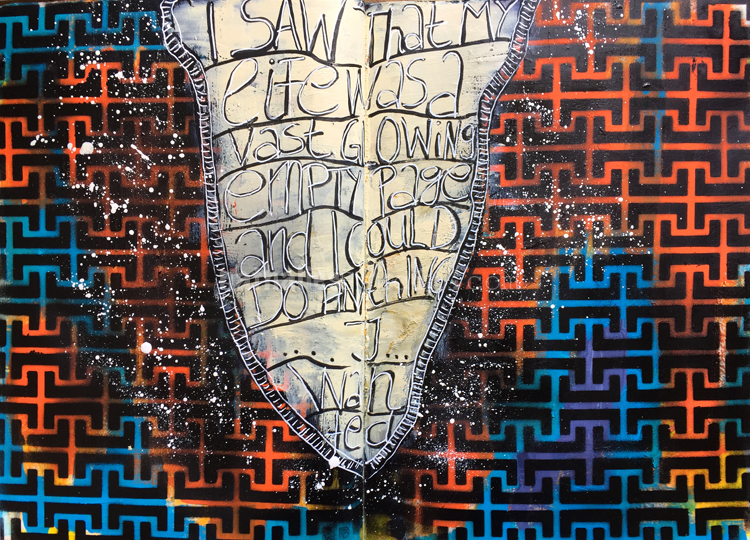 One stencil, bold colors, black spray paint, maybe a little paint splatter… Looks pretty sweet, right? When you have a cool pattern (like the Hamburg one here), you don't need much else. Leave a spot to journal and you have a winner. Check out the original post for this spread here.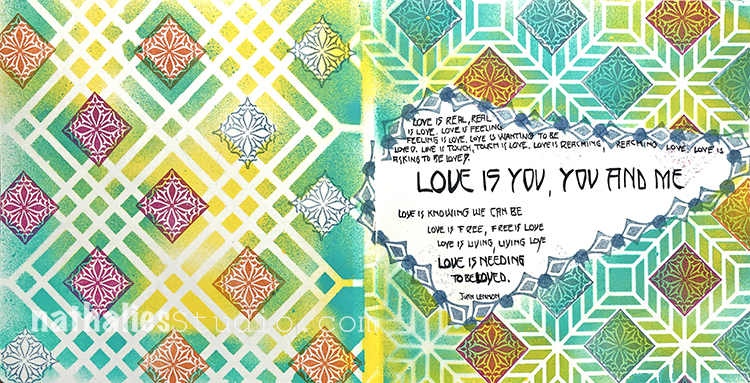 Okay I had to sneak this art journal spread in too just because of course you can go a bit further. Maybe you need a little something extra in there and no worries – you're the boss! Here I used my Chicago and Santiago stencils with spray paint, added a white area and my journaling, but also discovered how nicely my Floral Tile Small stamps fit the stencil pattern. So I added stamps too because some days all you need are just stencils and words… and stamps ;)
Now it's your turn: make some art journal pages using just stencils and words. Here are some of the supplies used in these spreads: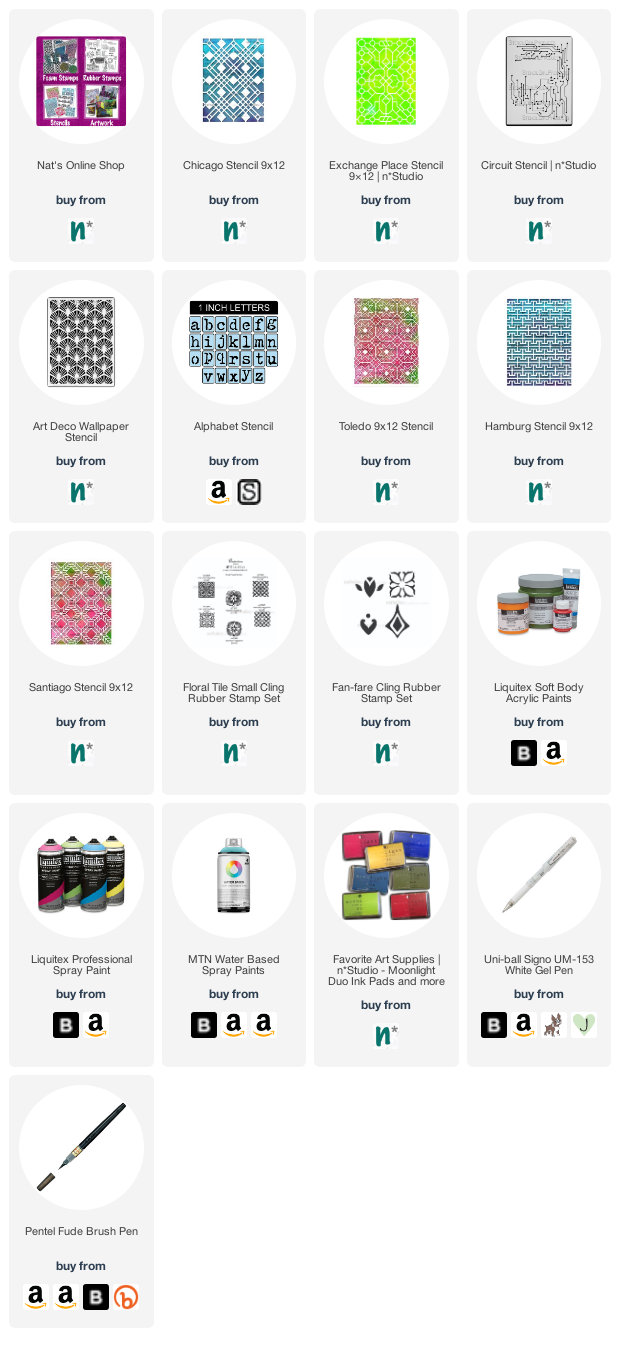 Look Back is a blog series to show you some projects and posts that you may have missed – sometimes going WAY back in the archive. I think it will be fun to revisit a few ideas that we haven't seen for a while. I'm excited to see how a little look back might inspire something new in the future :)