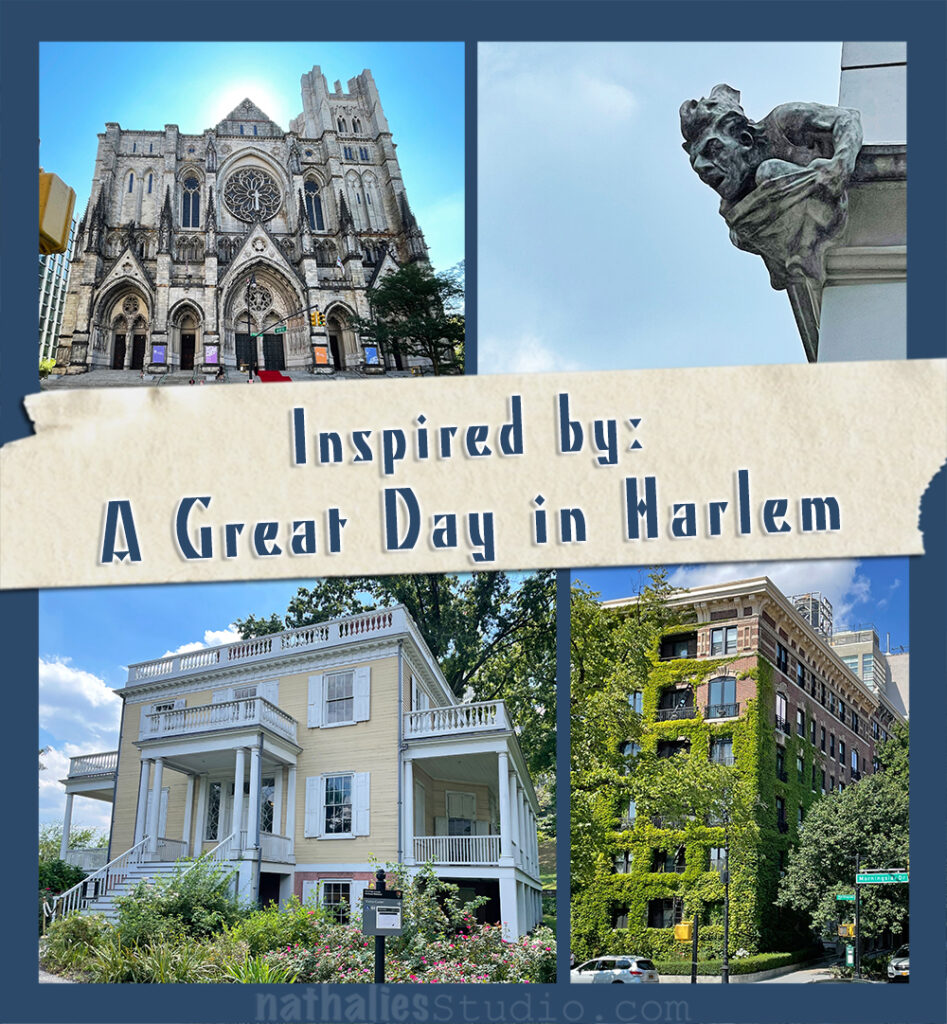 One of those wonderful weekends in August we took a walking tour through Harlem (and yes it is debatable if you would call all of those areas Harlem nowadays but historically that was the premise). I am following Keith Taillon on instagram and he was my highlight during the pandemic (and still is) . He decided to walk all of Manhattan during the pandemic and took us on this journey with lots of historic and fun stories and ever since he now offers walking tour, I knew I wanted to join- because you know I love my "Strolls Through the Hood" .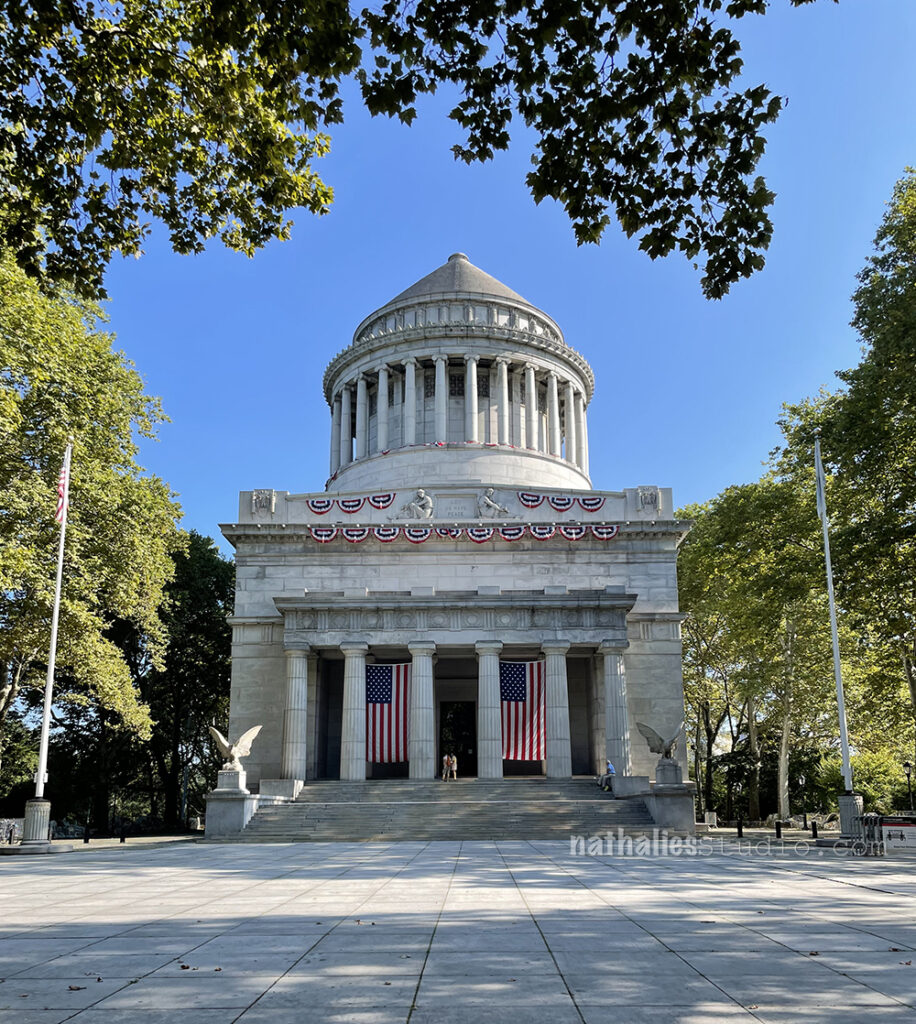 I am not giving away all of the tour …it would be impossible anyway- the wealth of information presented in a wonderful storytelling and knowledgable manner during the 3.5 hour walk is sheer too much for a blogpost. But I also think if you ever should be in NYC- just take a tour with Keith – he is worth every penny – and if you cannot, follow him and wait for his book to be published and then buy it ;) Anyway- here are some impressions, after we met at Grant's Tomb on Morningside Drive.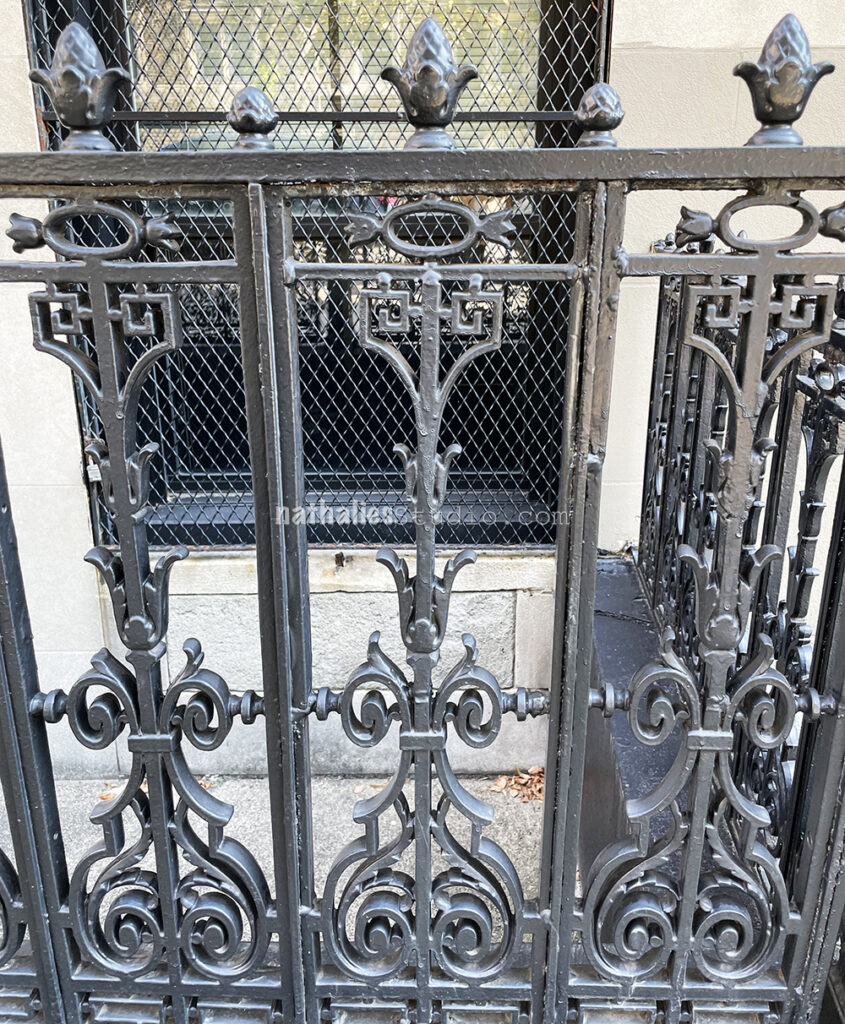 Loved this iron fence – can't get the artist looking for patterns out of me ;)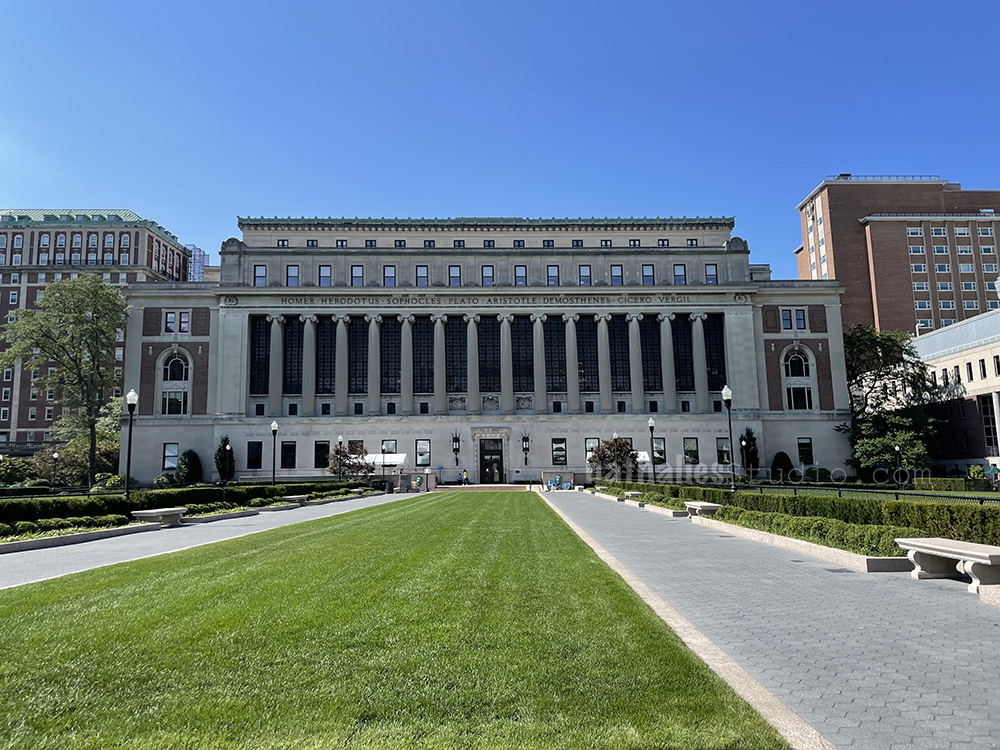 We strolled through the Columbia University Campus – behind us a row of fun students applauding the new students moving in …I cannot remember this kind of applause when I went to university in Hamburg, but then we are also not known to be outbursts of emotions up in North Germany ;)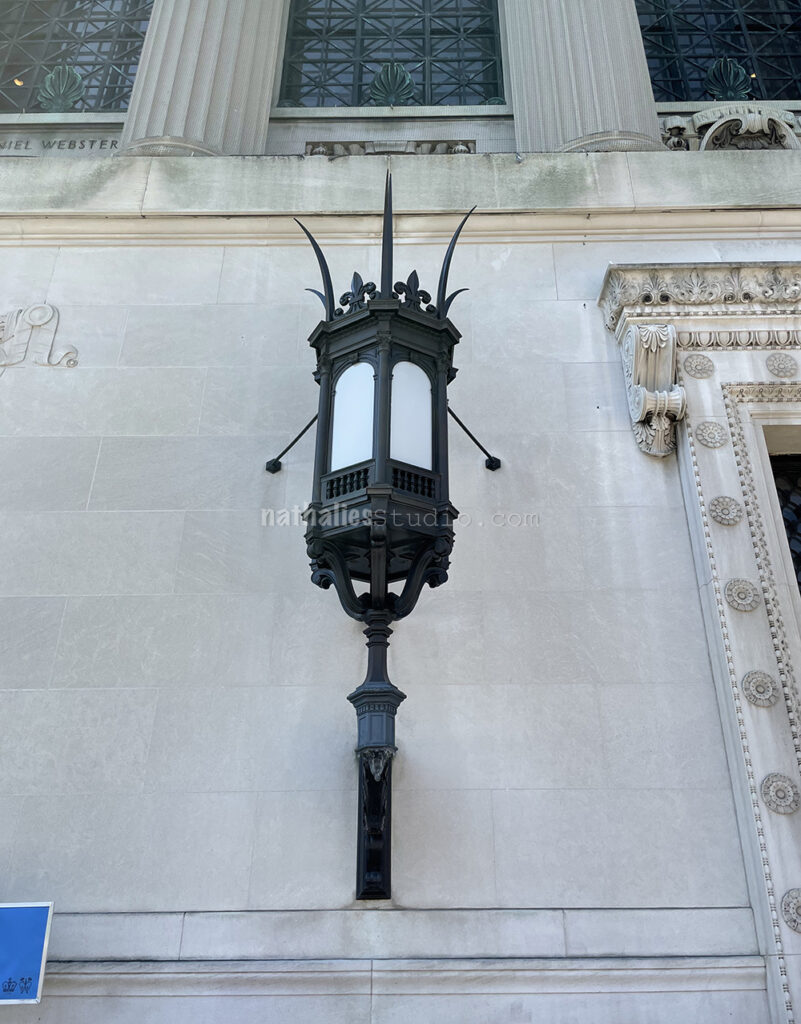 Lots of amazing information about the campus and history of the campus which used to be the grounds of The Bloomingdale Asylum – where many wealthy, including the Vanderbilts – liked to "house" their nonconforming family members. Site note: The spikes on the entrance lamp are impressive no?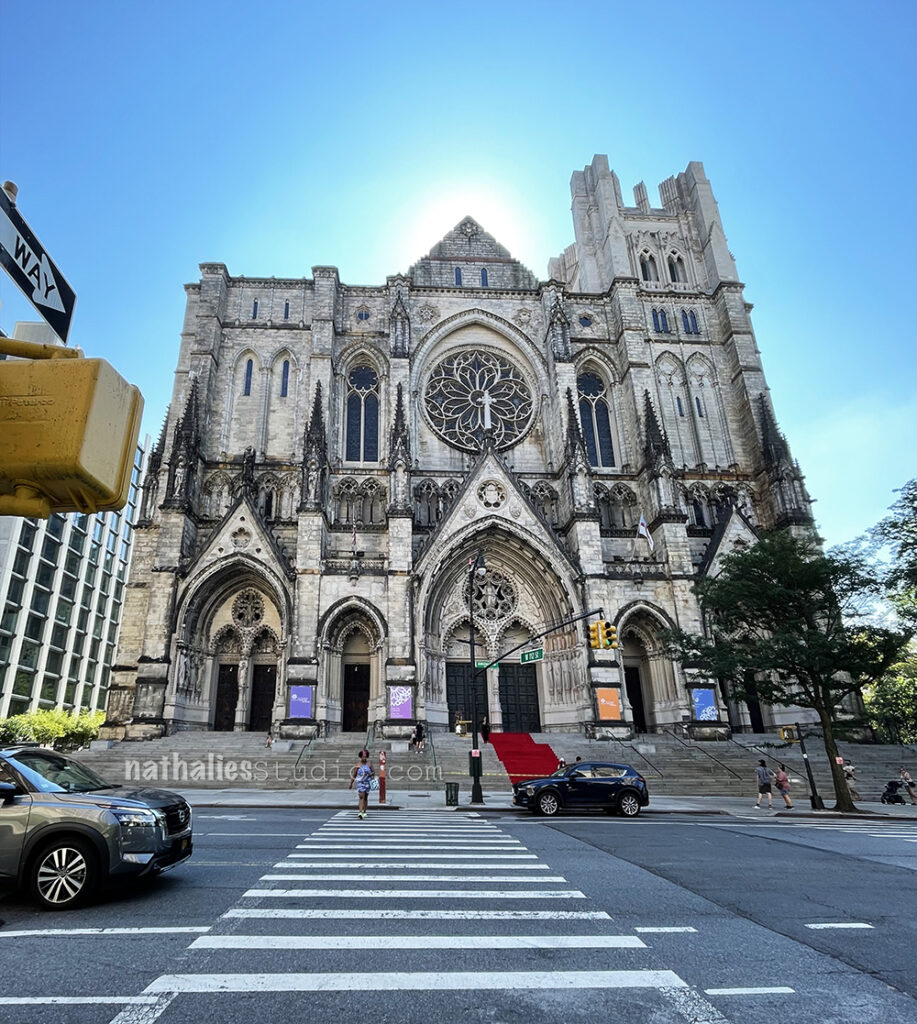 We spent some time around the impressive and interesting and well …unfinished Cathedral of St. John the Divine. The construction started in 1892 – and only 2/3 are done …I feel that is actually not too bad …given that European Cathedrals have always taken a long time and La Sagrada Familia in Barcelona started about 10 years earlier is also still unfinished …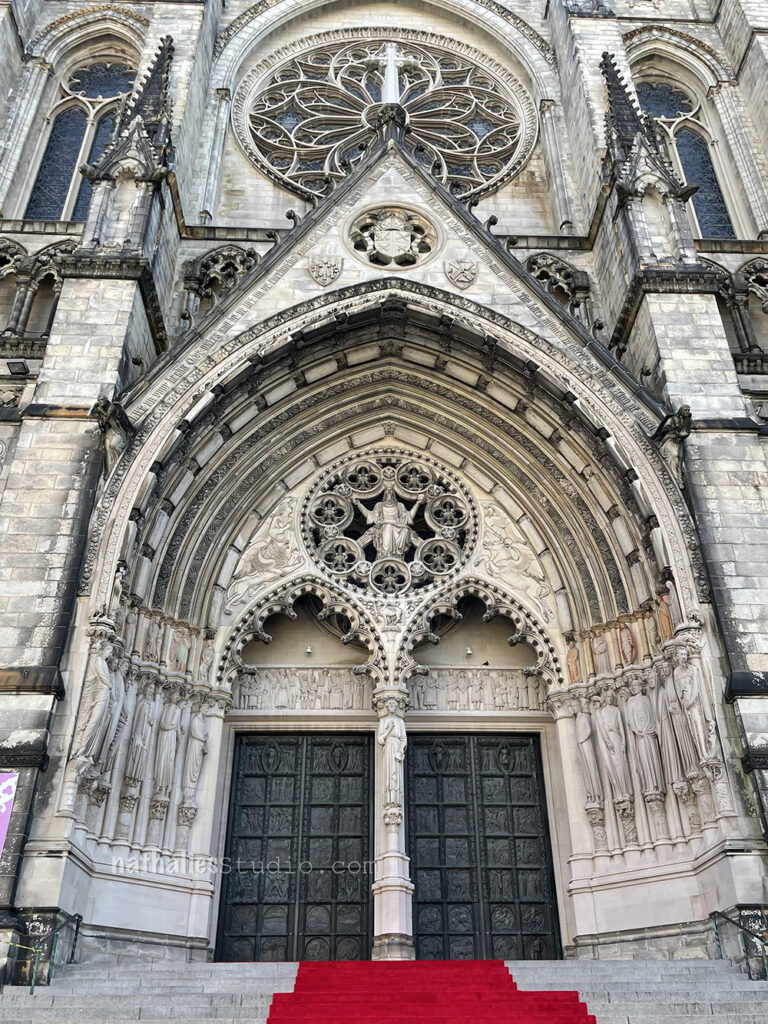 There is just sooo much about this Church – Dizzy Gillespie and Aretha Franklin amongst others performed here, the facade. Def. want to come back and take a closer look when it is open and no red carpet blocks a closer look at the doors and statues (that is another story)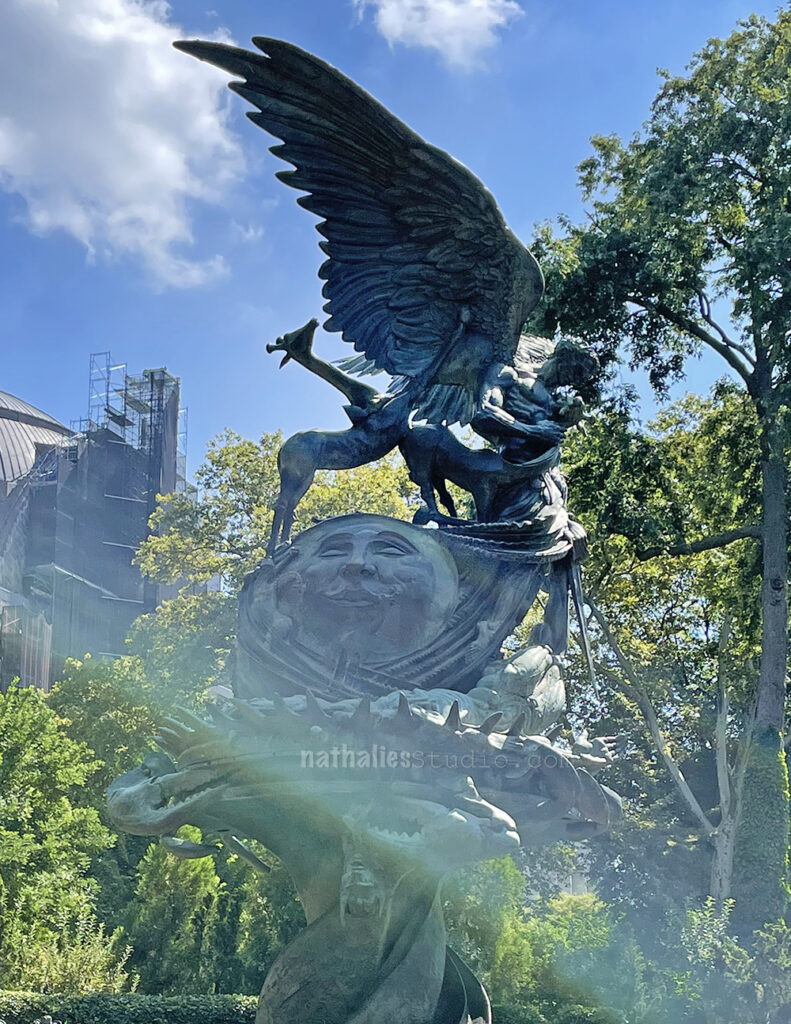 Next to the Cathedral is the Peace Fountain. There is a lot of stuff going on here- let me say I mostly took away something I didn't know: "Giraffes are a Symbol for Peace" .. take that Picasso …done with the dove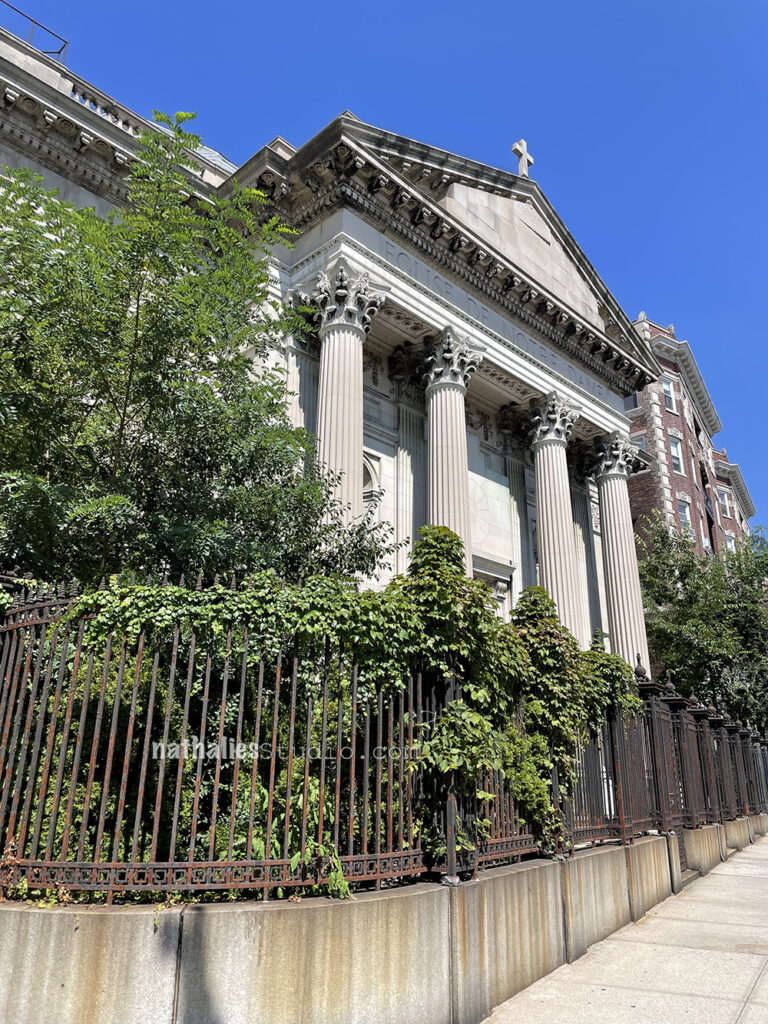 Another interesting little stop amongst many was the Church of Notre Dame – built in 1916 …you wouldn't know LOL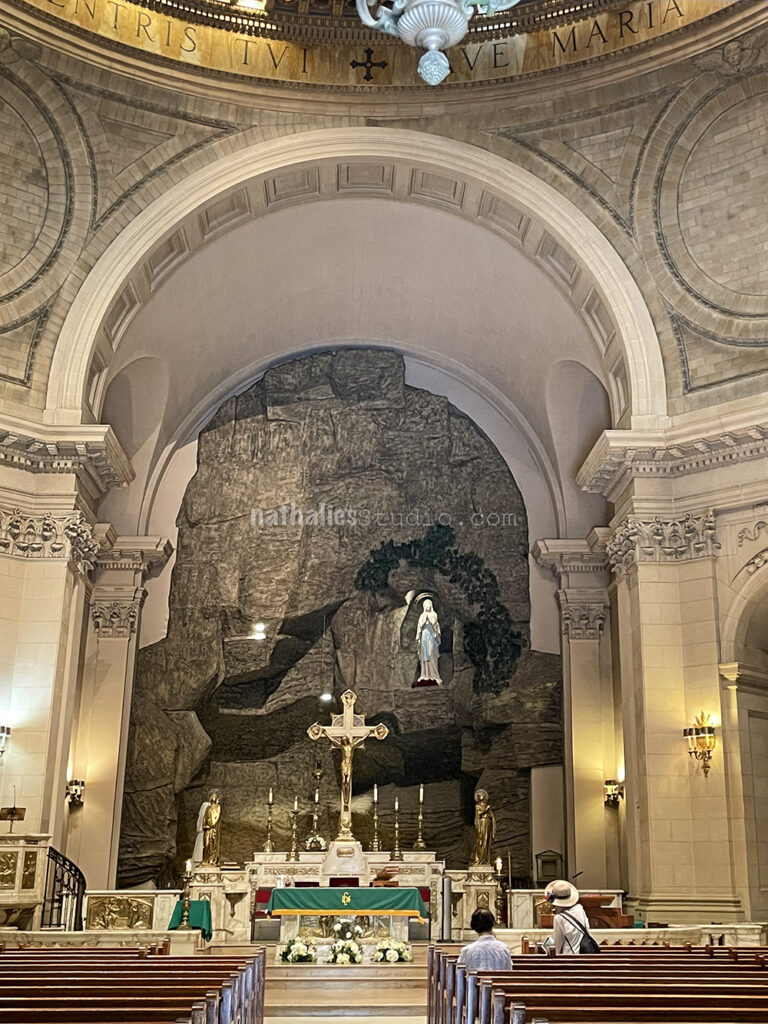 and decked with a replica of the grotto where the Heavenly Mother appeared to St. Bernadette in Lourdes, France in 1858. Impressive …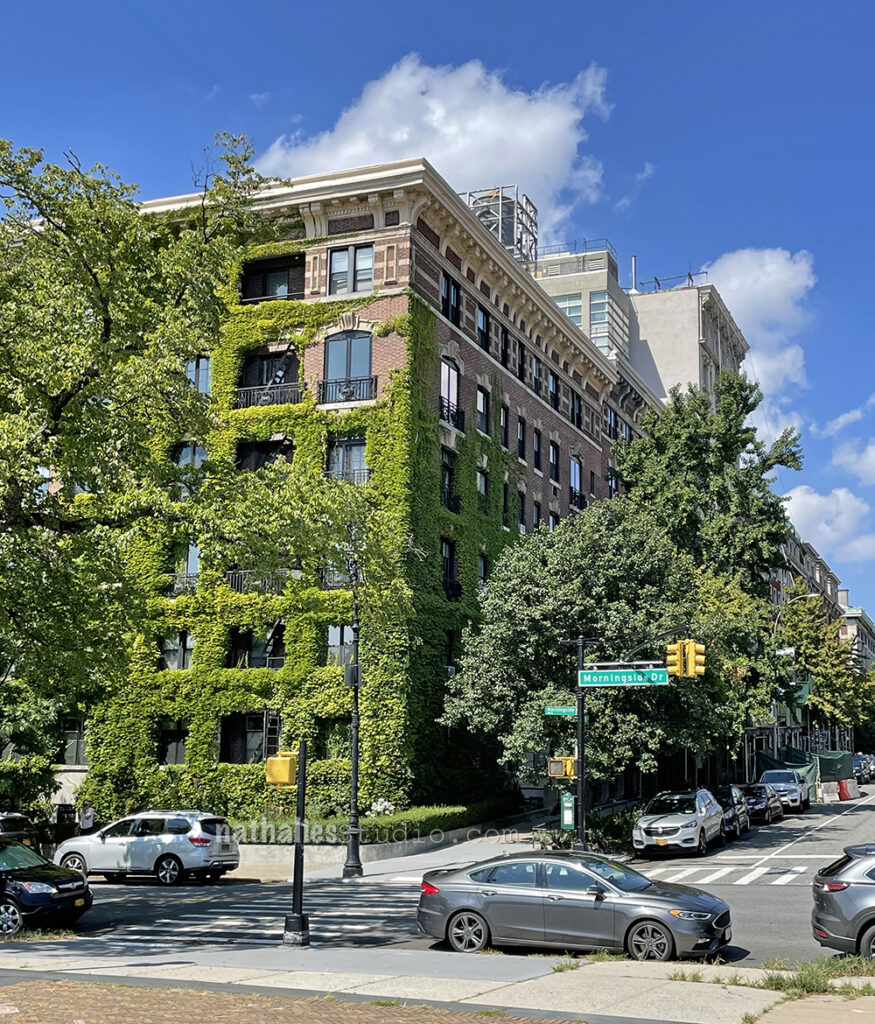 It was a wonderful day for a walk and seriously I wouldn't have minded having a little cocktail afterwards on the ivy balcony of this gorgeous building later. Alas …we weren't invited.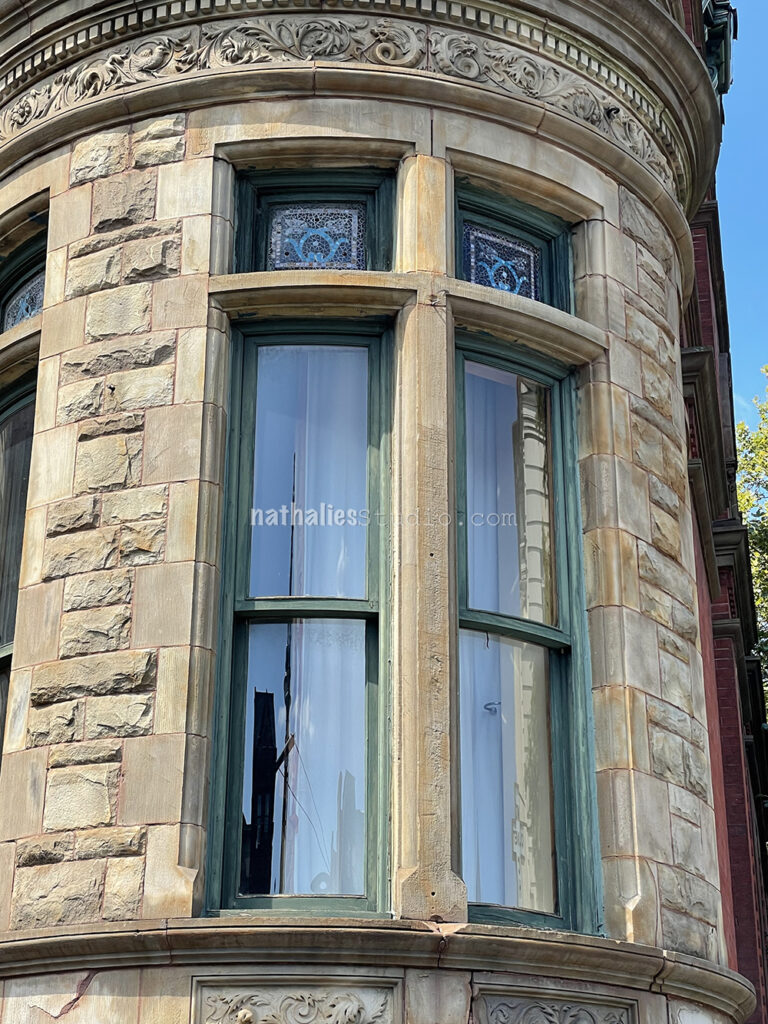 Wonderful town and apartment houses along our way and this one made me stop hard …as I recognized in the top of the window some Belcher Mosaic Stained Glass windows. Why? Well..we do have some too and I can now recognize them when I see them. Given that they were only made for a couple of years and with a really cool stencil technique, I am obsessed. Fear not …I will probably write in the future a whole blogpost about those windows, as ours are in terrible shape and need restoration.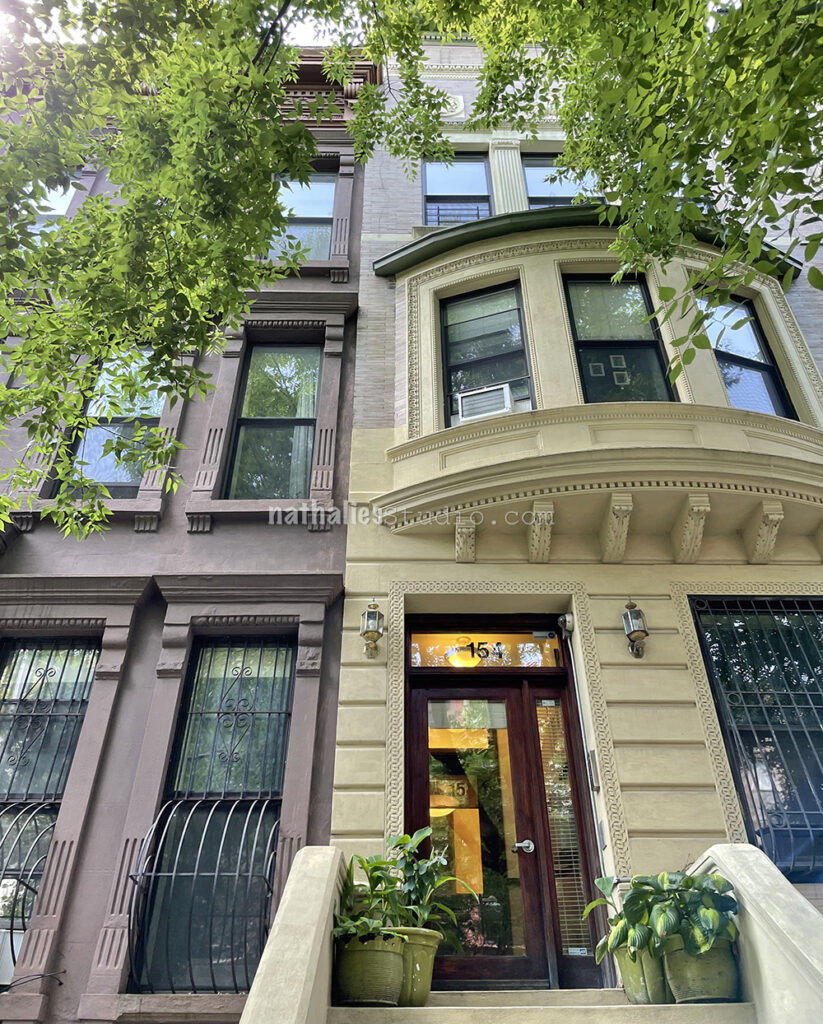 I love how Keith made us look at those two houses showing the difference of eras – Brownstone on the left vs. Limestone more airy on the right.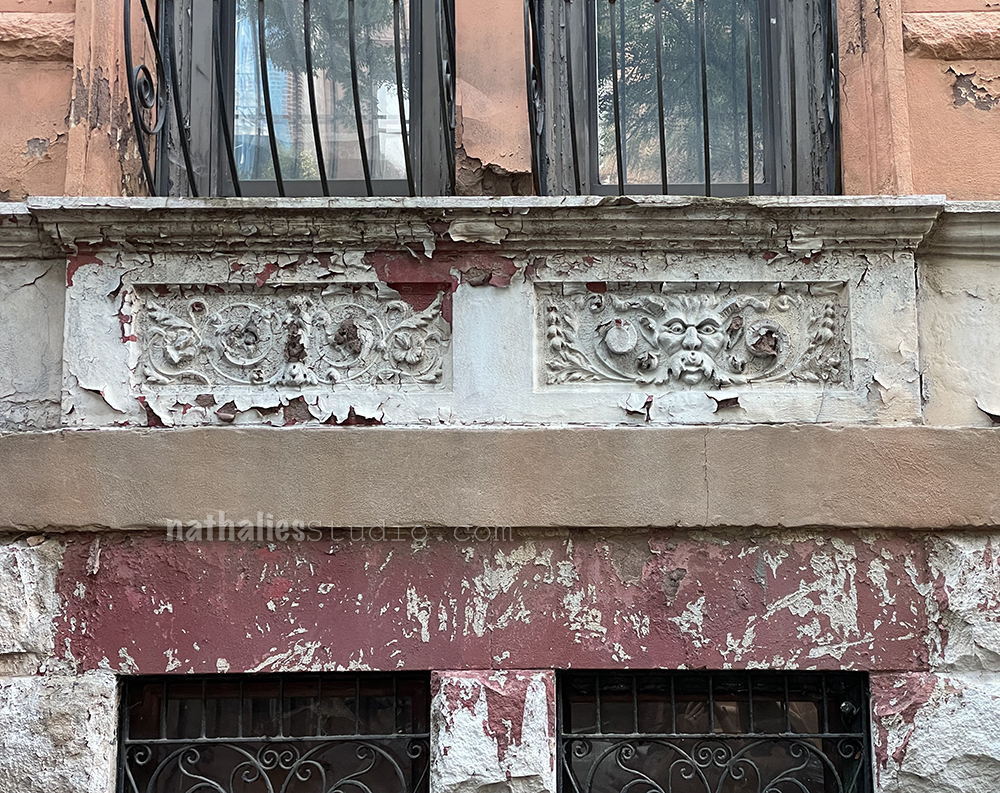 Peeling paint over the facade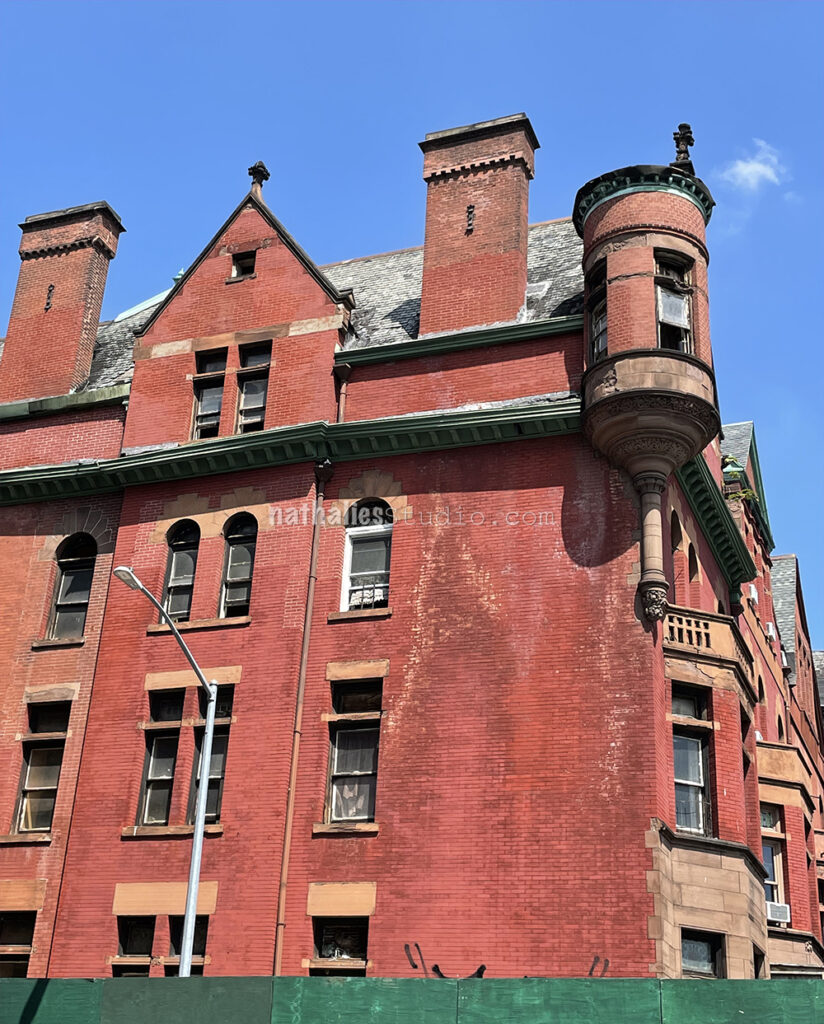 Lots of streets reminded me of our city- and my neighborhood. The history of Harlem is complicated, layered and …important to know about.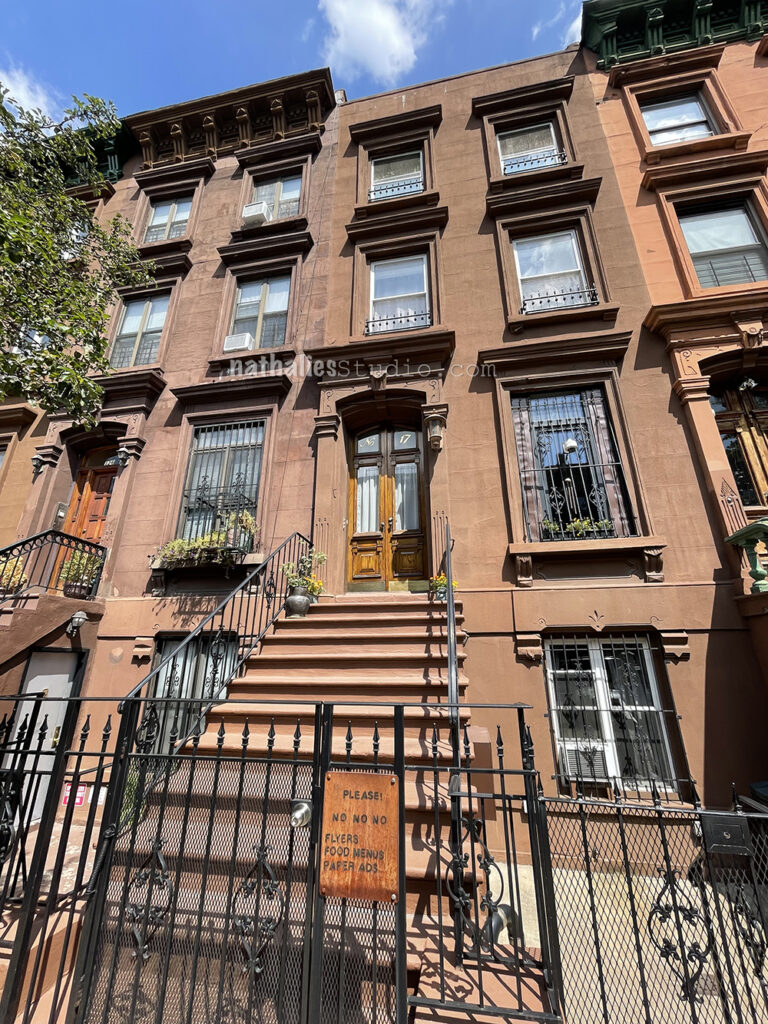 Keith was so kind to make a tiny detour to go to this stop as we do have the very famous photo "A Great Day in Harlem" hanging in our house. 57 Jazz Musicians gathered for a photo by Art Kane in front of this house in 1958. Amongst them Art Blakey, Dizzy Gillespie, Charles Mingus, Thelonious Monk, Sonny Rollins, Count Basie, and Lester Young.
As for the building – I wonder if the cornice was still there when they took the photos in 1958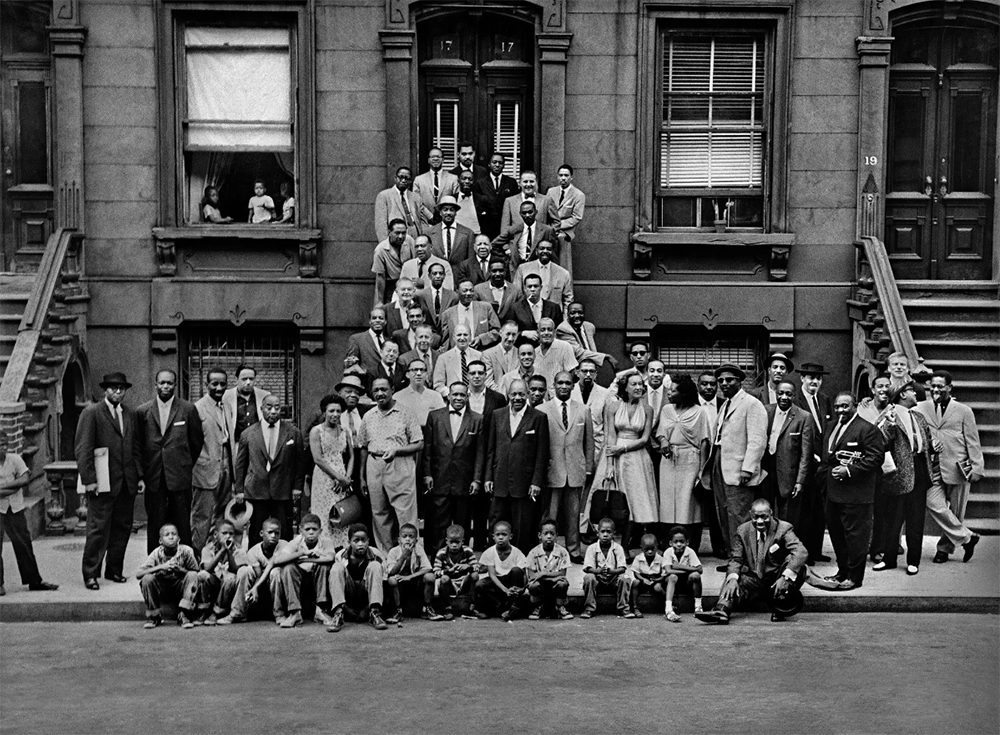 My favorite part of the photo are the kids that just joined the fun :)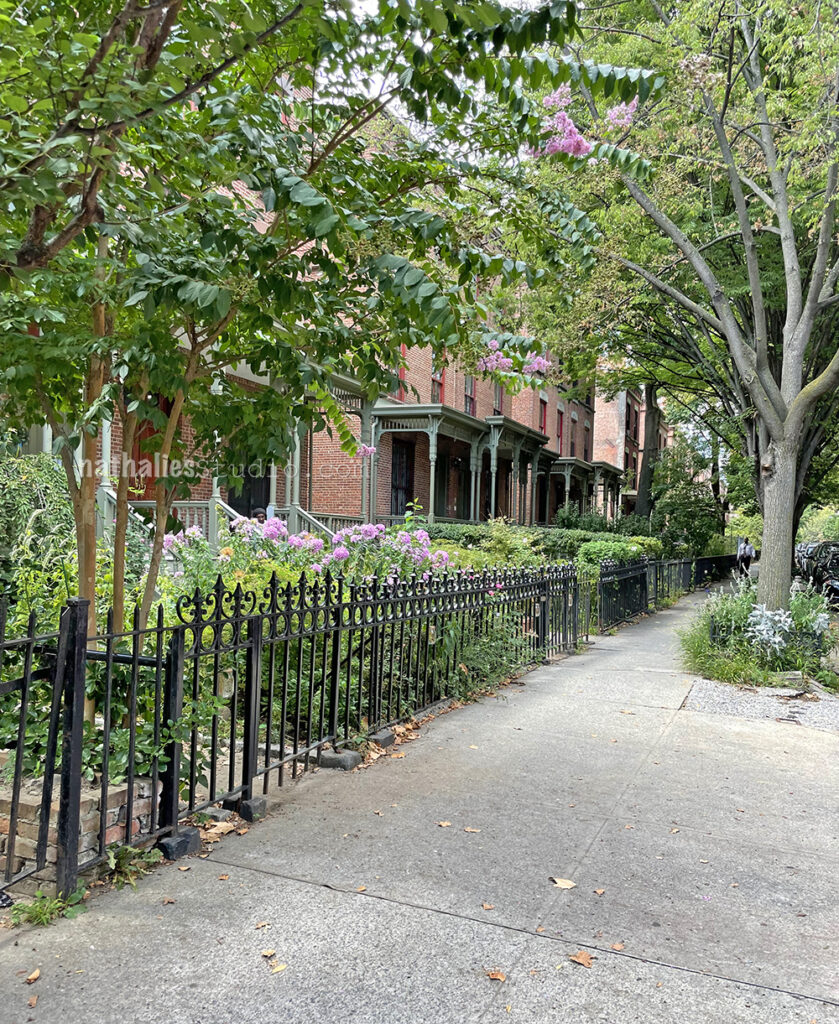 Astor Row was my favorite street by far on this walk – beautiful beautiful houses, wonderful street – I would move in in a hard beat!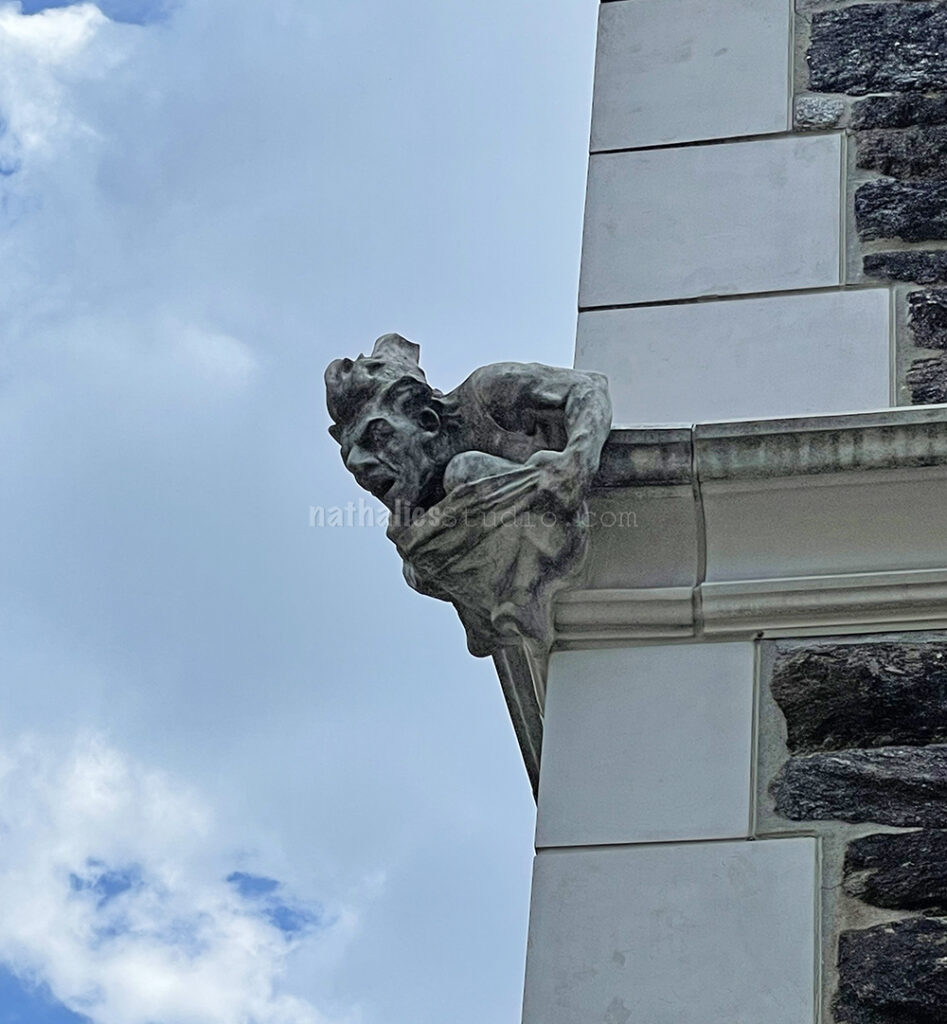 Funny little creatures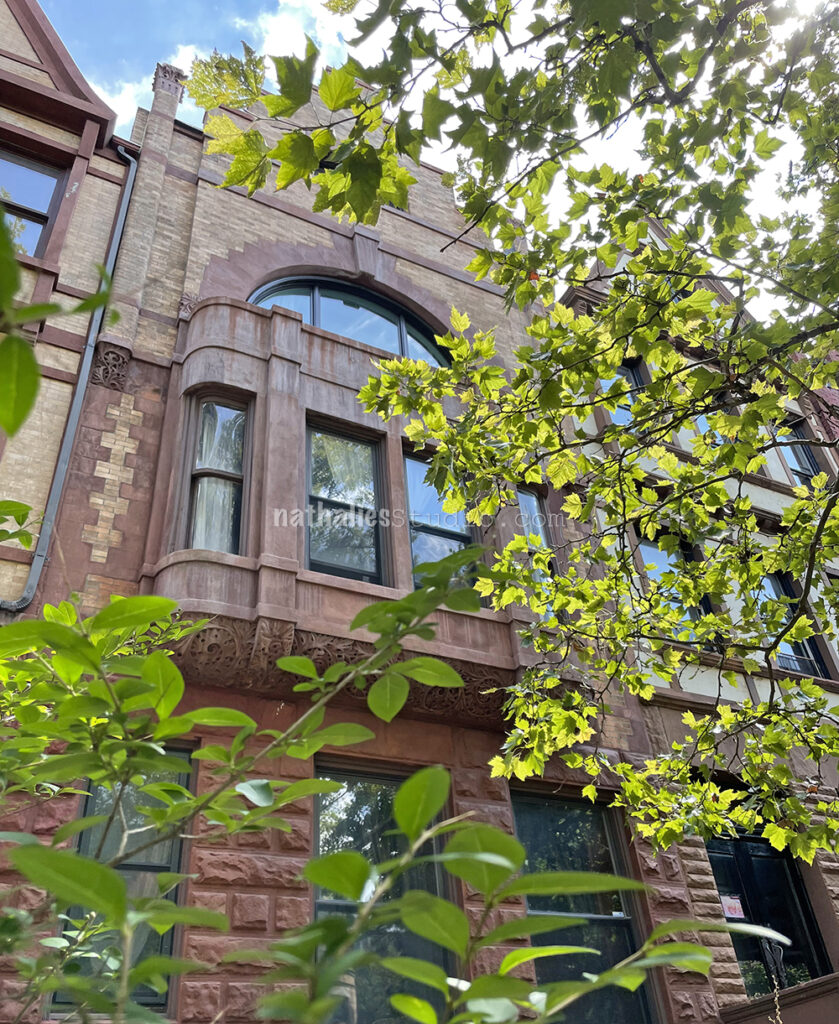 Glorious houses on Sugar Hill – "
You must take the "A" train
To go to Sugar Hill, way up in Harlem
If you miss the "A" train
You'll find you missed the quickest way to Harlem"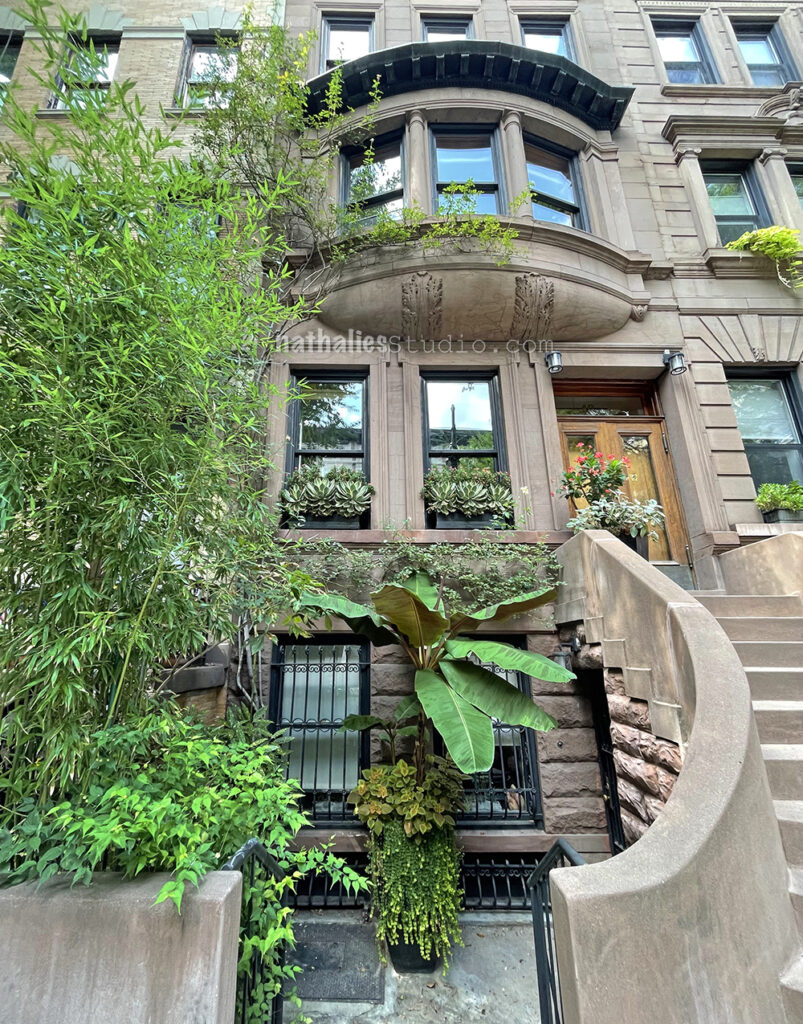 Besides the gorgeous stoop – look at those plants …#plantgoals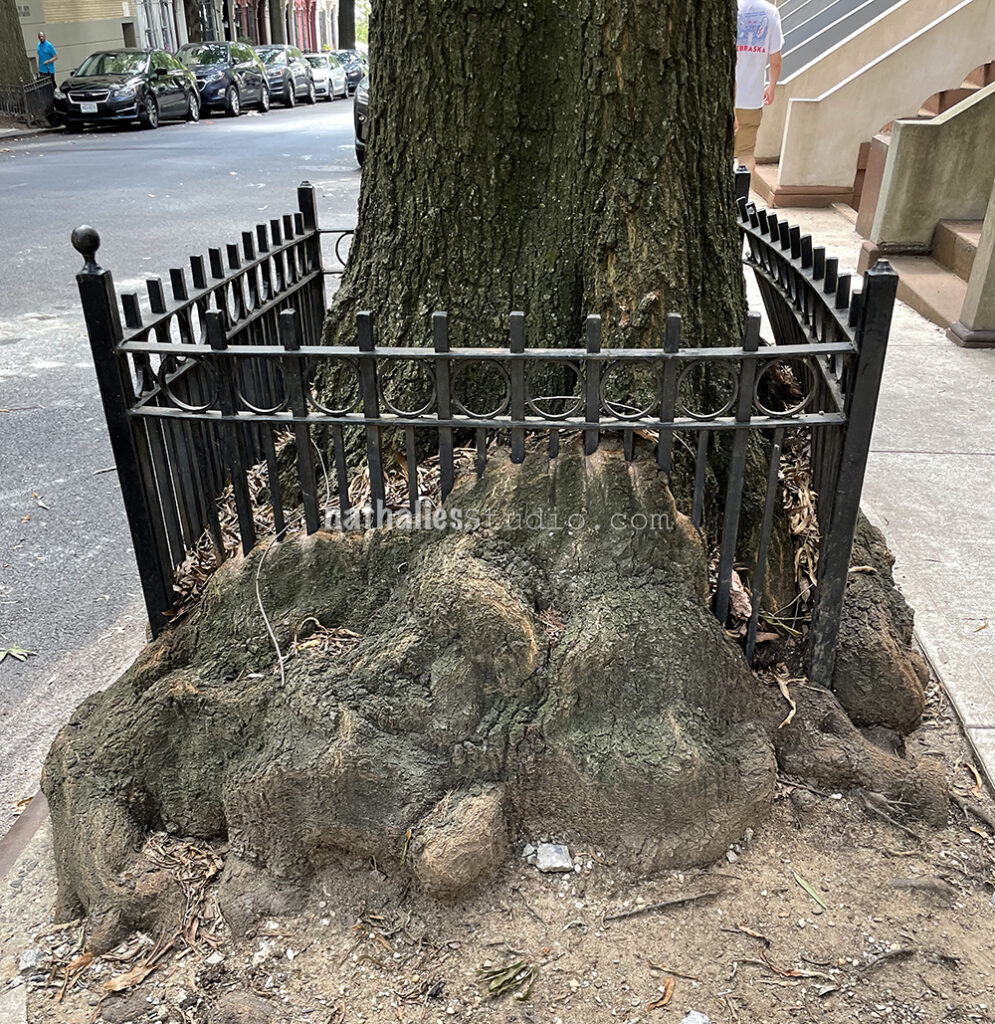 I felt sorry for the tree being caged in but isn't it amazing how natures takes it back if you let it?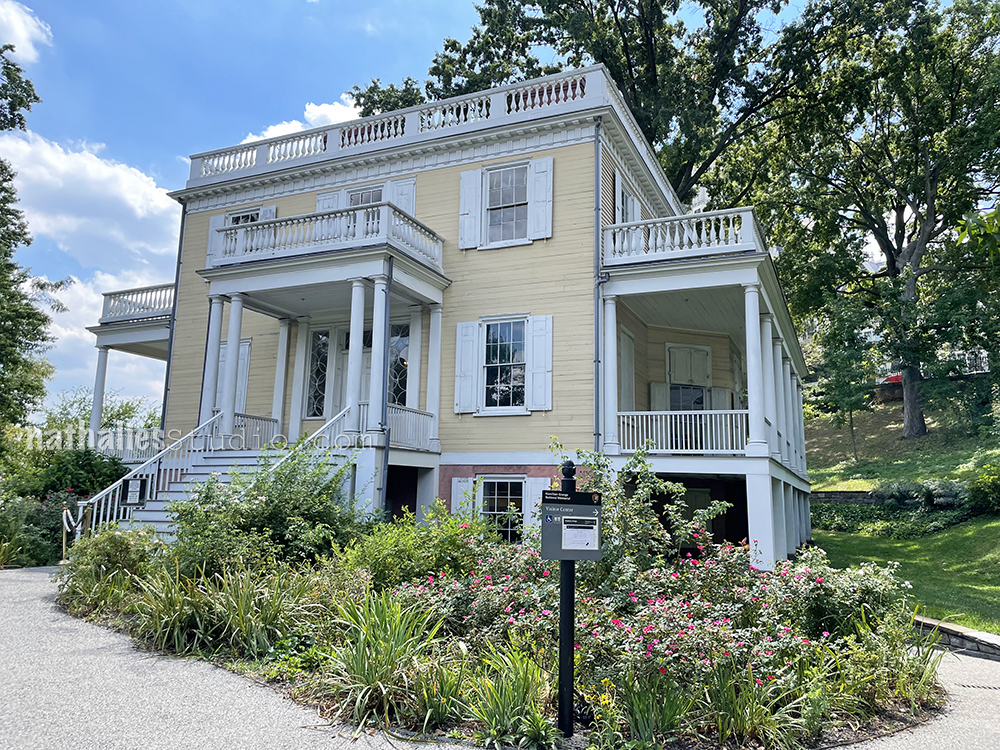 And last but not least a photo of Alexander Hamiltons house- not at it's original spot – it was twice moved – but alas the house was saved.
It was indeed a great day in Harlem – I learned a ton, read a lot since I came back and I found it inspiring that there are others with a big thirst for the stories and buildings of their neighborhood are out there. This wasn't the last tour I booked with Keith – that is for sure! Cannot wait for the next one :)