Hello from my Creative Squad! Today we have a project from Emilie Murphy that will transform the outside of your art journal. Emilie is using my Buenos Aires Border, Valley Road, Gnarly, and Signals foam stamps and this month's theme: A New Day – Let's try something new today :) Although these are tumultuous times and we never know what each new day will bring, it also seems like the perfect time to throw caution to the wind and just jump into something new with both feet. Try a new material or technique or approach. Why not? Today is a new day… and tomorrow is too!
---
Hi there! Hope you are doing well.
As we have to try something new this month, I decided to make a cover for my sketchbook with a sheet of Canvas. It's not what I usually do when I make a cover for an art journal or embellish the cover of a notebook that I purchased. Therefore it's a new technique for me, and I tried using only foam stamps and a single canvas sheet.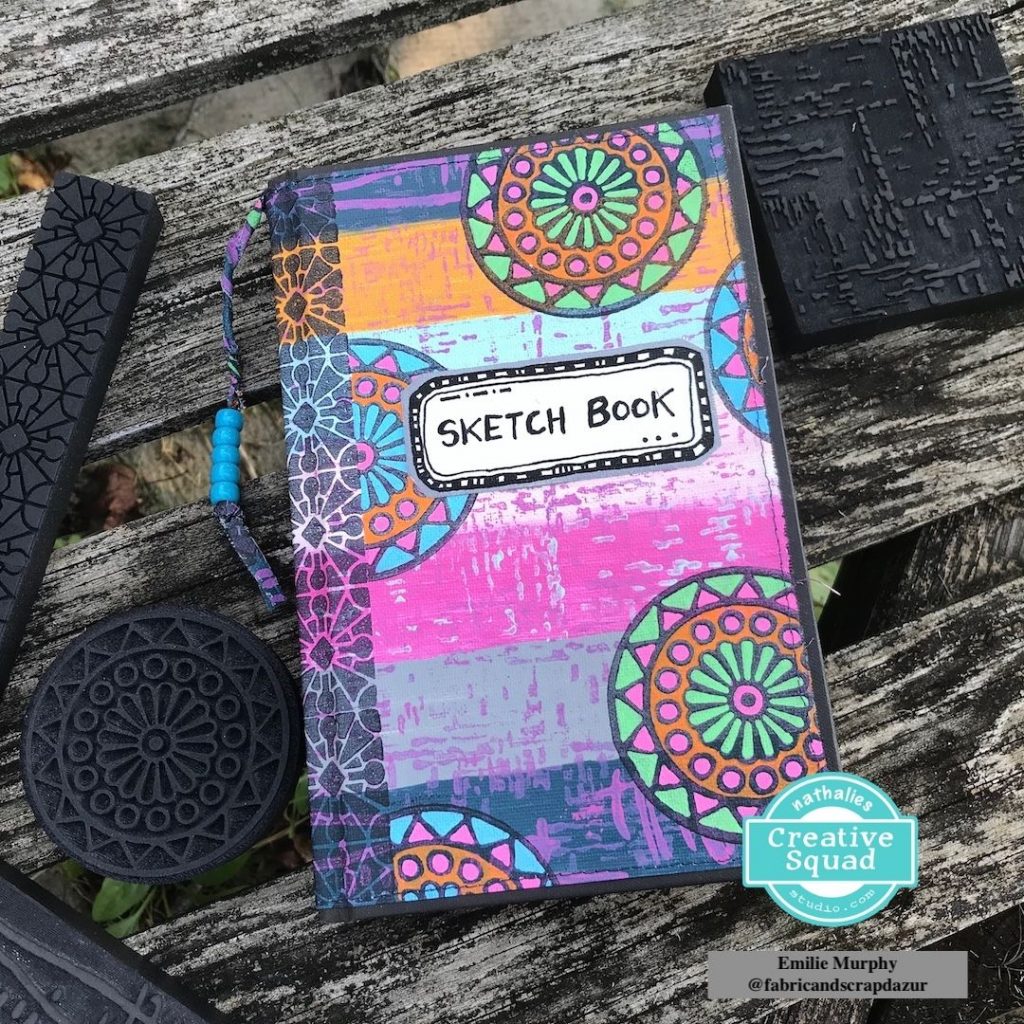 Let me show you how quick and easy this technique is. Foam stamps are such great tools for that purpose.
I started to trace lines to get equal strips on a 9×12 canvas sheet. I used the side pre-coated with gesso.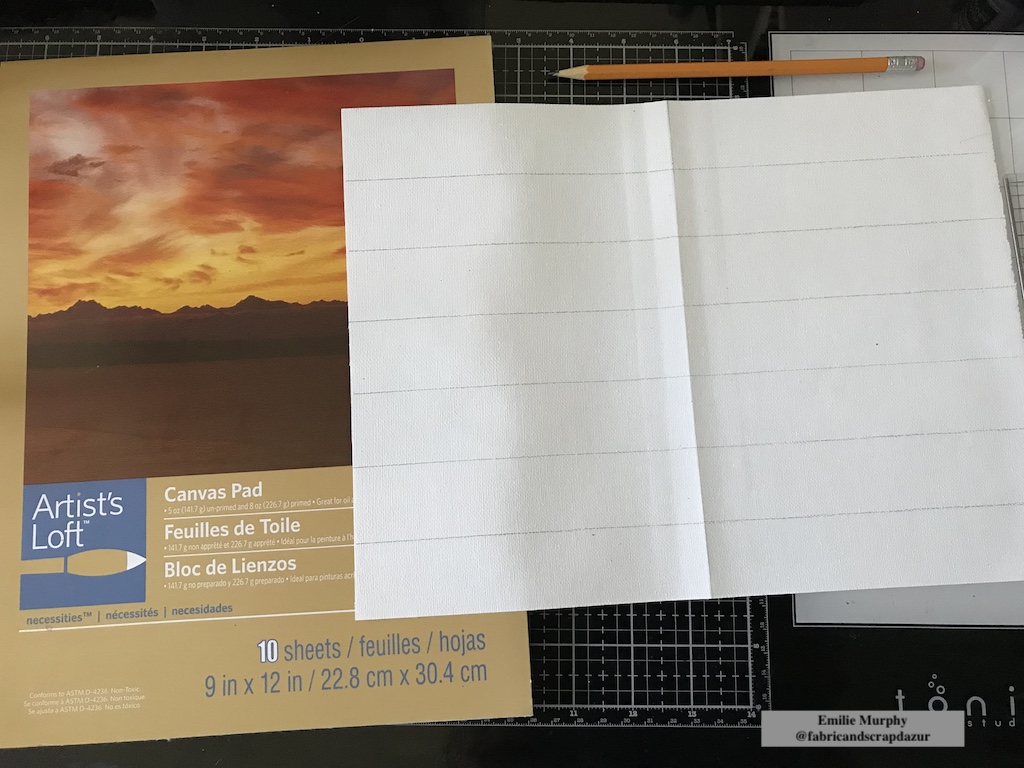 Then, I applied different acrylic paints I have in my stash to color the strips.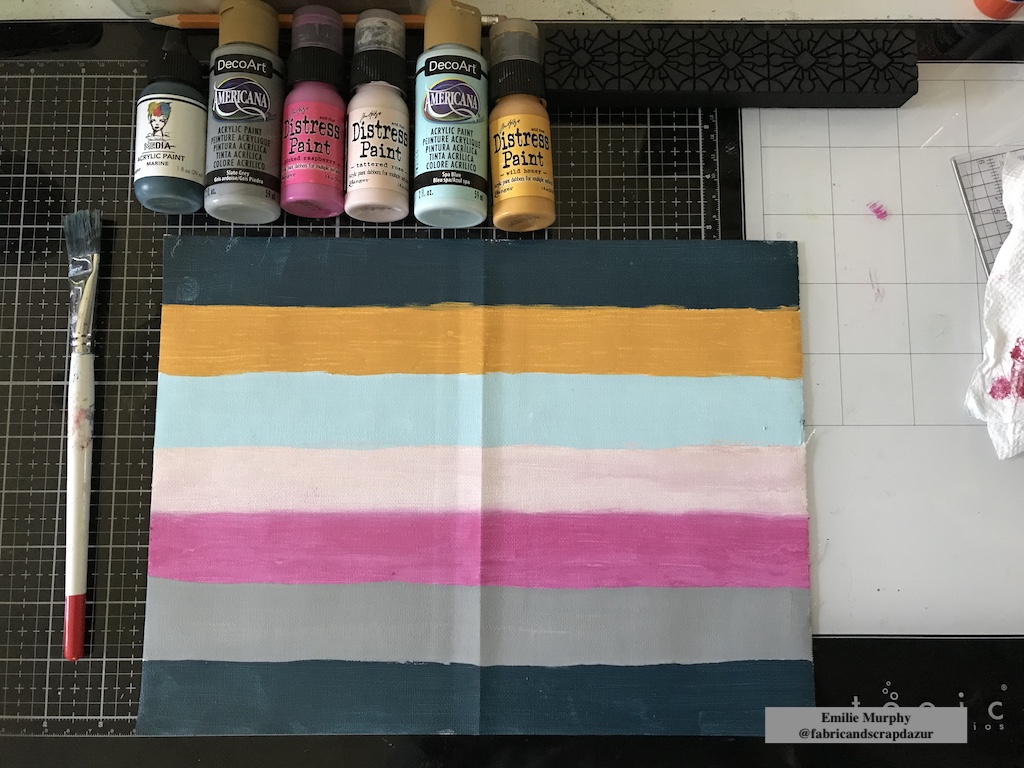 I added some texture with the Gnarly and Signals foam stamps on all the background to unify all the strips together.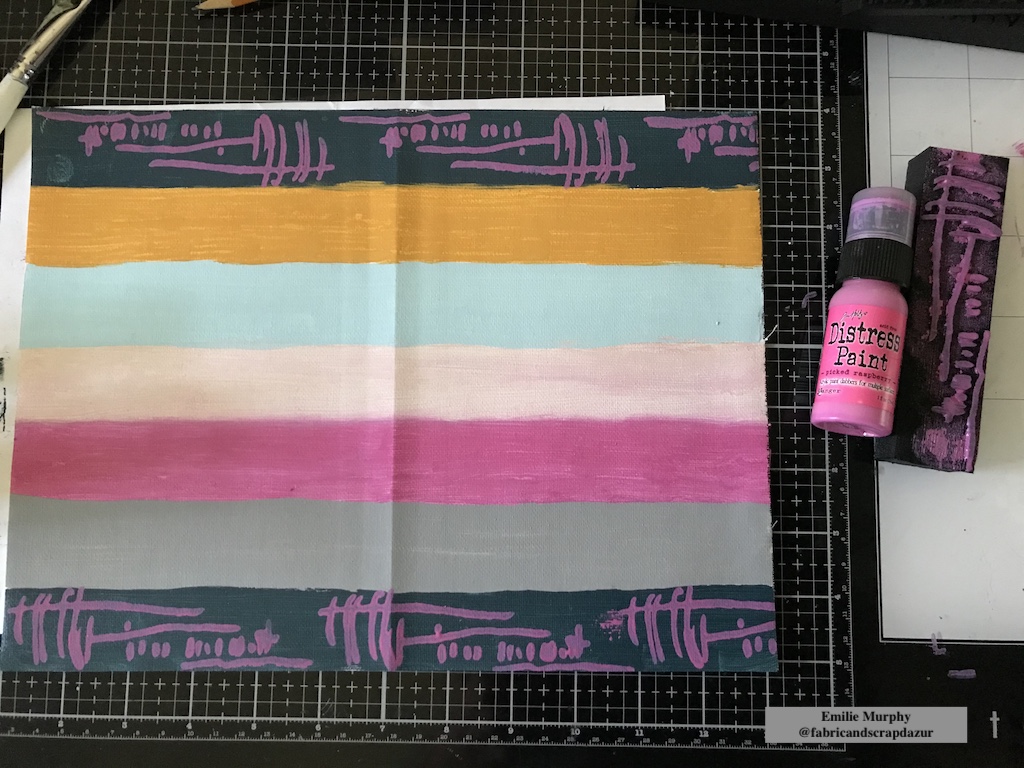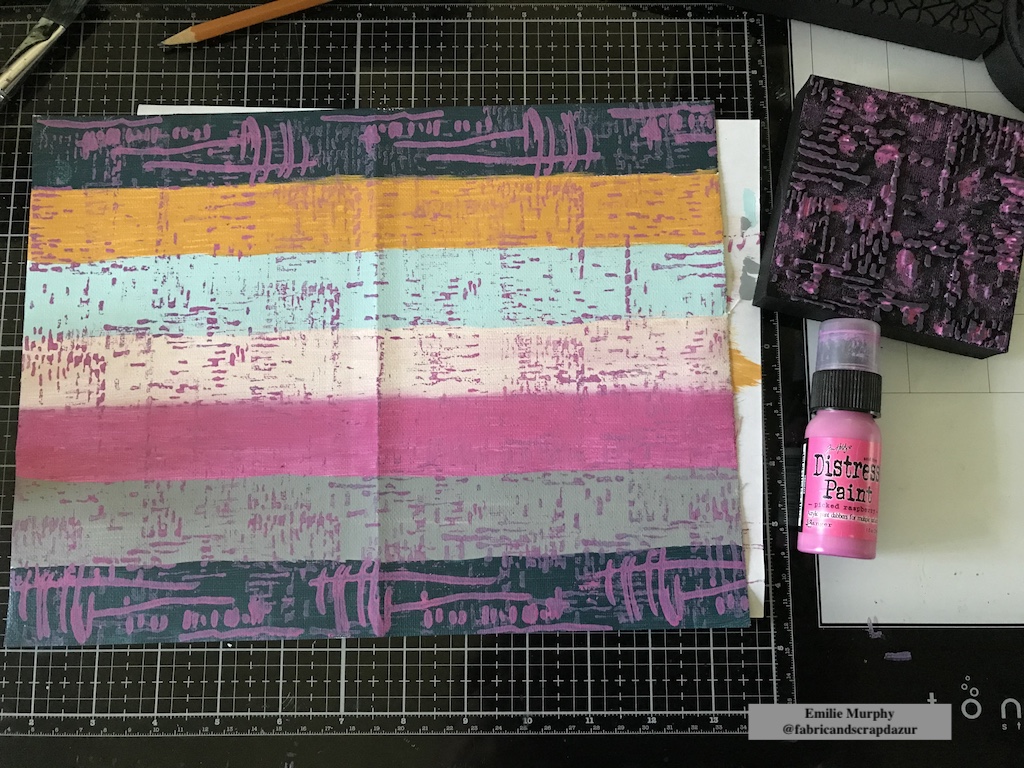 As I wanted to show up an hinge of my sketchbook, I stamped the middle part of the cover with the Buenos Aires Border foam stamp. First, I slightly folded my canvas sheet in half to mark the middle. Then, I used a ruler to be able to stamp straight. I didn't mind to have an imperfect impression for the background texture but for the hinge part I wanted to get a crisp impression so I used a "stamp buddy" (that can be purchased on the ArtFoamies website) that allows you to apply paint uniformly and smoothly on the stamp.
I could have used a brayer instead but, as none of my brayers are brand new, it leaves some marks than I didn't like for this purpose.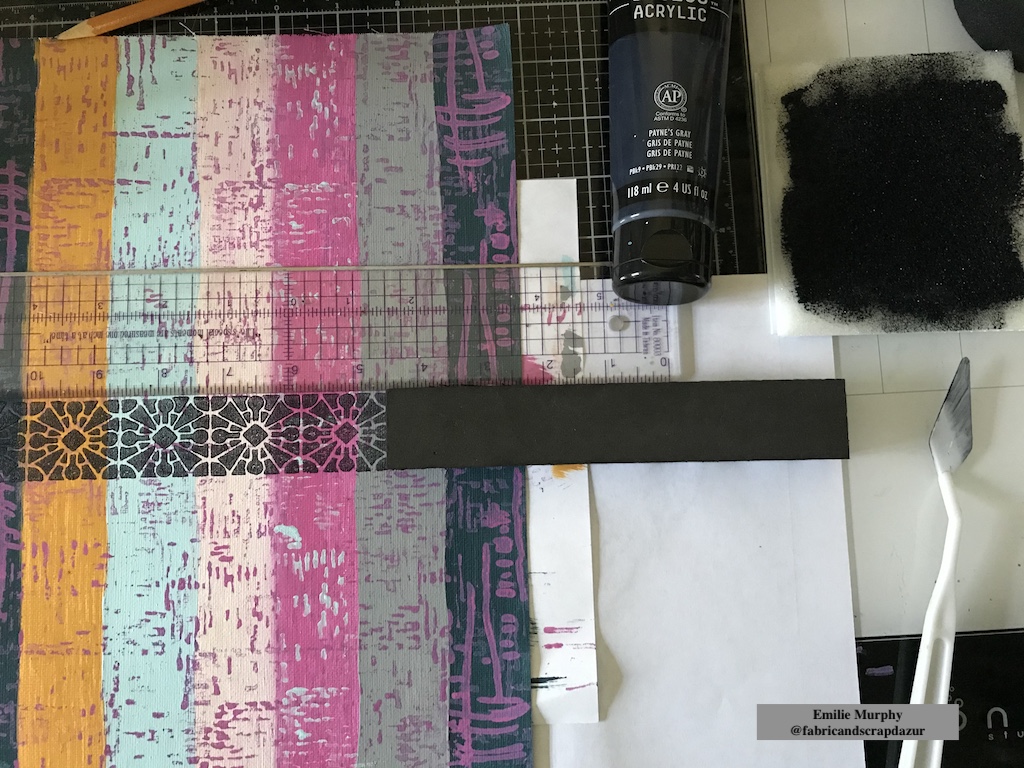 Next, I stamped repeatedly the Valley Road negative stamp to add more interest. Once again, I used my "stamp buddy" because I wanted a crisp impression.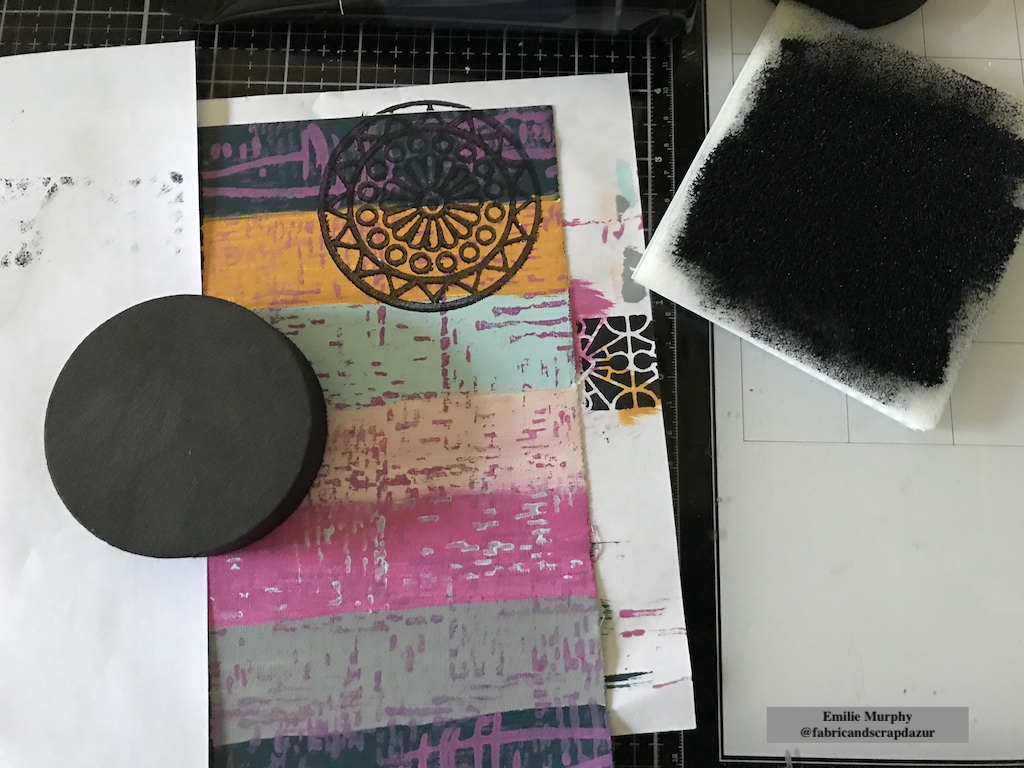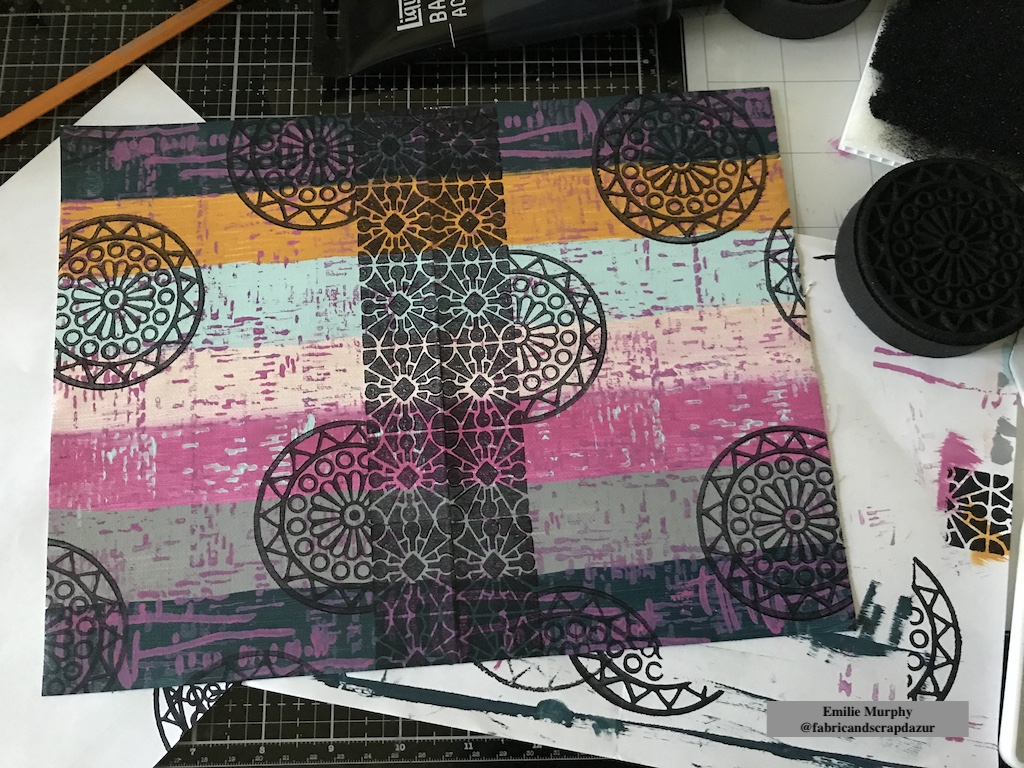 I colored my entire Valley Road motifs with some Posca pens. I just love the way that it allows the Valley Road design to pop out and create some dimension.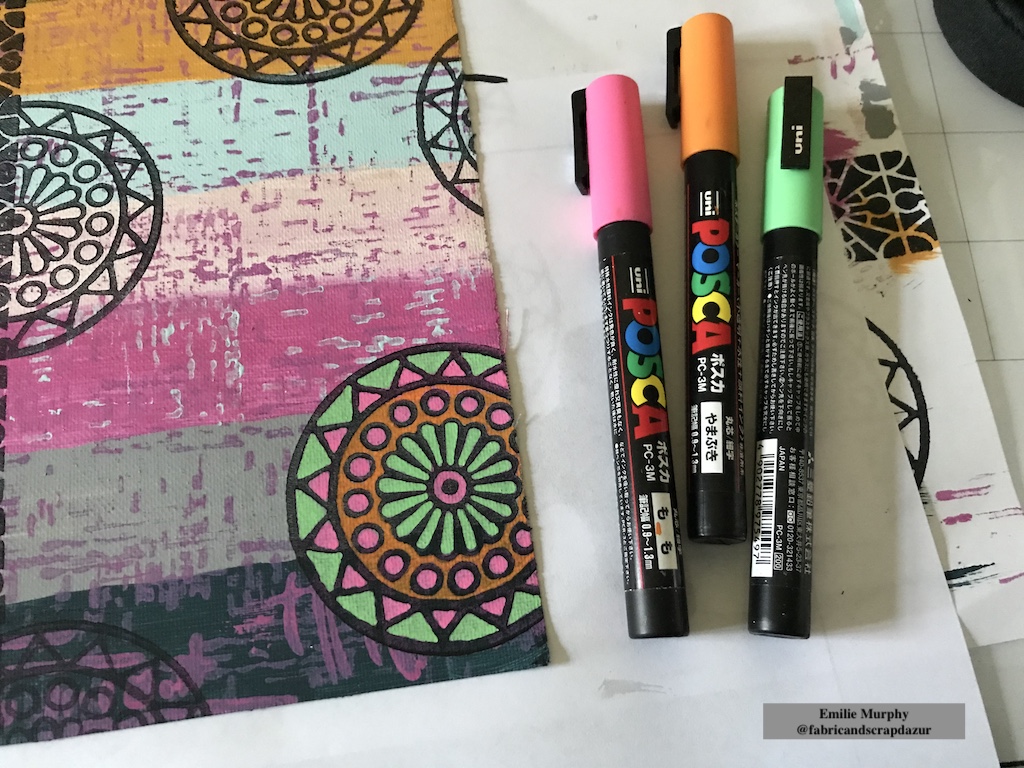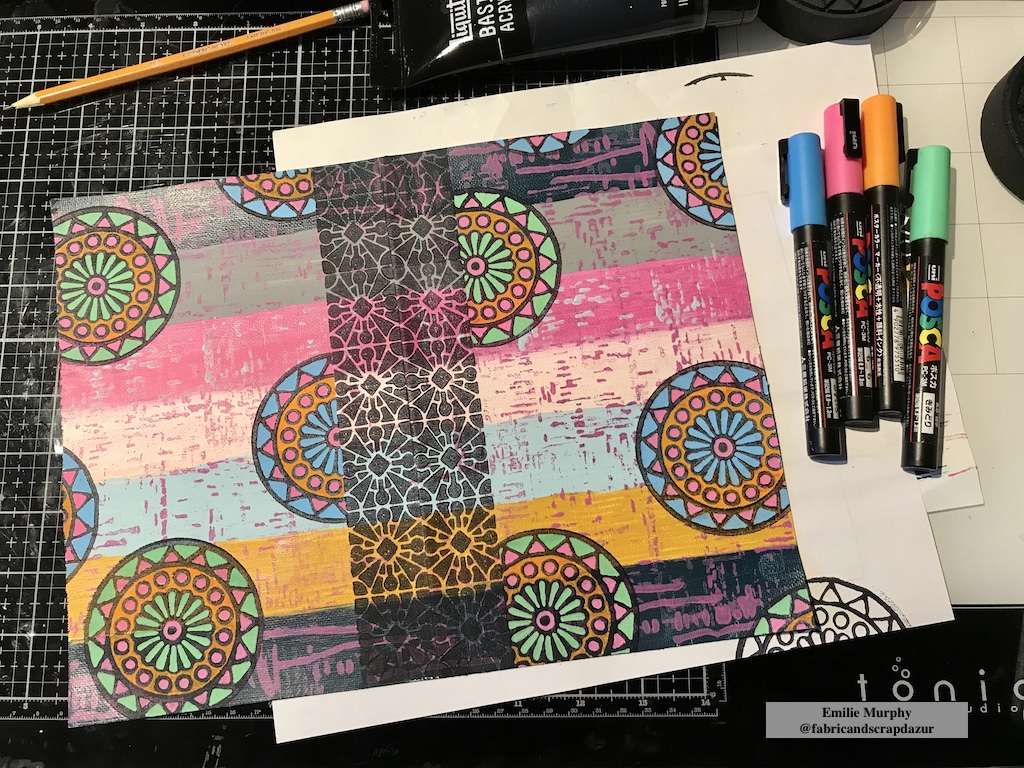 In order to complete my cover, I created a simple label with an extra piece of canvas sheet.
I finished up my cover by machine stitching all around the edges. This step is optional if you don't like to sew or don't have any sewing machine.
Tip: You can also simply create a false stitching line with a black maker.
As you can see I also stitched in the middle the remained half-inch strip I got when I cut the canvas sheet to fit the height of my sketchbook.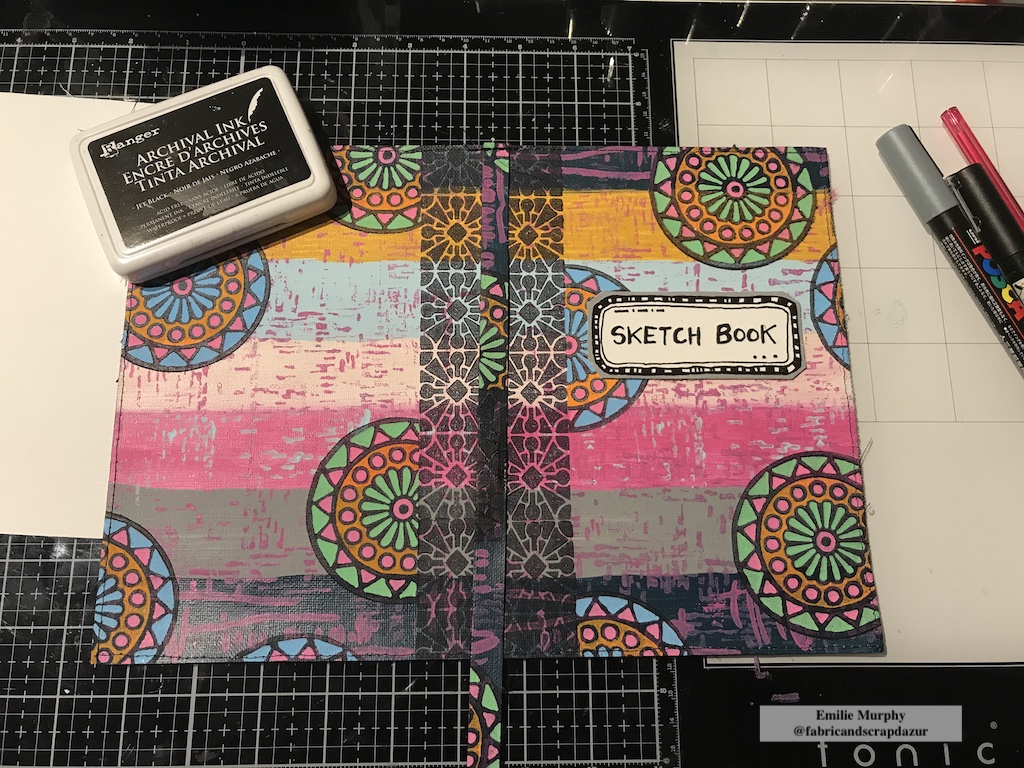 I embellished the middle strip with some plastic beads. I first twisted the strip and added some dots of glue here and there to keep it in shape. Then I added the beads and tightened a knot to secure it. I think it's a nice addition to the cover.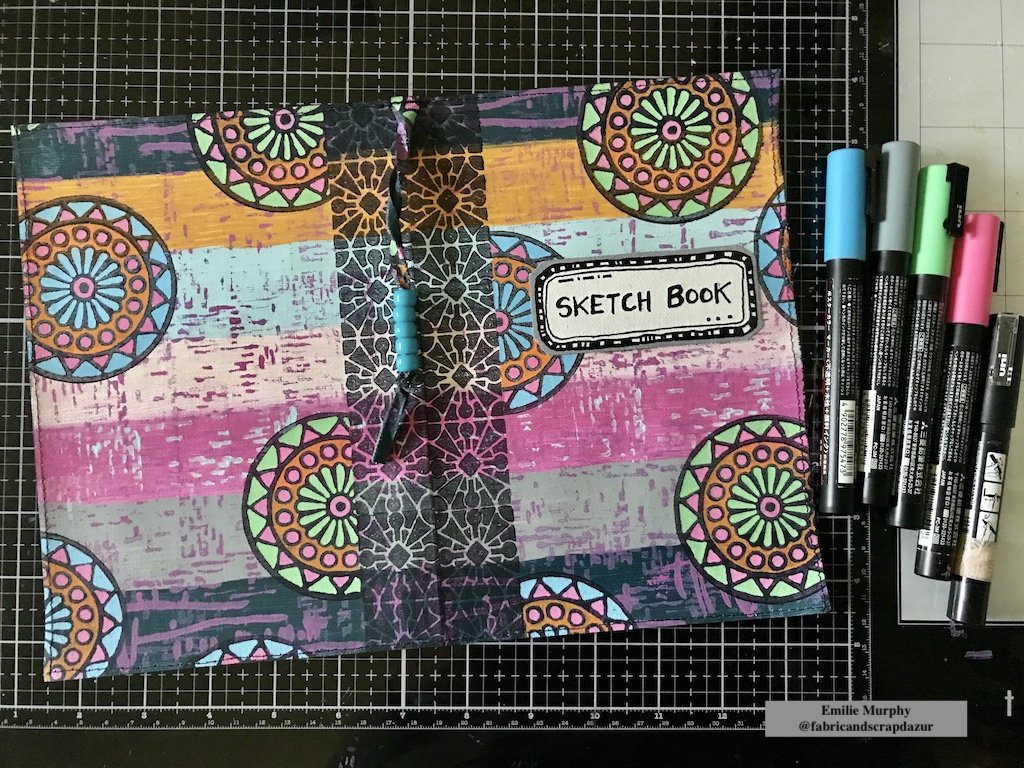 Finally I glued down my canvas sheet on my sketchbook. I used PVA glue that I applied uniformly with a brush. I think it is better to use wet glue for this type of project because it allows some time to make adjustments if needed. I first started to apply glue on a half of the cover and burnished it well with a bone folder. Then I glued down the second half. This way the canvas sheet will adhere well. It also removes potential air bubbles and won't peel off with time.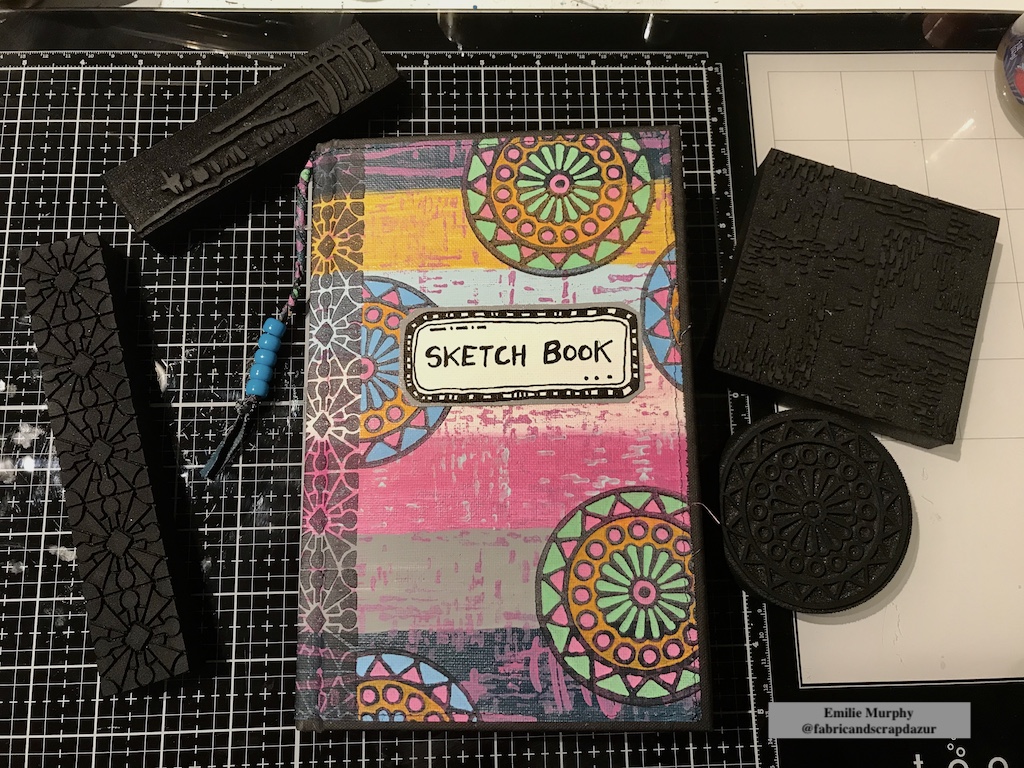 Personally I enjoyed trying something new this month. Hope you will take the plunge and try something new as well. Foam stamps are so fun to use specially for this kind of project.
Have a great rest of the week! See you next month!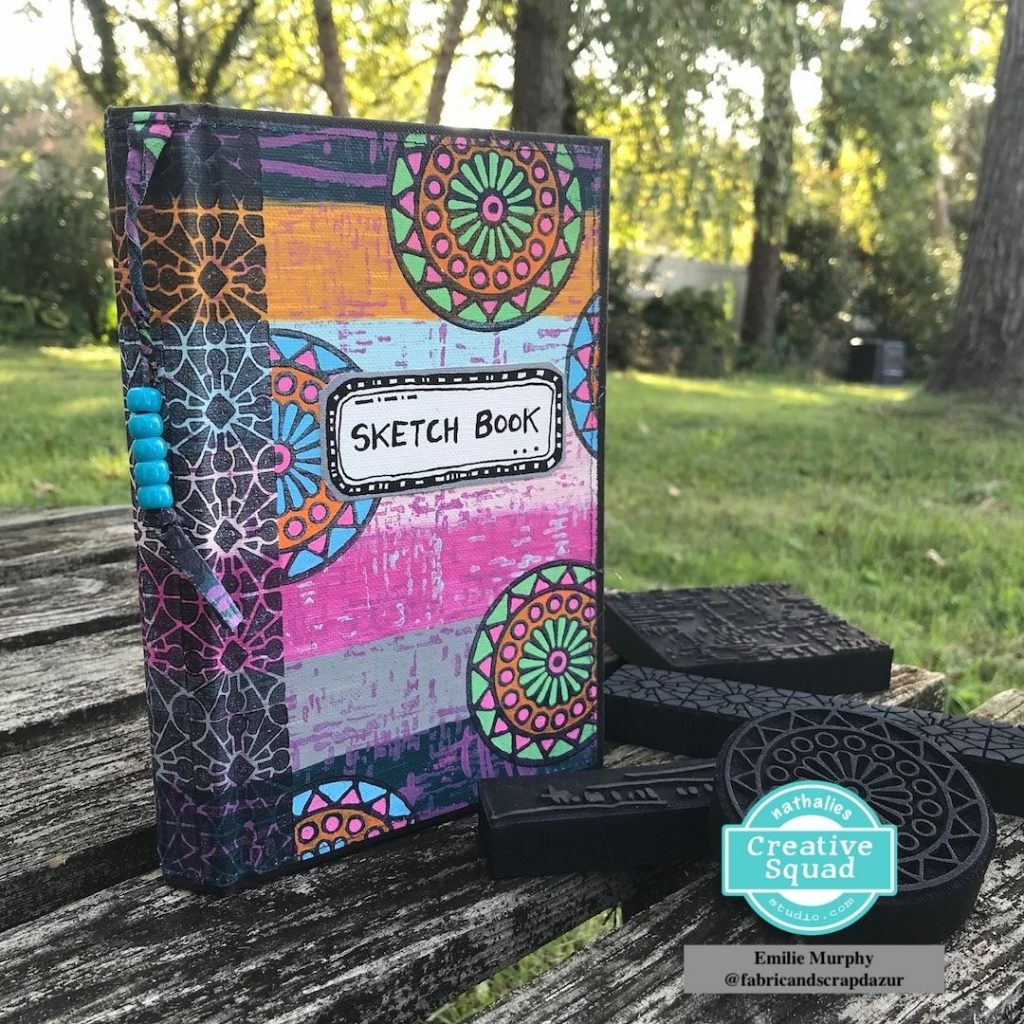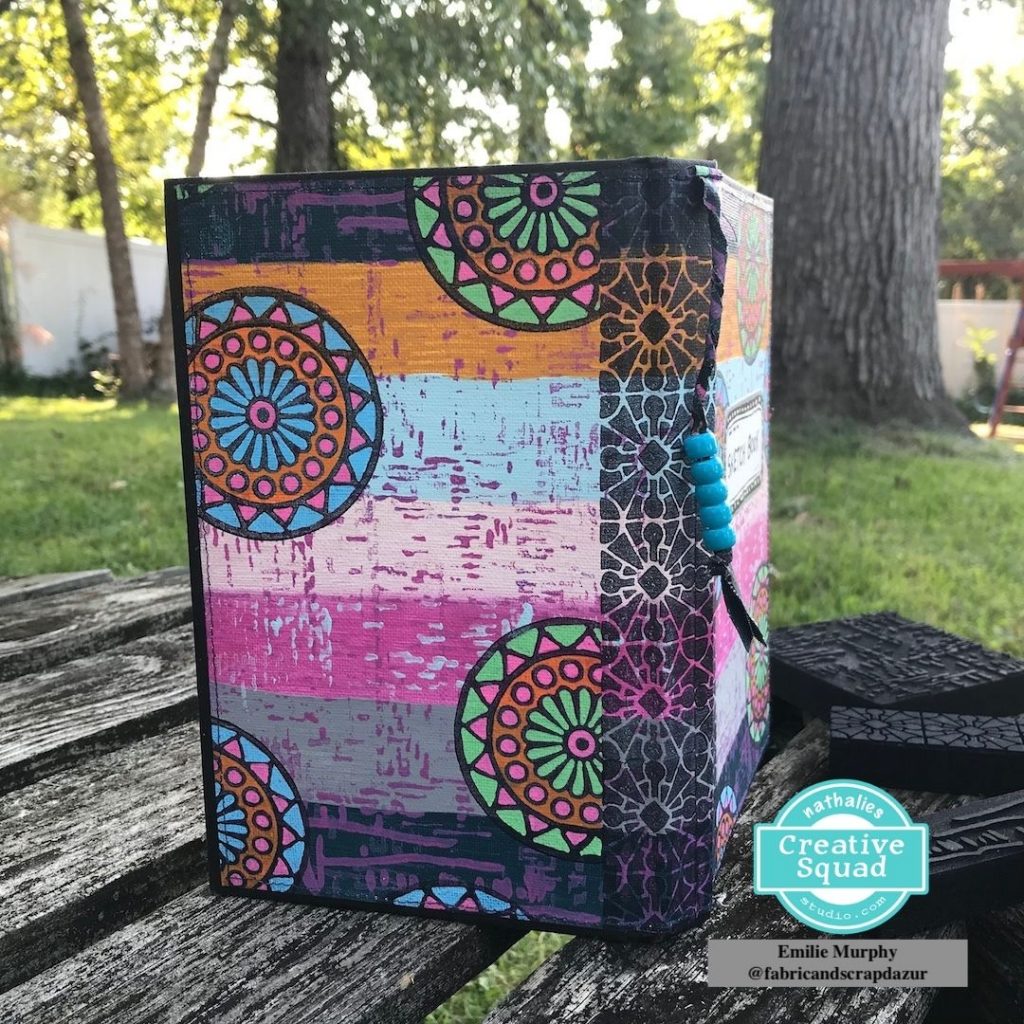 ---
Thank you Emilie – love how those colors make the foam stamp patterns really pop!
Give it a try: you can find all my Foam Stamps in my Online Shop and here are some of the other supplies Emilie used: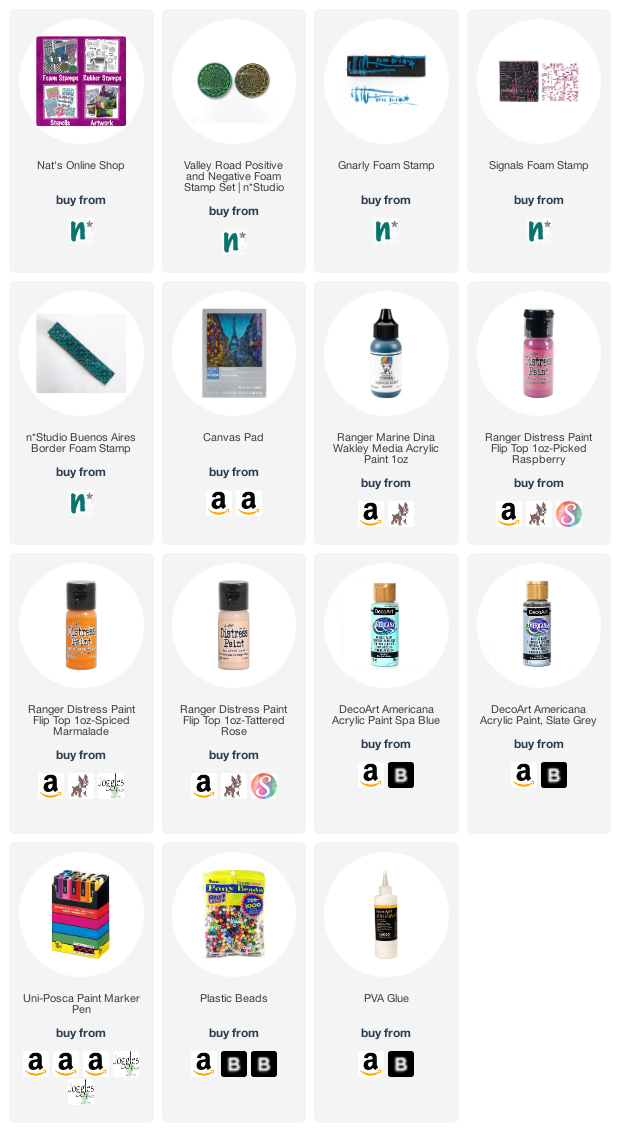 Feel inspired? Working on something yourself that you'd like to share?  I love to see how you interpret our monthly themes. Email me how you used my stencils and stamps with the theme and email me an image – I would love to share your projects in my next  "n*Spiration From Around the Globe".