Blog:

Jean-Michel Basquiat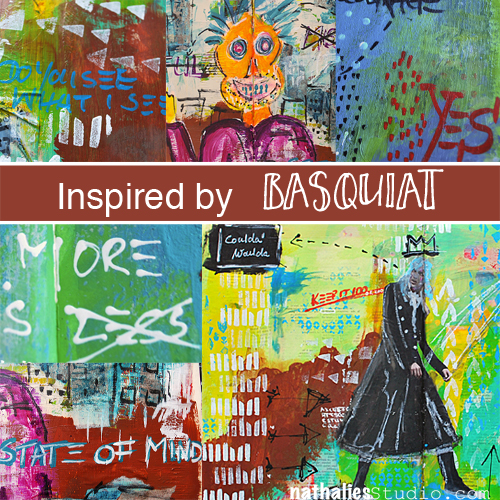 You might have read about my Art Stroll to the Basquiat: Unknown Notebooks Exhibition at the Brooklyn Museum. It was a very inspiring Art Stroll and so I started to try to implement some of Basquiat's elements into my art journaling since I saw this substrate as the best fit for it.
– State of Mind –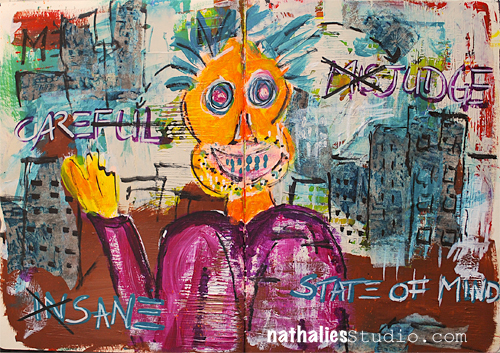 Prominent in his work is the use of figures or heads …something I usually not do and though this really turned out weird and hilarious- it made me laugh in a good way and I like it a LOT. And hey, anything that puts a smile later on your face was well worth doing it – so this wasn't wasted time.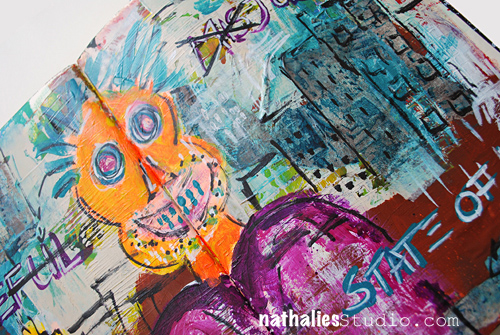 I also used Basquiat's way of layering paint on top of drawn or written areas, highlighting or hiding elements.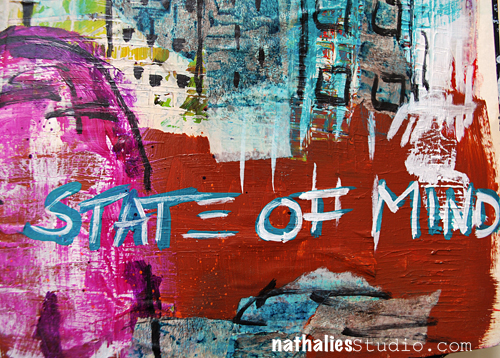 I was super intrigued by Basquiat's way of writing the letter E with just three horizontal lines – I shamelessly copied that and love it a lot :)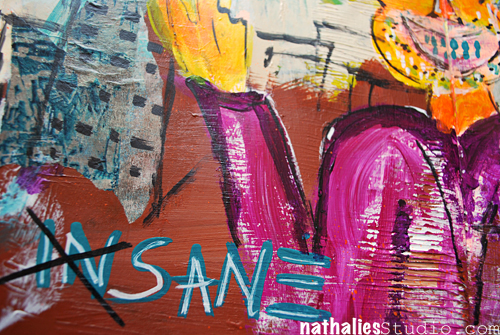 – Full Circle –
Then one day I was really really unmotivated and as we say in German "bocklos" which doesn't translate well – but kind of means" not being in the mood for anything".  I thought of Basquiat's way of jotting down overheard conversations and/or thoughts and I used snippets of my thoughts while working on the spread. It was actually quite fun and freeing.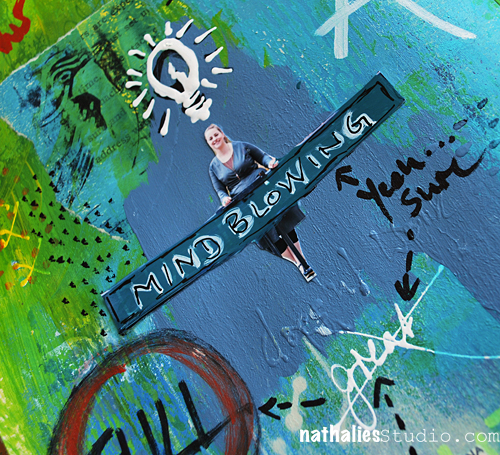 While this is not a spread that I find particularly beautiful – LOL -I can read this as a diary entry and it got me over my uninspired mood. I might do this more often and will gave this particular way of art journaling the name  "Visual Brain Farts" . No worries- I won't share all my visual brain farts with you ;)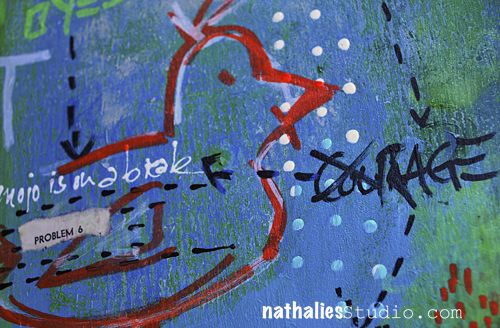 – Coulda Woulda –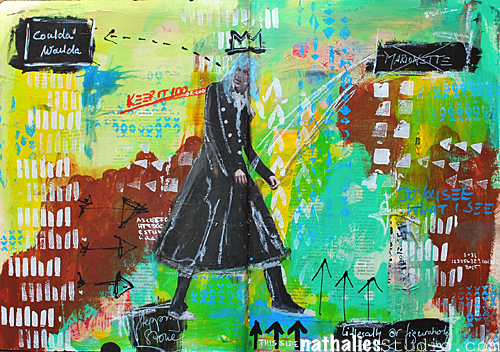 Ok …maybe I lied about not showing more visual brain farts ;) But I actually combined the thought-jotting with my usual art journaling style. And I like the outcome a lot.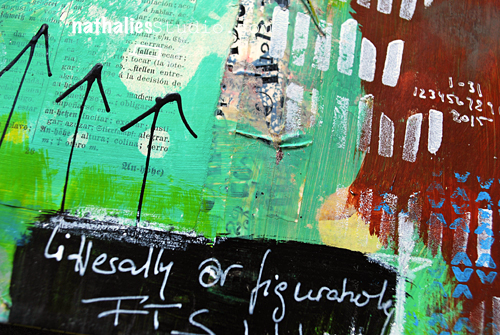 I also incorporated more collage elements as I saw with Basquiat's work.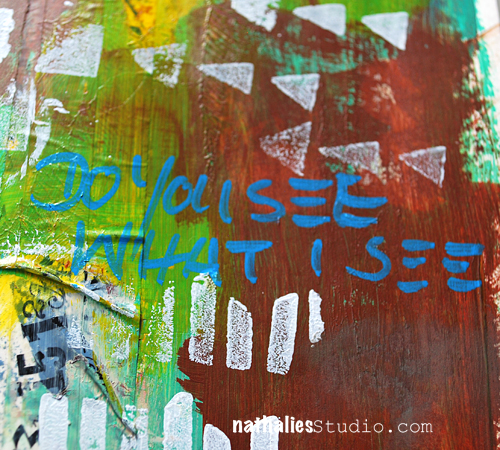 And repeated patterns and marks. And I might have "stolen" his signature crown.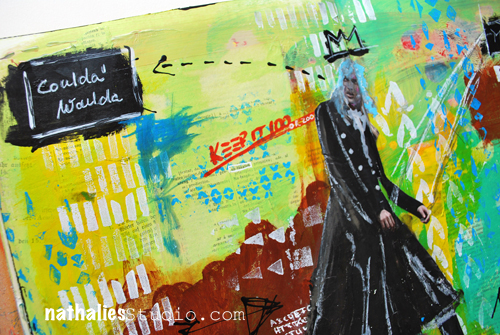 I enjoyed this process – I was inspired by Jean-Michel Basquiat's work and translated what inspired me into my own art work and I am keen on taking it further. I love how this rejuiced my Mojo!
Which artist do you think fits your style and could you take as an inspiration to get a new kickstart?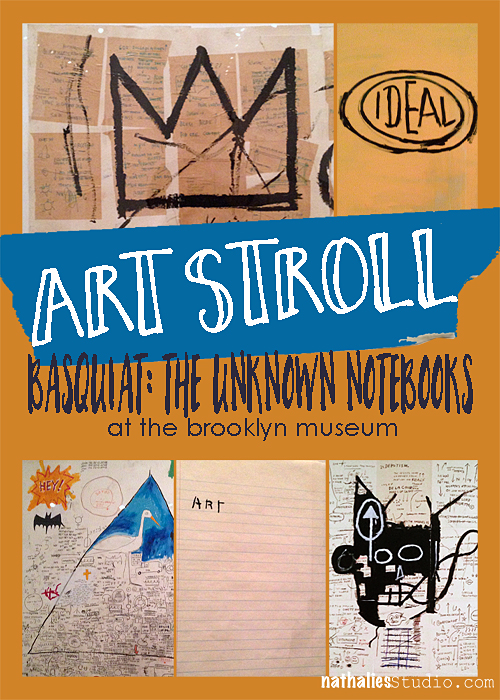 My friend Karen and I went on an art stroll recently and checked out the Jean-Michel Basquiat exhibition at the Brooklyn Museum. Rene Ricard, an American poet, art critic and painter once said: "If Cy Twombly and Jean Debuffet had a baby and gave it up for adoption it would be Jean-Michel. The elegance of Cy Twombly is there …and so is the brut of the young Debuffet". I can see that – and I am drawn to all three of those artists.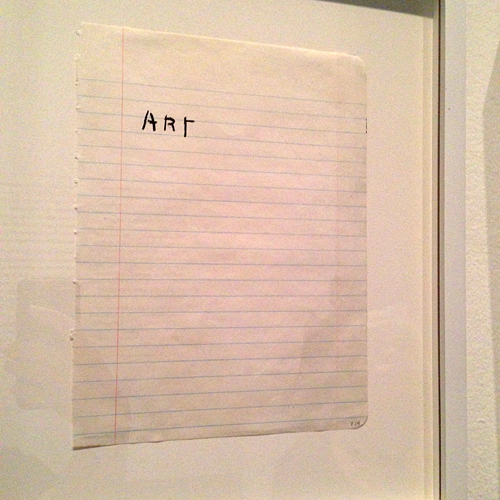 Basqiuat stated once that he uses words like brushstrokes. They are visual key elements of his artwork. He explored strategies such as inverted spelling, crossing out certain words and the repetition of text in his notebooks, which were the highlight of this exhibition at the Brooklyn Museum.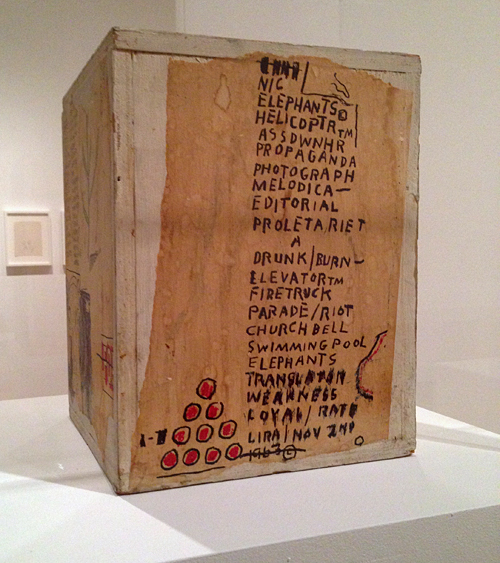 Basquiat used words not only for their descriptive quality – he would also use them for their lyrical qualities.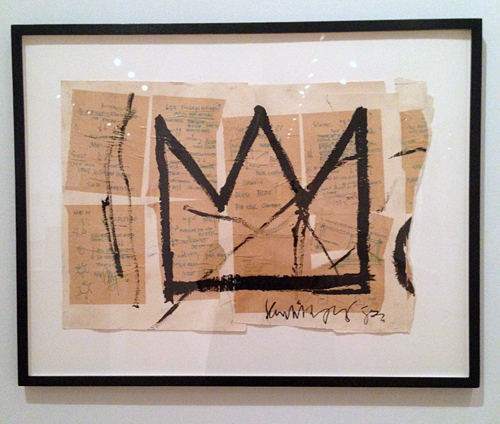 He emphasized repeating words and letters for their sounds and meaning.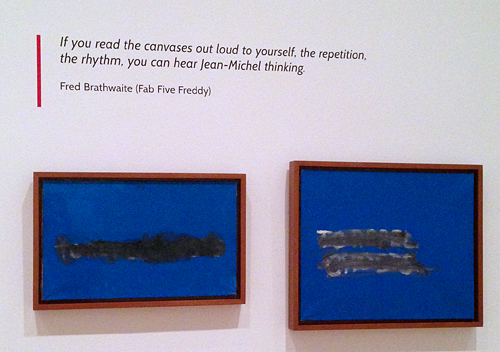 Basquiat produced a huge number of notebooks. Some of the pages only contain one sentence or word and he generally left the opposite side of each page blank.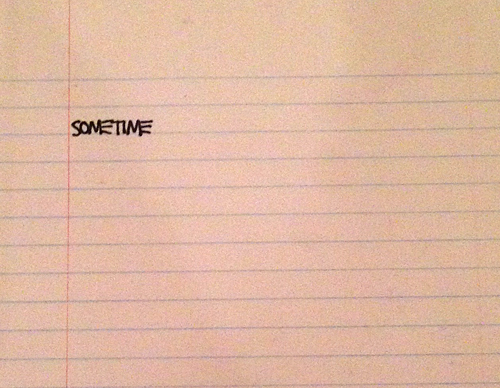 One of the things Basquiat said about his own artwork stuck to me the most: "I cross out words so you will see them more. The fact that they are obscured makes you want to read them."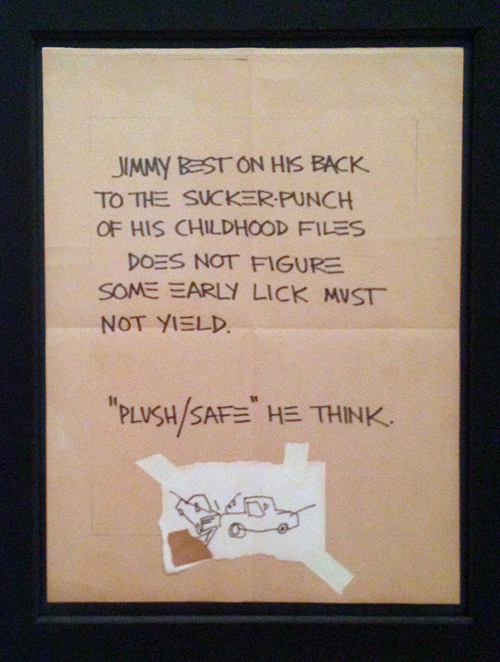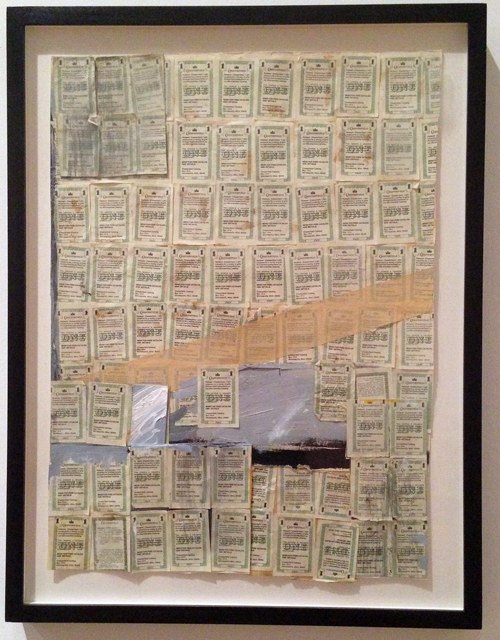 I also loved is use of collage elements and mark making.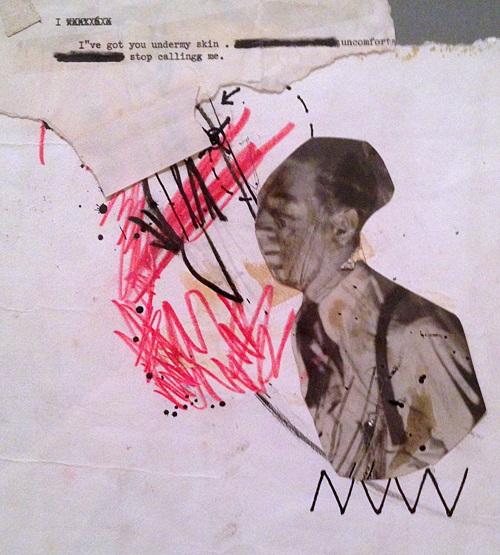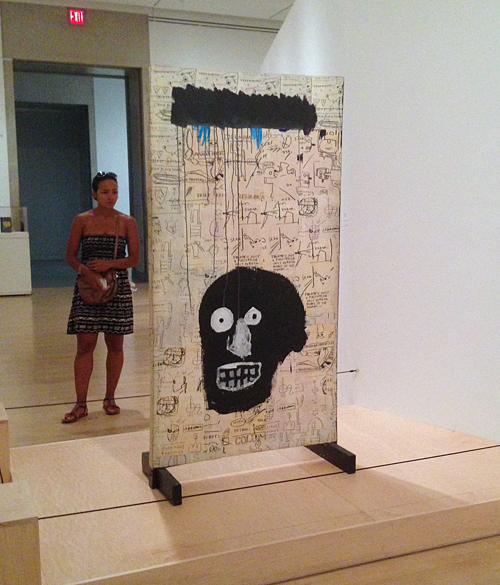 His works are often fragments of overheard conversations or isolated phrases – like the one below. Used in different contexts these conversation pieces or phrases can activate a wide and complex range of possible narratives – how intriguing.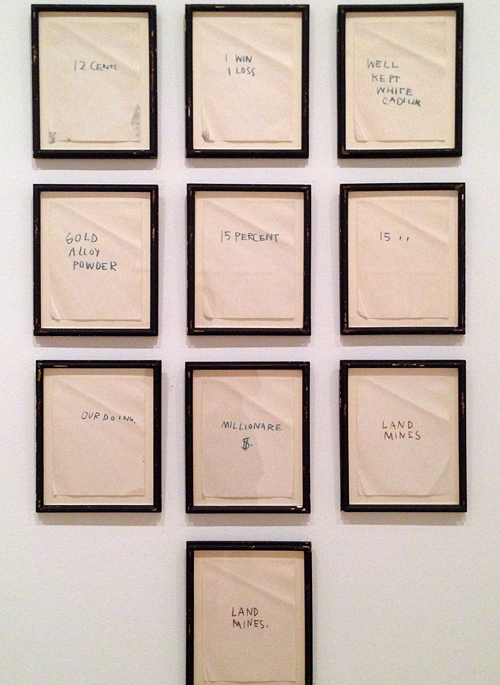 The work shown in the exhibition wasn't his most colorful work – which I am usually more drawn too but the pages with words and little scribbles and drawings used for the background were so compelling and interesting, I couldn't stop looking at them.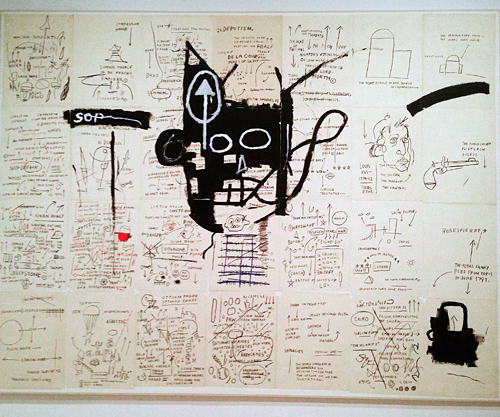 I felt very inspired by this exhibition and will show you soon how I translated some of this inspiration into my own work.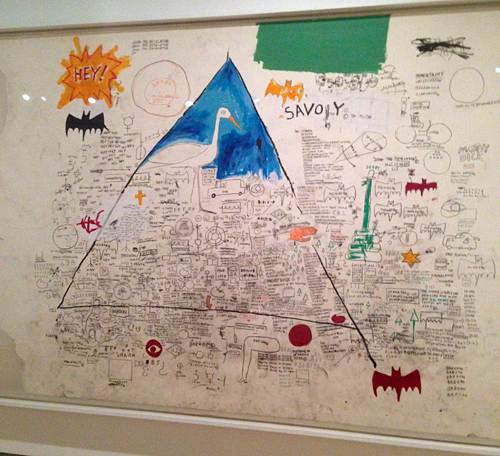 By the way, if you like Jean-Michel Basquiat and haven't seen the Movie "Radiant Child" yet – I highly recommend it. It is a wonderful homage to Basquiat and also a great document of the 80s New York City art scene.
Do you keep a notebook where you jot down ideas for your art work? For me my notebook is my art journal as this is where ideas are tested out and noted ready to maybe taken out for bigger surfaces later.
Hope you enjoyed this art stroll!