instructors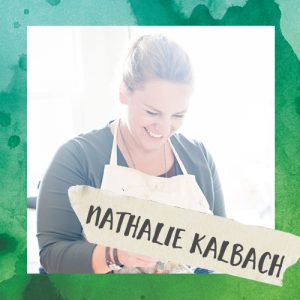 About Nat Kalbach:
Hello there :)
I am a self-taught mixed media artist. I was born in Germany and lived most of my adult life in Hamburg before moving to the United States in September 2013. I now live in Jersey City, NJ.
My early love of paint was squelched by an art teacher who told me I had no talent. I worked as a paralegal for seventeen years and might have remained in the wrong profession had I not discovered mixed media painting in 2004.
I regained confidence in my creativity and have spent the last decade exploring the possibilities of creating dimension and texture by layering different materials and paint media. I have worked in art journals, on canvases and scrapbook layouts, incorporating collage and found objects. My projects have been published in several craft and hobby magazines as well as mixed media books. I have taught at many retail events and art retreats, as well as at trade shows, and by 2011 I was able to give up working as a paralegal to become a full-time artist.
For me, creating art is a dialogue between my skills and the supplies I use. It is not so much a battle as an ongoing attempt to work out the connections between ideas and techniques.
In my mixed media canvases I emphasize urban subject matter, especially gentrification. I depict the vibrancy as well as the decay that I see in the cities around me from multiple viewpoints, represented by layering and tactile dimension.
I believe that everyone can be creative. Since 2006 I have taught workshops online and in-person worldwide. I am a Faculty Member at Pratt Institute SCPS. I share what I know about tools, supplies and techniques, with the goal of helping each student unlock his/her personal creativity.
I am the founder and sole organizer of the annual Creative JumpStart Summit, launched in 2012, an online platform for artists to share what inspires them to be creative. During the month of January subscribers/participants view a video featuring an Artist of the Day. Each artist demonstrates techniques and explains his/her personal approaches to creativity.
My artwork is licensed through StencilGirl Products (stencils) and Stampendous (rubber and foam stamps, and template sets). My work has been featured on the packaging for Liquitex Acrylic Painting Sets sold at Michaels art and craft stores. From September 2014 until October 2015 I was a brand ambassador for Liquitex. I am also a product development consultant to several art and craft supply manufacturers.
You can follow me also here
Here are some samples of my work: