instructors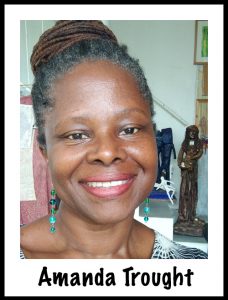 About Amanda:
As a 6 times Award Winning Mixed Media Artist, Amanda, a London Born Artist, has been creating for over 20 years and collaborating with a variety of artists around the world in group as well as solo exhibitions in London UK, Barbados, and Montserrat. She received awards for her sculptures in the National Independence Festival of Creative Arts (NIFCA), and the Central Bank Crop Over Visual Arts Festival, Barbados for her sculptural art and textile wall hanging. She has also had her work published in 3 books – Zen Doodles – Tons of Tangles, Zen Doodles – Oodles of Doodles and 1000 Dog Portraits, and also The Nation's Better Health Magazine on the effects of Arts and Health.
Her interests lay in using a variety of materials such as clay, fabric, recycled materials and collage to create the art and tell a story that impacts the viewer through the use of colour and texture. She is also keen to explore how art and creativity can impact on health and well-being and how we use creative expression as a means of communication.
She curates an Arts in Health Network alongside writing for her website and blogs. She produces weekly episodes for her Podcast and her YouTube which she shares aspects of art, creativity, interviews and reviews.
Here is a sampling of Amanda's artwork: