instructors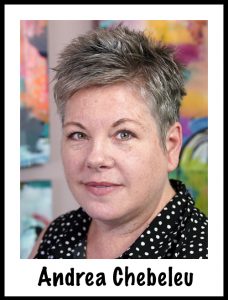 About Andrea:
Andrea Chebeleu, owner and artist behind A Work of Heart Studio in San Jose California (started in 1998) loves her daily creative practice and sharing knowledge of materials and process with others. She finds great joy in breaking down seemingly complicated processes into simple steps and has adopted a guiding principle of "First, Not Only" attitude which she passes on to every student. The attitude of "first, not only" gives us permission to playfully explore without fear.
Pre-covid times Andrea taught in her studio in San Jose and ran the adjacent art supply shop full time. The shop is still open but all classes are currently happening via zoom which makes taking awesome classes even more accessible to students worldwide.
Andrea is a mom to 3 grown children and a wife to an engineer husband who loves to indulge her in the latest tech gadgets, the latest being a laser cutter and 3-d printer on which they design one of a kind custom products to include in class kits. When not focusing on art and the business Andrea enjoys fostering kittens for her local county and takes pride in placing each and every furry baby in loving homes.
Check out Andrea's style:

SaveSave
SaveSave