instructors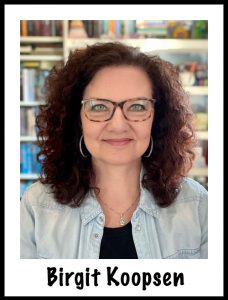 About Birgit:
Birgit is married to Erik and a mom of 3. She lives in a little village called Winsum in the north of the Netherlands.
Birgit started scrapbooking in 2003 but then fell in love with mixed media and art journaling. Her favorite things to do right now are art journaling, mono printing and layered collage art. She loves to get her hands dirty and experiment with paints and inks and all kinds of mediums.
Birgit's art is mostly bright and colorful, with a lot of layers and details. She loves to combine colours that are very contrasting and works a lot with stamps, stencils, inks, acrylic paints and markers.
Birgit teaches and demonstrates in her own studio at home as well as in craft stores and at (international) mixed media events (pre-Covid) and taught a number of (collaborate) online classes. Teaching brought Birgit all over the world. She had the privilege to teach in the US, Canada, India, ustralia and Israel but also closer to home in France, Belgium, Germany, Denmark, Finland, Norway, Sweden, Austria and the UK.
She loves to travel, see new places, meet people and explore different cultures. She considers it a huge bonus that she is able to combine that with her love of teaching and inspiring people to create art.
Since 2014 Birgit has her own product line with Carabelle Studio for whom she designs stamps, stencils and art printing plates. Birgit is a Lead Brand Ambassador for Gelli Arts® and creates monthly video tutorials for the Gelli Arts® You Tube channel and conducts regular live classes for Gelli Arts® and Michaels Stores.
 Check out Birgit's style: