instructors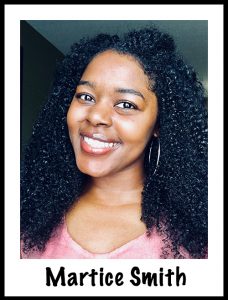 About Martice:
Hey, y'all! I'm Martice, a multi-media creative, photographer, and designer from Kansas City, Missouri. I have an insatiable craving for neon colors and texture! I'd describe my artwork as a visual symphony of bright colors, patterns + florals with an abstract, graffiti twist. Sometimes, I like to go off-beat and combine traditional media (acrylics and watercolors) with digital techniques.
I teach creatives how to bear hug their artsy superpowers by infusing a playful vibe into their art process. I do this by creating online courses, videos, and offering one-on-one creativity coaching sessions. In my free time, you can find me taking care of my mini jungle of tropical houseplants or watching cute panda videos.
I've been blessed to have my work exhibited, collected worldwide and featured in industry magazines and books like Cloth Paper Scissors, 'A World of Artist Journal Pages' and 'Incite 3: The Art of Storytelling'.
Check out Martice's artistic style: