instructors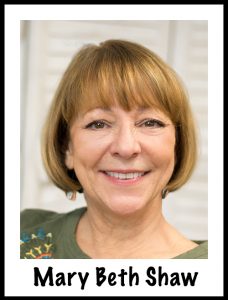 About Mary Beth:
Mary Beth Shaw worked in the insurance industry for 18 years before she quit her job in 2000 to re-ignite a childhood love of art. Since then she has spent all her waking hours exploring life as a painter working in mixed media, primarily acrylic, encaustic and collage.
She initially put in lots of hours as a road gypsy, exhibiting at outdoor art fairs and selling as many as 300 paintings in one very blurry year. She transitioned into being a workshop instructor in 2008 and finds pleasure helping students find their own voice as a painter.
Her personal creative process is a dance between spontaneity and intent; she finds great joy in the physical act of painting and looks at her best work as a gift from a higher power. She welcomes mistakes because they so often provide a delightful detour into new territory.
She is author of Flavor for Mixed Media and Stencil Girl, is a columnist for Somerset Studios Magazine and a Golden Artist Educator.
She is the founder of StencilGirl® Products, LLC and StencilGirl Studio.
Check out a sample of Mary Beth's Style: