instructors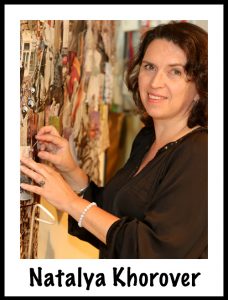 About Natalya:
Natalya is an artist who uses repurposed materials and she helps other artists who struggle with knowing where to start using these materials to achieve their creative vision.
Reclaiming and repurposing materials to use in Natalya's art has been her practice for nearly 20 years. Natalya uses meditative hand stitching and mending of vintage linen, alongside her industrial sewing machine to stitch and collage layers of translucent single-use plastics which would otherwise contribute to litter pollution. The transformation she subjects them to makes these materials unrecognizable.
Natalya has been selected to exhibit in juried art shows throughout the United States, including the Diary Barn's biennial Quilt National exhibition (2021, 2017, 2013) and Quilts=Art=Quilts at the Schweinfurth Memorial Art Center. Natalya has also showcased her works in juried art fairs such as The Other Art Fair in Brooklyn, NY and The Philadelphia Museum of Art Craft Show in Philadelphia, PA. The Visions Art Museum in San Diego included Natalya's work in the exhibition, Breakout: Quilt Visions 2016.
Sharing her expertise by teaching and lecturing on mixed-media art techniques, the creative process and inspiration is Natalya's way of making sure the art and craft is accessible to everyone. She has taught at Hudson Valley Fiber Art workshops, Craft Napa Uncorked At Home, Create with Cloth Paper Scissors Mixed Media Retreats and many others.
Natalya is a visiting artist working with school children in K-12. She concentrates on reinforcing teamwork, as well as creative and critical thinking skills, while building awareness of our environment and seeing materials in a new way.
Natalya's work has been featured in periodicals and books including Surface Design Magazine, Fiber Art Now, SAQA Journal, Art Quilt Collector, Quilting Arts Magazine, Cloth Paper Scissors Magazine, Art Quilting Studio, and Artful Adventures in Mixed Media by Nathalie Kalbach, from North Light Books.
Natalya is a member of Studio Art Quilt Associates (SAQA), Surface Design Association (SDA) and the Katonah Museum Artist Association (KMAA).
Natalya earned her BFA from Pratt Institute in Brooklyn, NY. Following careers in the New York City fashion and film industries, she lives and works in Westchester County, NY.
Look at some samples of Natalya's work: