instructors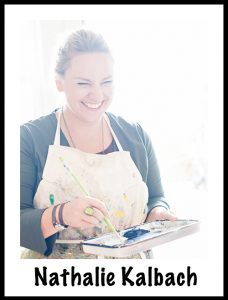 About Nathalie Kalbach:
I am a self-taught mixed media artist. I was born in Germany and lived most of my adult life in Hamburg before moving to the United States in September 2013. I now live in Jersey City, NJ.
My early love of paint was squelched by an art teacher who told me I had no talent. I worked as a paralegal for seventeen years and might have remained in the wrong profession had I not discovered mixed media painting in 2004.
I regained confidence in my creativity and have spent the last decade exploring the possibilities of creating dimension and texture by layering different materials and paint media. I have worked in art journals and on canvases, incorporating collage and found objects. My projects have been published in several art, craft and hobby magazines as well as mixed media books. I have taught at many retail events and art retreats, as well as at trade shows, and by 2011 I was able to give up working as a paralegal to become a full-time artist.
Since 2006 I have taught workshops in Europe, Canada, the U.S., Australia, Israel, Malaysia and online. Since Spring 2015 I have taught Mixed Media Workshops at Pratt Institute for the School of Continuing and Professional Studies. In March 2016 I released four Acrylic Paint workshop DVD's with ArtistNetwork TV (Colorful Foundations, Mediums Demystified, Raw Canvas Staining, and Creating Texture Canvases) In my workshops I share what I know about tools, supplies and techniques, with the goal of helping each student unlock his/her personal creativity.
My artwork is licensed through StencilGirl Products (stencils), RubberMoon (rubber stamps), and ArtFoamies (foam stamps). My work has been featured on the packaging for Liquitex Acrylic Painting Sets sold at Michaels art and craft stores. From September 2014 until October 2015 I was a sponsored artist/brand ambassador for Liquitex.
In June 2017 my book Artful Adventures in Mixed Media – Art and Techniques inspired by Observation & Experience with North Light Books was released.
I am the founder and host of Creative JumpStart.
Here are some samples of her work: