instructors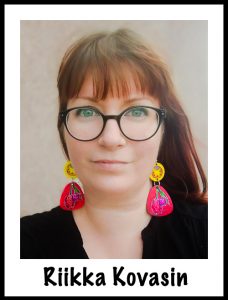 About Riikka:
My name is Riikka Kovasin and I am a mixed media crafter from Finland. Creating is my passion and a way of self-care. Besides family of four and crafts, my weeks are filled with a full-time job.
I have been doing all sorts of crafts my whole life. I come from a family of creatives and have a degree in clothing design. I really got into papercrafts after I found scrapbooking when my older daughter was about 6 months old – that's over 12 years ago. Since then my style has evolved to more and more mixed media and nowadays I tend to do a lot more mixed media pieces than layouts. I do art journal pages, canvases, altered pieces, cards and ATCs.
I absolutely adore getting my hands into paints and mediums! To me the process of creating is at least equally important than the finished project.
Here is a peek at Riikka's style: