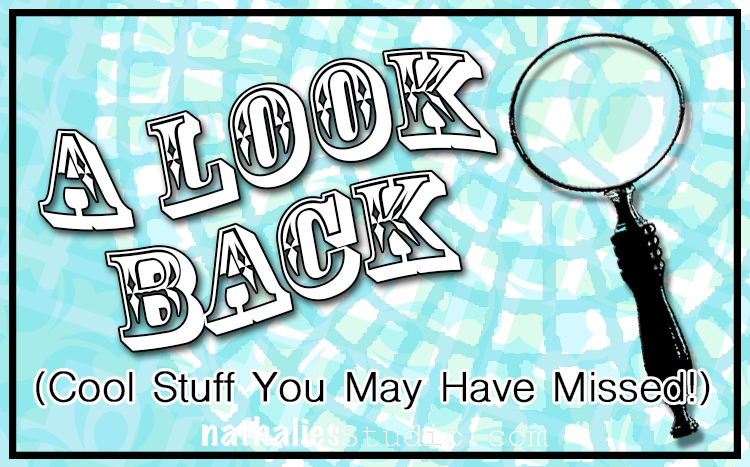 A Look Back – This time I'm looking at a project I did back in 2007 called Deck of Me. It was a challenge organized by Emily Falconbridge where we used a deck of playing cards as our artistic substrate and each day had a prompt to help guide us in creating a personalized deck. I was still in my scrapbooking phase back then but the transition to mixed media was definitely happening. There was a full deck in the end and you can go through them all in these posts but I thought sharing some of my favorites would be interesting. Also I thought how fun it was to transform something we probably all have in our homes, and is such a small manageable size to create on daily. Hmmm maybe worth a round two…
A Look Back is a blog series to show you some projects and posts that you may have missed – sometimes going WAY back in the archive. I think it will be fun to revisit a few ideas that we haven't seen for a while. I'm excited to see how a little look back might inspire something new in the future :)
---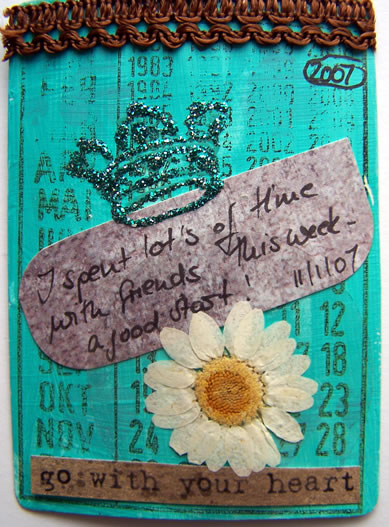 The first card was in early January and the prompt was "Something I'm Proud of" – kinda like a New Year's resolution I suppose. You can read the post here to get a feel for what the Deck of Me challenge was all about and also to see the other side of the card. Each day I worked on both sides of the card – one side featuring the prompt and one side my take on it. So definitely check out the old blog posts to see both sides.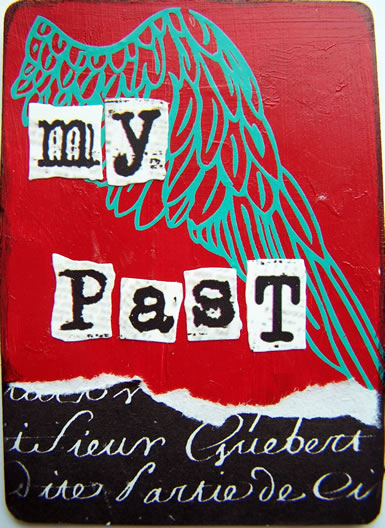 As the goal of the challenge was to get personal, I jumped right in on Day 2 and shared what gave me strength – my past! Yup, you know they say what doesn't kill us makes us stronger. You can read that post and see the flip side here.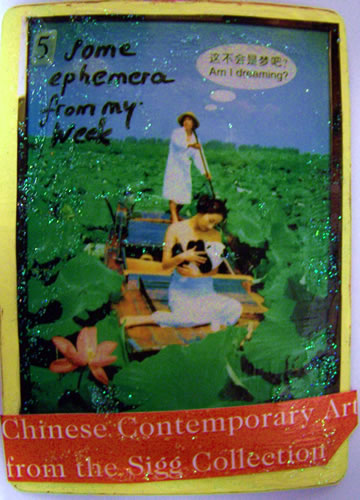 Day 5 was about using some collected ephemera from the week and I had just visited a museum show in Hamburg at the time. Here is the post and my take on the prompt too.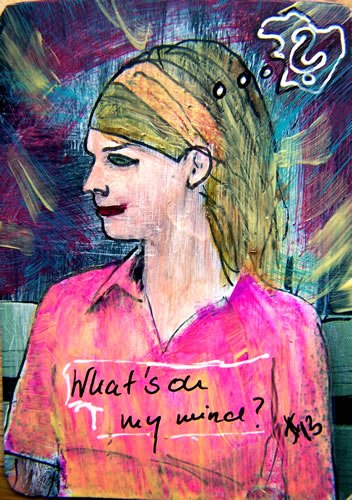 On Day 13 I did something that I would use again and again as a technique in my art journal for many years – using magazine images and working them in with paint and other media. I wouldn't say this is the first time I ever did this, but it is an early example of mine. You can read "What's on my mind" in the post here.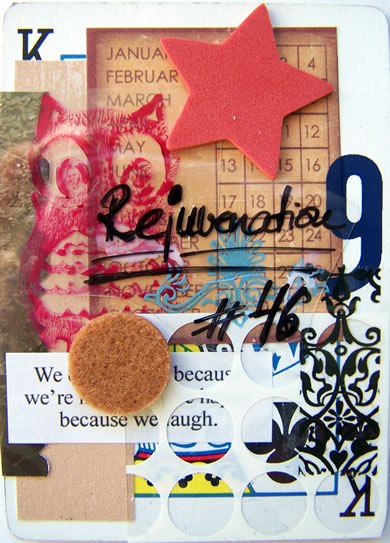 Jumping way ahead to Day 46 here with a nice example of some collage. The prompt was "rejuvenation" and you can see in the post here how I interpreted that on the other side of the card.
---
Maybe you have an old deck of cards at home that you are not using that could be your next little daily project. I sometimes need a challenge like this just to get working consistently every day on something artistic. This was also an interesting look inward when I was considering some of the very personal prompts.
I hope you enjoyed this look back and maybe it inspired you to give something new a try :)