4 days…no post…what??? I tell you…I am so sorry….but I am over my head in work…and hey…an upcoming housewarming party and hosting Thanksgiving this year is not helping either ;) I am working on several things at the same time…frantically and I know that some things might be totally up your alley and you will love love love them…so…BEAR with me! (Did you notice..I got it…I no longer write "bare" with me….I was so embarrassed when I learned what this means when I write it wrong- LOL). I had time for a quick art journal page – the foundation of it was made in my Class at the Ink Pad demoing.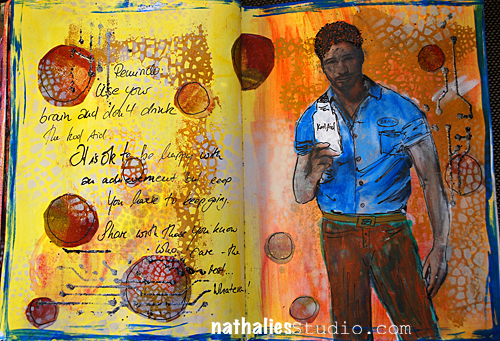 It is always great to have some backgrounds ready to go in your art journal- so if you need a quick artfix that only takes a couple minutes- you are ready to go …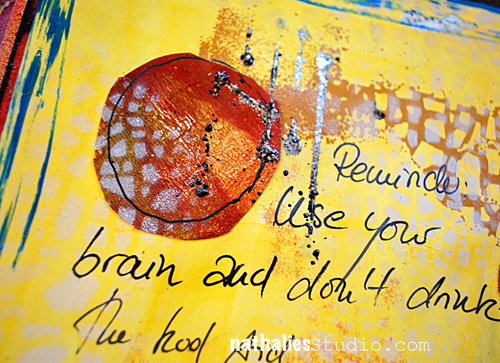 Here I also used another background page that I did and cut it up in circles which I used on the art journal page – I love it. It is one of the rare occasions where I actually have a lighter background and darker spots on top – usually I do darker backgrounds and lighten everything up with the embellishing features.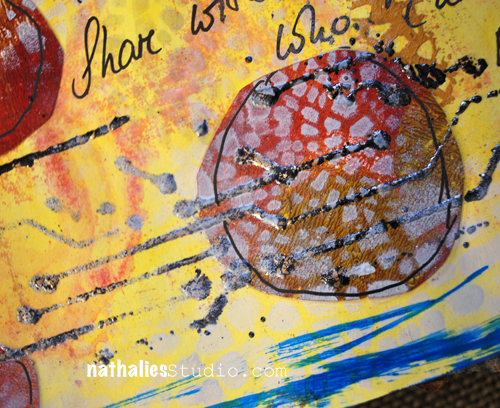 I used the Circuit Stencil I designed for StencilGirl Product and using a Versamark Pen I traced the pattern and then heat embossed with Stampendous Aged Enamel Powder.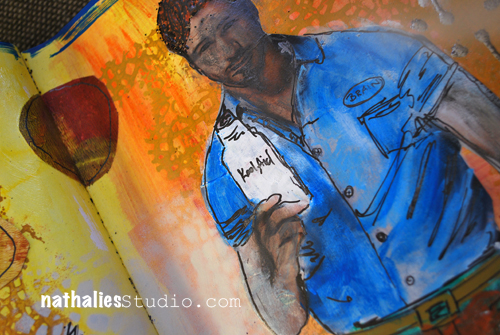 and Mr Brain …with the dirty face (note to self: clean your fingers in between before you are fiddling in someones face!)…with a nice blue shirt to contrast the orange background ….fun