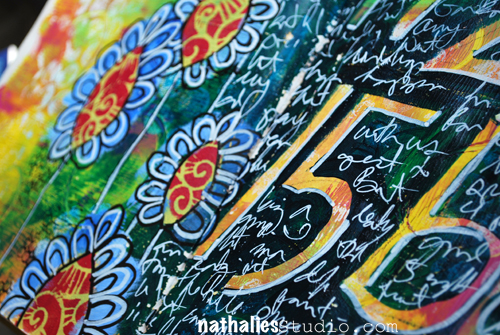 One of the fun things we did together in our Art House in California was, that we did a so called Round-Robin Art Journal. Julie, Birgit, Jenn and I  agreed to post all at the same time today and share our thoughts and experiences about this- so this is my part.
Here is a picture I already posted which is taken during the process: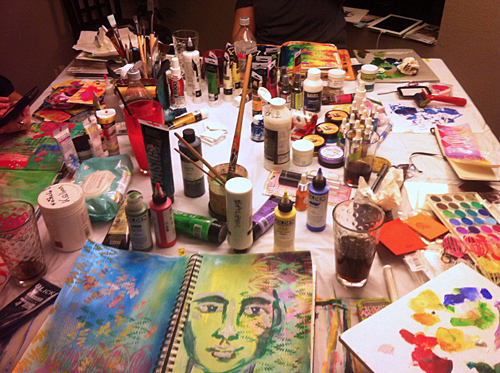 Each of us had their art journal and as we sat at a square table we had all of our art supplies piled up in the middle. The rules were easy. 15 minutes for each entry – a 7 minute break. Each starts in their own journal and then passes clockwise on and starts working on the next journal. You can use all art supplies on the table. In the end you will have received your journal back.
It was so fun- I will get into this in detail later- let me share the different journals and progress pictures.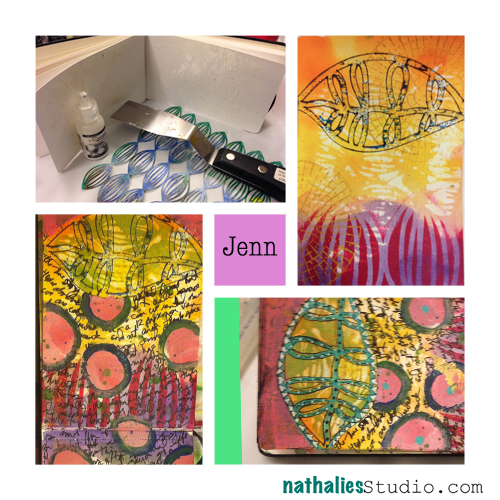 So first this is Jenn's art journal, you can see her start on the top left- then on the top right you see how the page looked like when Birgit was done, then was Julie's turn and then lastly mine.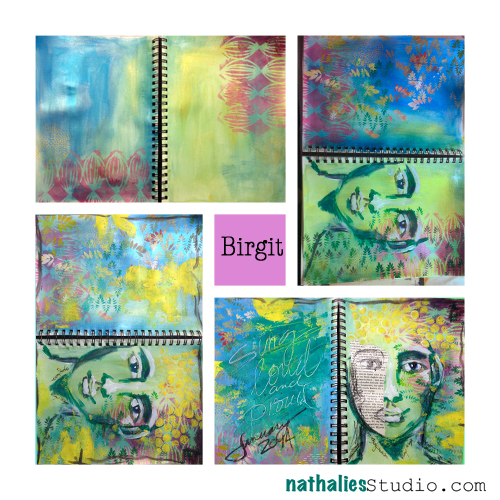 Next up is Birgit's journal- she passed it on to Julie and Julie passed it on to me and then on the bottom right you see Jenn's finished entry.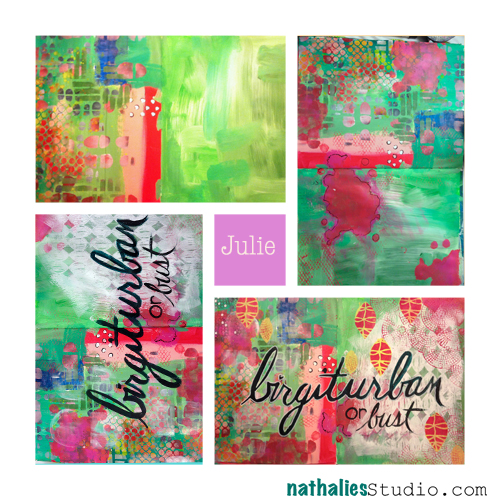 So this is Julie's page- next was me, then Jenn and last Birgit.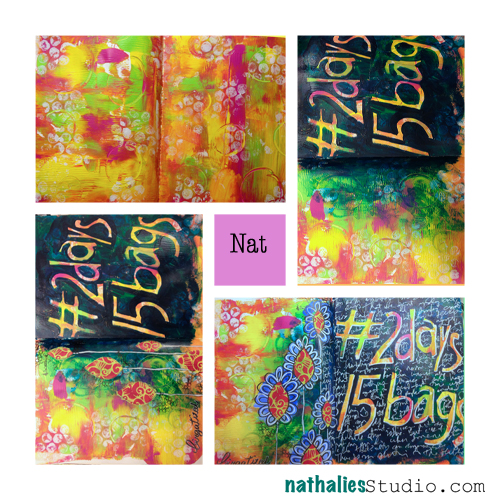 And then this one is mine- you see I started with a busy background, and then it was Jenn's entry, Birgit and then Julie.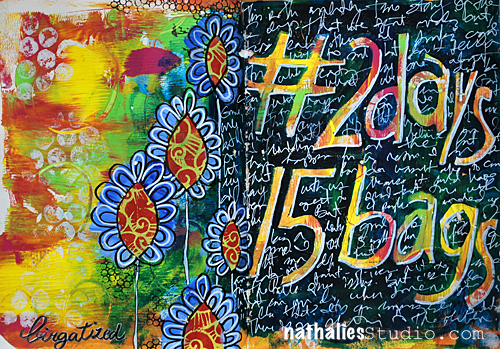 Besides that it was a lot of fun creating- with the added time pressure and doing it with your artsy friends – here are some thoughts during and after our collaboration:
gosh – I really don't want to screw up my friend's journal
Interestingly enough I was not the least worried about my own journal– I know the would create something wonderful in it.
I found it harder to add my own style the more advanced the pages were. See in my own sample- I started crazy with lot's of paint and even added texture through sgraffito. I had no problem adding bigger spots and details on Julie's page which I had second, Birgit I got a bit more hesitant but the least alas already three of my friends left marks on it was Jenn's I had a hard time getting over destroying this page. I found this interesting – since I thought in the beginning the start in someone's journal would be harder.
I love to how we all worked on what we got and just had a go. Like Jenn's painting over half of my page calmed it down in a different way I would have done it differently.
I think all of us have left a signature style on the pages– you can spot all of us in the pages when you look at the end result
gosh – I really don't want to screw up my friend's journal
I love having a journal page all to myself where all my friends left their mark and I also love that all pages are very unique to the occasion. insider jokes, and other references that only we will get or only we will be able to laugh about- what a great memory piece this is.
I really liked to see the progress instantly and how things were done by the others- not waiting for it or shipping totally let the momentum going. I feel it is often lost when you do such things by mail.
gosh – I really don't want to screw up my friend's journal
We all wanted to do it again after we did it but the time was not there anymore- it was early morning already. We all said we should have done it earlier in our stay at the art house but I feel that it was good to wait till the end- we felt more comfortable with each other and had shared memories we could include. I feel it would have been hard to do in the beginning of our stay.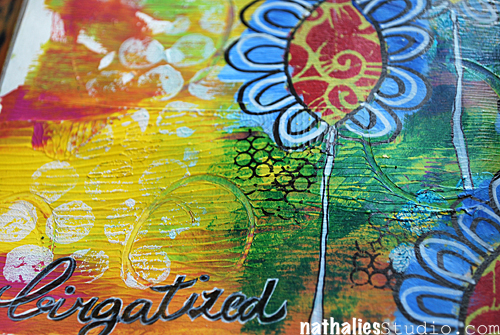 I hope you found this interesting and maybe you give it a go with your friends some time – of if you did it- tell me if you could relate to some of my thoughts. Don't forget to check out what the other three Julie, Birgit, Jenn have to write about this.
Have an amazing day!
huge hugs
Nat