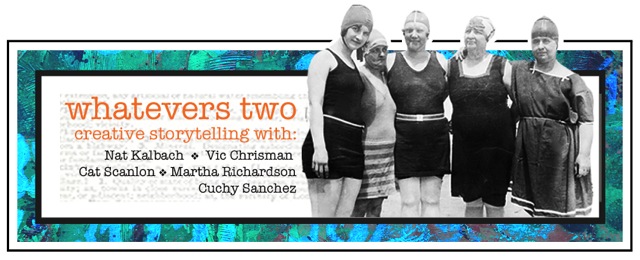 Are you ready for the 6th photo of the Second Round of Whatevers? If you missed what the Whatevers is all about or want to see all the past photos and takes…check it out here.

Click here to see what Cat, Vicki, Martha and Cuchy made out of the photo and which story they tell.
Here is my take: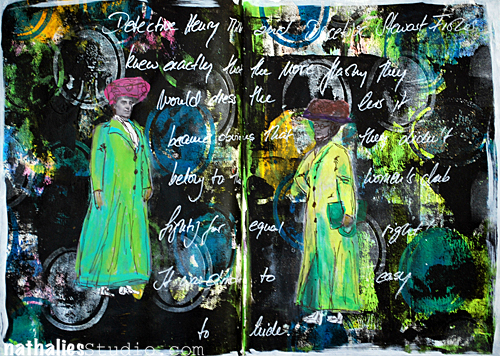 Journaling: Detective Henry Millera and Detective Stewart Fisher knew exactly that the more flashy they would dress the less it became obvious that they didn't belong to the Women's Club Fighting for Equal Rights. It was almost too easy to hide.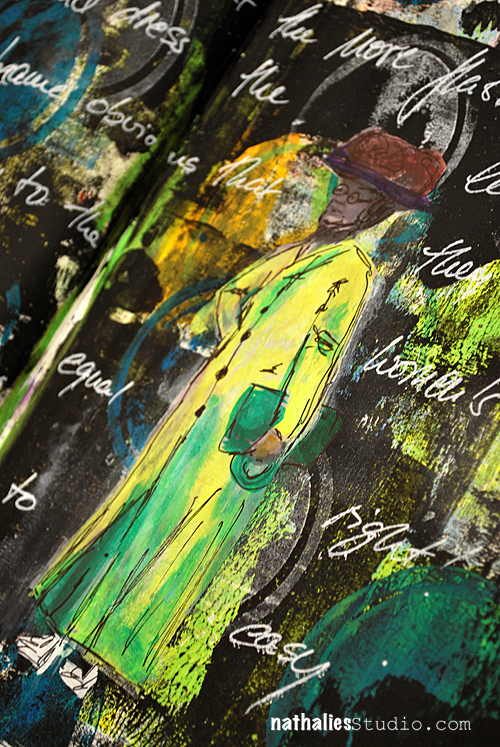 For the background I used Liquitex Paints  and also Claudine Hellmuth's Foam Stamps .
And here is the photo of this month's Whatever for you: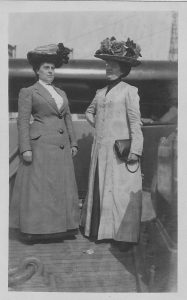 Here is how it works
Vicki, Cat, Cuchy (Carmen), Martha and I and I have made a one-year commitment to each other and picked twelve photos with Whatevers whom we will give a story.
Every month – if possible always on the 15th –  each of us will do a post with an individual story that goes along for us with the same photo.
If you want you can play along and we will have the photo for you to download and show us your version of The Whatevers. The photo will be posted at the end of our blogposts- not on Facebook!
There is no rules to the story itself- it can be funny, sad, uplifting, breathtaking- WHATEVER
There is no rules on the length or the form of the story– it can be a short sentence, an essay, a poem or a soap opera – WHATEVER
There is no rules on the artform you choose – it can be a scrapbook layout, an altered art project, an artjournal page – WHATEVER
Here is a rule though: if you take the photo you have to link back to us and show us your story.
These pictures are from our personal stash and are for personal use for you only! If you want to use them for a publication whether a book or magazine in print or digital form please ask for permission!
If you want to participate we'll have a linky list for each Whatever Post.
You can also join our The Whatevers -Facebook Page