It has become a tradition of mine and other blogger friends to wind down the year with some  Top "insert number"- Lists of work , posts and photos, before the year ends. It makes me go back and look at what I have done and accomplished and it also makes me dwell in memories. Too often we forget about the things we did and accomplished throughout the year- often just bashing ourselves for not fulfilling all the wonderful new year's resolutions from last year.  Maybe this makes you wanna do it too – if so – share 
I did a huge amount of Art Journaling Pages this year. –
In no particular order here my personal faves.
1. Snake Bite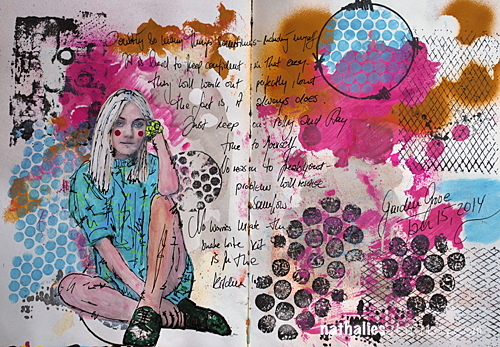 I played more or less with my Stampendous stamp sets and stencils on this page but I do like color combination and how the journaling is part of the background design.
2. The Picture in Our Head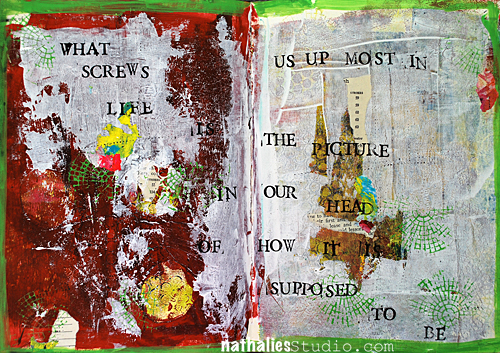 I love the quote and it actually states quite well the process I was going through while I was creating the page. I played a bit with acrylic paint skins here- and I love the out come.
3. Without Art..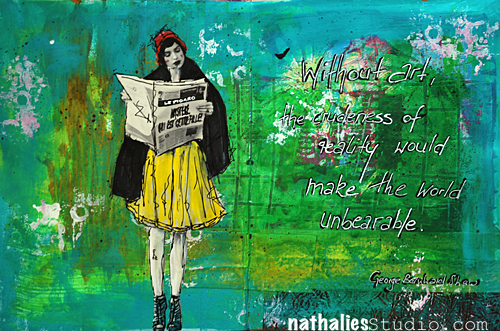 I love the texture I created on this page with gesso and paint  – some parts and areas are definitely something I want to embrace a bit more on canvas. I also like the bits of pink in the sea of green – not something I had in mind as a color combo- but it speaks to me with the yellow-  needs to be more explored :)
4. Melvin was Outraged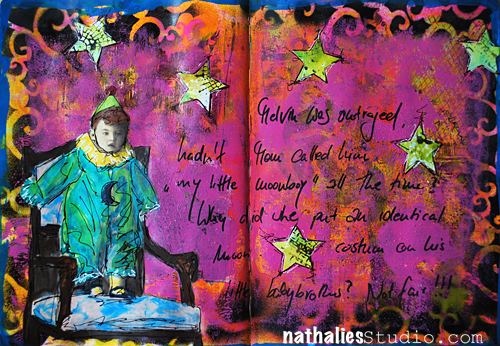 I just had fun playing with this vintage photo and making up a story – it is quite dark and actually not much going on texture wise- but still there are a lot of layers – I like it.
5. She became dangerous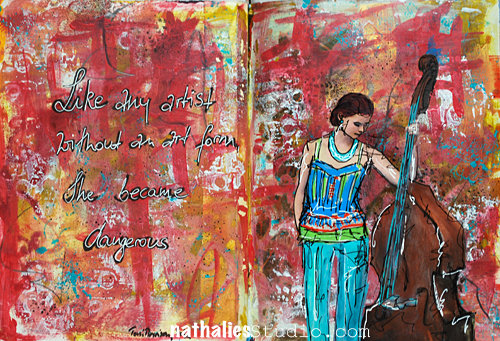 I played with brush strokes and colors – very loosely and besides a tiny bit of stamping that is all that there is in the background- I was surprised how much I like it and how freeing this felt. Another way of creating a background I would like to explore a bit more on a bigger substrate.
6. If Not Now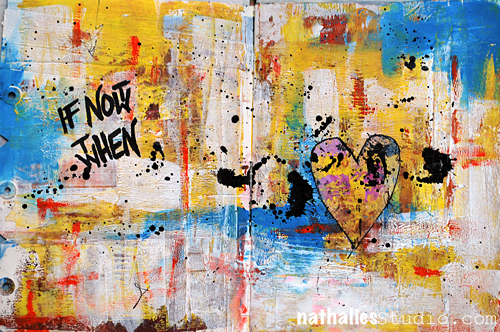 Here I played with dry and wet brush strokes and also texture- and I love the quote. I like simplicity of it …I mean…in the process- hahahaha ;)
7. When the Why is Clear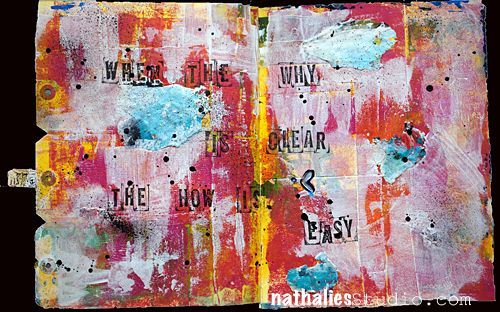 Another page where I played with brush strokes and acrylic skins. I love the black acrylic paint dots – they tie everything together.
8. Intelligence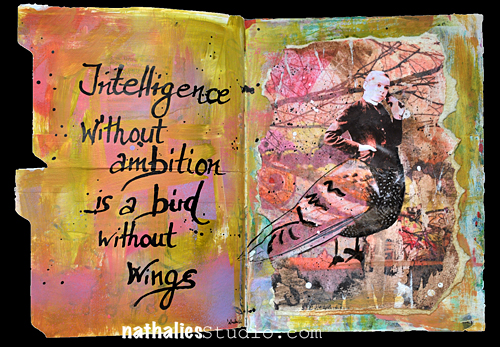 this one is a another sample of trying out a color combination which I would have not thought would really work and I totally dig it :) I like this page also because of the texture, the transfer techniques I explored and the materials I used. Again something I would like to explore more on a bigger substrate- but actually this makes me think of a shadowbox.
9. No ONE Way to Art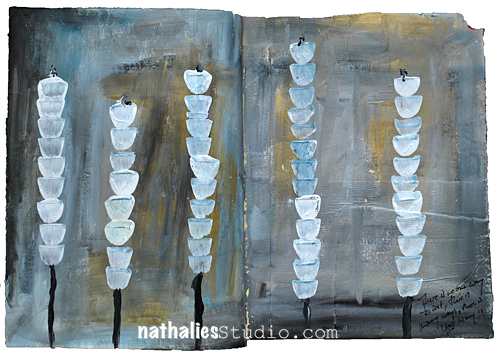 and yet another page with an unusual color combination for me – I also like how I used the brush to create textured elements- another element I would like to explore a bit more.
10. Not a Battle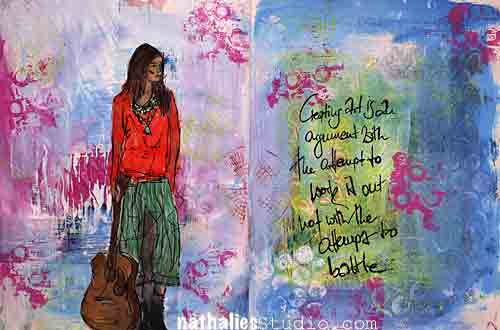 I do like the texture and the depth I created in this page playing with the translucency of different acrylic colors – again something that I will explore more in the future.
—-
What I learned:
I really embraced art journaling as a way of creating something that doesn't require an awful lot of time, a creative push in the morning, and trying out techniques, materials and color combinations. I used it a lot to explore things that I have seen in paintings at MoMA or other museum and that interested me. I also learned a lot about brush strokes,  and exploring different opacity/translucencies of acrylic paints.
My goal for 2015:
I want to take out some of the things I learned and explore them more on different substrates. I need to take the time to embrace the things more. I also want to play more with unusual color combinations – it felt good to step away from my usual color culprits ;)
Hope you enjoyed this little art journal journey – and …just a little heads up :) If you want to learn how I do the magazine and photo images, and also see more about how I build up Art Journal Pages– you can see and learn that in Creative JumpStart 2015 – so sign up , if you haven't yet!
have a gorgeous day